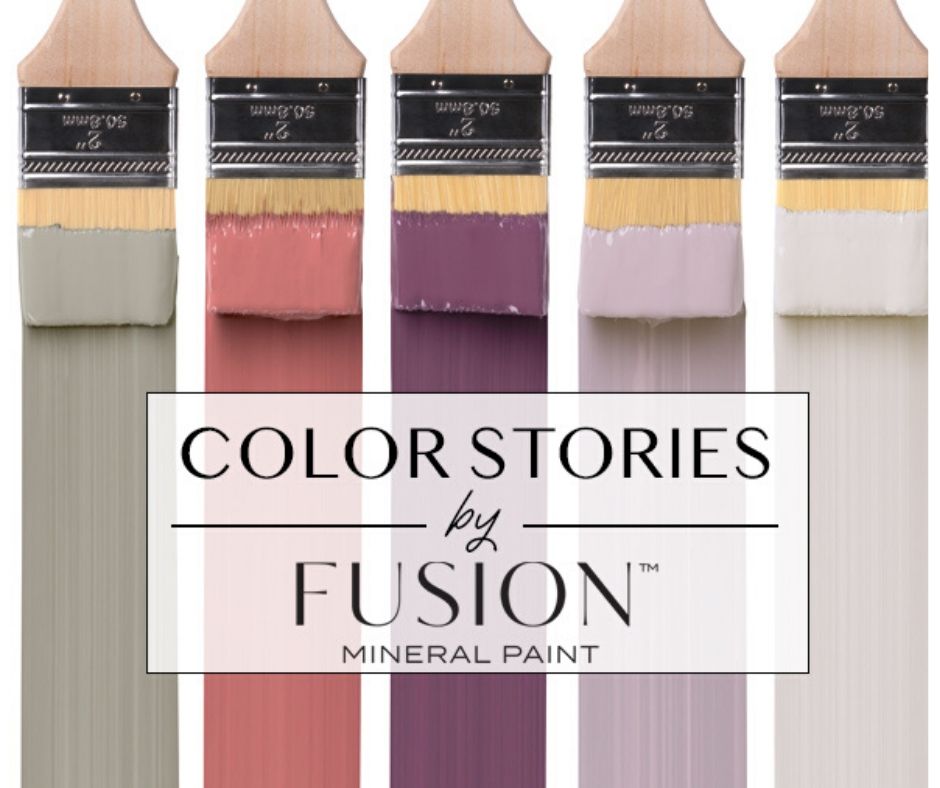 Share:
Here at Fusion™, our Color Stories have been a monthly inspiration to add more color in your home. Whether you embrace your own personal style, choose bolder designs, or comfort in neutrals – Fusion™ is for you! Each month we curate a colorful palette that reflects the month ahead, and showcase our signature shades from across our collections.
Check out the Classic Collection, The Penney Collection, Tones for Tots, The Metallics
Let's recap last year's palettes in one easy to find spot.
(Want to know what we're doing in 2020? We're trying something brand new by featuring Color of the Week and its Pairings.  Are you a Fusion™ Fan? Then check us on our social platforms so we can share all the new ways Fusion™ can add color to your life!)
2019 Color Palettes
Start the year off with Bayberry, Lichen, Raw Silk, and Sterling.
We were looking for something fresh and simple, wanting to spread a theme of keeping our lives simpler. January is about refreshing after the busy holidays and often sets the tone for the rest of the year.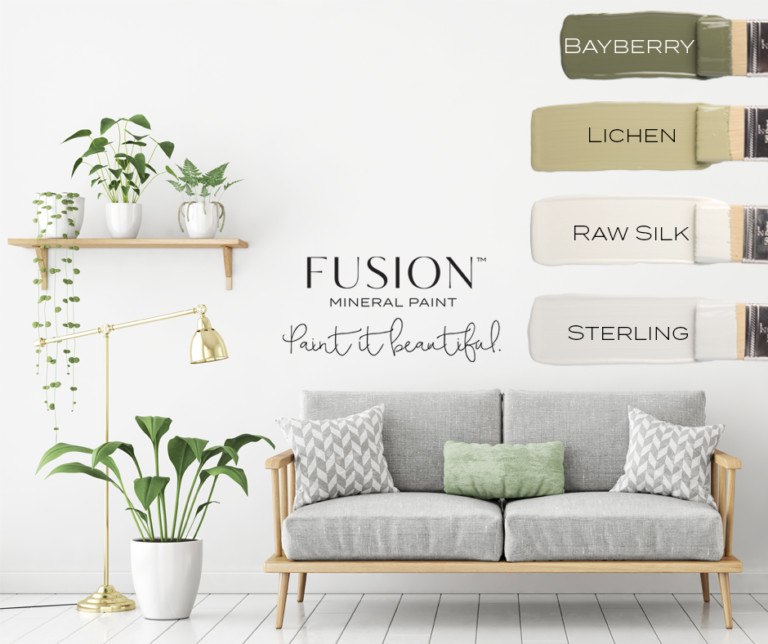 All you need is Coal Black, Ash, Little Lamb, Lamp White, and a custom accent.
This palette is essentially all the same color or hue (black/white) with different tones (the grays in between.) By increasing the presence of any of these colors you can change the entire atmosphere of the palette.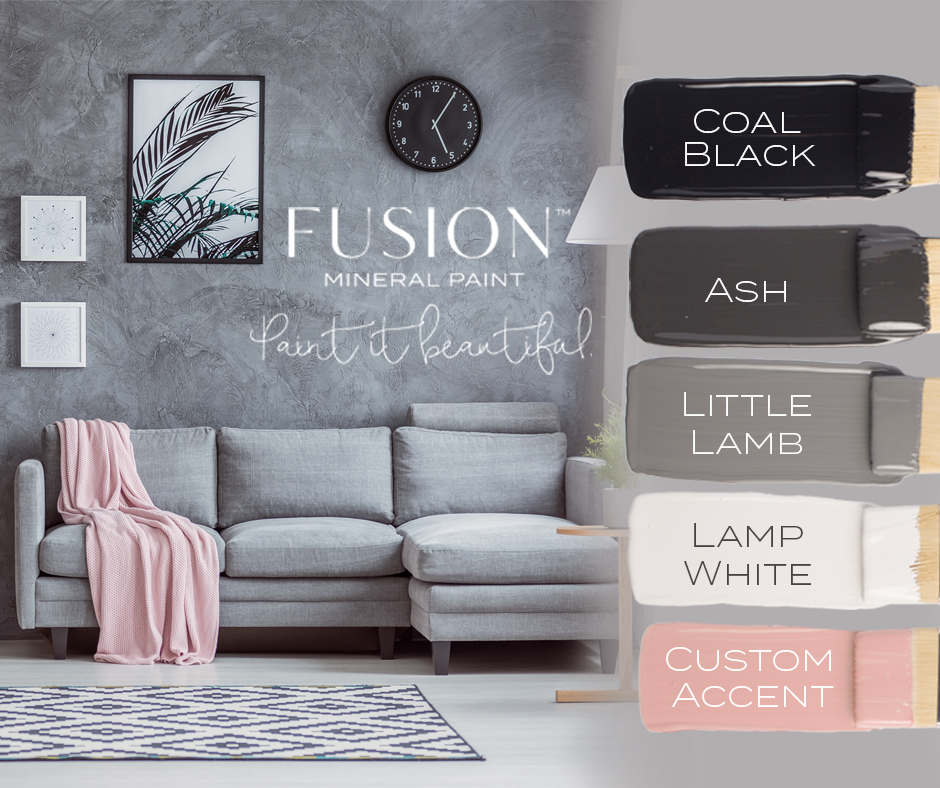 A fresh start with Algonquin, Plaster, Raw Silk, Prairie Sunset and Mustard.
Yellow is associated with happiness and that's exactly how we feel when we look at March's Color Story.  It has everyone's favorite off white – Raw Silk – plus some great warm neutrals: Algonquin and Plaster. With that extra hit of Prairie Sunset and Mustard, this palette keeps us warm and happy inside, even when the wind is howling outside!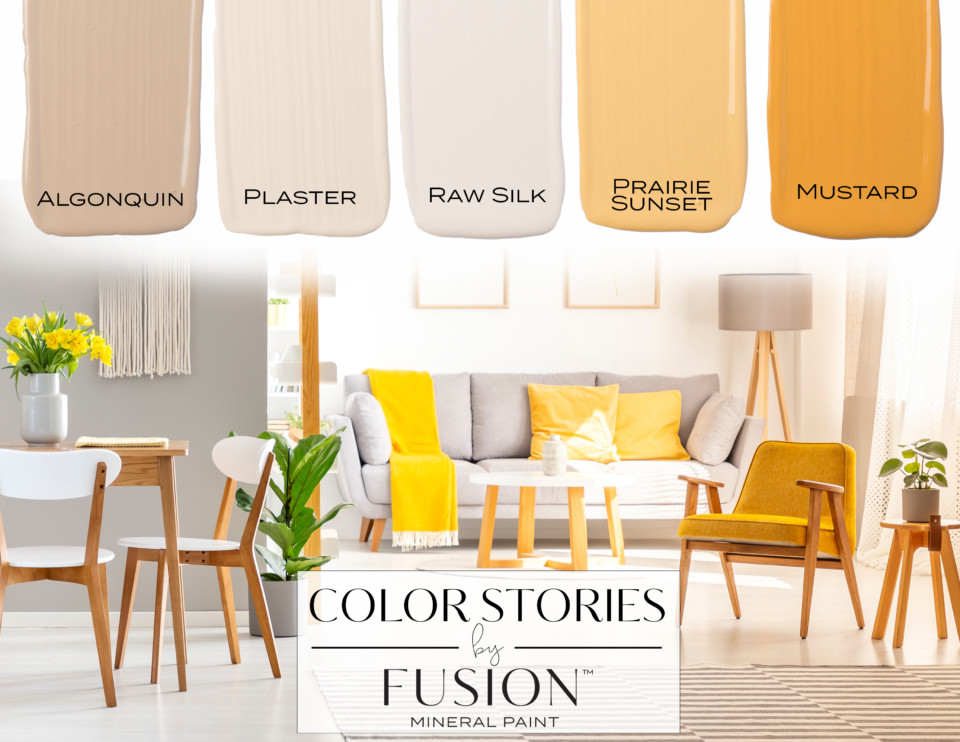 Spring into Putty, Pebble, Picket Fence, Heriloom, Seaside and Soap Stone.
Spring is often a time of transformation. This is the month where we dust off the outdoor furniture, give everything a good clean and think about how to revive our surroundings. Maybe a new throw pillow or possibly a new wall color?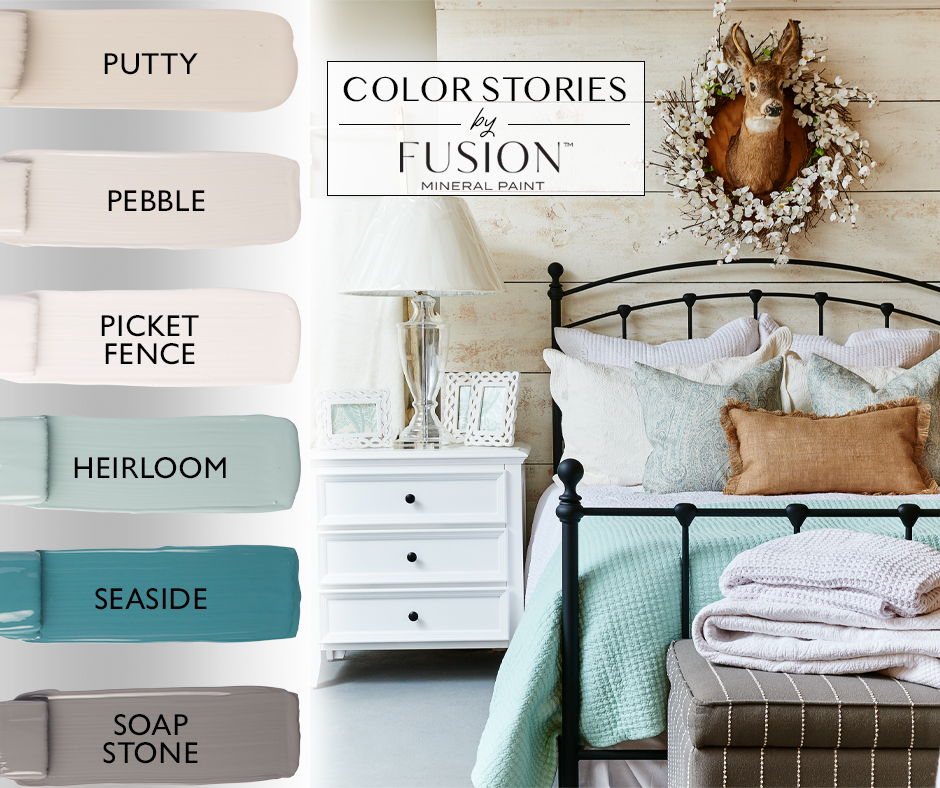 Featuring Champlain, Cathedral Taupe, Damask, Algonquin and Vintage Gold.
Peaceful. Feminine. With touches of shimmer in all the right places. Neutral can be anything but boring. We can see this color palette being used in a bedroom in a country cottage, a Mother's Day brunch tablescape and even your kitchen dining area.

Stay cool with Coal Black, Casement, Limestone, Brook, and Champness.
June's Color Story from Fusion Mineral Paint is all about wanting to hit that alarm clock one more time and revel in the coziness of one's bedroom. This time of year is a time where we enter a different phase of our lives – summer! And summer means lazy days, an emphasis on relaxing and with that in a peculiar yet serendipitous way, comes a whole new kind of energy.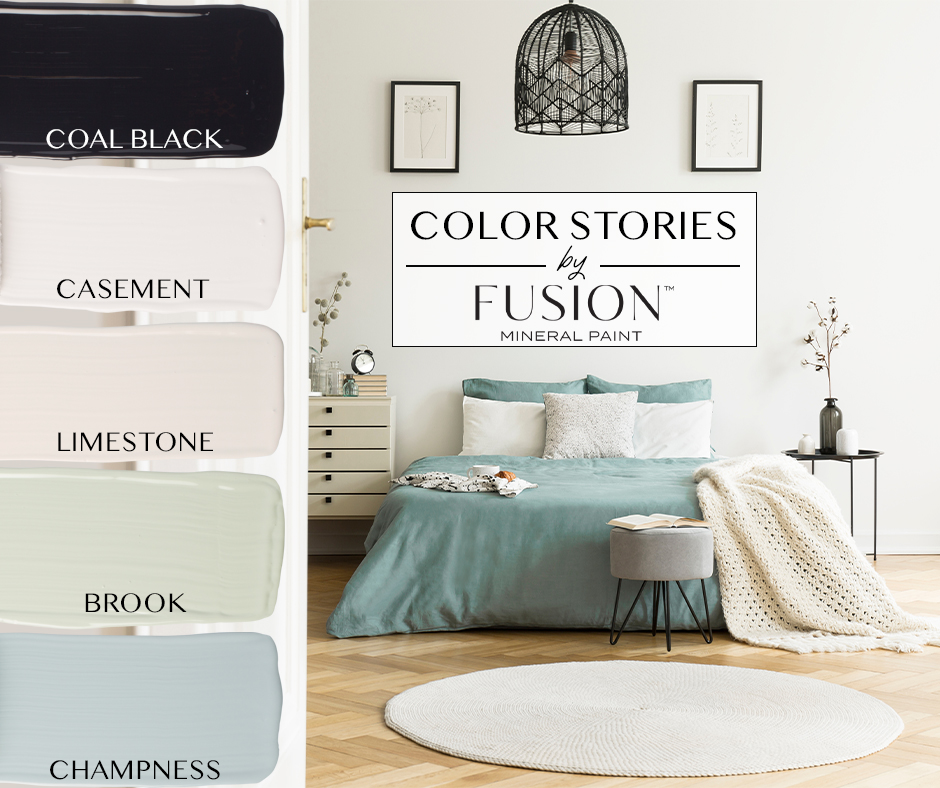 Featuring 5 new colors from our Lisa Marie Holmes Paint Collection: Sacred Sage, Echanted Echinacea, Twilight Geranium, Divine Lavender, Goddess Ashwagangha
These colors pair up in any combination with each other and when they're all together, it's a fun but serene atmosphere. These nature-based tones are soft and colorful, which is a nice combination in the summertime.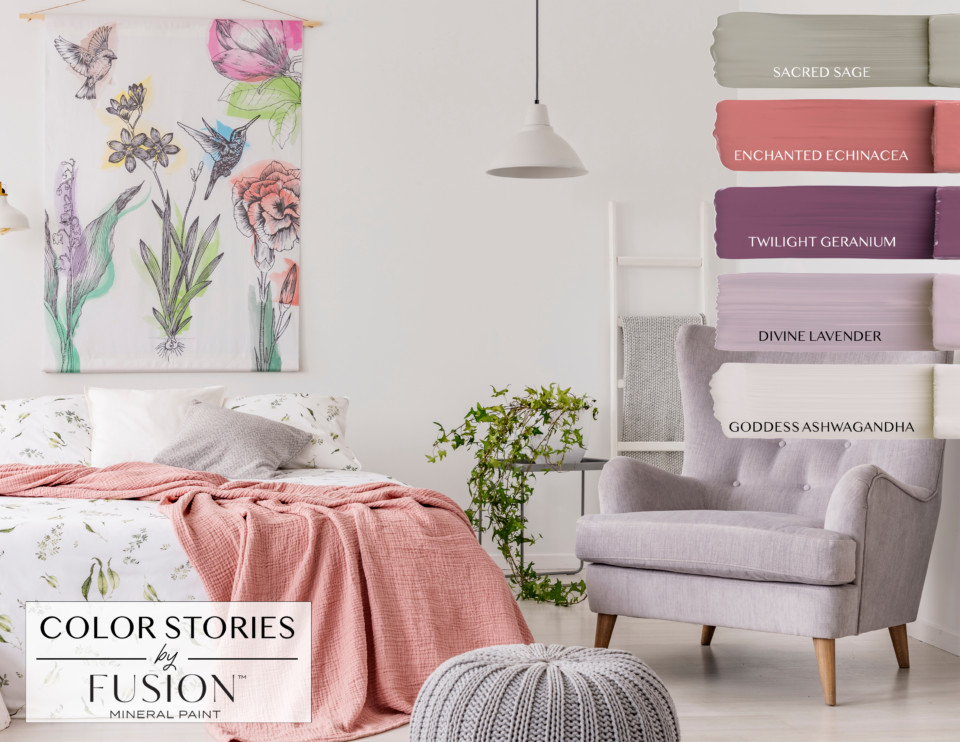 Dive into Liberty Blue, Azure, Plaster and Sterling.
While we know the end of summer is coming, we want to celebrate summertime and make it last and our August Color Story from Fusion Mineral Paint represents just that.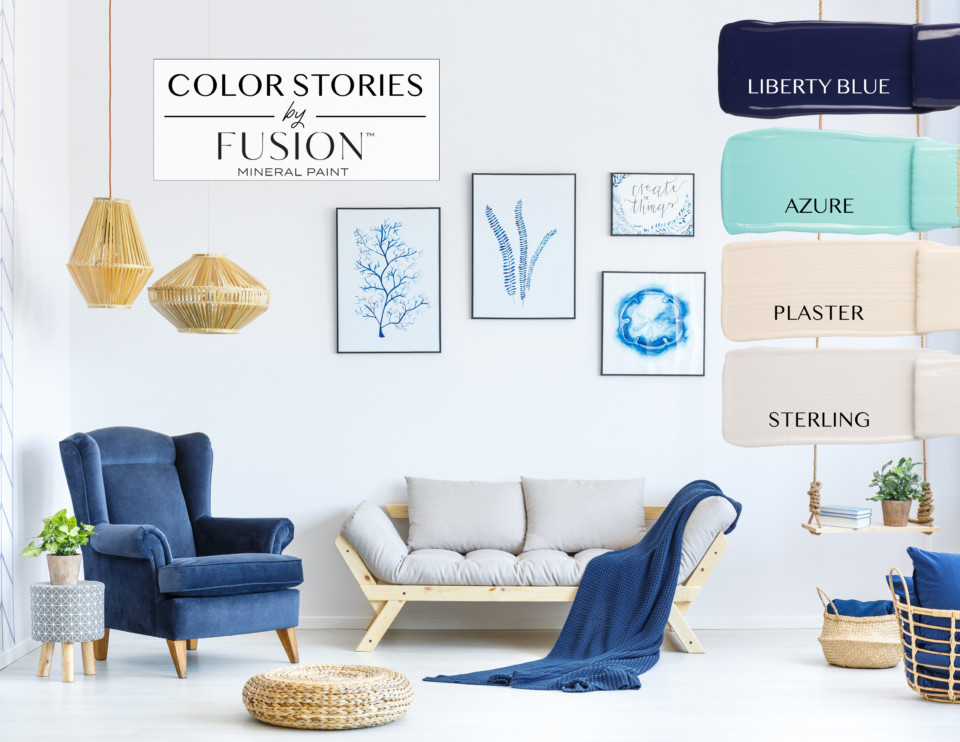 Featuring Prairie Sunset, Rose Gold, Enchanted Echinacea, Casement, Little Lamb, and Homestead Blue.
September's pallet features inviting warm fall paint colors so you can take a moment to relax and an enjoy your space. With so much happening this month it's important to slow down and take moments for yourself.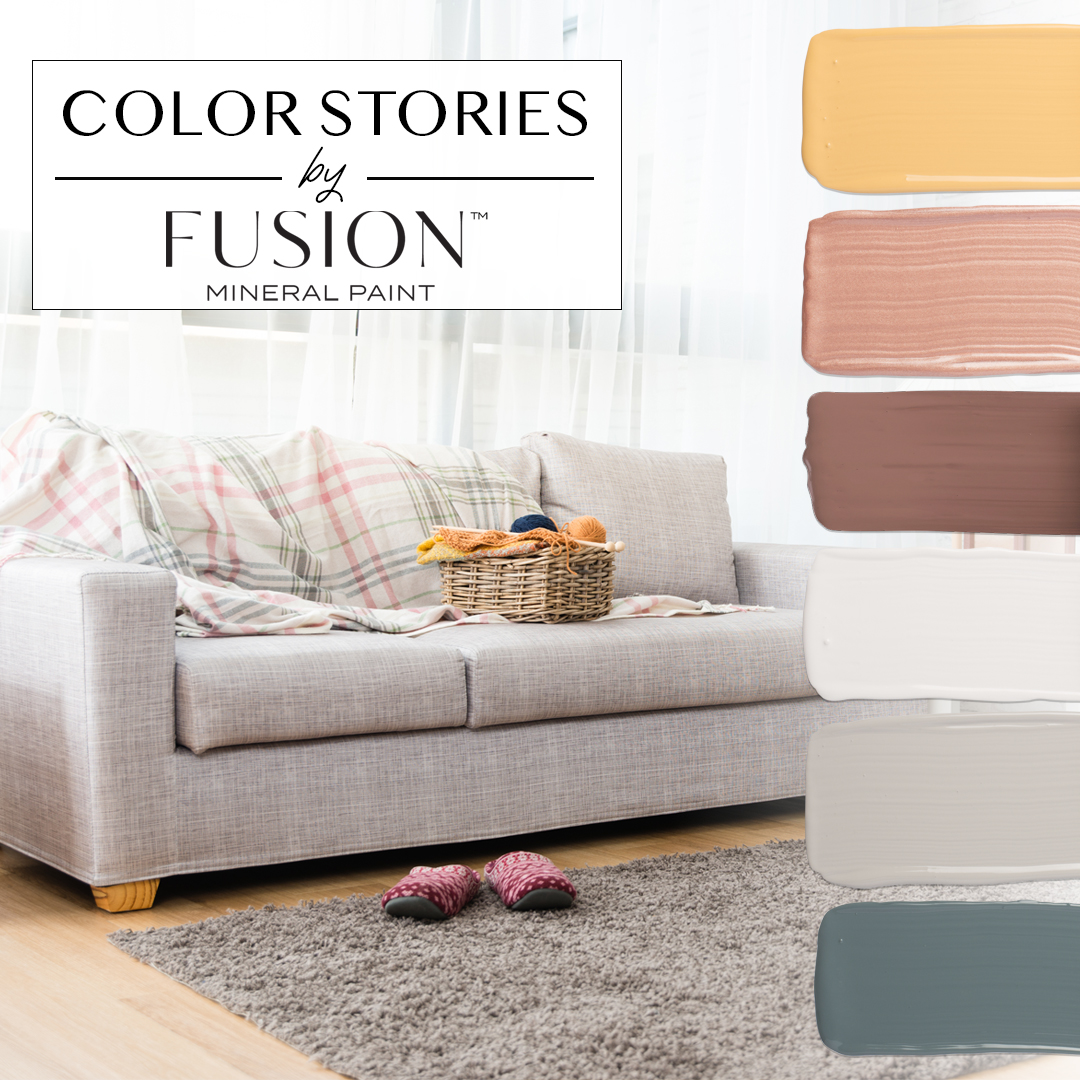 Get cozy with Chocolate, Buttermilk Cream, Bedford, Fort York Red, and Cranberry!
October's Color Story is our richest palette yet, as it features some of our deepest hues with light, warm accents. This bold pallet is inspired by the season, the leaves, the chocolate, and all the fun that occurs in October.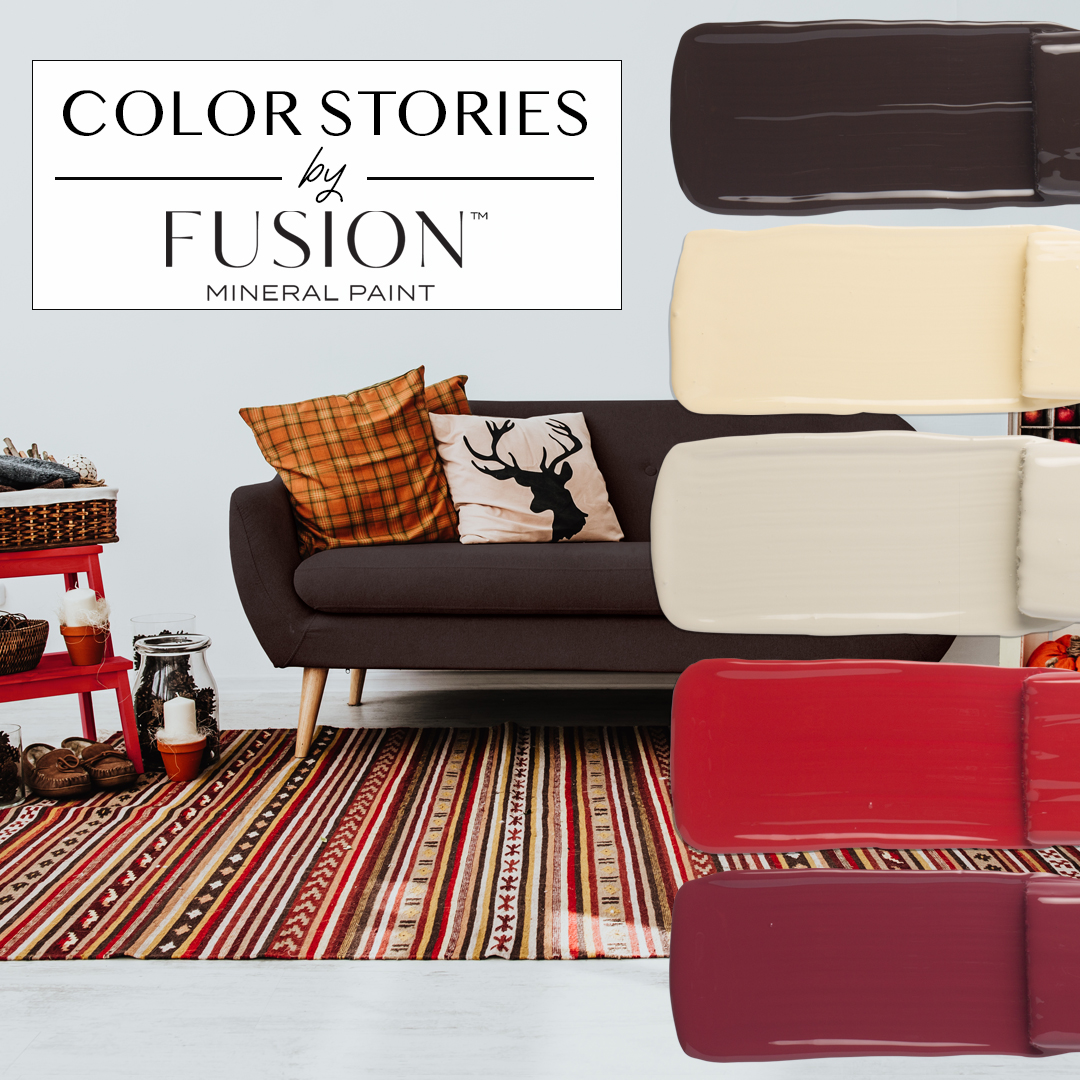 Featuring Raw Silk, Cathedral Taupe, Laurentian, Little Lamb, and Soap Stone!
November's Color Story from Fusion Mineral Paint is all about the coziness – but with a wintry twist. Because winter colors can still be cozy, so why not embrace them?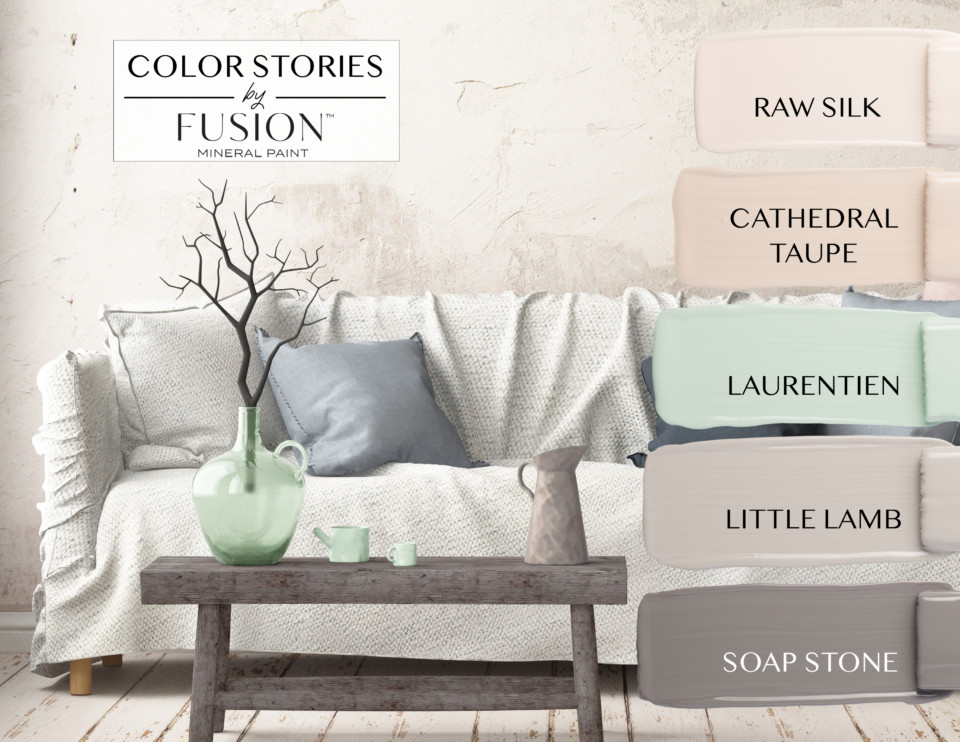 A Holiday Colour Inspiration featuring Brook, Little Lam, Casement, Damask and Vintage Gold.
December's Color Story from Fusion Mineral Paint is tailored to bring about the cozy warmth of spending time with loved ones, without being overbearingly holiday-esque.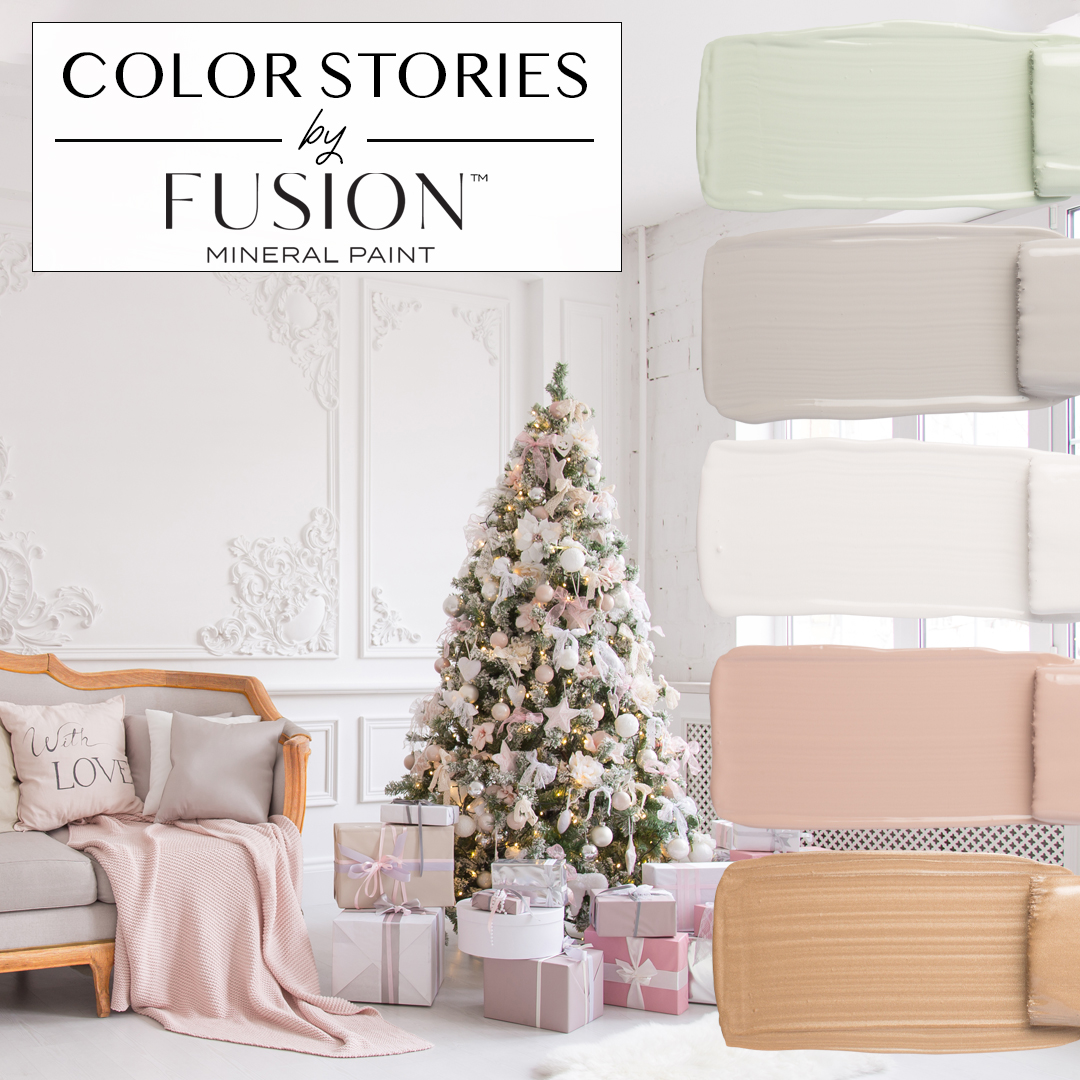 Join the conversation, and tell us what you thought of all our Color Stories in the Paint It Beautiful Facebook group. While you're at it, follow us on Pinterest!