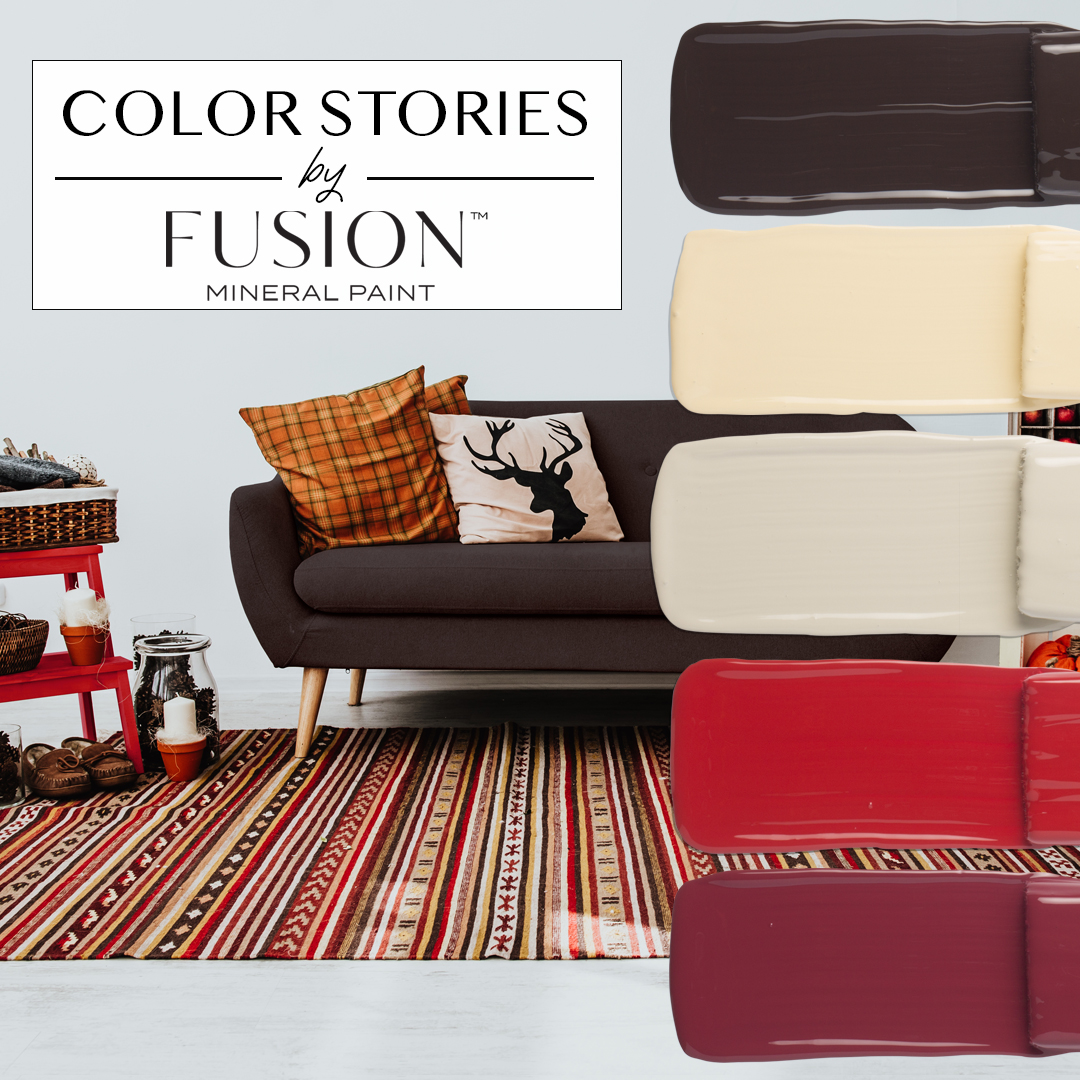 Share:
Fall is in full swing, and October's Color Story from Fusion Mineral Paint combines the perfect colors for this time of year! The weather here in Canada has cooled down and we are admiring the beautiful, rich colors of the season. Thanks to the cold, the leaves have turned and sweater weather is here! That means it's the perfect time to bundle up and enjoy the brisk weather, or cozy up in your favorite wool socks with a cup of coffee or tea (or a Pumpkin Spice Latte – we love them too!) October brings exciting events like Canadian Thanksgiving and Halloween. So go ahead and gather your friends and family to celebrate and prepare for winter! But don't forget the tasty treats!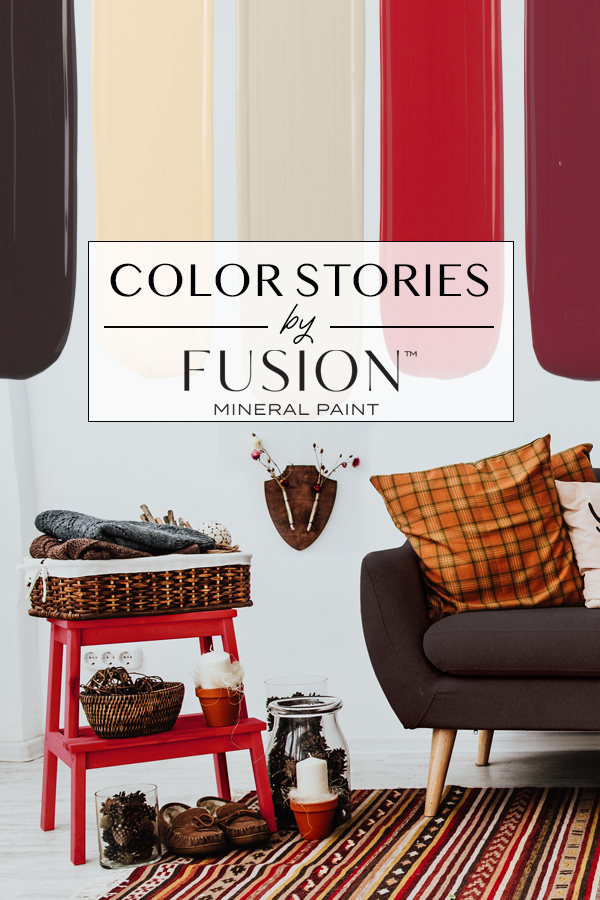 October's Color Story is our richest palette yet, as it features some of our deepest hues with light, warm accents. This bold pallet is inspired by the season, the leaves, the chocolate, and all the fun that occurs in October.
If you're looking to decorate your own home in October's Color Story, try to choose the more neutral colors for your larger pieces of furniture. Just in case you decide to change out the accent colors later on! This warm palette is definitely meant to induce the cozy feeling – great for a basement or den. And did you notice that this couch is the perfect tone to match Fusion Mineral Paint's Chocolate?
Also note the stool – that's totally Fort York Red! And don't forget Bedford – check out that cute painted pumpkin! (For more info on painting your own pumpkins with Fusion, check out this blog post.) Finally, the patterned rug perfectly ties in all the colors in October's Color Story – the grounding neutral Chocolate; the soft neutrals Bedford and Buttermilk Cream; and the Fort York Red and Cranberry accents. As you can see, a rug is a great way to quickly change your decor between seasons and introduce new colors, without having to change out your staple pieces!
Let's cozy up to the gorgeous colors in October's Color Story!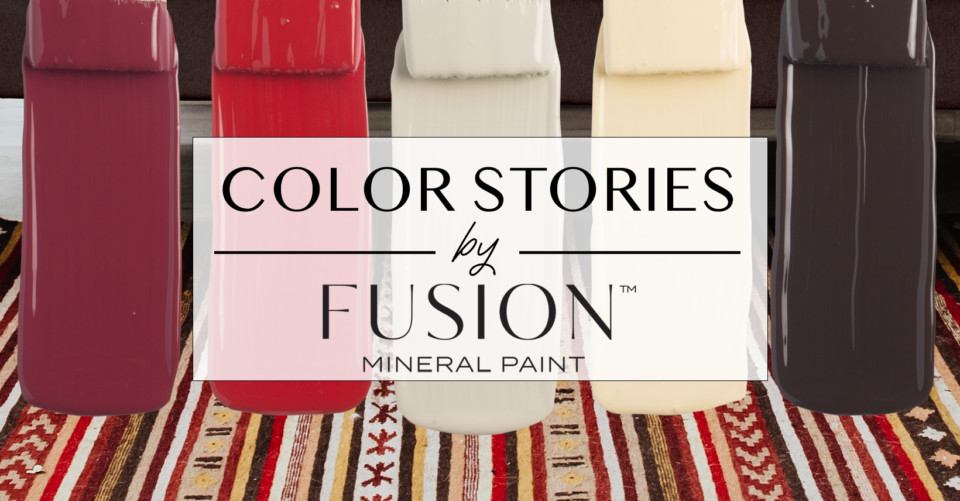 CHOCOLATE
This rich brown is perfect for undercoating when you want to achieve a distressed look, as it can take on a very natural wood look. Chocolate is a deep and delicious color, named for the thoughts of chocolate and coffee that it evokes. Add Chocolate to a neutral palette for warmth, or to a cool palette for a natural element. It goes great with just about any of the other Fusion Mineral Paint colors, but try pairing with some Twilight Geranium for a surprisingly beautiful finish!
BUTTERMILK CREAM
Just as the name indicates, this is a soft, creamy yellow. Buttermilk Cream goes well with greens, grays, reds, or black for a traditional feel. Pair it with something bold – think Renfrew Blue! – for a modern and punchy look.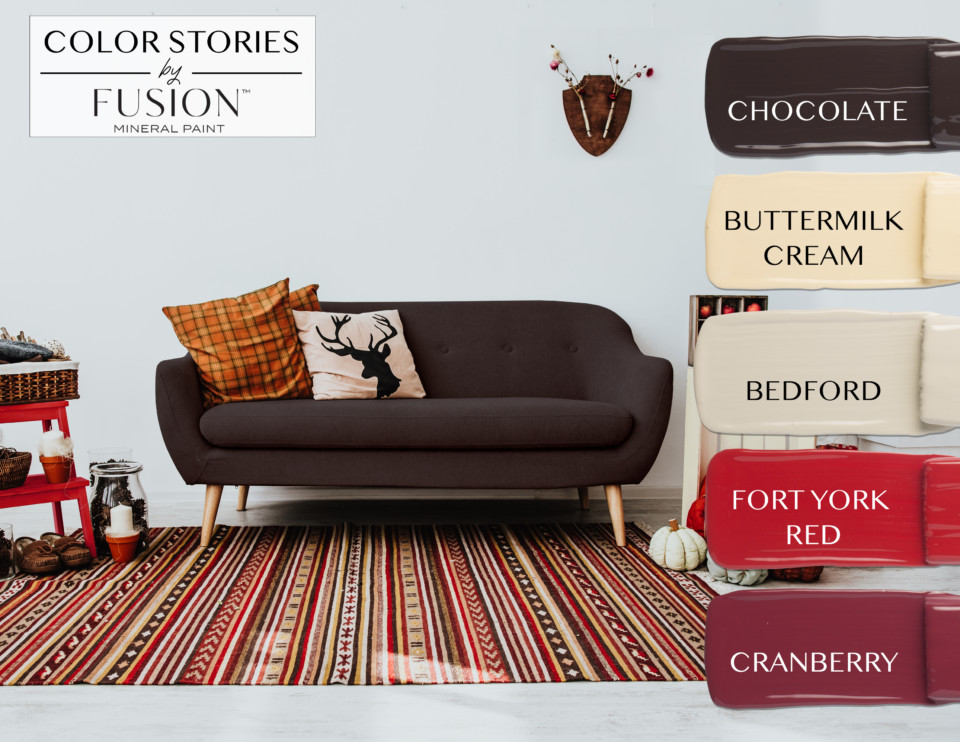 BEDFORD
One of our hidden gems, this is a mid-range neutral grey with a soft undertone of yellow. For a bold pairing, use Bedford with any bright color. It also works well with other neutrals for a natural feel – and can even be used in layered dry brushing for a driftwood effect. 
FORT YORK RED
Named after a Toronto landmark, this bright, true red is also associated with passion & love. As such, it has been extremely popular over the years.  Its color adds a feeling of excitement in a neutral room or a stimulating accent. This is definitely a bold accent color!
CRANBERRY
A true statement color. Cranberry is a burgundy red that mimics cranberries in a way that is both bold and cozy. Paired with Chocolate, Cranberry can take on a very masculine feel. Pair it with something lighter to make Cranberry the centerpiece. Bring in some pinks, and you've got a beautiful, feminine red.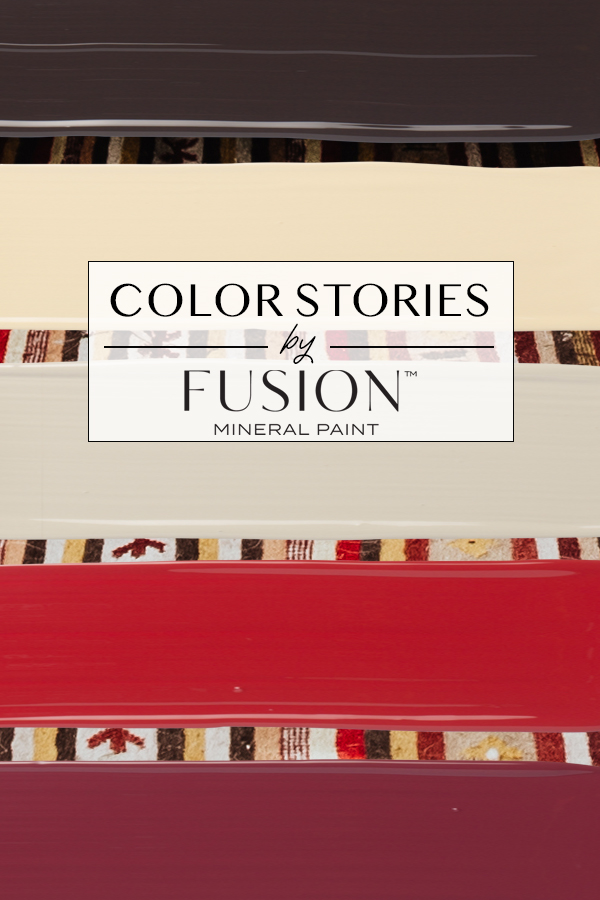 What color inspires you most from October's Color Story? What other Fusion Mineral Paint colors remind you of fall? If you've created any projects using these colors, please tag us on social media, use #PaintitBeautiful, and join our Facebook Group!
CONNECT WITH FUSION MINERAL PAINT