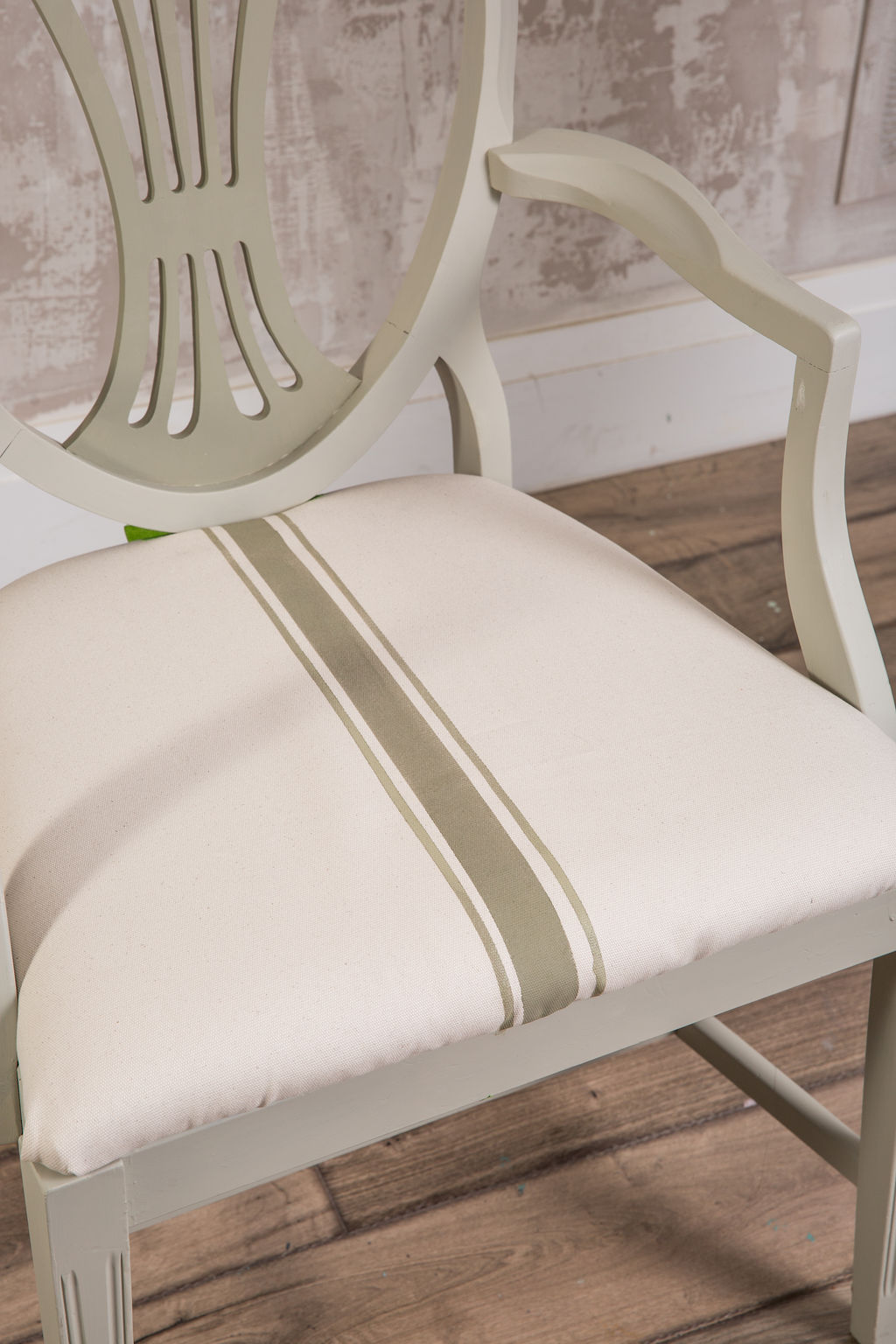 Share:
What's a table without chairs?  Having refinished the dining table, the chairs needed an equally fab makeover using Fusion Mineral Paint.  Welcome back to a special series, Company's Coming, and prepare to be hailed the host of the holidays!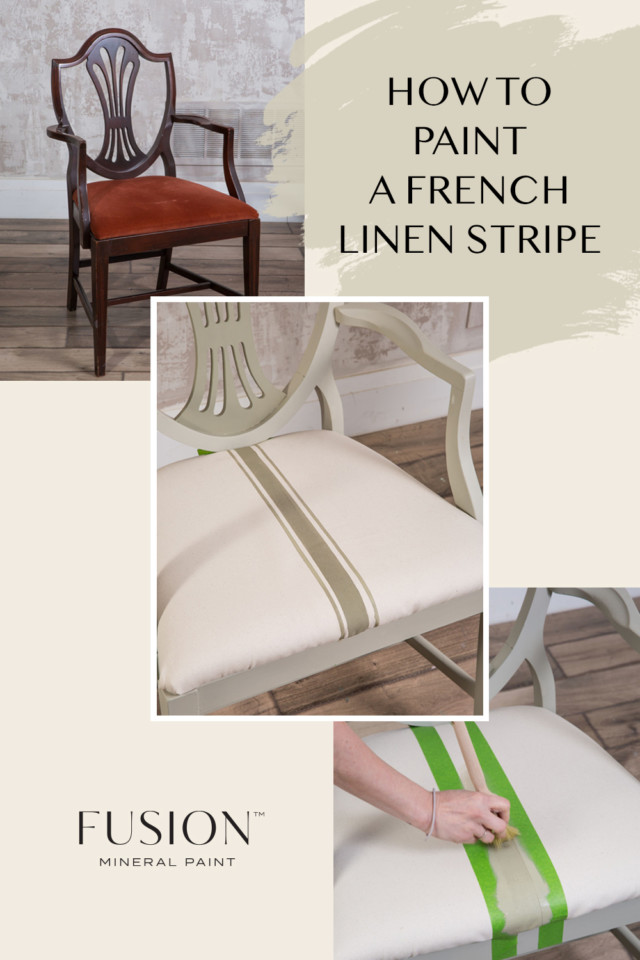 French Linen Stripe Chairs
The french linen stripe is a classic look, and one that works perfectly with this style of chair.  It's identified by the contrasting size of stripes, usually running down the middle of what has been upholstered.
SUPPLIES
• TSP
• Sanding Block
• Painters Tape
• Staalmeester Brushes
• Fusion Mineral Paint (we used Bedford on the main frame, accented with Lichen)
You can find almost everything at your local Fusion Mineral Paint retailer.
STEP 1
PREP THE CHAIRS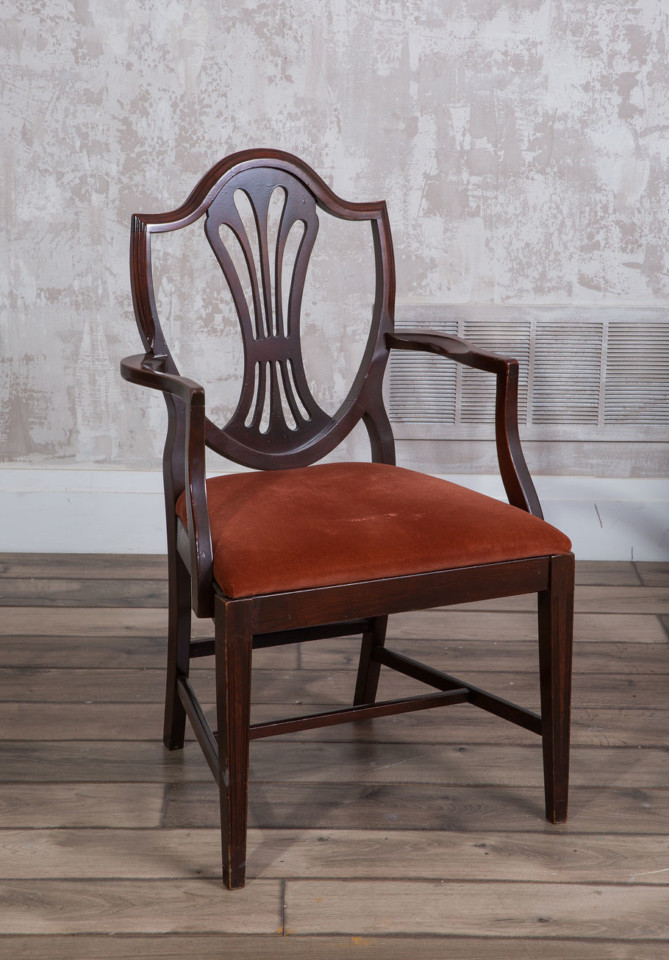 The wood part of the chair was cleaned with TSP, and got a light sanding to ensure optimal paint adhesion.  We recommend all furniture projects start with these steps.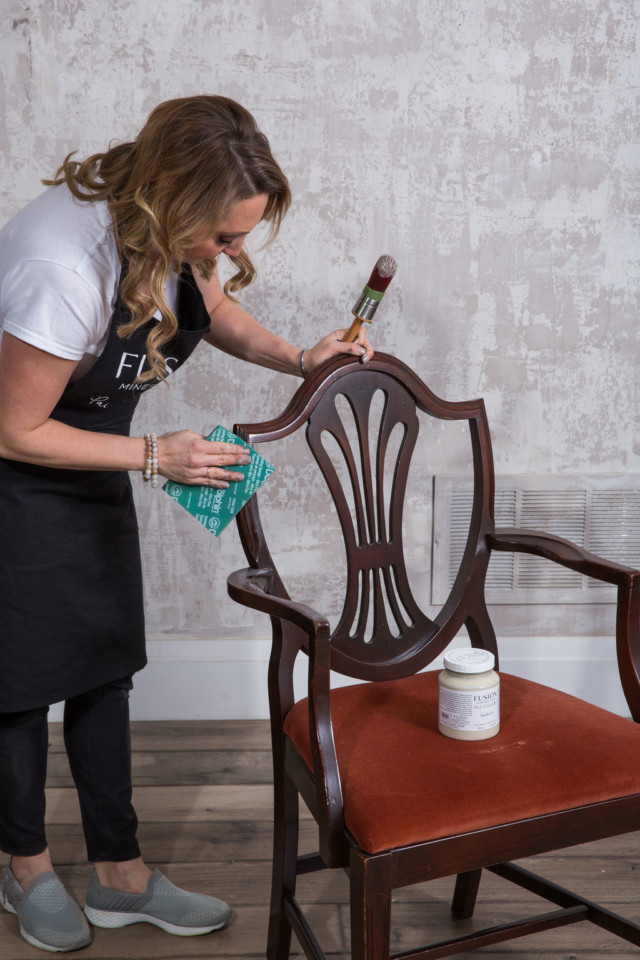 STEP 2
PAINTING THE FRAME
Before reupholstering the seat, we recommend you paint the chair frame first.  In doing so, you don't run the risk of getting different paint colors all over your fresh upholstery.  With great prep work, painting the frame will be a breeze!  Using our Staalmeester brushes, you can easily apply your desired color for maximum coverage.  The brushes will even get into all the nooks and crannies of a more complicated chair.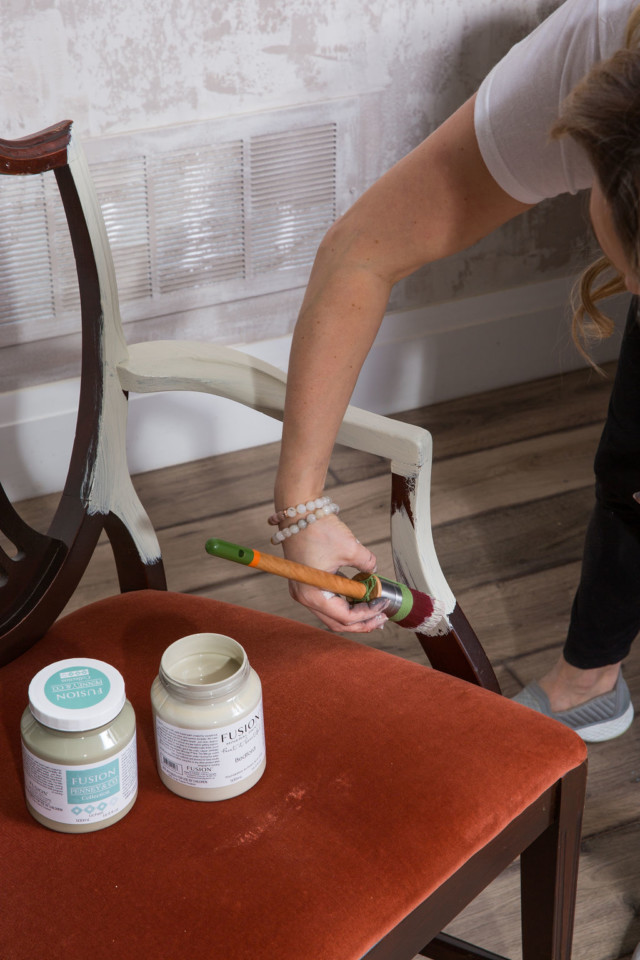 We painted the interior back of the chair a different color than the frame.  A slight color contrast can show off beautiful detailing.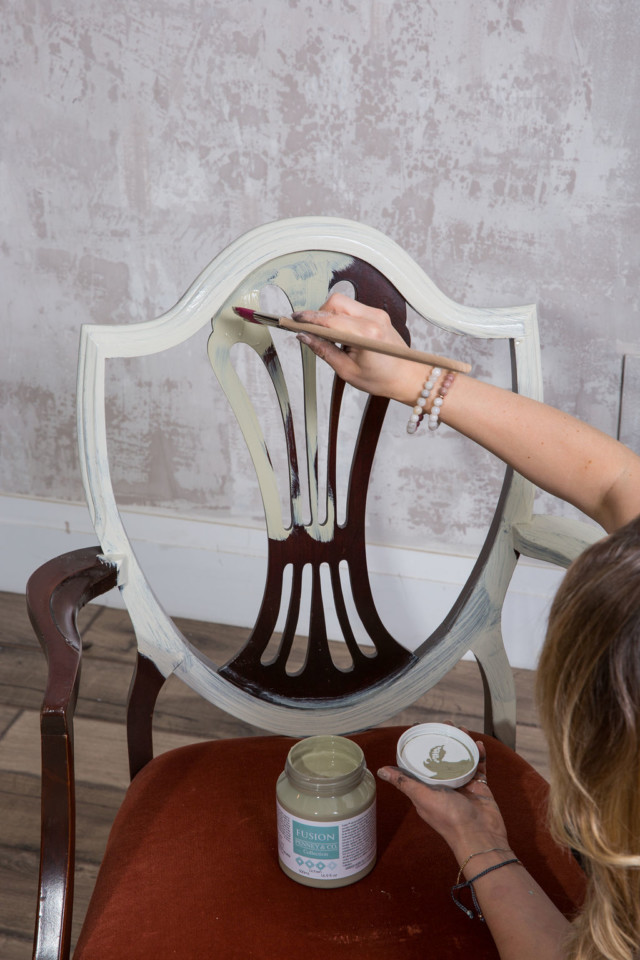 STEP 3
REUPHOLSTER
Although there's not too much wrong with these chairs, they don't match our freshly painted table.  While we do have great tips on painting fabric, instead of painting over the orange velvet, we stripped the fabric and reupholstered them in a beige color.  As you can see below, we've already begun taping down our chair which means it's on to the next step!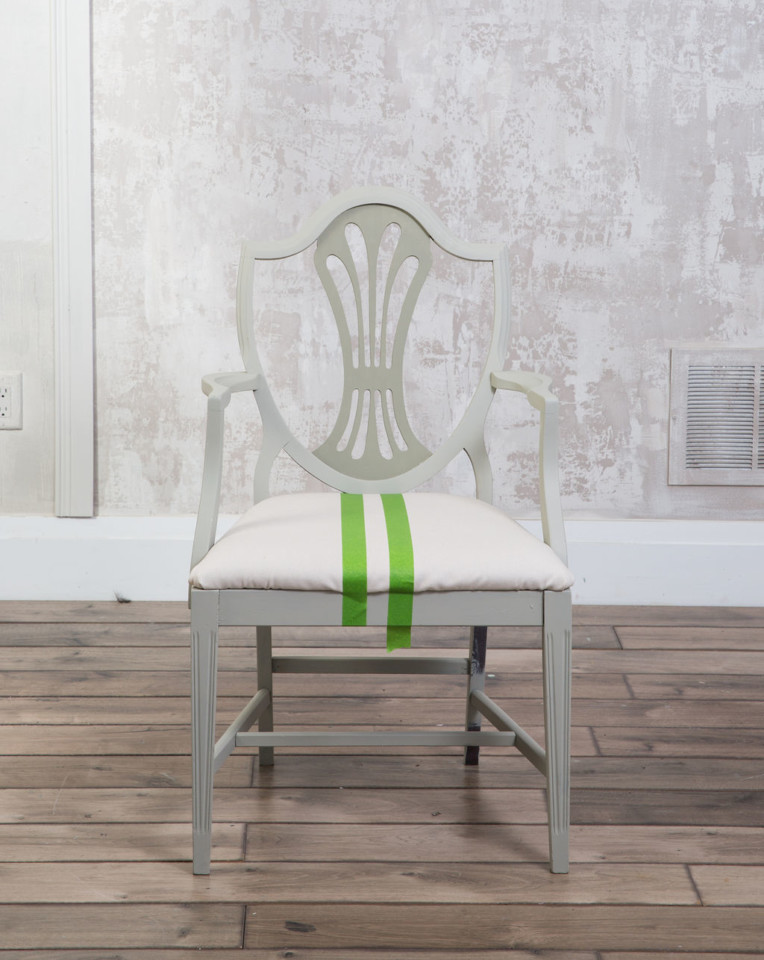 STEP 4
HOW TO CREATE A FRENCH LINEN STRIPE
With the seat getting a french linen stripe, we'll be creating two stencils using painters tape.  We recommend starting with the central thicker stripe.  If you remove the tape immediately after applying your coat, you'll get crisp lines as any excess paint (sitting on the tape) is removed before it can run.



When its dry, re-tape for two thiner stripes on both sides.  Apply your paint and remove the tape as you did on the first stripe.



How to avoid paint bleeding when stencilling fabric
Any time stencil tape is involved, you run the risk of the paint bleeding through, unless…
You use little to no paint on your brush.  After dipping your brush, make sure to remove as much excess as you can (even test it on a paper towel).  You want it to look like a dusting of paint is being applied.  This will avoid that bleed through of the paint seeping below the stencil or tape.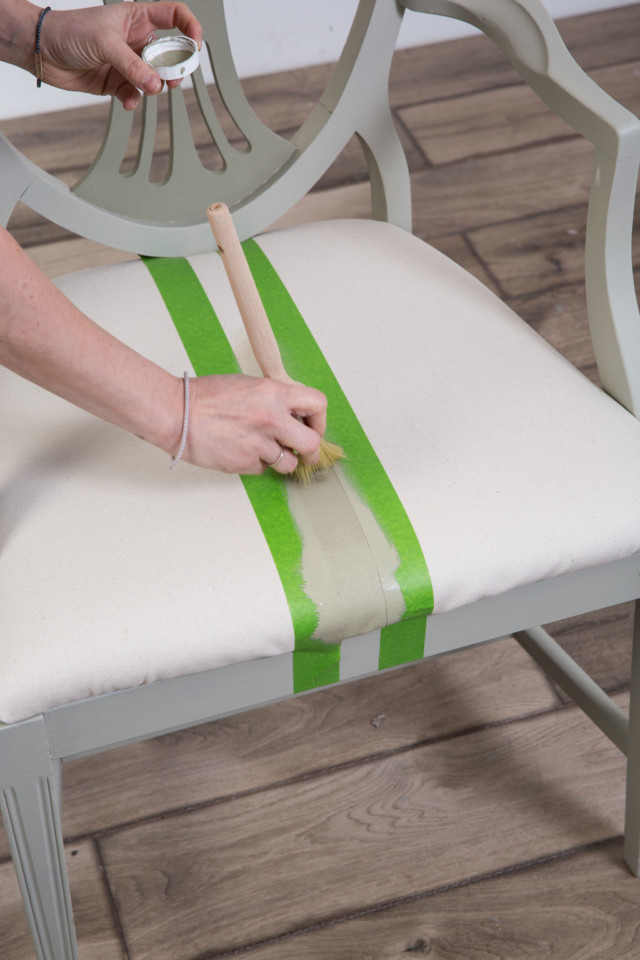 DIY French linen Stripe Chairs
For under $125 in paint and brushes, we were able to completely transform this old table to a beautiful holiday dining table where memories will be made!
For this completed look, stay tuned for the rest of the series featuring the following DIYs:
Paint Dyed Napkins, Painted Place Cards, Metallic Painted Chandelier & Lamp Shades, and Painted Table.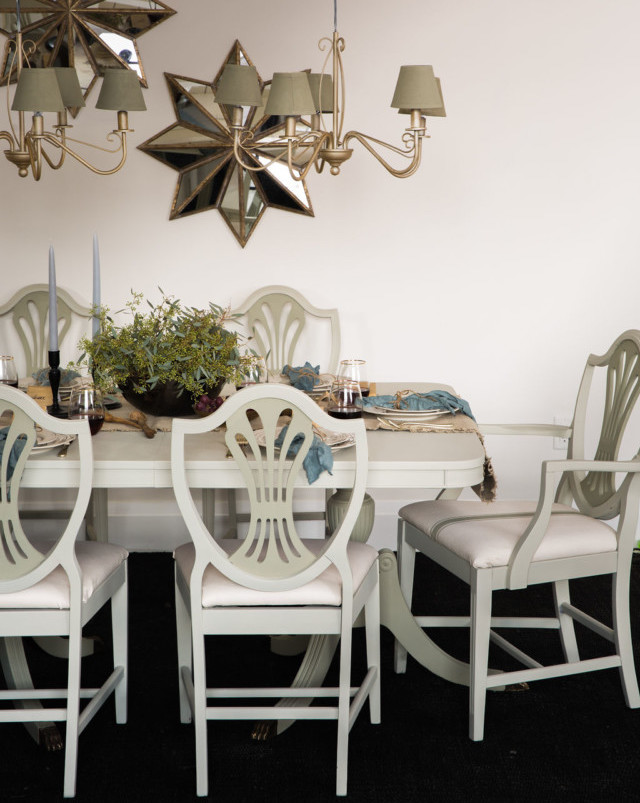 What kind of projects will you be tackling ahead of the holiday season?  Tell us about them in the Paint It Beautiful facebook group.