Share:
We know you love our paint here at Fusion! We are so grateful to our Fusion community who share their projects with us. You may be surprised to know that we also carry a line of finishing products. Designed to help enhance and treat your painted and unpainted wood pieces of furniture. Items like our Hemp Oil, Beeswax  and Stain & Finishing Oil are some of our customer favorites. We're now expanding that line with our NEW Brush On Gel Stain and Topcoat! Just check out this serving tray. The left has 2 coats of the Double Espresso Gel Stain & Topcoat all in one. It covered up the scratches easily with no prep other than a quick clean!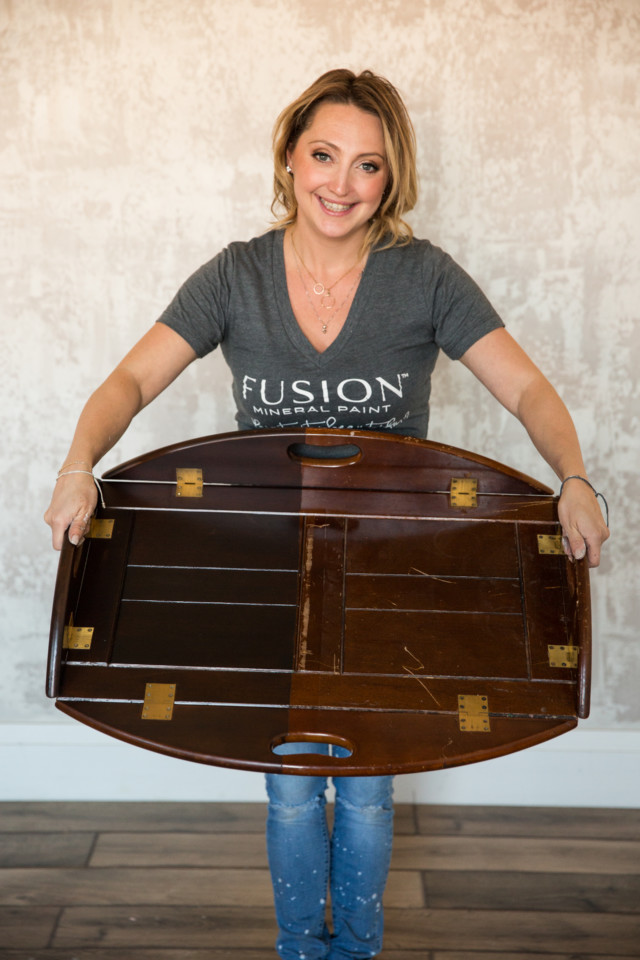 The Gel Stain is an oil based coating available in 4 gorgeous colors . Double Espresso, Black, Greystone and Patina. It has similar characteristics to our Stain and Finishing Oil, known as SFO for short in our Paint it Beautiful Facebook Group.
However with Gel Stain, it can be applied to virtually any surface with no prep ( other than cleaning off the cobwebs!) to a surface that has been previously finished, scratched, painted etc. It's a game changer!
Quick facts:
This product is a Brush On and NOT a wipe on or wipe back product.
Use a natural bristle brush or a roller to apply.
Dries to the touch in approximately 4 hours and can be re-coated at that time (always test for tackiness prior to recoating, if still tacky wait another couple hours and re-assess)
Has a thicker gel like consistency – each color varies. When stirred it becomes less viscous.
Long open time and Self Leveling.
Comes in Quart size only in 4 different colors.
One Coat looks like a stain. Subsequent coats become more opaque, except for Patina which will remain transparent as it contains no pigment.
Satin Finish.
IDEAL SURFACES
Laminate, Lacquered, previously painted or coated surfaces.
Damaged or Scratched surfaces
Almost a no prep product- just clean and remove any wax or grease. No sanding or de-glossing required to apply this.
Extremely durable. Excellent for Flooring and heavy use kitchen table tops etc.
Works on Bare Wood surfaces for a beautiful satin finish.
CLEAN UP AND CURE TIME
Gel Stain is Oil Based
Mineral Spirits for clean up
Dries to the touch in approximately 4 hours
Cures in 5 Days
How can you decide which one to use and when?
We're going to break down the differences between the two products to help you decide which is best for your next project.
If you have a raw wood that has an even surface and lovely grain, we would lean towards using our Stain and Finishing Oil. If you have a sealed, varnished, lacquered or painted wood surface, or a surface that is damaged or scratched we would lean towards the Gel Stain.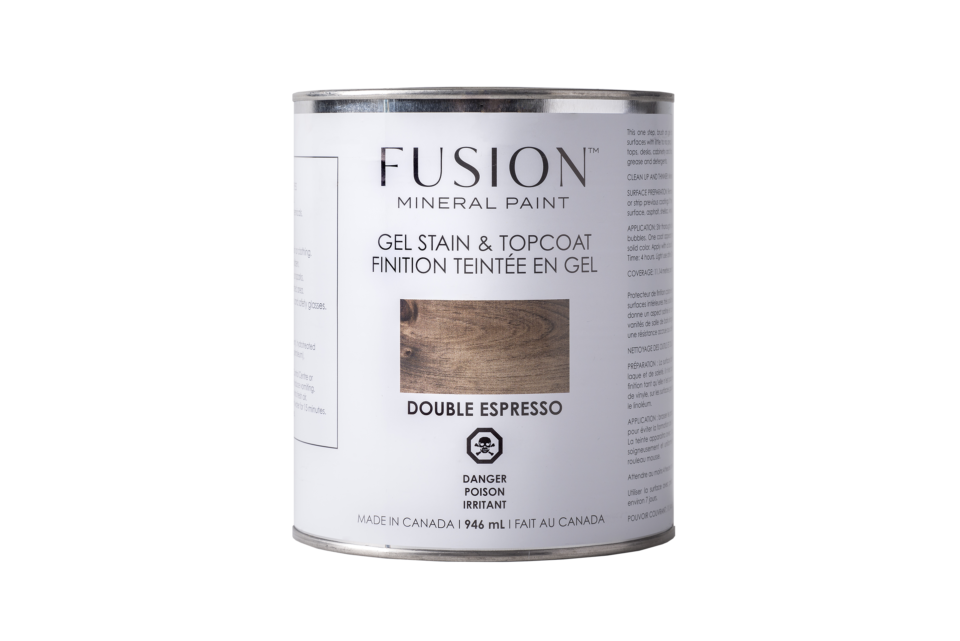 It sticks and adheres like nobody's business! The finish is very durable and easily washable.  It is also very forgiving with what it adheres to.  If you had a battered, worn down surface that has multiple substrates (stubborn layers of paint) this is an ideal product. Gel Stain is also great if you are trying to camouflage any damage to a piece.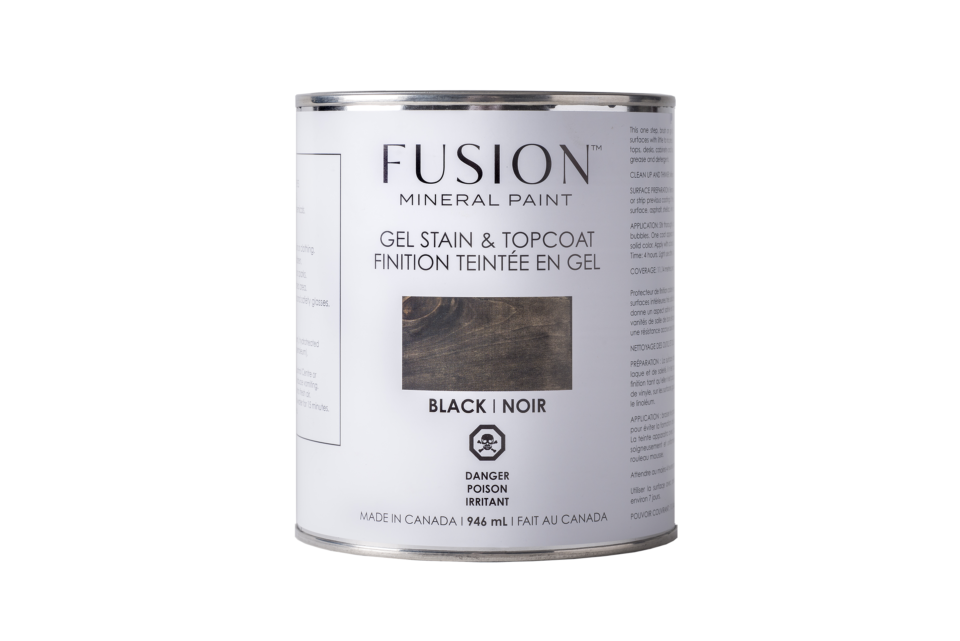 It is thicker consistency which is why we put gel in to the name. Brush strokes appearing using this product is rare occurrence as it is self levelling.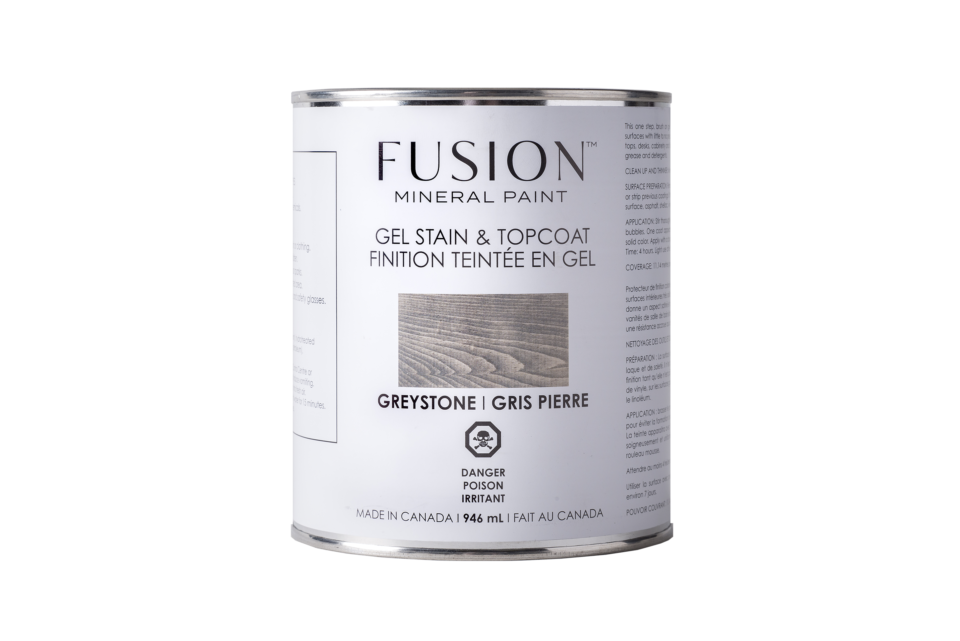 It does have a bit of an odour just like the SFO, so make sure you apply it in a well ventilated area.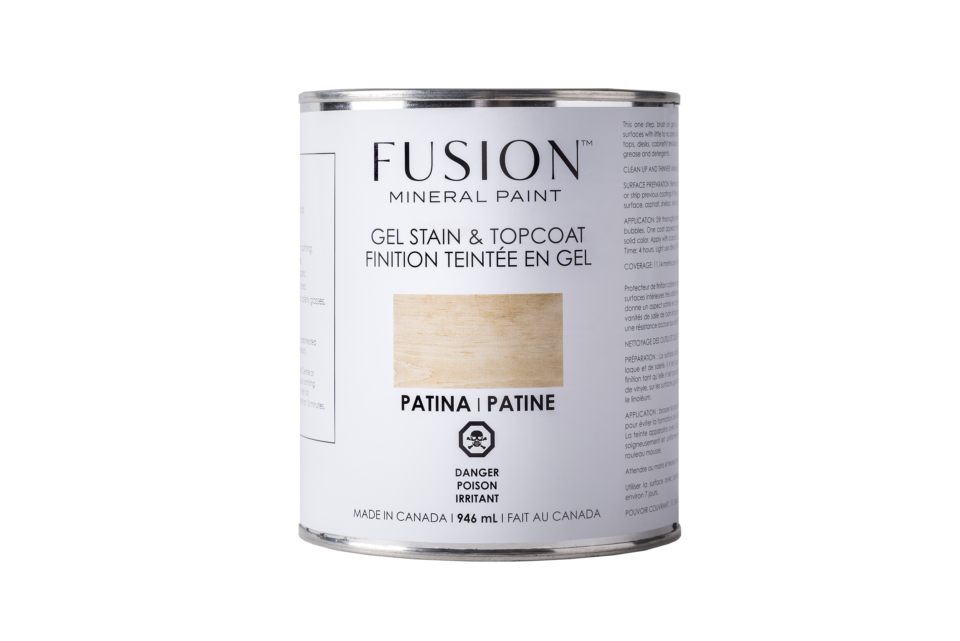 Like our Natural SFO, the Patina Gel Stain can be used as a protective top coat, however remember it will have a yellowing effect as it is an Oil base.
Check out this before and after using the Gel Stain & Topcoat. The left side is scratched, the right side has 2 coats of Double Espresso and it looks flawless. We also painted a fresh coat of Raw Silk on the front on the right side!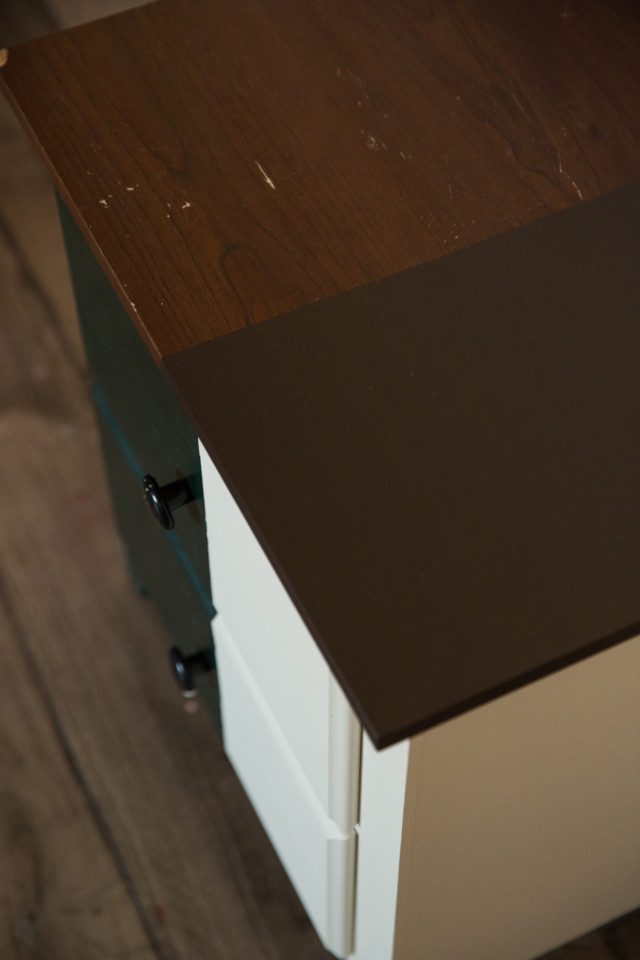 What are some other differences between our Gel Stain and our Stain and Finishing Oil?
The Gel Stain has a satin sheen that does not build in sheen with additional coats.  If you kept applying coats of the SFO, you could get it to an almost glossy finish. What does happen with the Gel Stain, is that the more coats that you apply, the more opaque the color will become.
SFO is a finishing oil that it penetrates into the wood surface ideally, and you need to remove the excess from the surface. You do not allow it to sit on your surface because it will at times get tacky and this could cause an uneven sheen.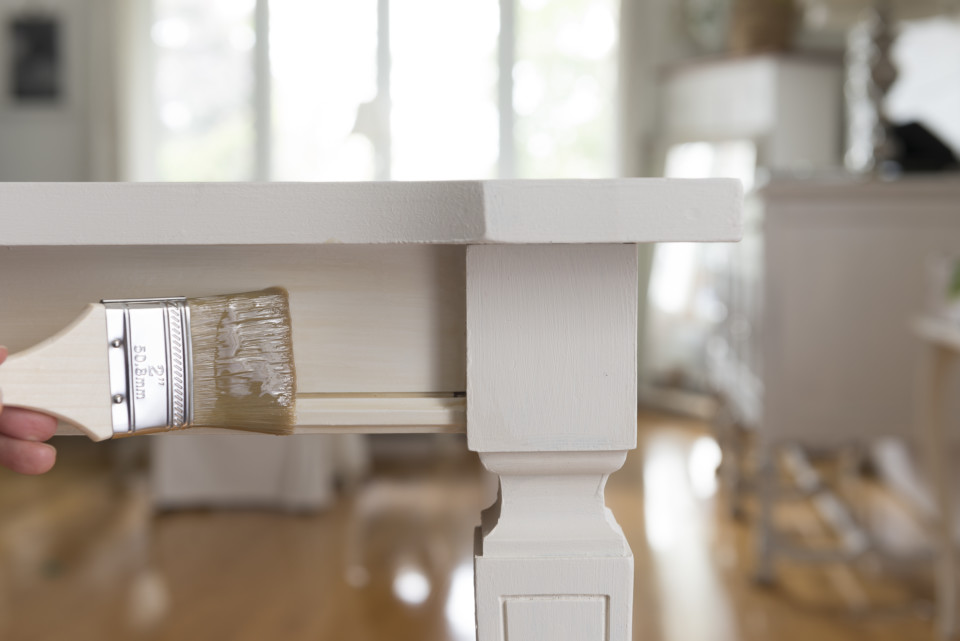 However with the Gel Stain, you apply a thin layer with a brush. A tip for this – large flat surfaces are great for using a very wide brush so you don't need to be brushing it back-and-forth. We have also used a roller brush with great results for applying Gel Stain.
Here is a comparison chart that breaks down everything you need to know about Fusion's topcoats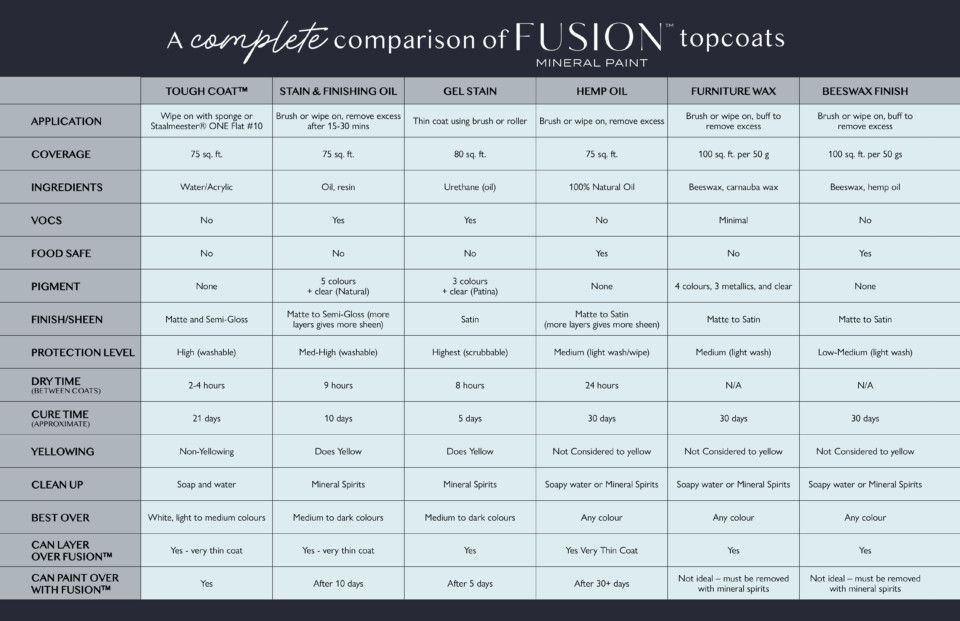 Check out this furniture makeover using Gel Stain Double Espresso, Fusion Mineral Paint Cathedral Taupe and Antiquing Glaze.
We can't wait to see your projects using our new Brush on Gel Stain and we hope you love it as much as we do! Make sure to tag us in your creations and use our hashtag #PaintItBeautiful when sharing your projects.