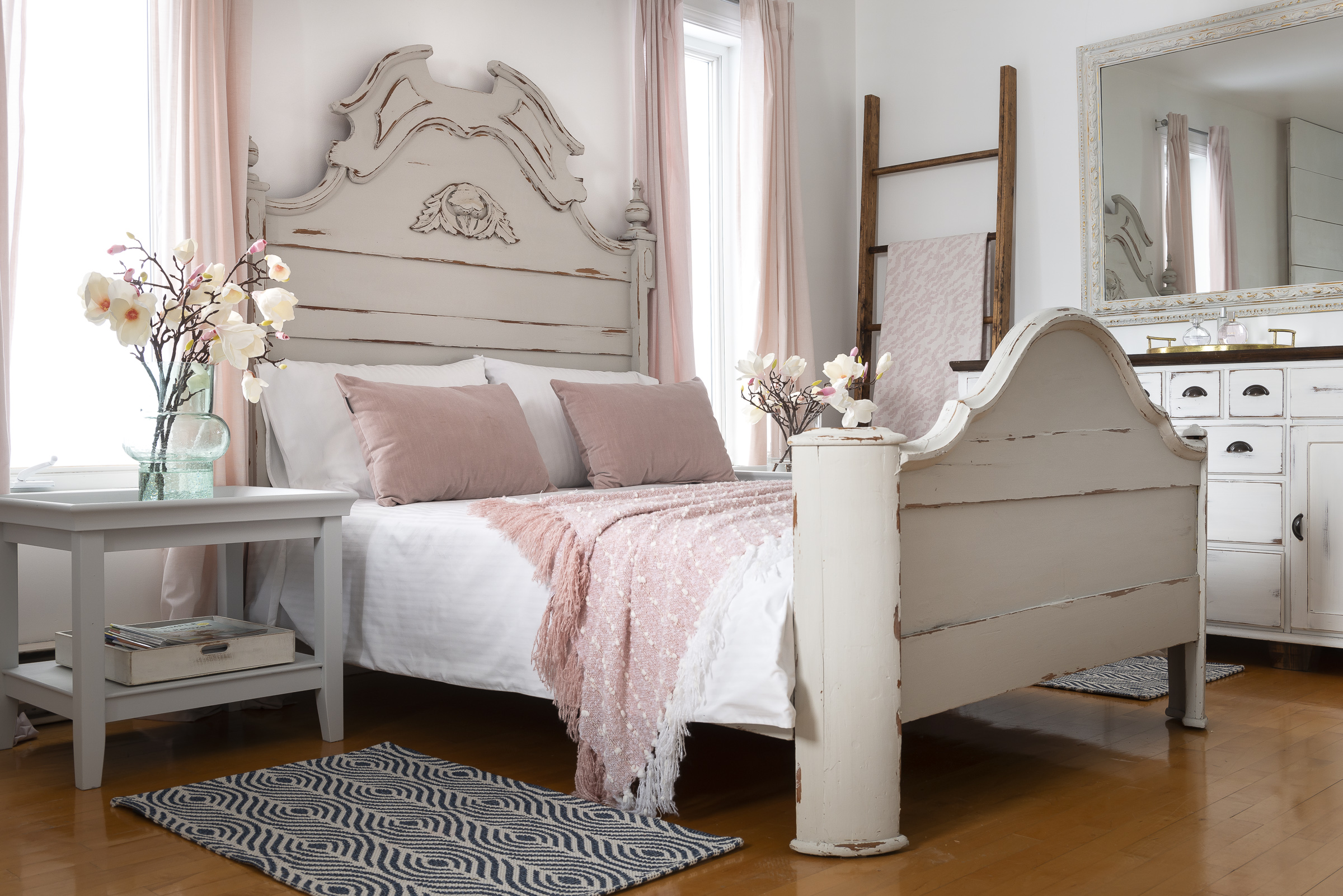 Share:
Creating a warm relaxing space in your bedroom for you to enjoy your slumber in style and comfort is important for creating a soothing ambiance that everyone is looking for in their bedroom spaces. This gorgeous antique distressed bed would be the perfect focal point of any room and it has been beautifully painted using Goddess Ashwagandha color from the Lisa Marie Holmes collection. It's one of our favourite neutrals for creating a calming zen-like mood. It takes just one extra step to create the perfect distressed finish and this post will have all the steps to show you how to get the perfect distressing!
SUPPLIES USED
Distressing is simple using Homestead House Salad Bowl Finish as a resist. A resist is used prior to painting to create a barrier between the paint and your project essentially stopping the paint from adhering to where ever you apply it. If you have used Fusion Mineral Paint before you know how tough it is, so we recommend distressing within 24hrs.
STEP 1
Prep your surface
Always make sure your furniture piece is free of dirt, oil, and grease.  After cleaning the bed with water and Fusion TSP, we let it dry.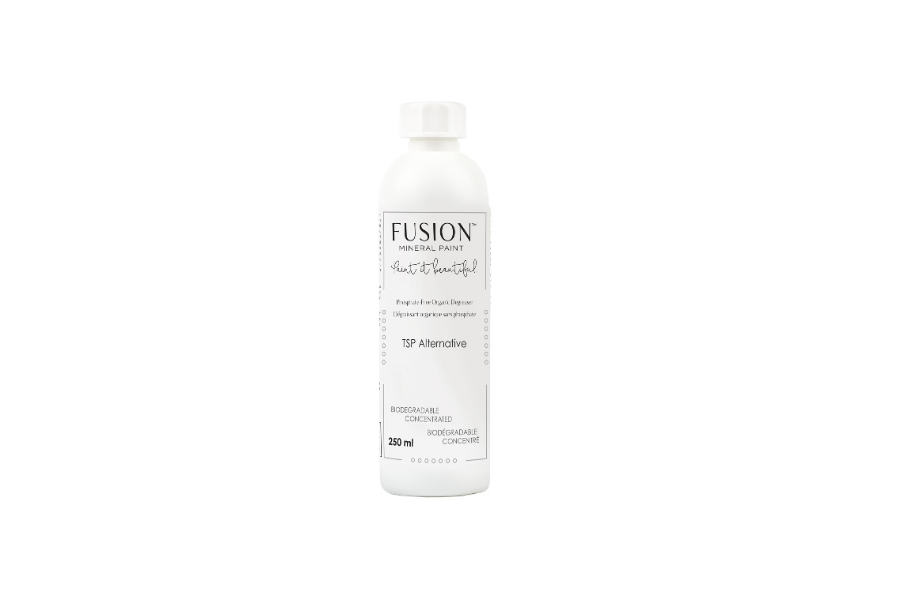 STEP 2
Sanding
Gently sand over the entire surface using medium-grit sandpaper.  Due to the age of the bed, most of the original finish had worn off and minimal sanding was required. Wipe off the dust using a damp rag.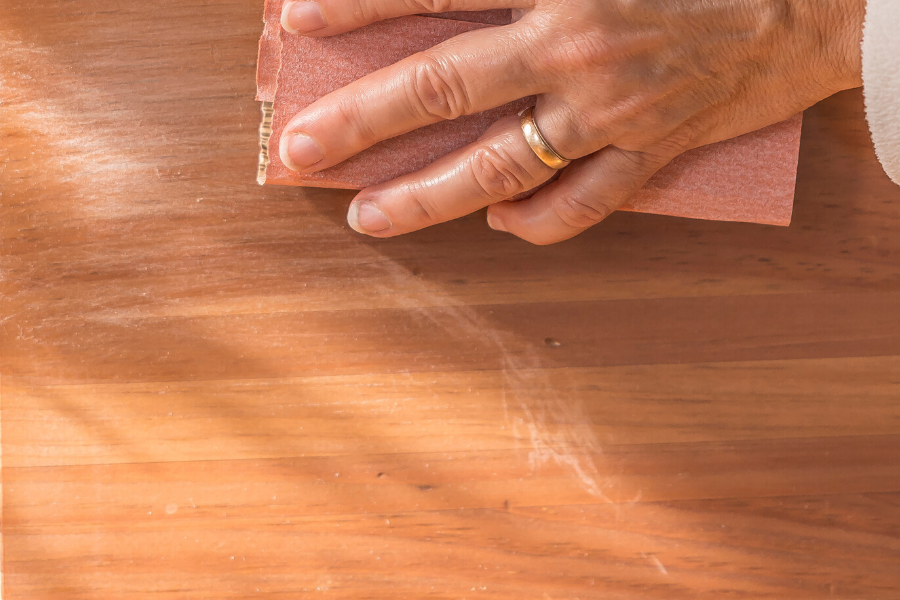 STEP 3
Homestead House Salad Bowl
We wanted to distress all the raised details and contours of the bed, sometimes when using just one colour on a large surface you can lose the details so we applied Homestead House Salad Bowl Finish on the raised areas of interest that we wanted to stand out. Those are the areas we were going to go back and distress when the paint had dried.  We used our finger to apply the wax resist, but you can apply with a brush or cloth if you prefer.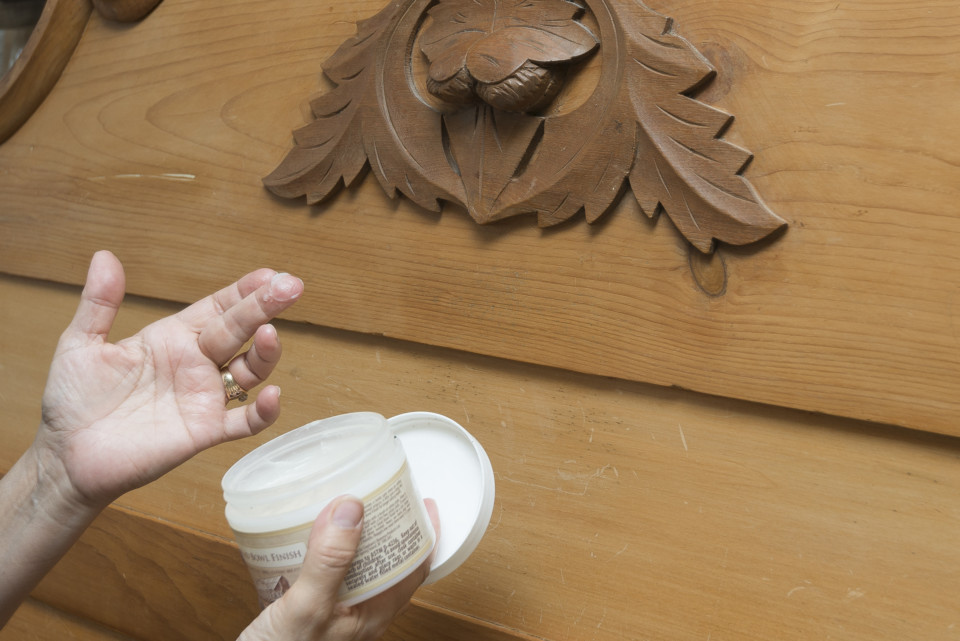 You want to apply enough so that you can actually see the wax. The more wax applied, the more the paint will fall off those areas.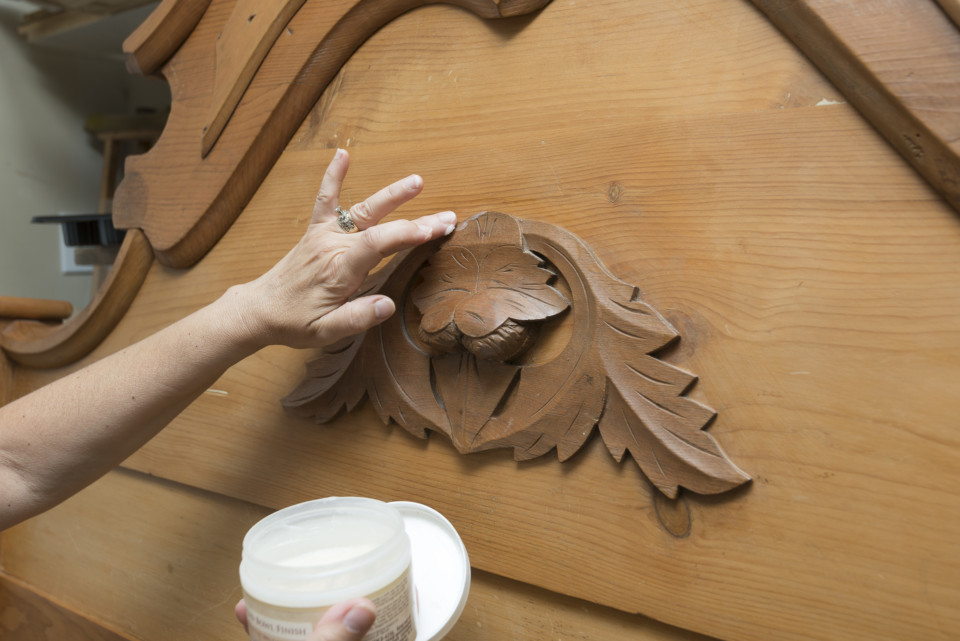 STEP 4
Painting the bed.
The next step is to go ahead and paint your piece. Go right over the entire surface and paint, even over the areas where you applied the Salad Bowl Finish wax, or wax resist of your choice.  You need 2 thin coats for a lovely even finish. We painted the bed with Goddess Ashwagandha, one of Jennylyn's favorite neutral colors from the Lisa Marie collection. Try using a great quality brush for a flawless and even application, we think Staalmeesters brushes and Fusion Mineral Paint are a match made in brushstroke free heaven.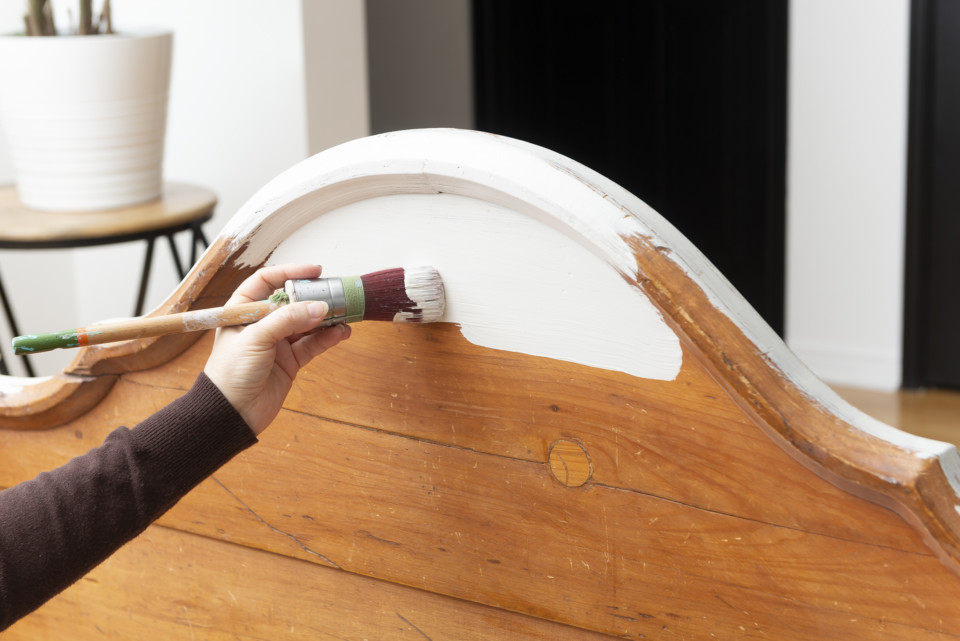 STEP 5
Distressing
After your paint dries, go over the areas you want distressed with sanding paper, you won't need a lot of pressure as we did the work by adding the Salad Bowl finish. To identify where you had applied the resist, you will see that the paint has pulled away slightly. Just hit those areas with your sandpaper. Use a soft brush to gently sweep off any loose paint.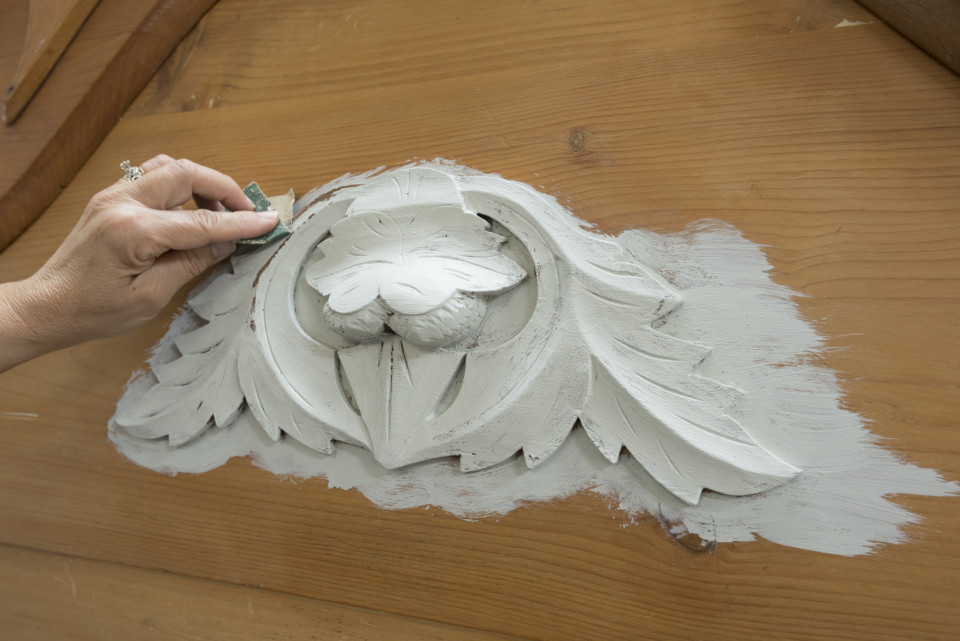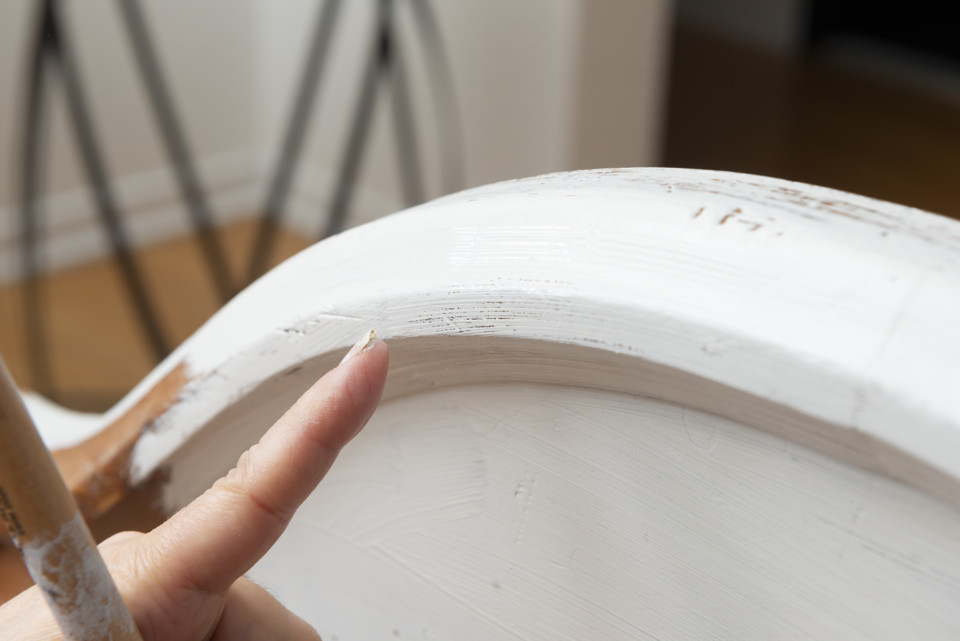 STEP 6
Add Top Coat
If you want to add a topcoat, we would suggest applying one of our luxurious waxes in the range. The clear Tough Coat is not recommended for this project since we have used the wax already. water-based topcoats like our Tough Coat will have issues sticking to where we applied the wax.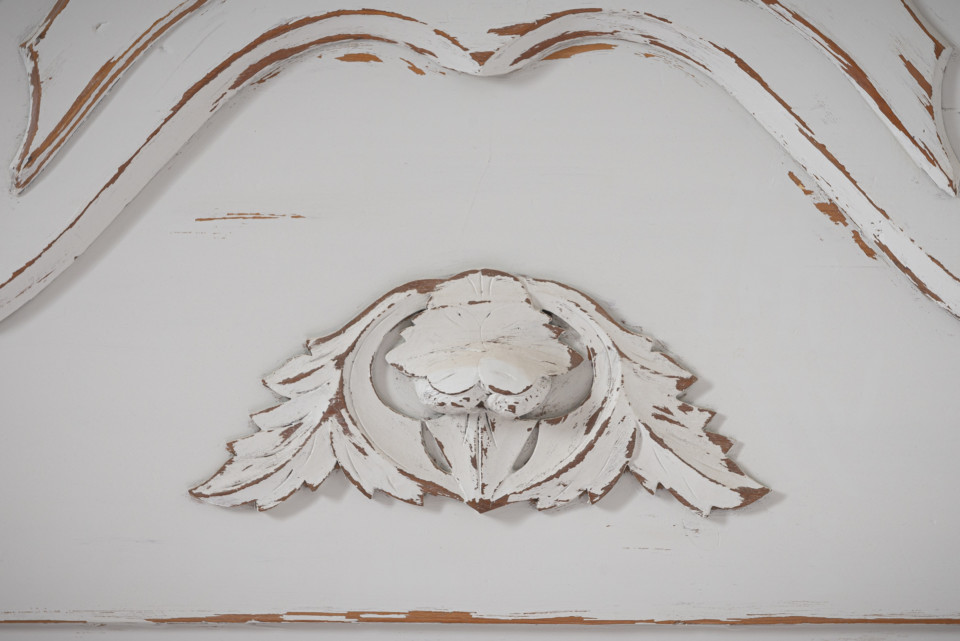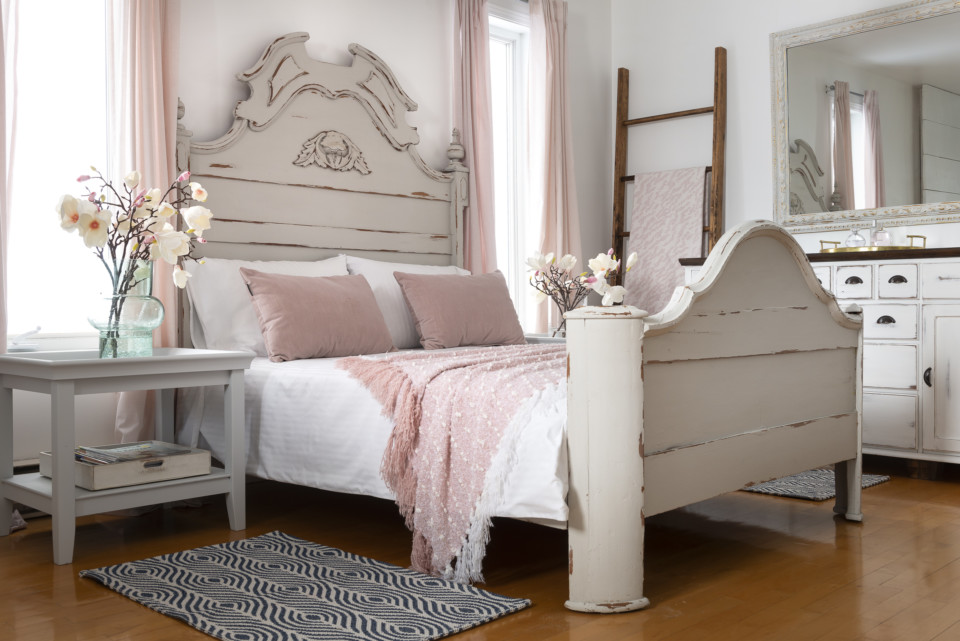 Volia! You are all done!  Allow 24 hours for the surface area to dry and we recommend  30 days for cure time with gentle use.
Do you want to learn more about this technique? Check out of Paint Hack: Distressing and Aging Techniques on You Tube. 
"I find color therapy to be such a great way to bring wellness to your family." – Lisa Marie Holmes
GET THE LOOK: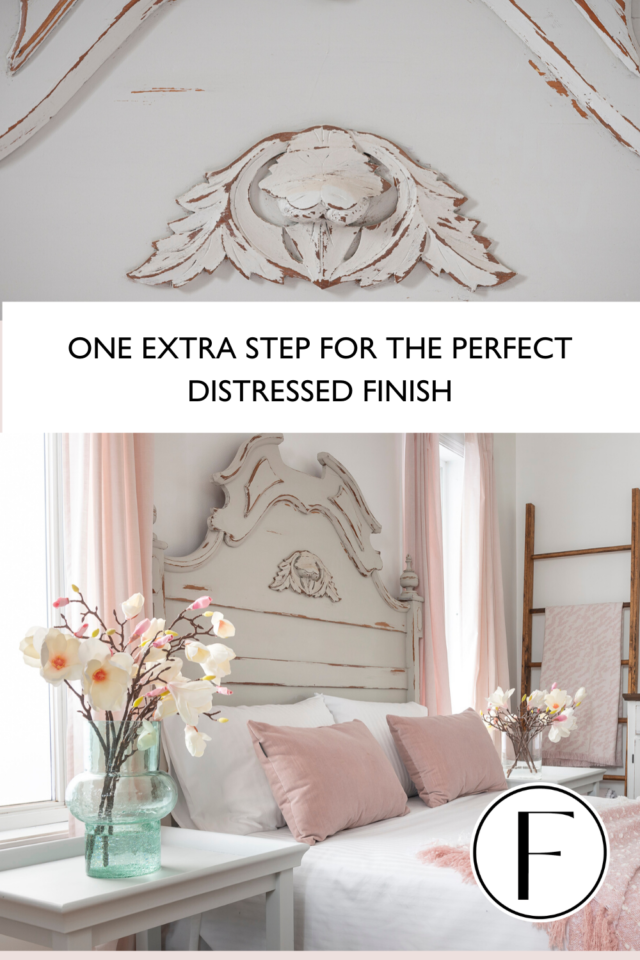 Pin this video Pinterest pin to your board.
We'd love to see what you create.  Feel free to join and share your projects at our community Facebook group Paint It Beautiful!