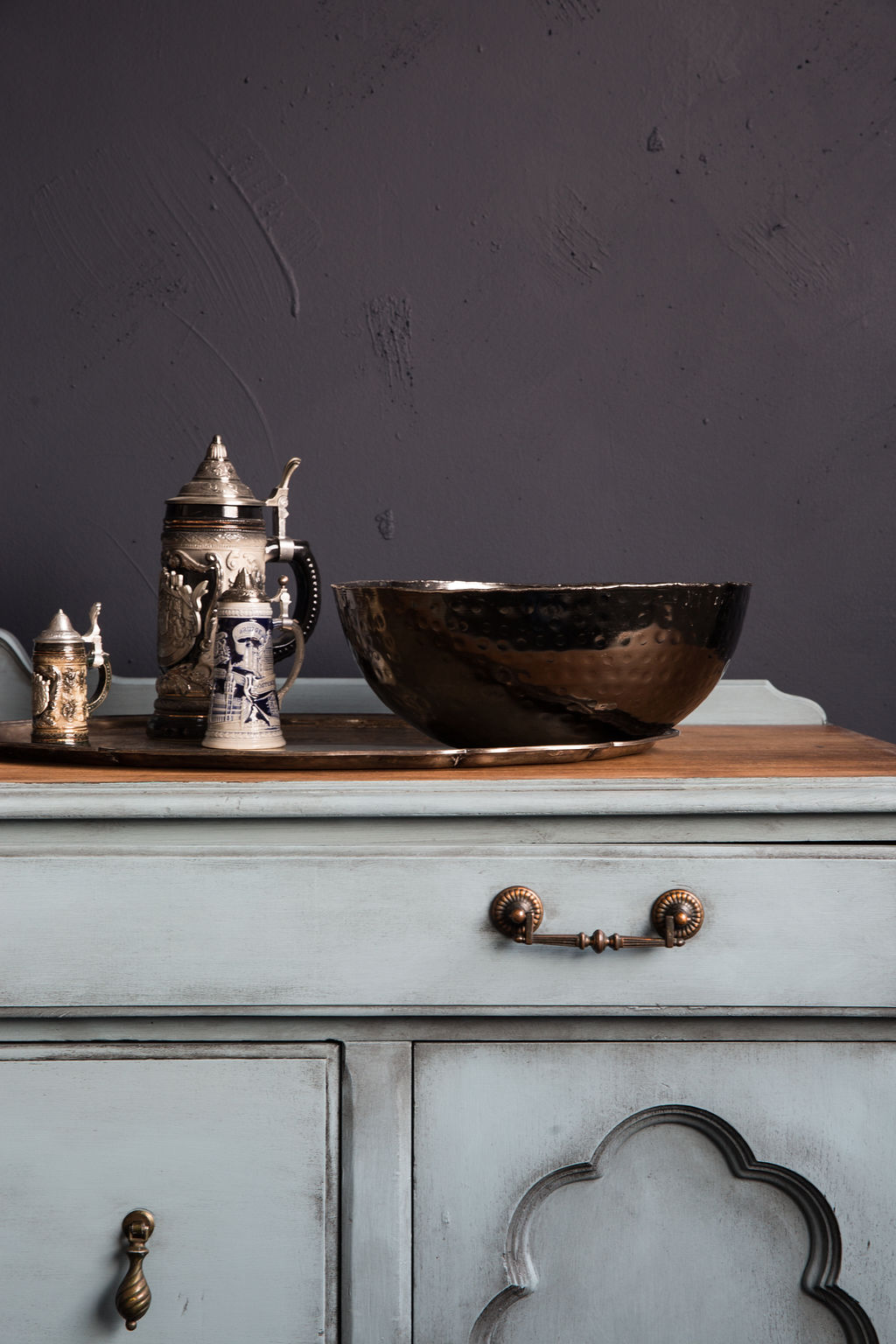 Share:
These wonderful old dark wood pieces are often found in thrift stores, they are extremely well made but discarded mainly because of their color. Luckily we know a coat of Fusion Mineral Paint will bring this beauty back to life. Updating this old unwanted dresser with Champness and Black wax sideboard has given it a new lease of life and is now desirable for the modern home. We used the black wax to age this light color for an antiqued vintage look. The wooden top of the dresser has been brought back to life with Fusions Hemp Oil, all the easy to follow steps are below.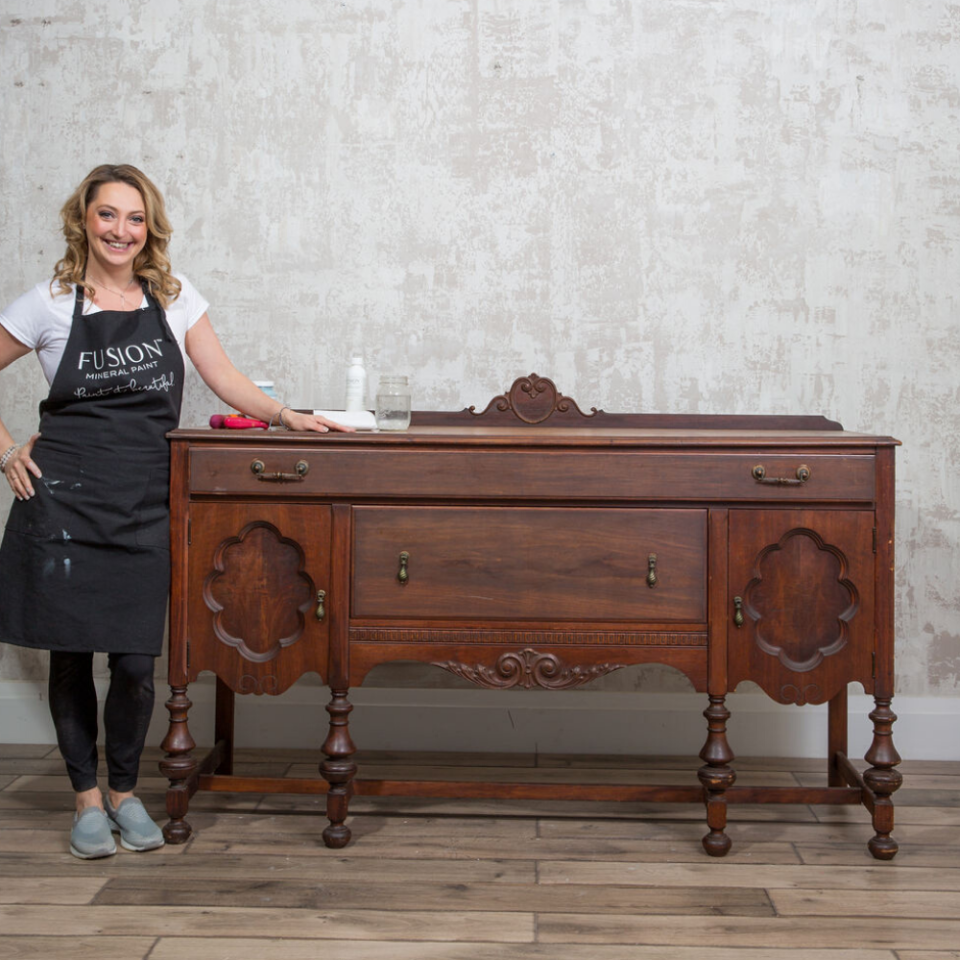 Supply list
Sand paper

Clean rags

Champness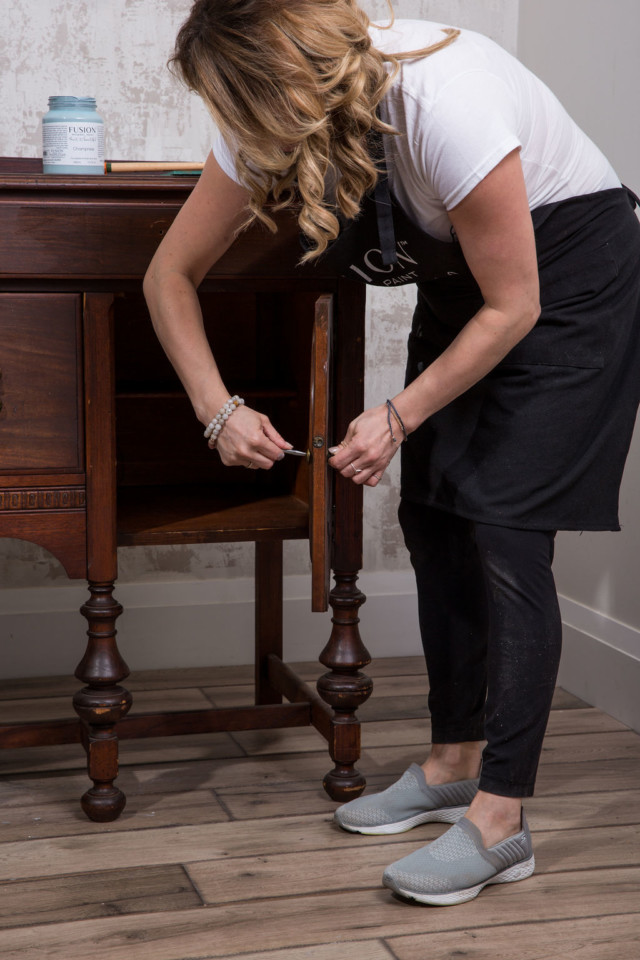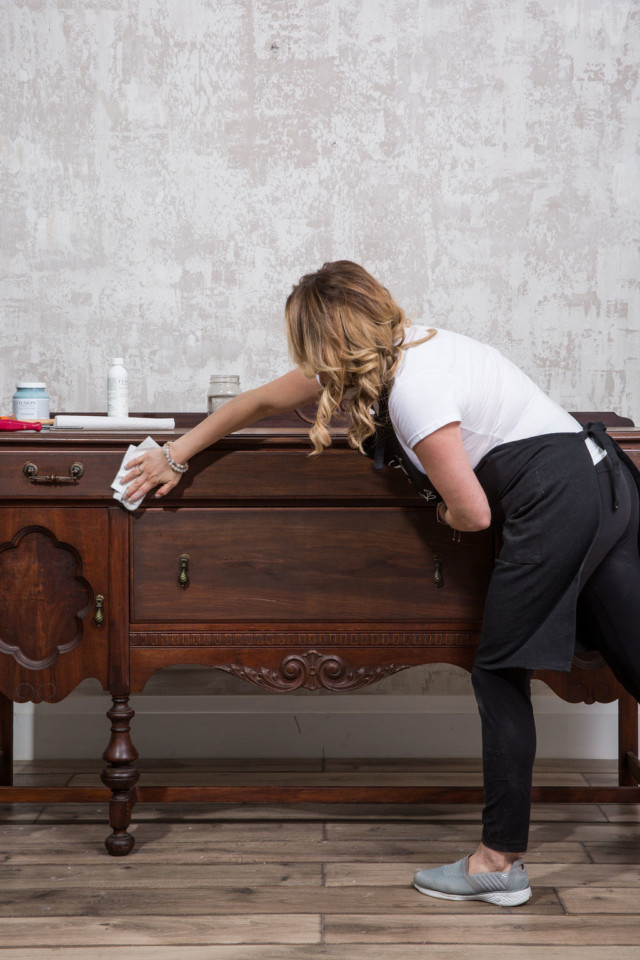 Prepping for success
Step 1 
Prep
Start by removing all the hardware and giving it a thorough cleaning with TSP water and a rag, To get the best adhesion you need to be sure your surface is free from dirt and grease. A top tip is to pop your hardware into a bag so you don't lose any of the attachments.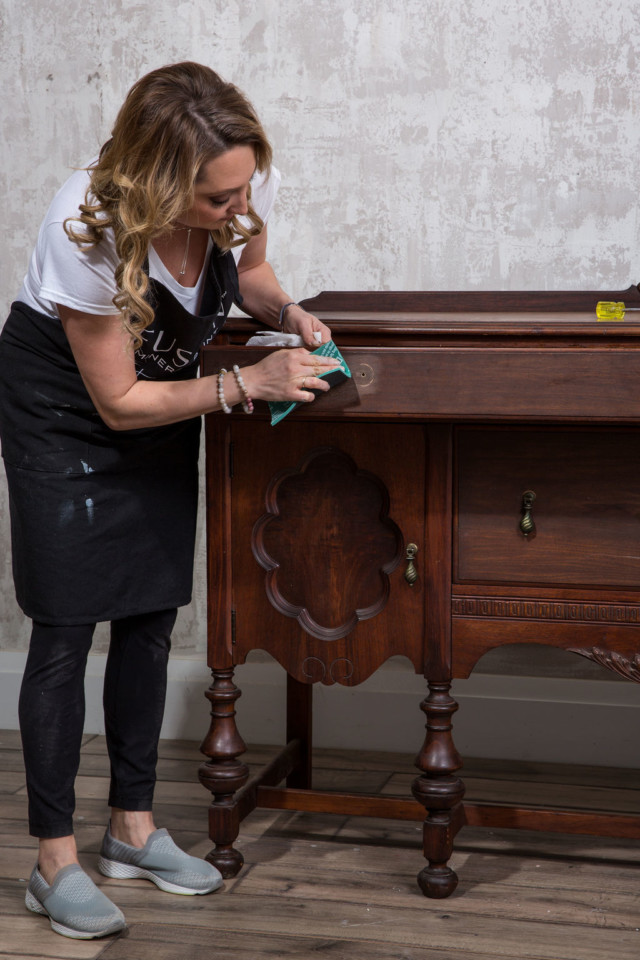 Let the surface dry and lightly sand with a medium grit sanding sponge, the aim of scuff sanding is to knock down the sheen and make it more matt looking,  this helps the paint adhere to the surface much better. After removing the dust wipe down with a damp rag.
Getting ready to paint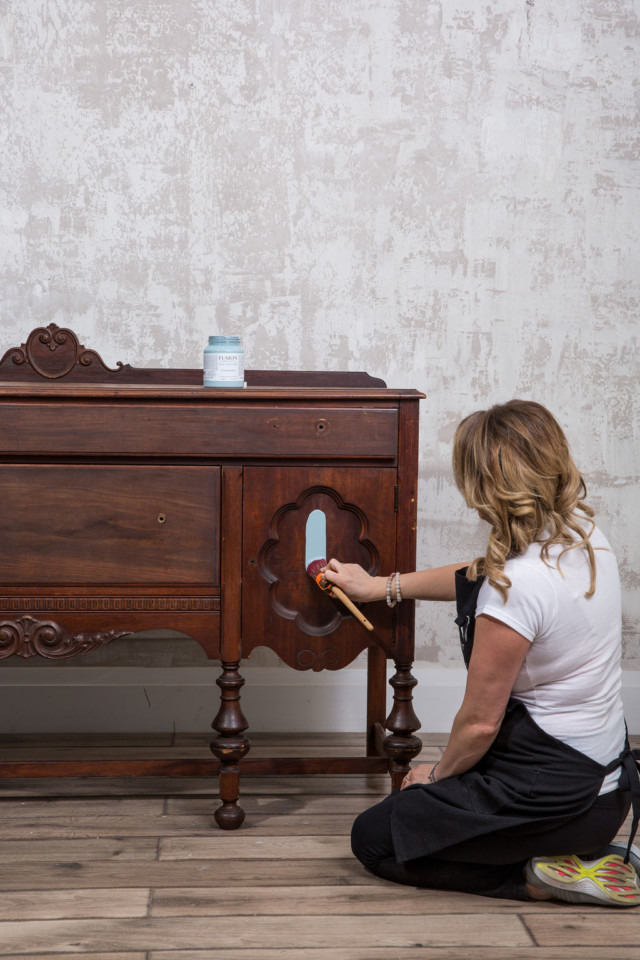 Step 2 
Painting
Jennylyn applied 2 thin coats of Champness letting the paint dry between coats for approximately 2 hrs. We recommend using a good quality synthetic brush like Jennylyn's favourite the Staalmeester Oval or even one of our microfiber rollers for large flat areas like the sides and the top.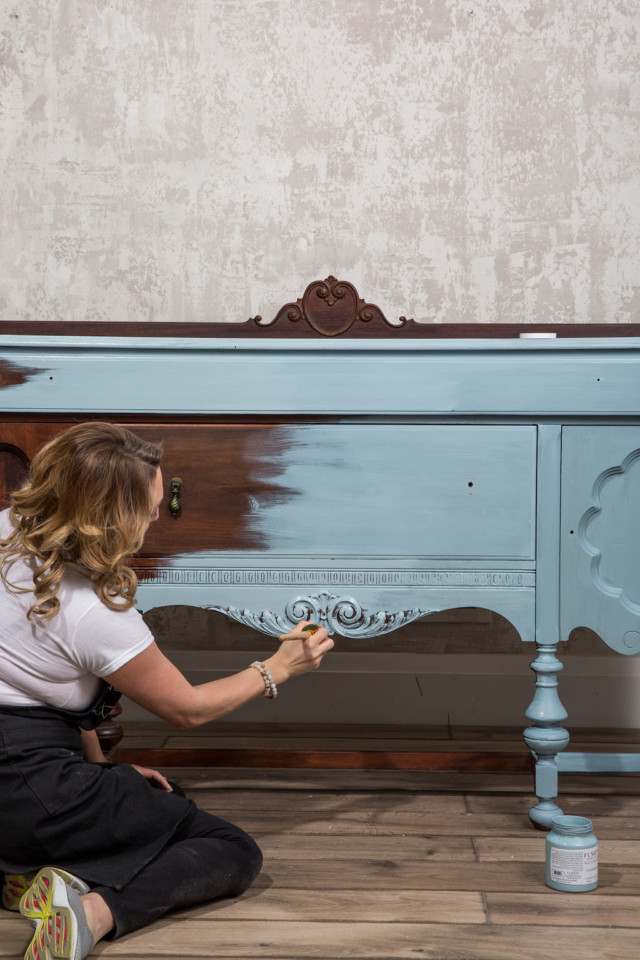 The finishing touches
Step 3 
Waxing
Fusions Black wax was applied with a Staalmeester natural bristle brush to create an aged antiqued look. Brush the wax all over the surface and remove the excess, Jennylyn left on a little extra in the ridges and recessed areas to create a shadowed blended effect. Once you are happy with the look leave overnight and then buff with a lint-free cloth.
Fusion doesn't need a top coat, it has one built right into the formula, so using wax is a decorative process rather than a protective one.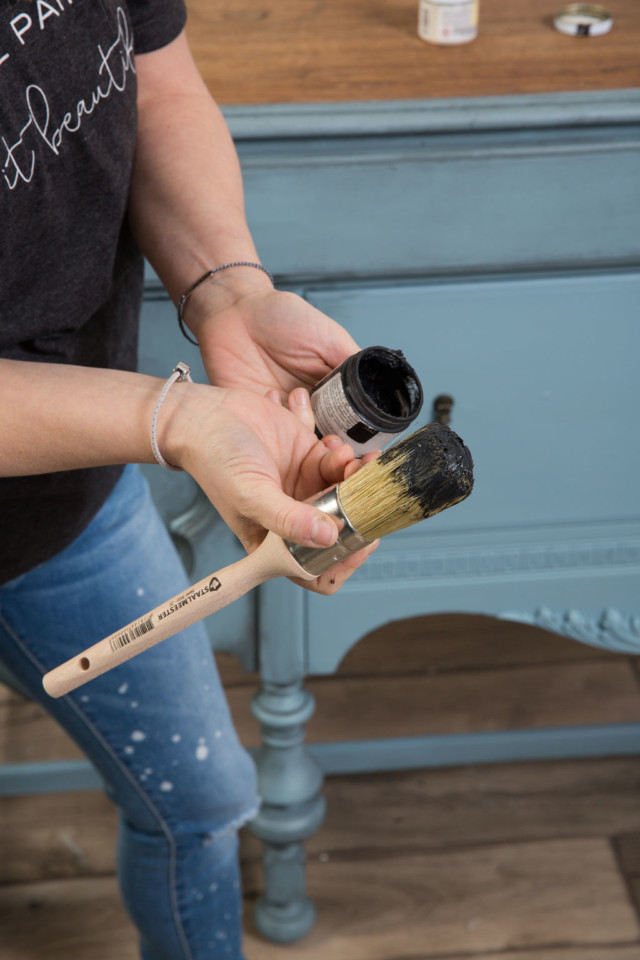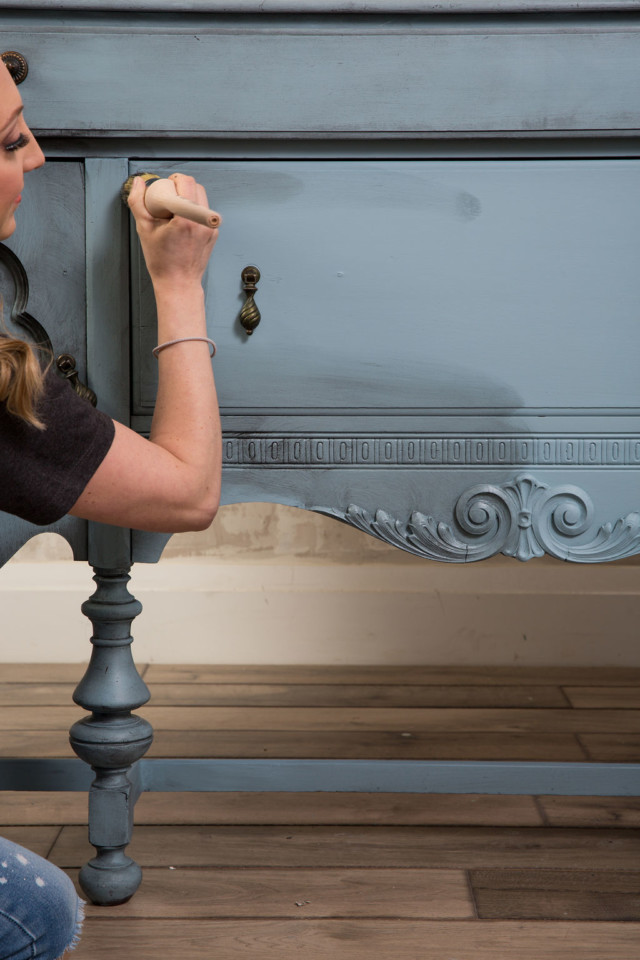 TOP TIP
If you feel you have to much wax in a certain area you can use Fusions clear furniture wax to remove it! sort of like a magic eraser. Just add some clear wax and rub, and as you do, you will remove some of the darker wax.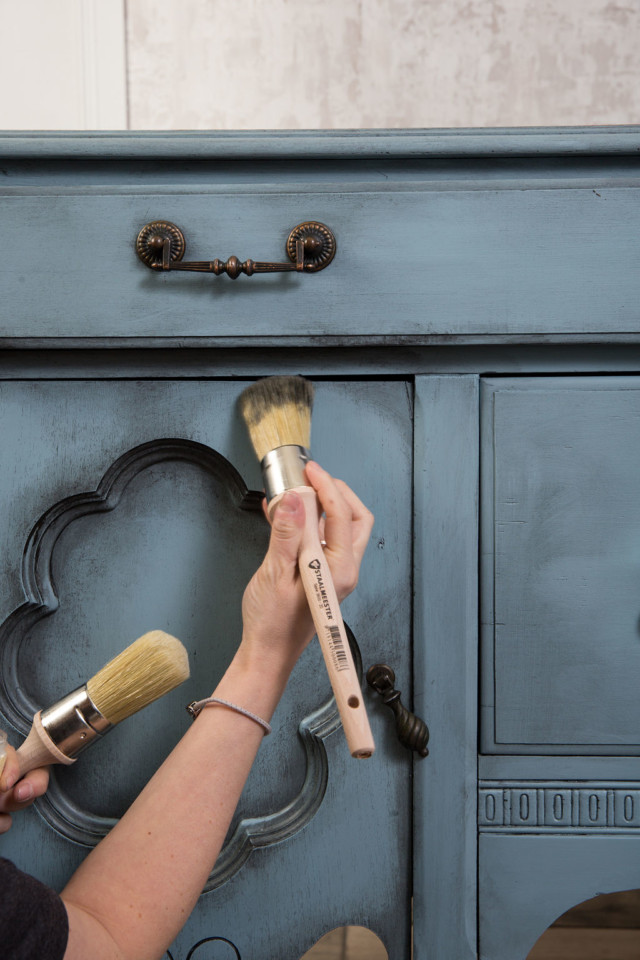 Prepping the wood for the Hemp Oil
Step 4 
Hemp Oiling the wood top
There wasn't much original finish left so after a light sanding the top was ready for a top coat. Hemp Oil was chosen to feed the grain, protect the wood and add a little sheen. The process is simple! Sand the wood, pour on the Hemp Oil and let it soak into the wood fibres. Leave for a half hour and remove all the excess with a clean cloth.
Hemp Oil is a natural wood finish and it's the easiest way to refinish your wood!  to find out more about Hemp Oil click here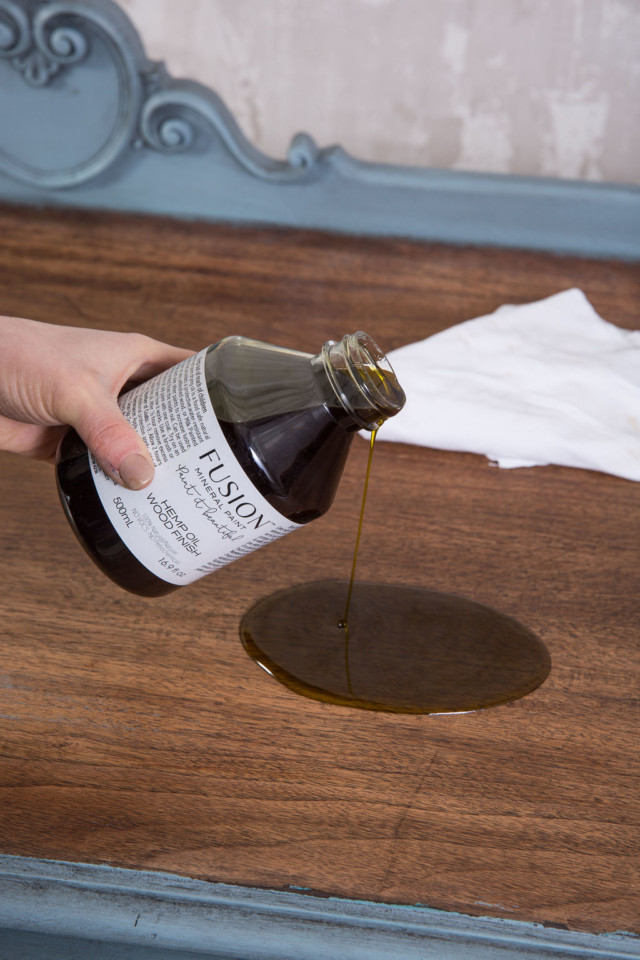 Did you know you can use your hands to rub in our Hemp Oil wood finish! it's made of all-natural ingredients!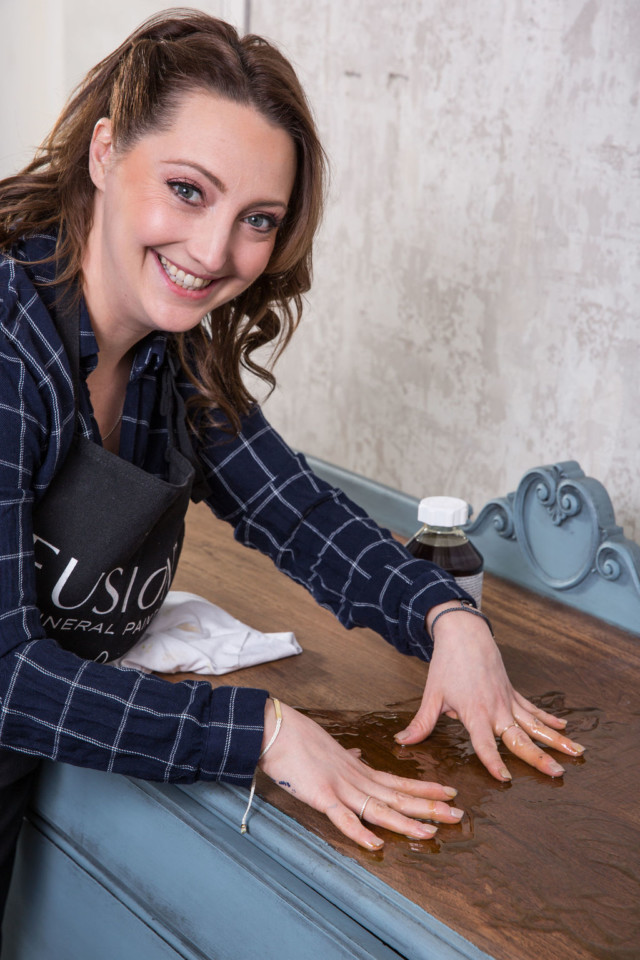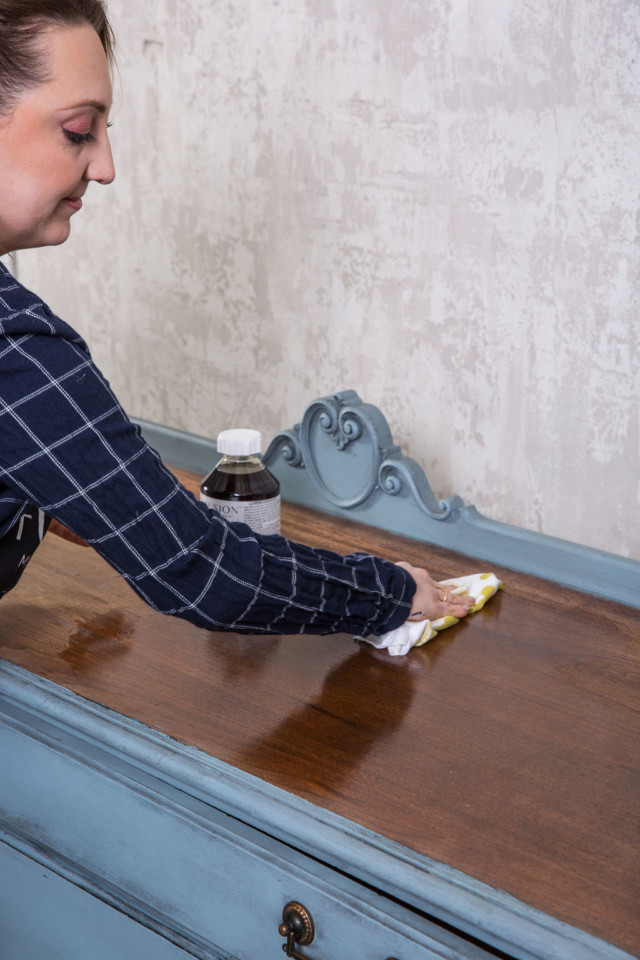 The results are rewarding
Updating old tired furniture is a fun way to spend your time and the end results are so rewarding! The color Champness has a special meaning to Jennylyn and her family, it was named in honor of her grandmother whos maiden name is Champness… how sweet is that?
Here is the finished piece, Jennylyn just loves how it turned out and we are sure you will too.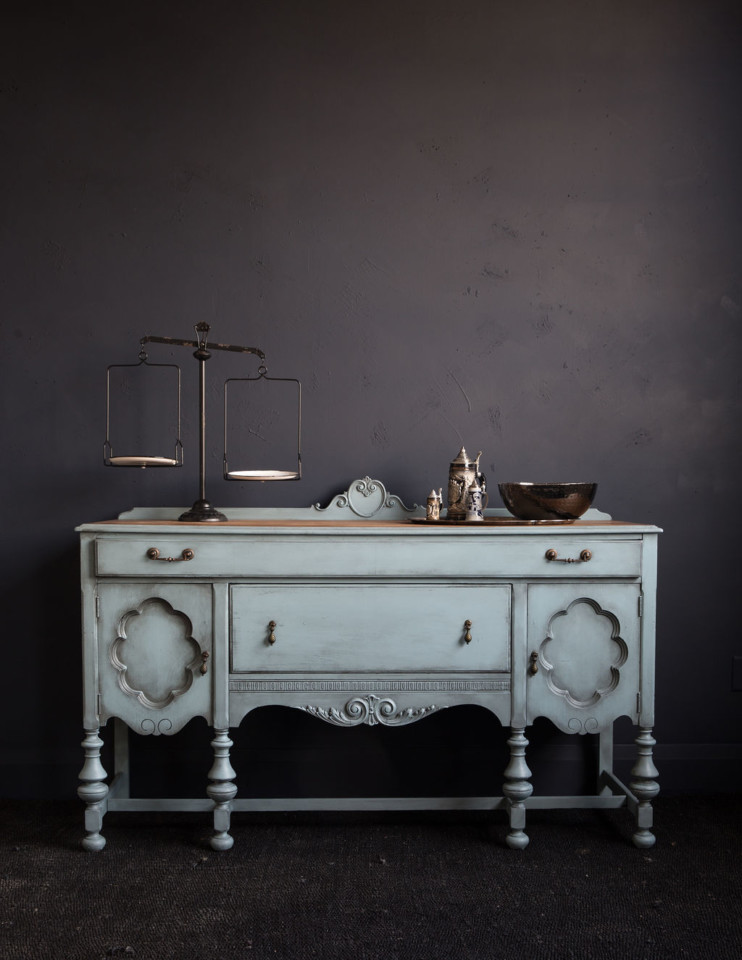 Have you been brave enough to use black or dark wax over a light color? We'd love to see it! come join us over in our online community Paint it Beautiful