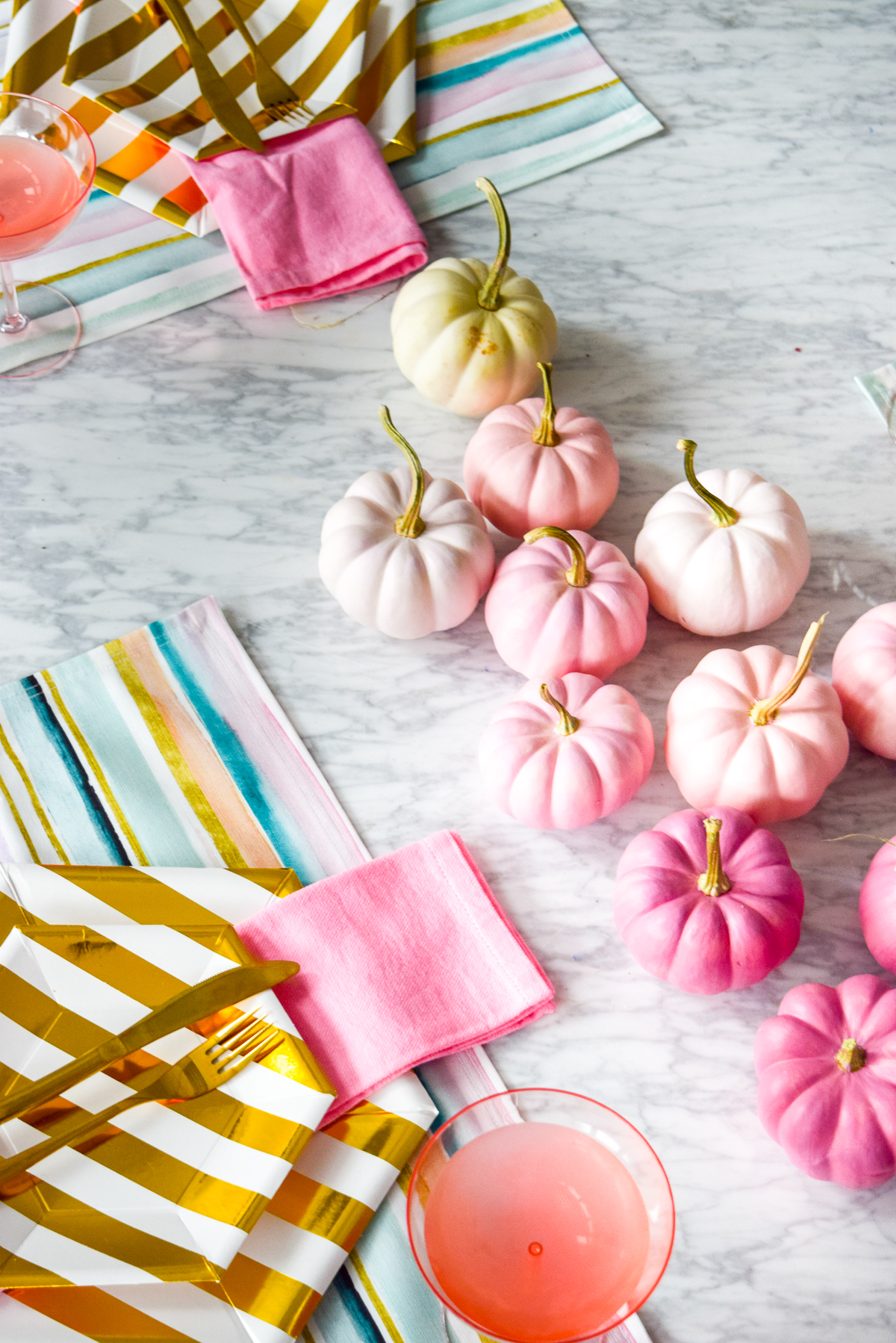 Share: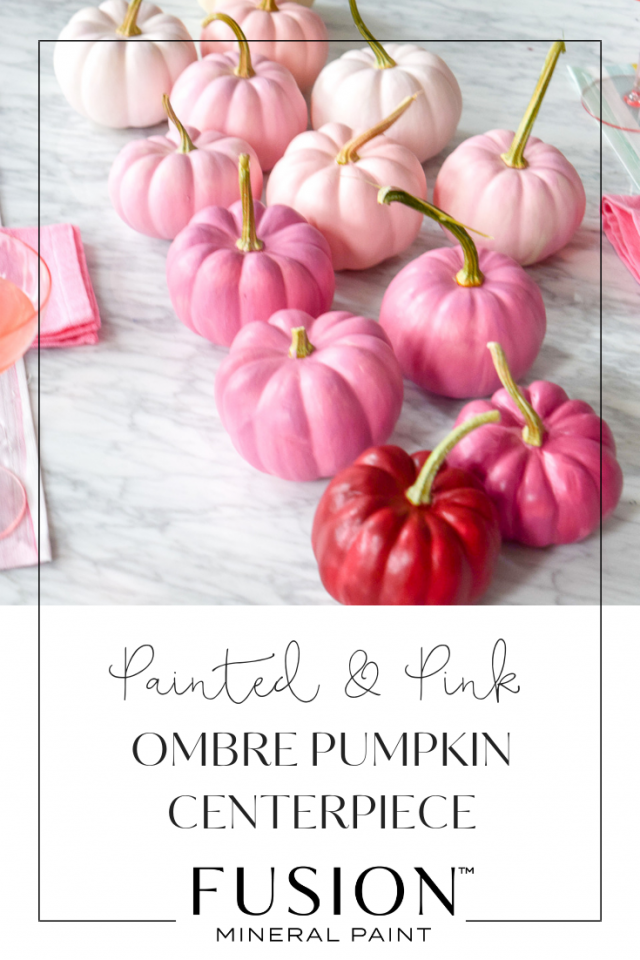 Let's be honest, fall is the best time of year for so many reasons. Between the gorgeous colors on the trees, the cozy warm sweaters and of course, all of the tasty seasonal food, you appreciate this time so much more as it feels like it goes by so quickly. It's also a great time for having friends and family over to celebrate Thanksgiving and let's face it, any excuse to gather round the table with good food and good company is something to look forward to. We wanted to share this easy Painted Ombré Pumpkin Centerpiece project to give you time to create your own DIY Fall Decor. 
This fun and easy tablescape is a fun twist and so on trend this season. Doing this at home is as simple as you should head to the farmers' market and grabbing your favorite Fusion Paints! In our case, we went with shades of pink to red to create a statement piece for the table. Now, let's get learning how to make your own Painted Ombré Pumpkin Centerpiece.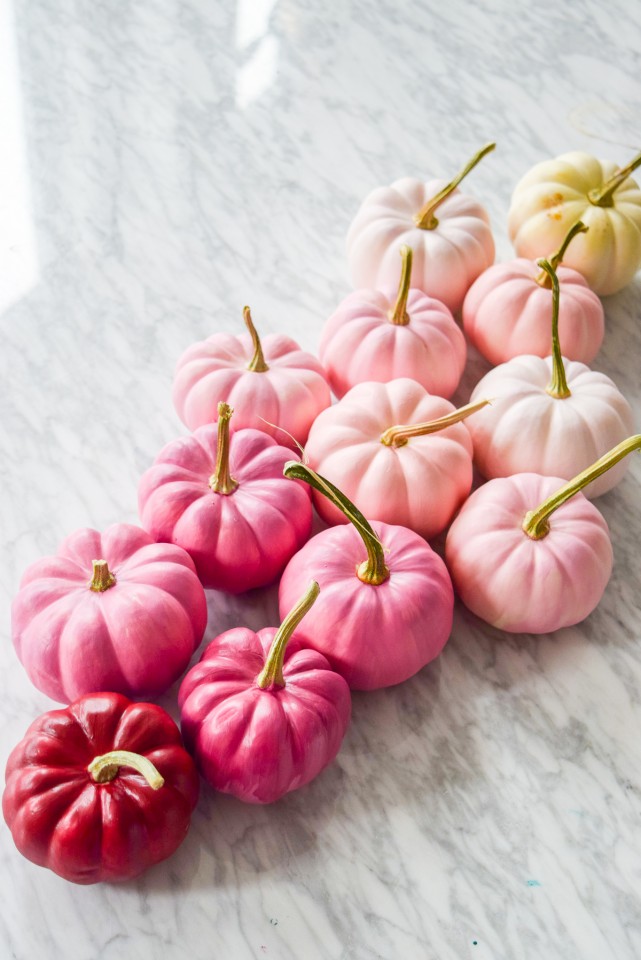 This DIY Ombré Centerpiece is so EASY!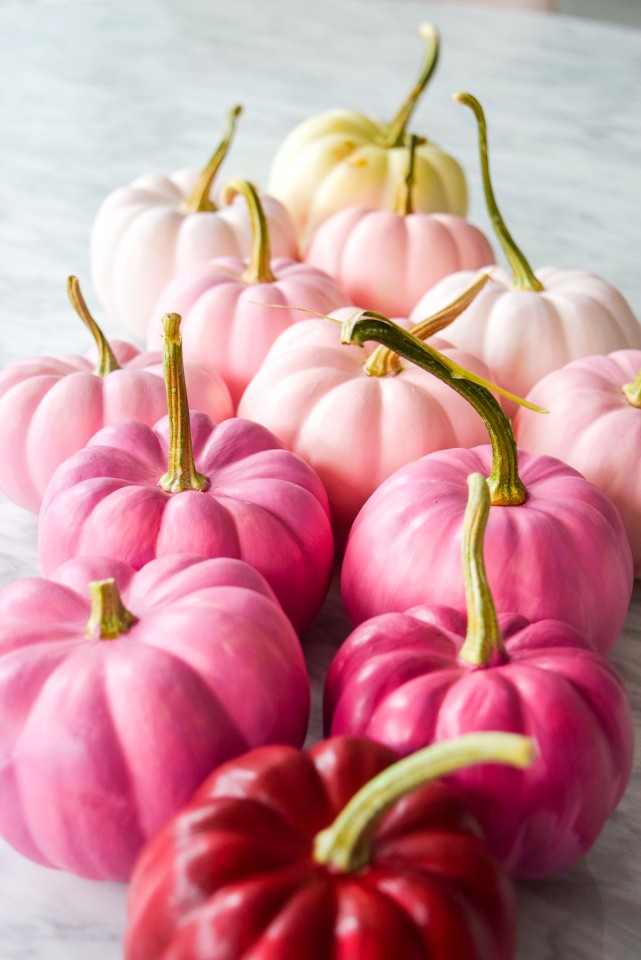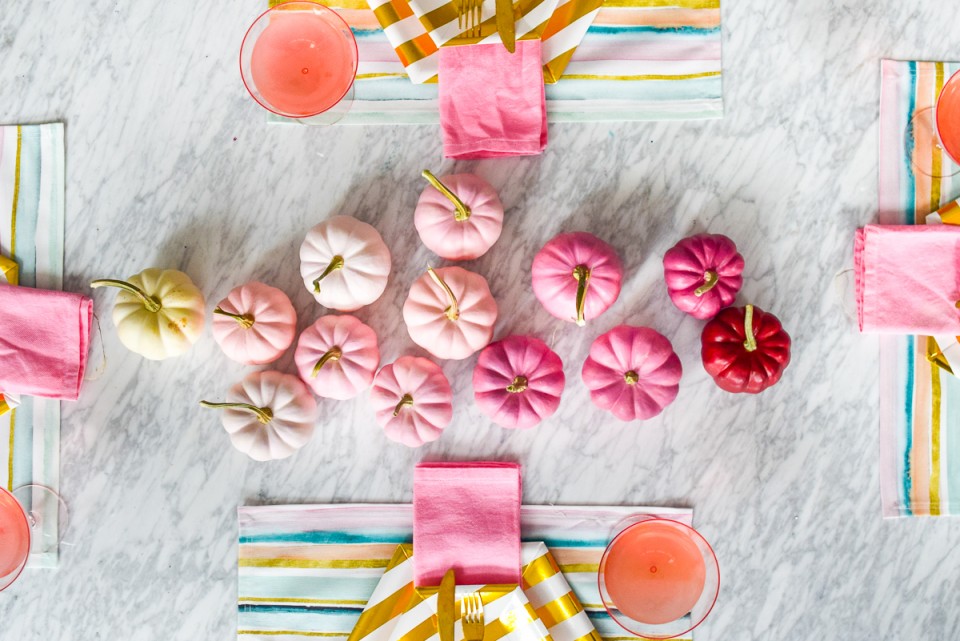 What you'll need for your Painted Ombré Pumpkin Centrepiece:
Small white pumpkins (orange is harder to paint over) *we found some at our local grocery store in a bag for $3! 

Fusion's TSP for cleaning 
Fusion Mineral Paint in Cranberry, Little Piggy and Casement

Paint palette tray (or something to mix custom colors on)

Small paint brushes for crafting

Craft brown paper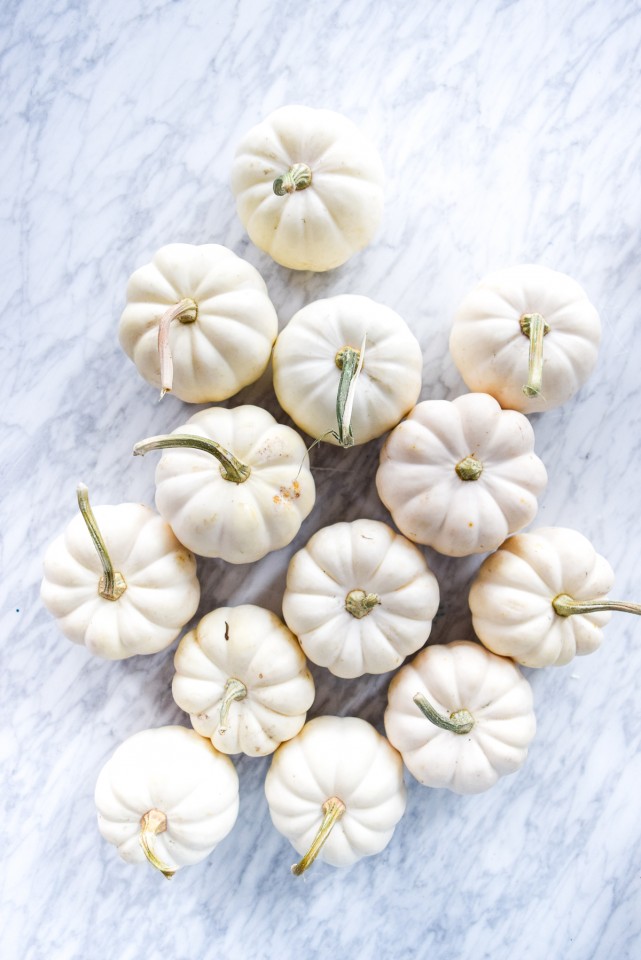 Now what? This is how to create your own pink Painted Ombré Pumpkins:
You want to start by washing the pumpkins using our TSP. You never know what they're covered in and there's always an unknown sticky substance – better safe than sorry! Use a cap full in a bucket with warm water, then dunk the pumpkins in the mixture and afterwards use a paper towel to give them a good scrub before laying them to dry. Doing this prep step will ensure the paint will stick without any problems to your pumpkins. 
Prep, Prep, Prep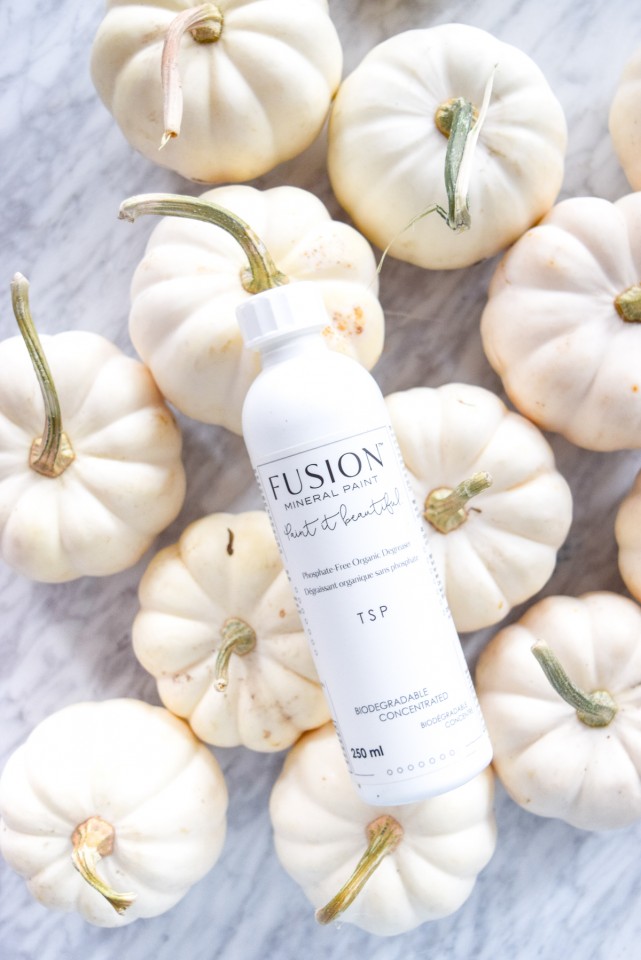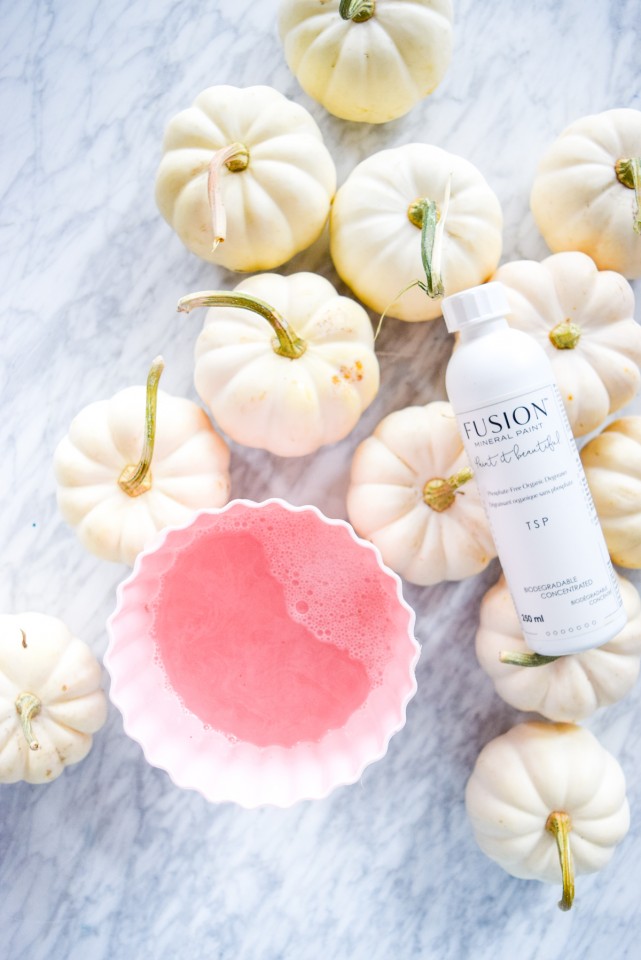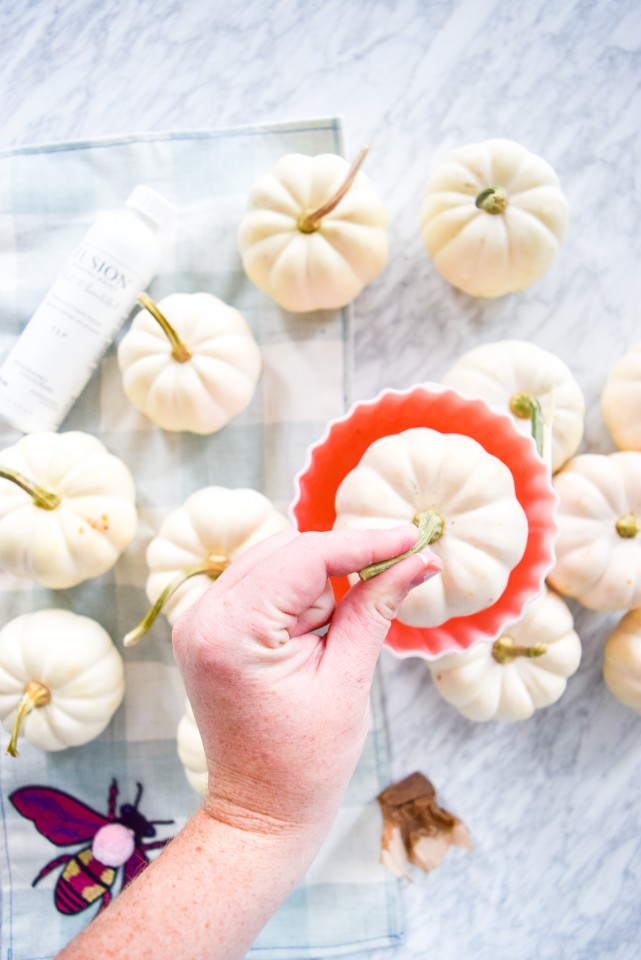 While your pumpkins dry from being washed, start mixing your colours! We decided to go with pinks because well, it's fresh and modern and super vibrant!
We started with Little Piggy and Cranberry as the extremes of colour gradient (for your whole centrepiece) and then mix them together. You can also use Casement to achieve a variety of hues. This also goes for if you want to do a different ombre color effect – we think greens, blues, yellows and oranges.. oh my gosh, there are so many different Fusion color ombré blends you could do that would look amazing!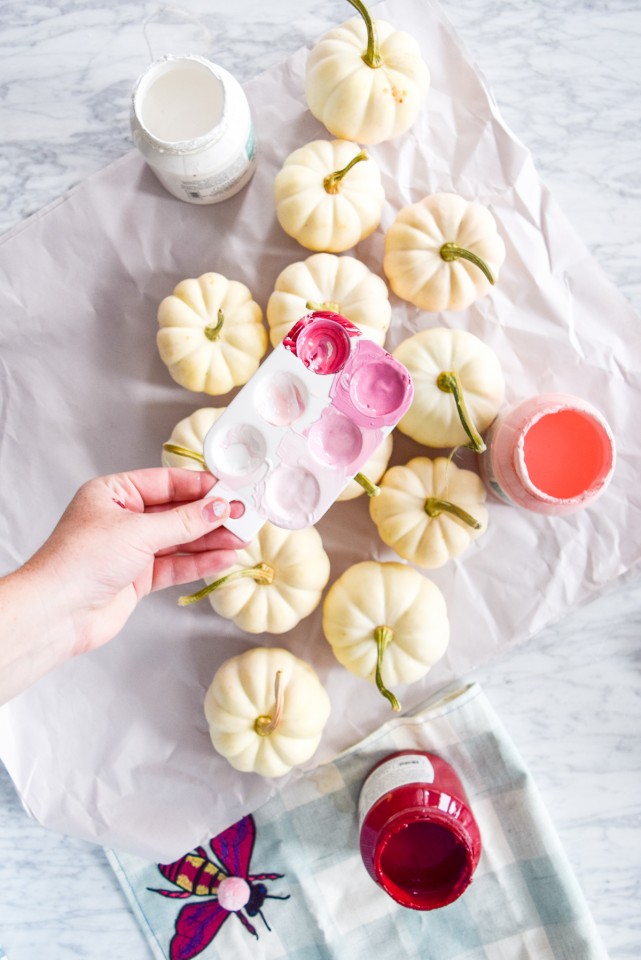 There are 13 pumpkins, so here is the breakdown of what to paint in what color to get the exact same ombré effect we created:
1 pumpkin

au naturel

1 pumpkin will be Cranberry

3 pumpkins will be Little Piggy

2 pumpkins will be mix No. 1 (see below for blend)

3 pumpkins will be mix No. 2 (see below for blend)

3 pumpkins will be mix No. 3 (see below for blend)
Mix number 1 is achieved by mixing Little Piggy with Casement: 1 part Little Piggy with 2 parts Casement. You want a paler pink, but not so pale that it's white.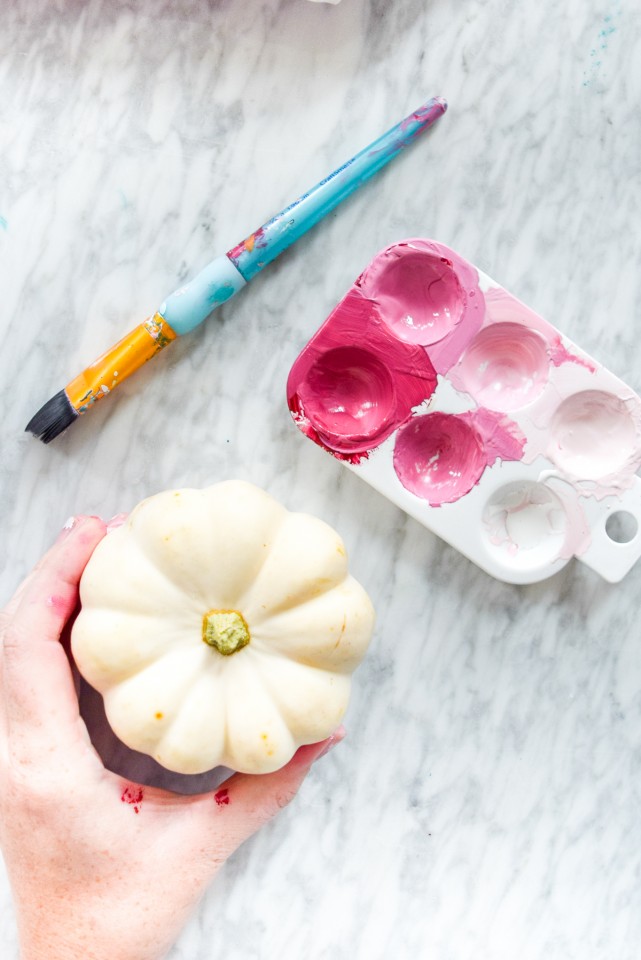 Mix number 2 is achieved by mixing Little Piggy and Cranberry: 1 part Little Piggy and 1 part Cranberry. This will make a nice purply pink.
Mix number 3 is achieved by mixing Little Piggy and Cranberry: 1 part Little Piggy and 2 parts Cranberry. You want something darker than mix number 2, but not as dark as Cranberry.
Once you've got your mixes, start painting! Just hold them up by their stems and using a small brush, paint around them. Take care to make the paint near the base of the stem extra clean and do touch-ups where needed.
Get Painting!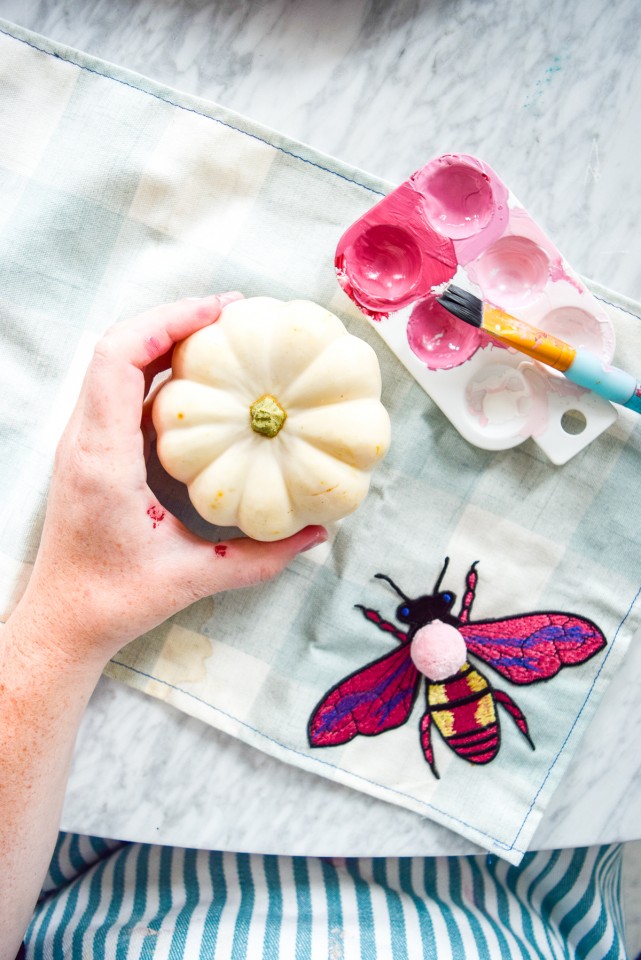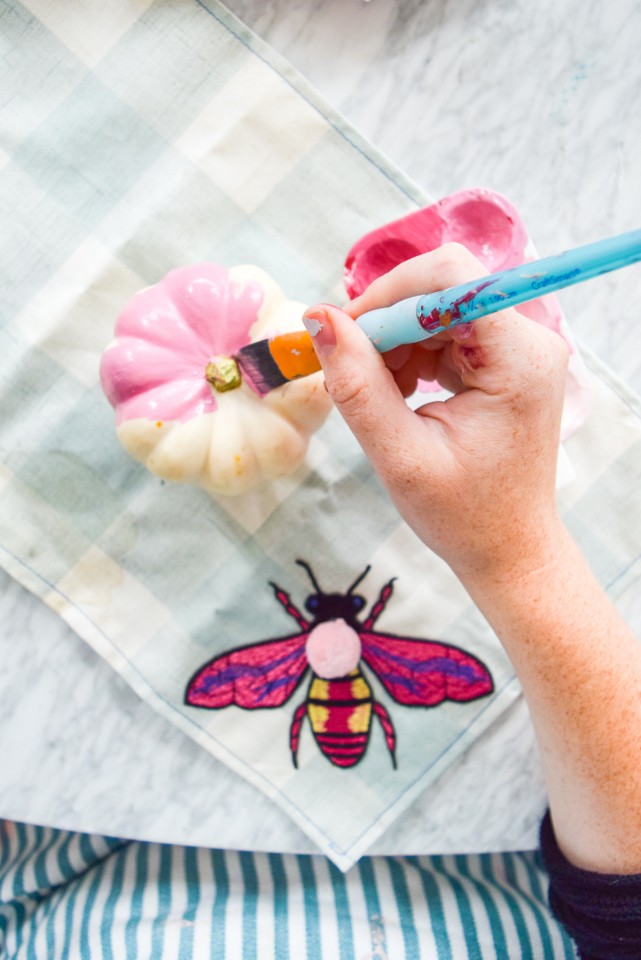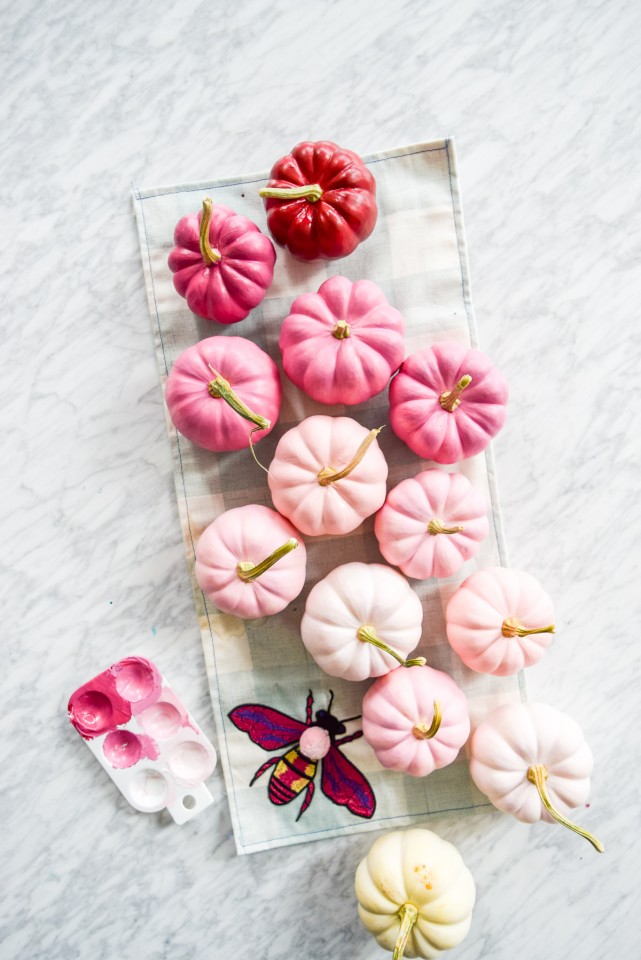 This whole project will take you about 20 minutes from start to finish, excluding dry times. Can you believe it?!?! You could recreate this look yourself in under 30 minutes. A Pink Ombré Pumpkin Centerpiece is the easiest way to add color to your fall (and Halloween) tables without going overboard with florals or table linens.
And how gorgeous is this?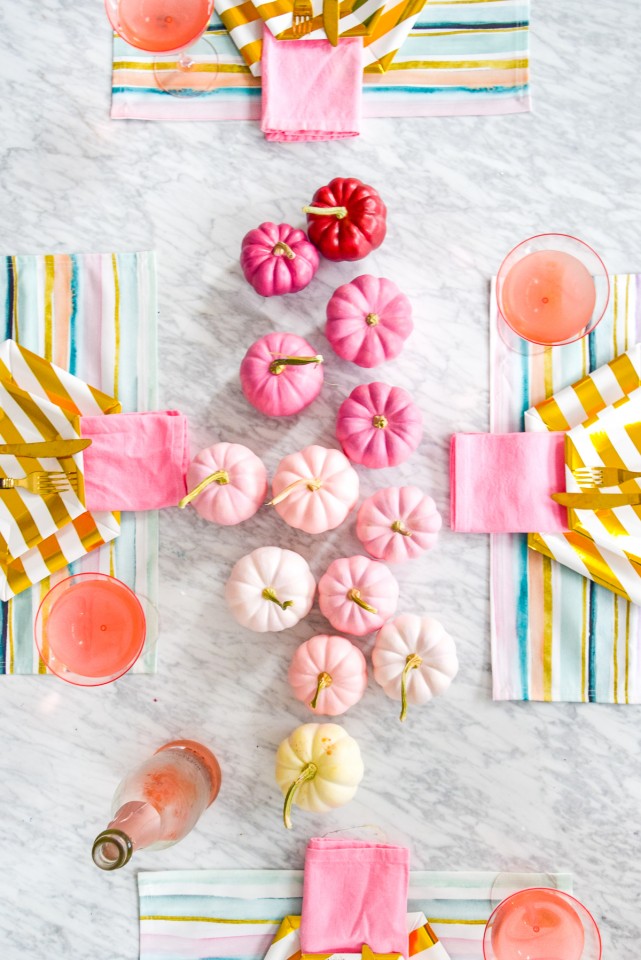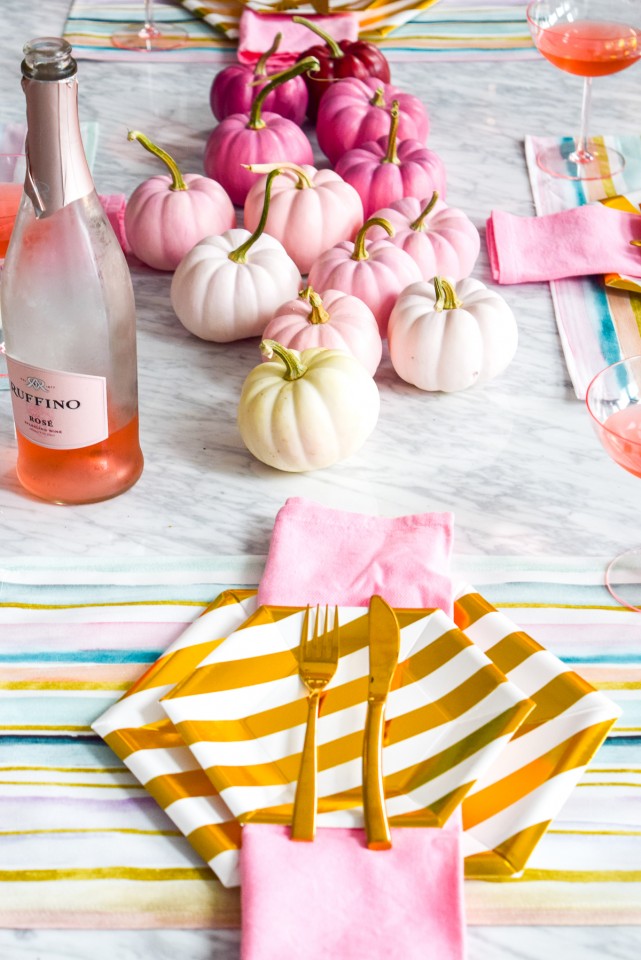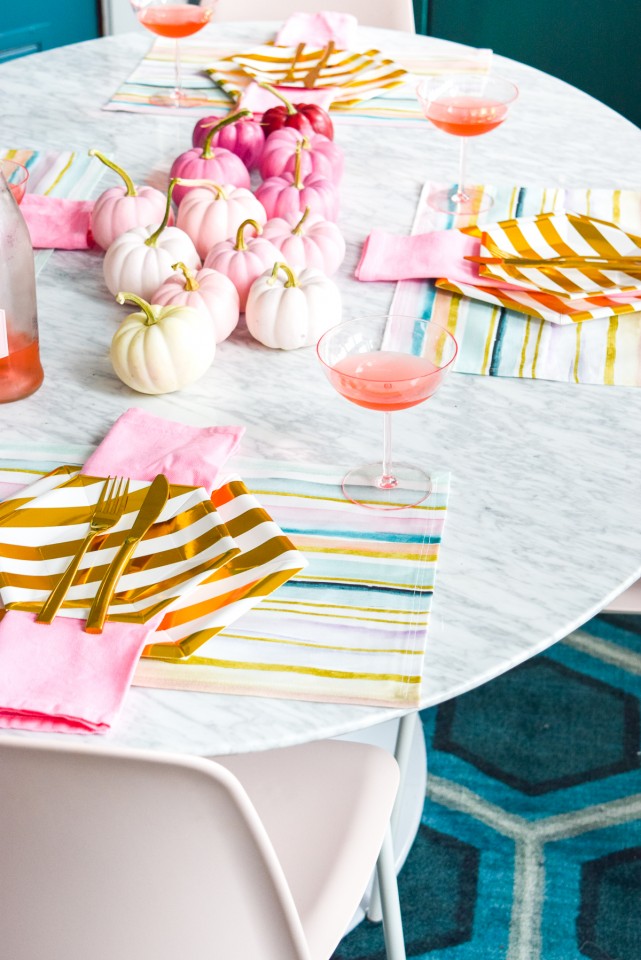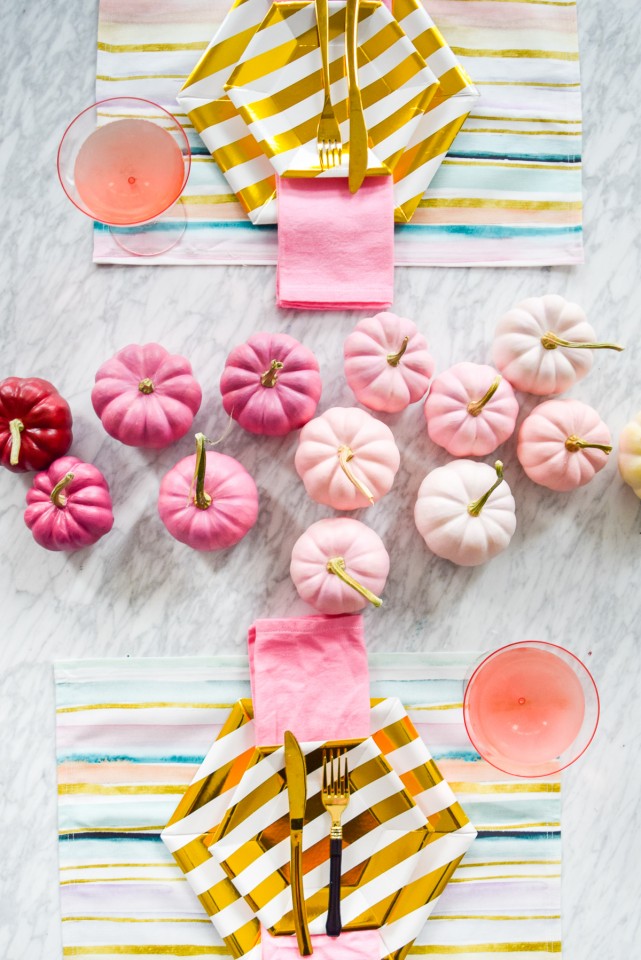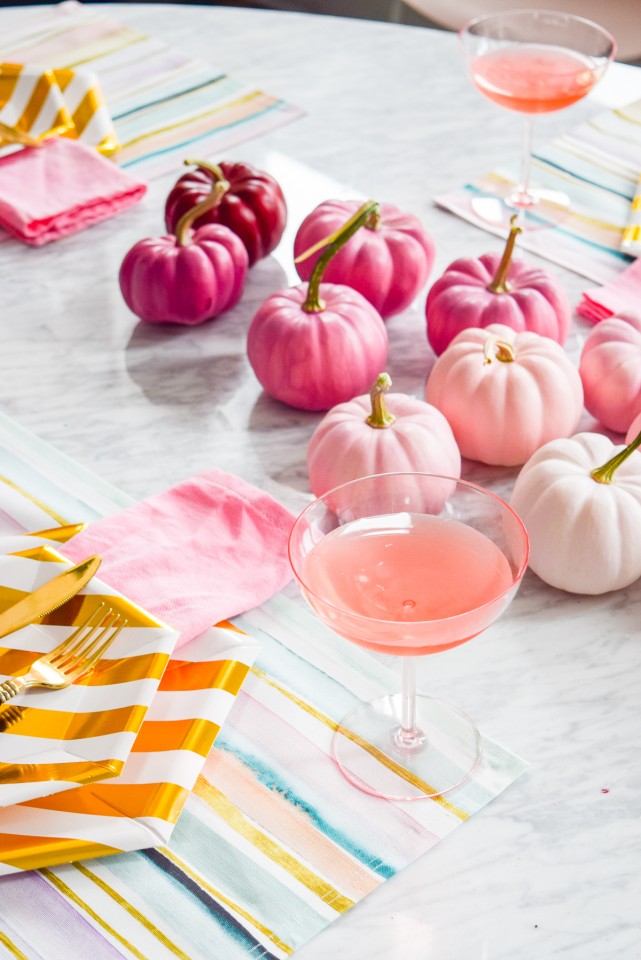 We want to see YOUR centerpieces and painted pumpkins and all Fall projects! Share them with us in our Paint it Beautiful group on Facebook!
PIN IT!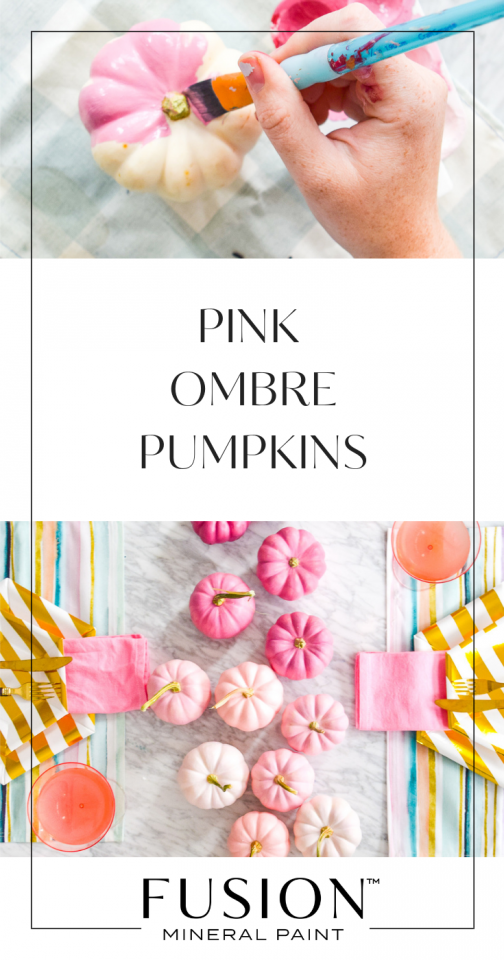 Projects and styling by Ariel G for Fusion Mineral Paint