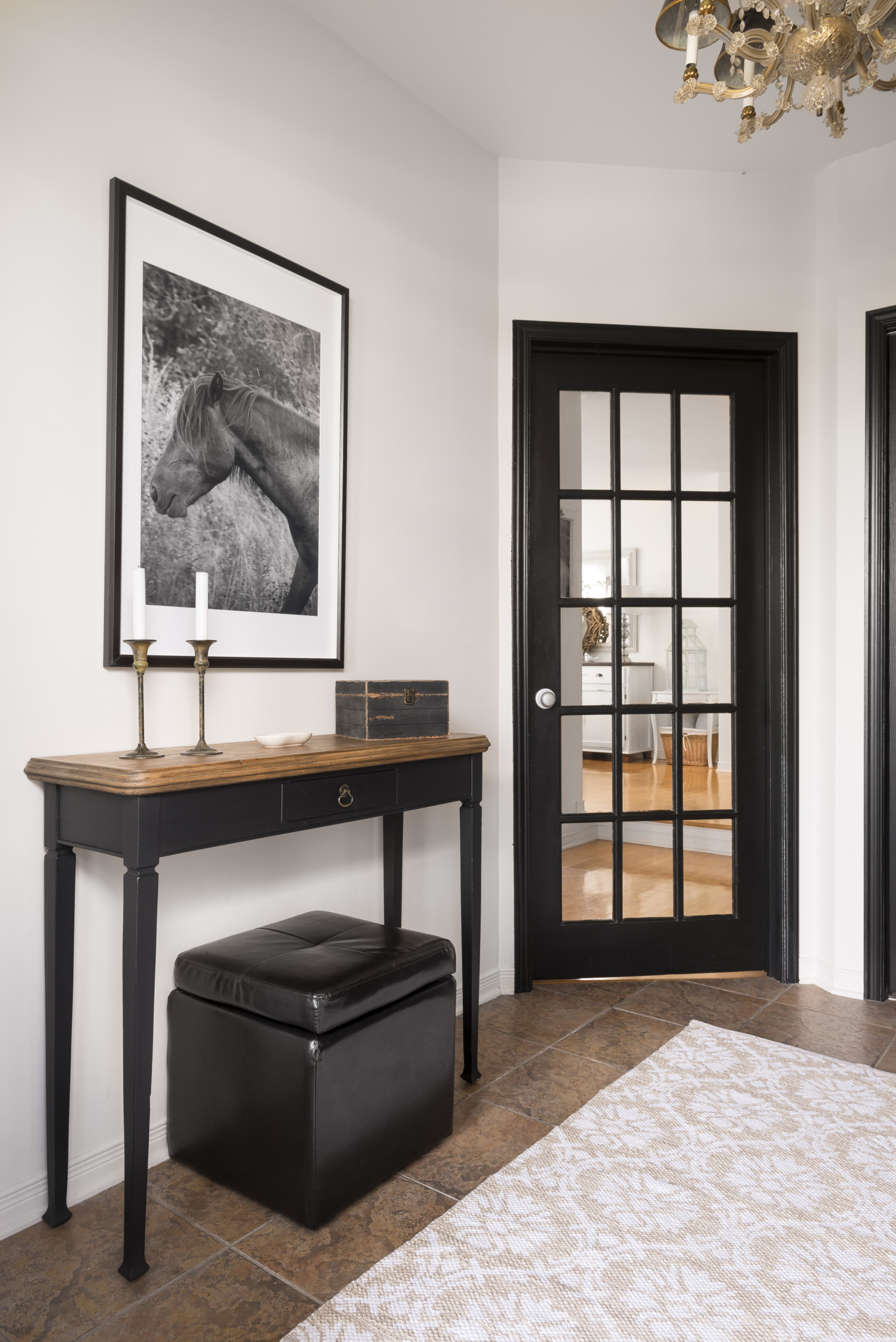 Share:
You know what feels good? A quick and budget friendly refresh, and it's exactly what Orphans with Makeup did in her entryway using Fusion Mineral Paint Coal Black. She packed two DIYs using Fusion and Homestead House Milk Paint, into one space, and both are totally doable on a budget if you're looking for a big impact with minimal cost. She rescued a table top using only Furniture Wax! Click here to see the Homestead House Milk Paint Project
Don't forget to cover the basics of milk paint if you're new to Milk Paint!
A quick and budget friendly refresh
Supply list.
TSP and clean rags

Fusion Mineral Paint in Coal Black mineral paint

Sander

Wet Sponge
How to Rescue a table top with Furniture Wax
Although this table was previously finished with Homestead House Furniture Wax, it needed an update after considerable wear and tear – the sign of a well used space! It had gone past well worn  with dings and scratches in the surface it was in need of  a complete refresh.
STEP 1
PREP
First, remove the old wax finish with odourless mineral spirits and a rag. If there is a lot of old wax left on the surface wire wool can be used instead of a rag. The mineral spirits breaks down the old wax and the wire wool/rag removes it. The next step is once the top is dry sand the tabletop surface using an orbital sander, dust off and wipe down with a wet rag to remove any residual dust.
STEP 2
APPLY FURNITURE WAX
Once the tabletop is dry, apply Homestead House Furniture Wax directly to the freshly prepared surface. Wipe on the wax and rub in a circular motion to ensure the wax gets into the grain of the wood and then wipe off any excess. Once most of the excess is off buff in the direction of the grain for a smooth even finish. Boom! Instant transformation. The wax deepens the colour and adds a layer of water-resistant protection.
STEP 3
FRESH COAT OF PAINT
The rest of the console table also needed a fresh coat of paint, Fusion Mineral Paint in Coal Black was perfect for the job,  a good clean and a light scuff sand before applying 2 thin coats with a good quality synthetic brush like a Staalmeester oval and it's done.
That's it! A quick and easy makeover that transformed the table and looks stylish and brand new! Just a pot of Fusion some wax and a little hard work.

We love seeing your Fusion makeovers join us over in our public Facebook group Paint it beautiful for lots of Fusion Inspiration