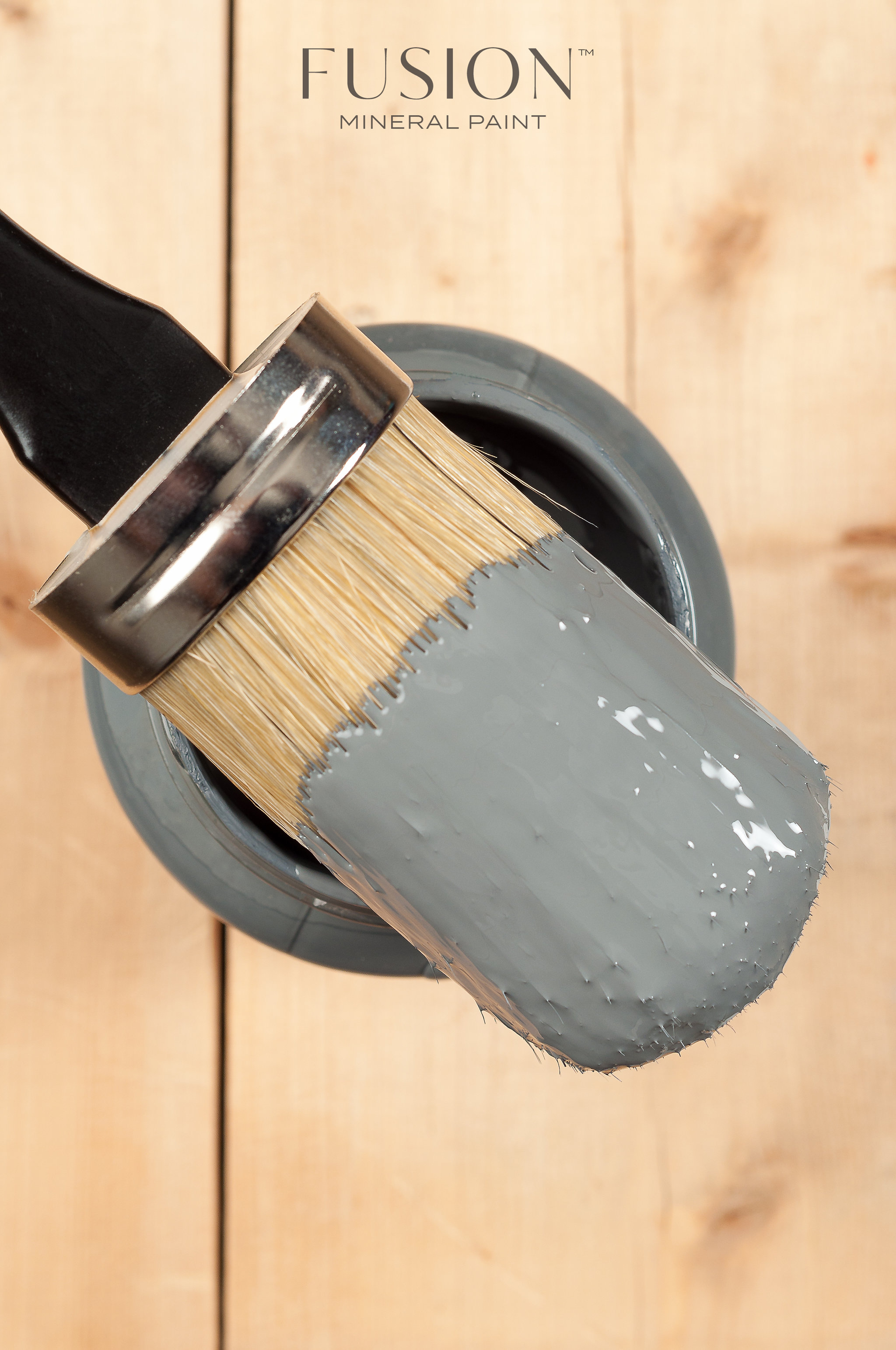 Share:
Ever wonder Why Fusion Mineral Paint is the most sought after DIY Decor Furniture Paint? As you can imagine, we get this question ALL of the time. You have seen the beautiful projects, and heard the buzz,  and you wonder,  exactly what is the deal here anyway?! What is it that makes Fusion Mineral Paint so wonderful and different? Why would I choose Fusion over chalk type paint?  Read on friends and find out the Top 5 reasons it is the best DIY Furniture Paint!
What is Fusion Mineral Paint
Fusion is fast becoming the choice of pro and DIY furniture painters. Why? because whether you are a beginner or a Pro, Fusion delivers great results!
Top 5 Reasons!
Built-in Top Coat – No Waxing or topcoat needed! It is built right into the formula.
LOW VOC & Virtually Odourless
Water-resistant & can be used outdoors
Unlike Chalk Type paints on the market, Fusion is an all-in-one DIY friendly paint see here for the intricate differences between Chalk Type Paint and Fusion Mineral Paint CLICK HERE
BUILT-IN TOP COAT/MINIMAL PREP
That's right NO topcoat is required!! Say what!? Fusion is an all in one formulation that has changed the DIY world making it easier to get a professional look with less time, money, and effort. In some cases you may choose to use our Tough Coat for a little extra protection on very high traffic areas, but most of the time just paint and done! Yes, Fusion Mineral Paint is that easy.
You don't need to strip it down to raw wood either! Minimal prep means a clean surface and possibly a light sanding by hand is all the prep that is usually needed. Superslick manufactured surfaces like melamine or laminate, we recommend using our Ultra Grip, which makes painting the impossible possible. Did you know you can paint fabric, metal, glass and plastic too?!
Download Fusion's prep card here Fusion-Prep-Guide-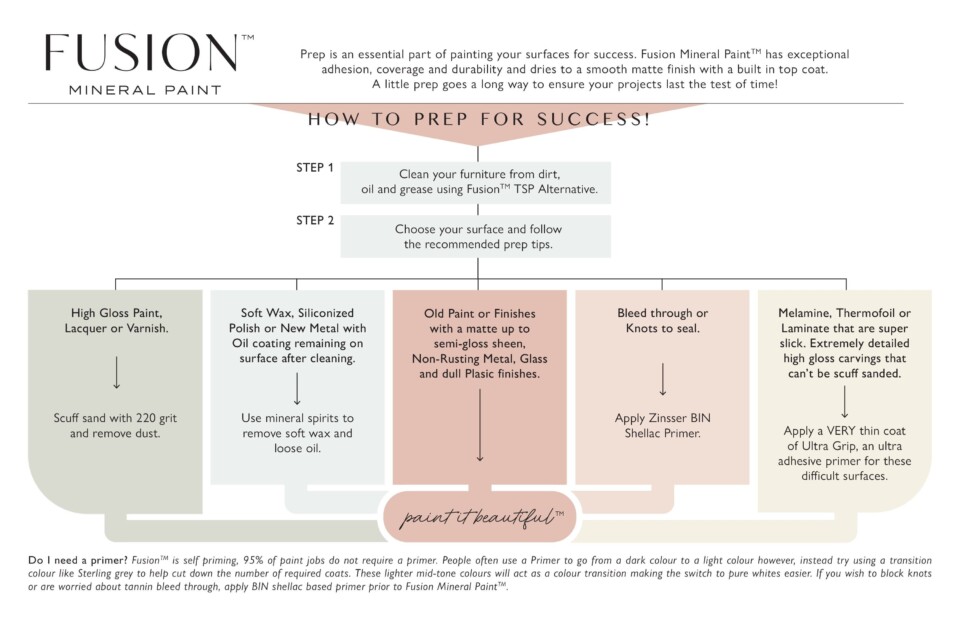 LOW VOC'S (aka Volatile Organic Compounds)
A big HUGE difference between Fusion and other brands of chalk type paint is that Fusion has LOW VOC's. Yes, ALMOST ZERO!
VOC's are chemicals that are emitted into the air when paint, and many other products found around the home, dry. VOC's can be dangerous and cause health-related issues. Fusion Mineral Paint is proud to be environmentally conscious, we source locally as much as possible, hire people not machines and even use biodegradable packing peanuts, and recycled cardboard materials AND our Fusion pots are made of 30% recycled plastic!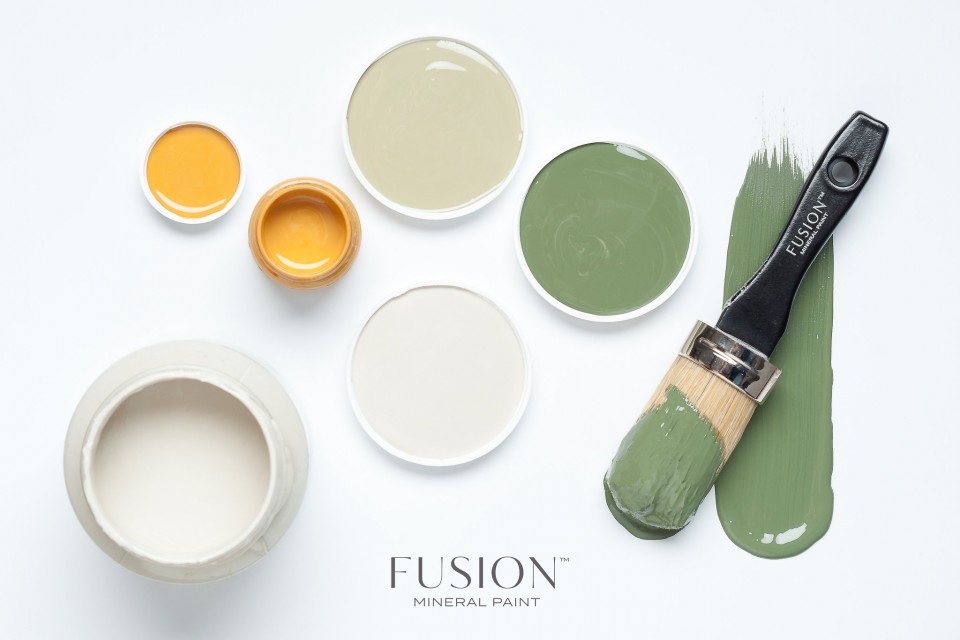 VIRTURALLY ODOURLESS
Our paint is virtually odourless! When you paint with Fusion you will find that there is virtually no odour. I know…WOW!! This makes indoor painting enjoyable and safe for everyone! No need to worry about opening windows and ventilation, even in the winter when you paint indoors.  Nursery projects, kids crafts, or whatever your project is,  it can be done with no worry about strong and harmful odours. Our environmentally and health-conscious formula is also lead-free, phthalate-free, formaldehyde-free, ammonia-free. I know, pretty amazing stuff indeed!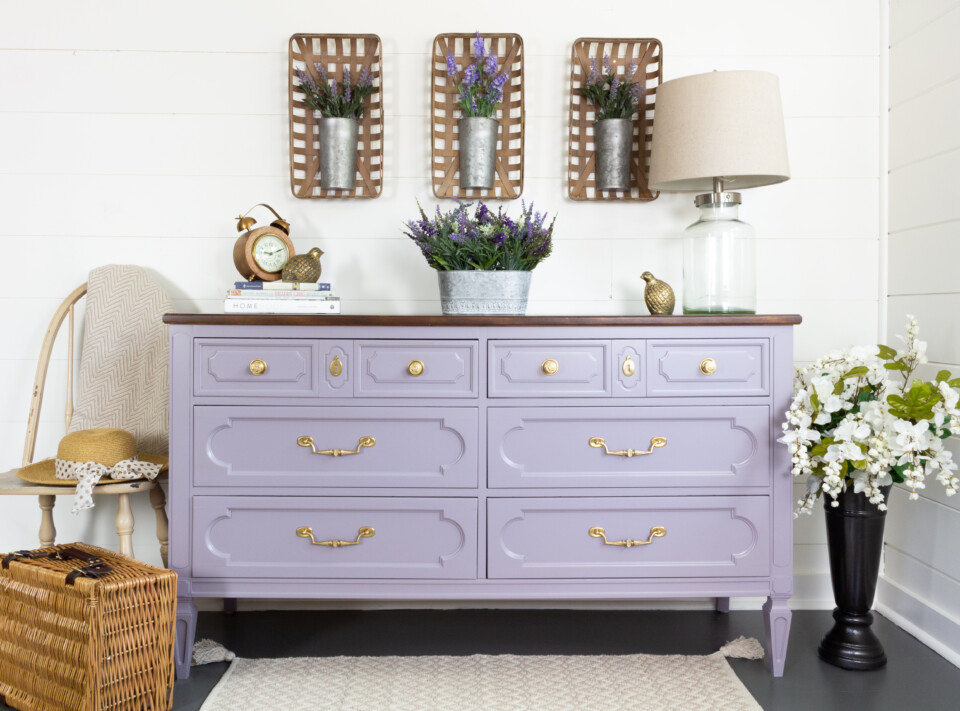 COVERAGE & UV RESISTANT
We manufacture our paint with the highest quality finely ground,  natural mineral pigment and that means you will not get a better depth of colour or coverage from any other paint.  You can expect an astounding 75 sq ft of coverage per pint (500ml). which is equal to about 1 quart of a Chalk Type paint, for a lot less money and time! It gives a matte, creamy, opaque and perfectly smooth silky finish! One coat is all you will need for most surfaces, however, we always say 2 thinner coats are better for a super fine and smooth finish. Because we use real Mineral pigments, our paint is also naturally UV resistant and your colour will not fade over time!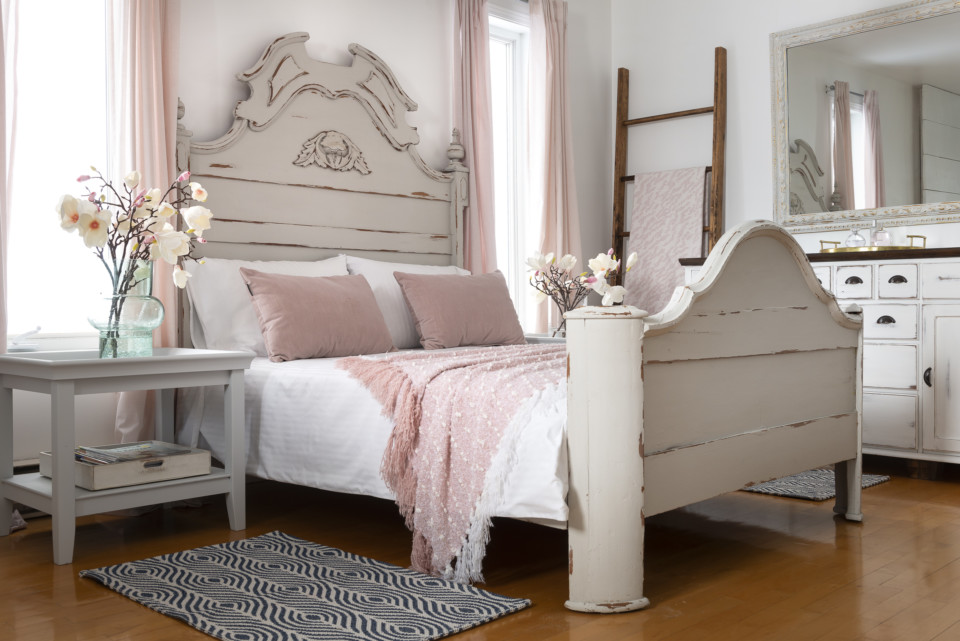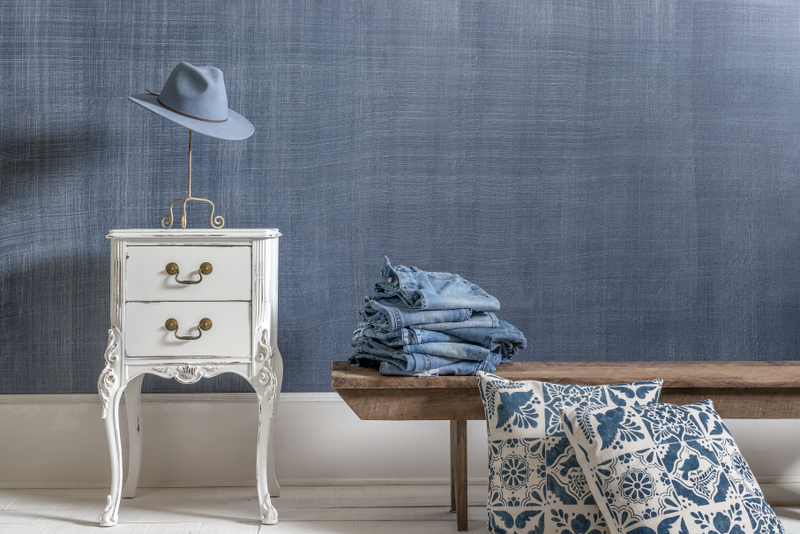 WATER RESISTANT
Many paints say they are acrylic but they contain added ingredients that compromise the finish. Fusion is 100% acrylic, water-based with NO added latex or vinyl. All of this with an industrial-grade resin means a water resistant finish that you will not get with other paints. Period! This means a long-lasting, durable finish, even outdoors!! Woohooo!!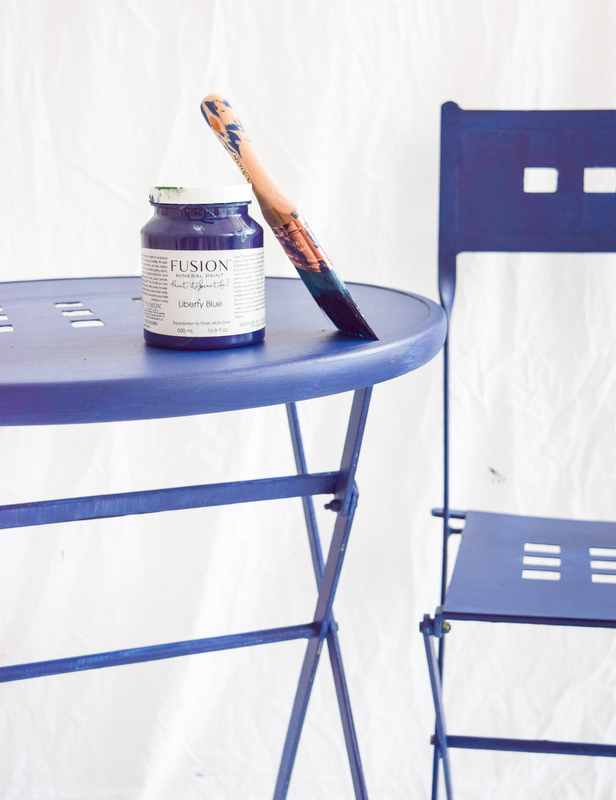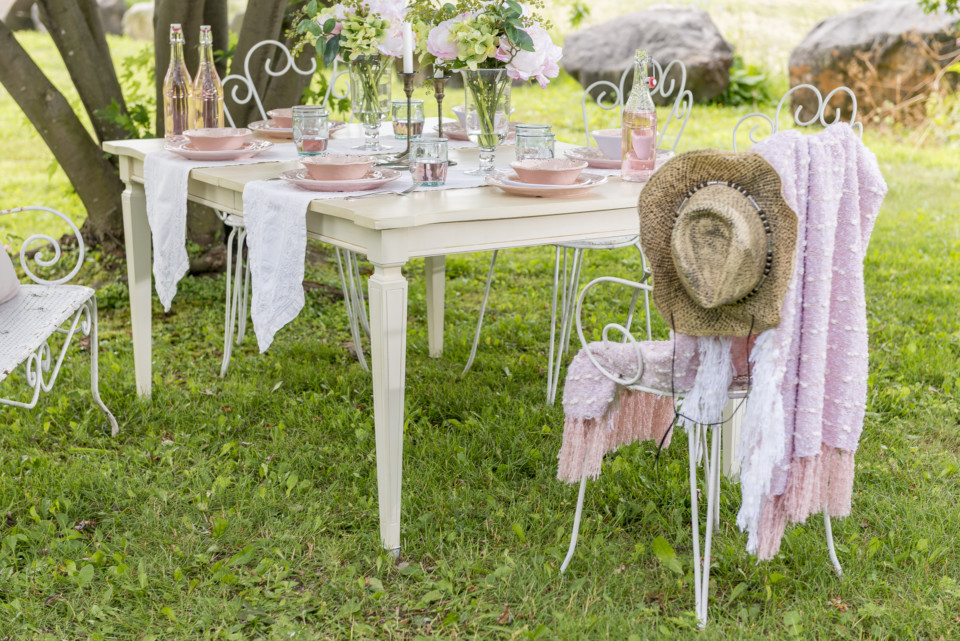 So, there you have it. The question is not why, but why NOT Fusion?!