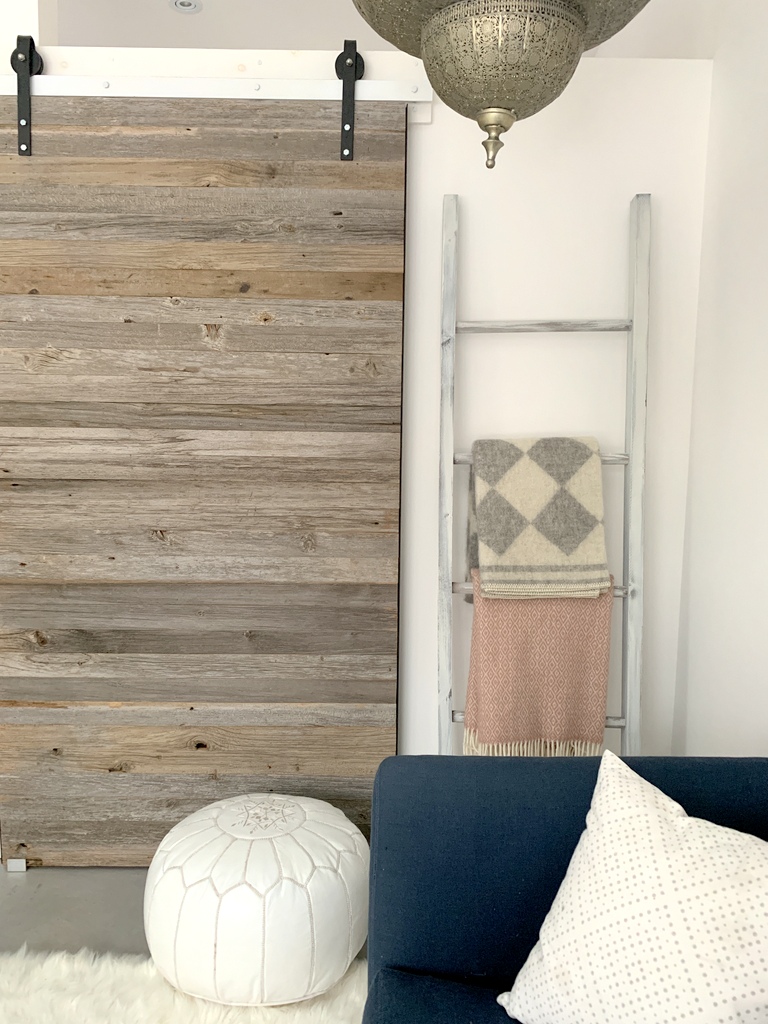 Share:
Blanket ladders have got to be one of the sweetest ways to add some charm to a house. Not only do they literally help to organize your blankets and such off of your couch til you need to use them, they're a great way to add texture to a room without having to put holes in your walls. Again, simply by hanging cozy blankets on the ladder leaning against the wall. So today we're sharing a simple tutorial for you on how can make and stain your own blanket ladder.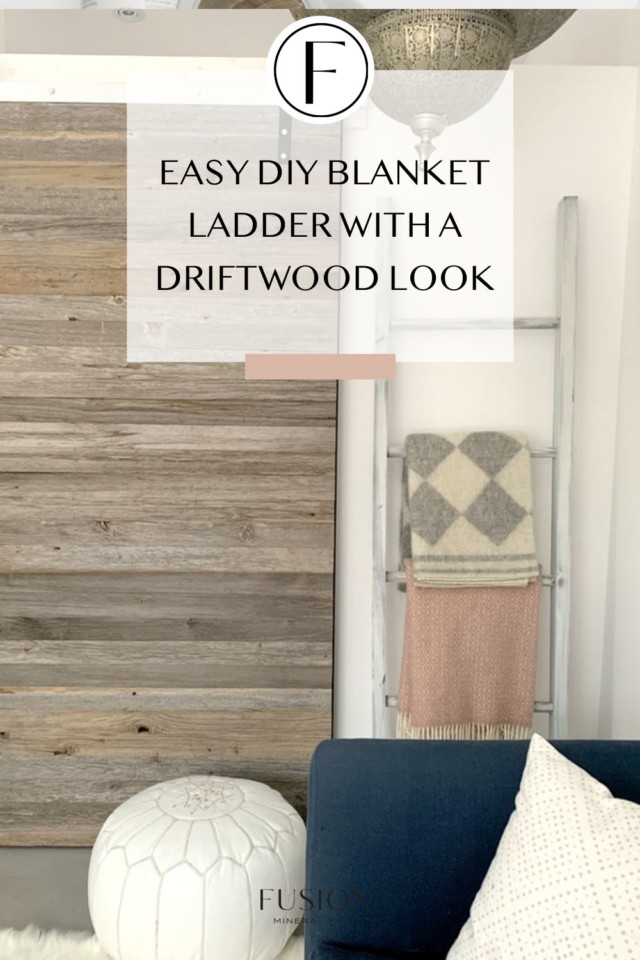 An easy DIY blanket ladder with a driftwood look effect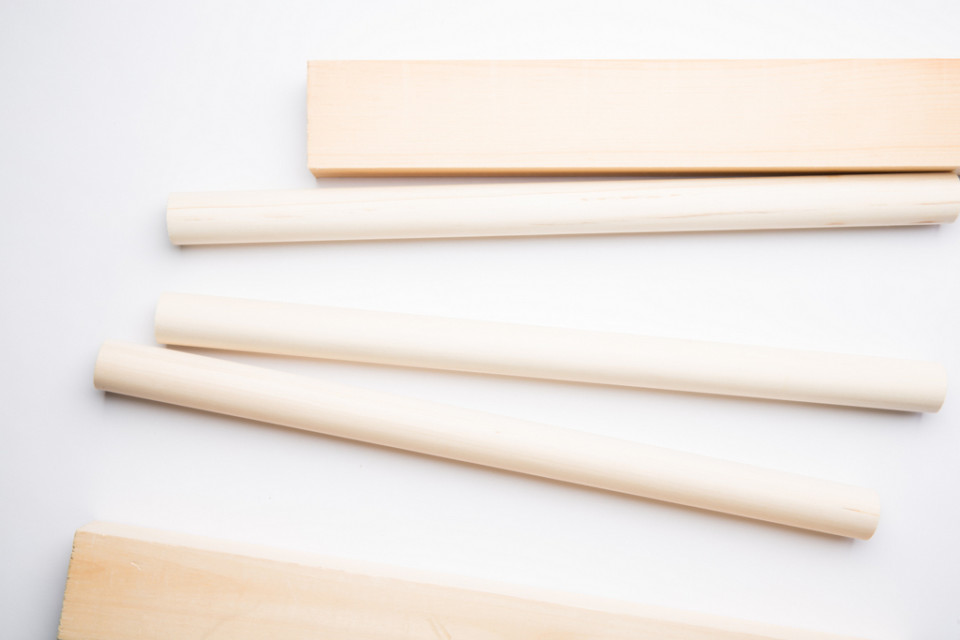 SUPPLIES NEEDED:
Two, 8 foot  2" x 3" pieces of lumber (wood)

One, 1 – 1/4″ x 72" (6 feet) round wood dowel, cut into 4 equal pieces
Cup for mixing
Water
Fusion Mineral Paint Chocolate tester size pot
Staalmeester Oval 45 brush
Fusion Mineral Paint in Casement
2″ flat brush
Paper towels
Impact drill + wood screws
STEP 1
STAINING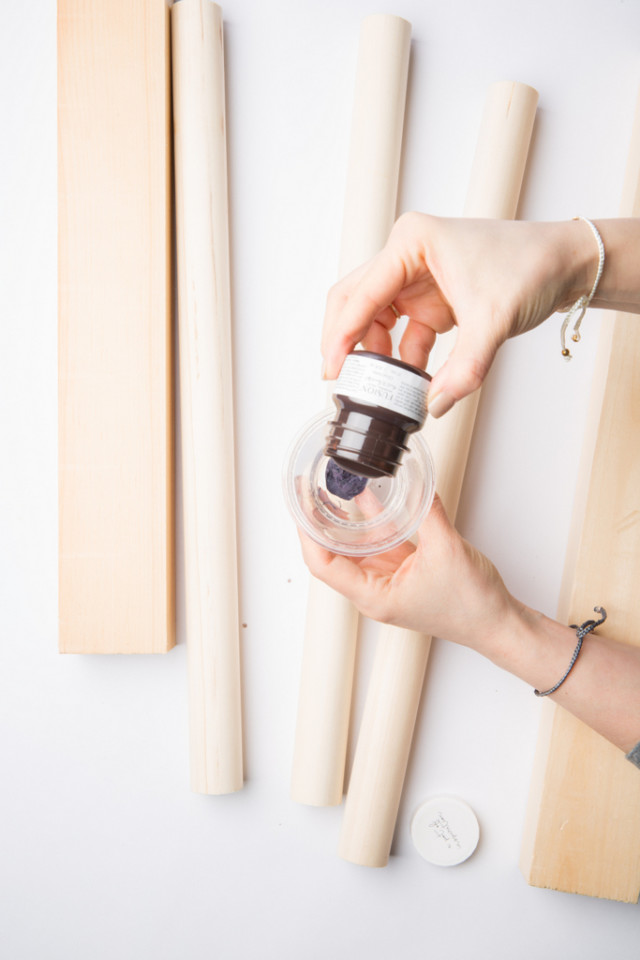 Mix water with Fusion's tester of Chocolate about a 50/50 ratio. Then just apply the mixture to all of your wood pieces and dowels as if you would a stain.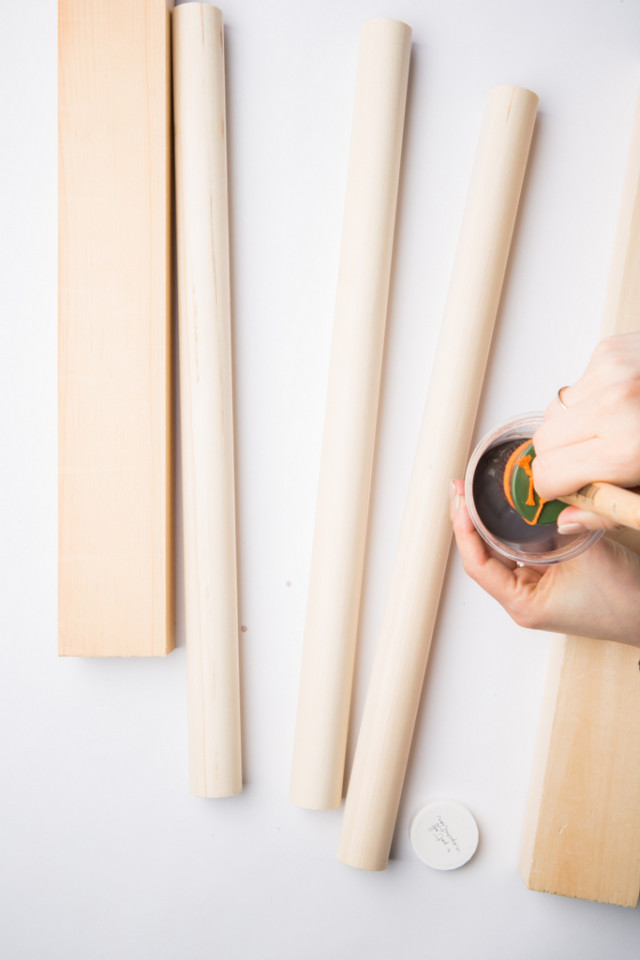 The first coat will be very translucent, so if that's the look you prefer, you can stop there. Two coats will give you a darker one. Don't panic if you see that it looks VERY purple when it is wet. We promise it dries to a chocolate color.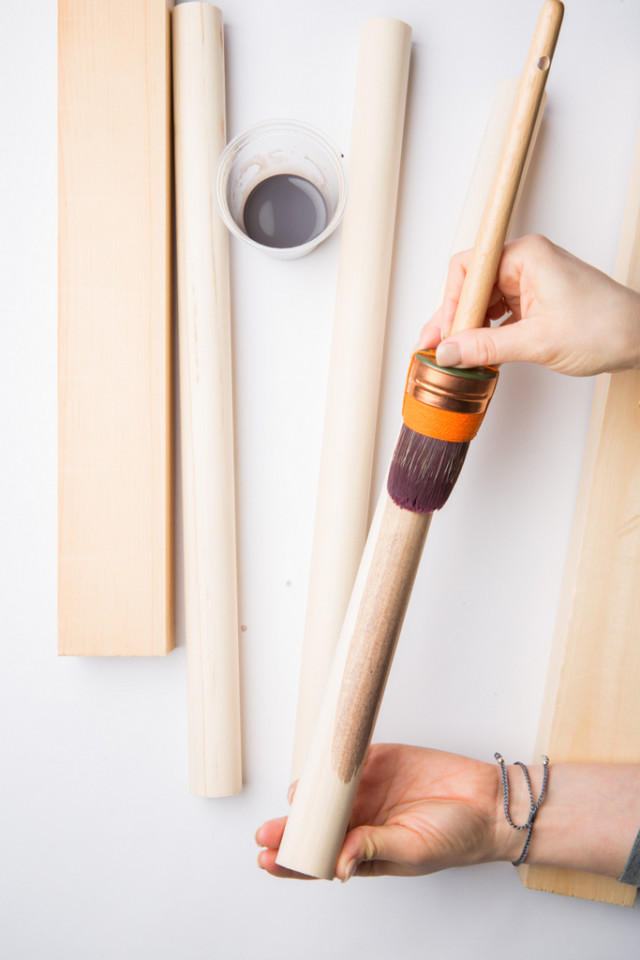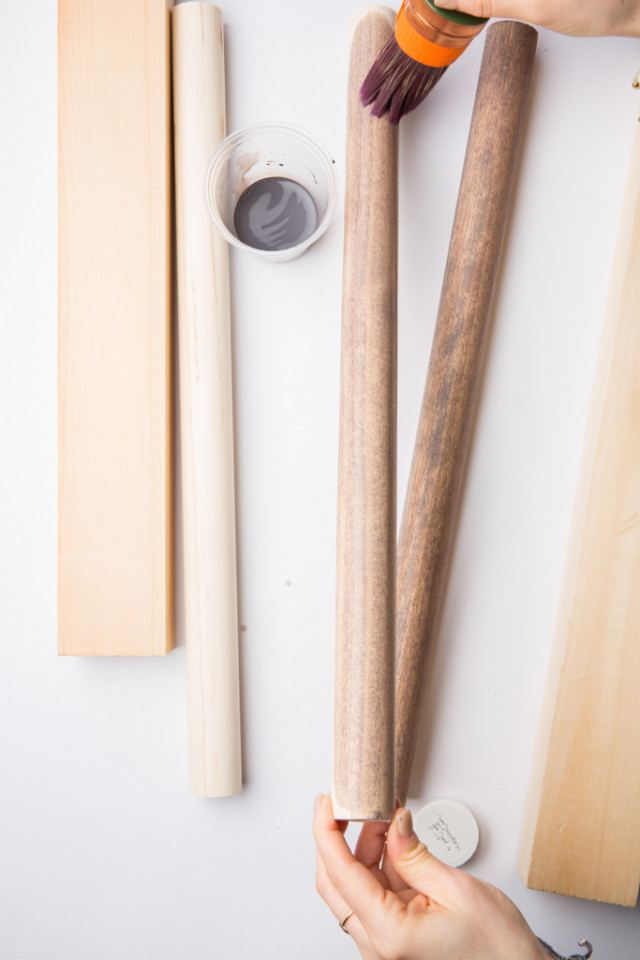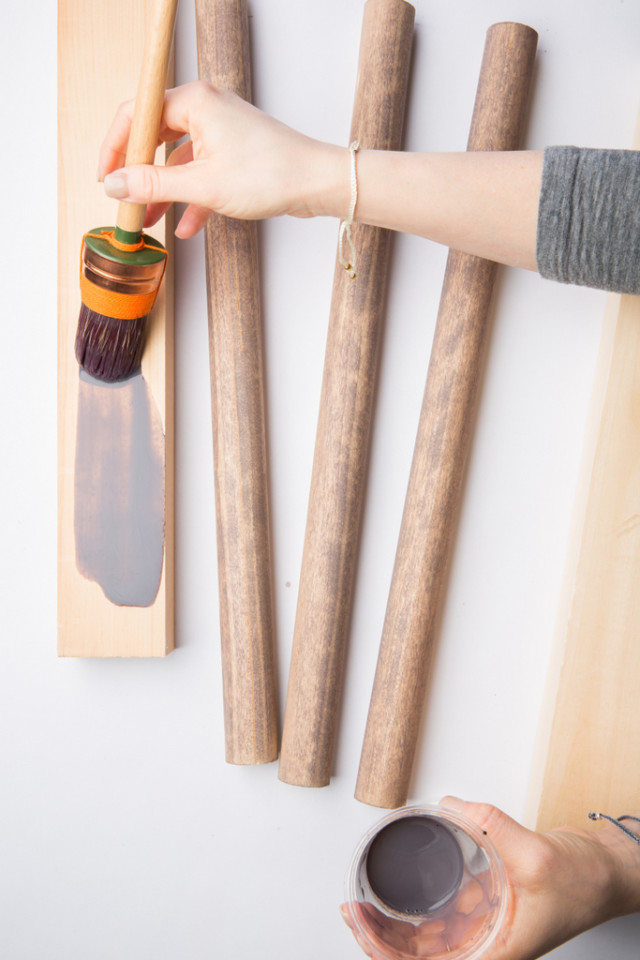 STEP 2
DRY BRUSHING
We wanted a driftwood effect for our ladder so we decided to do a dry brushing technique. For this we used Fusion in Casement at full strength. This technique is similar to stenciling where you want to remove most of the paint from your brush before you apply it to your wood surface. You can dab it on a paper towel to wipe off any excess paint.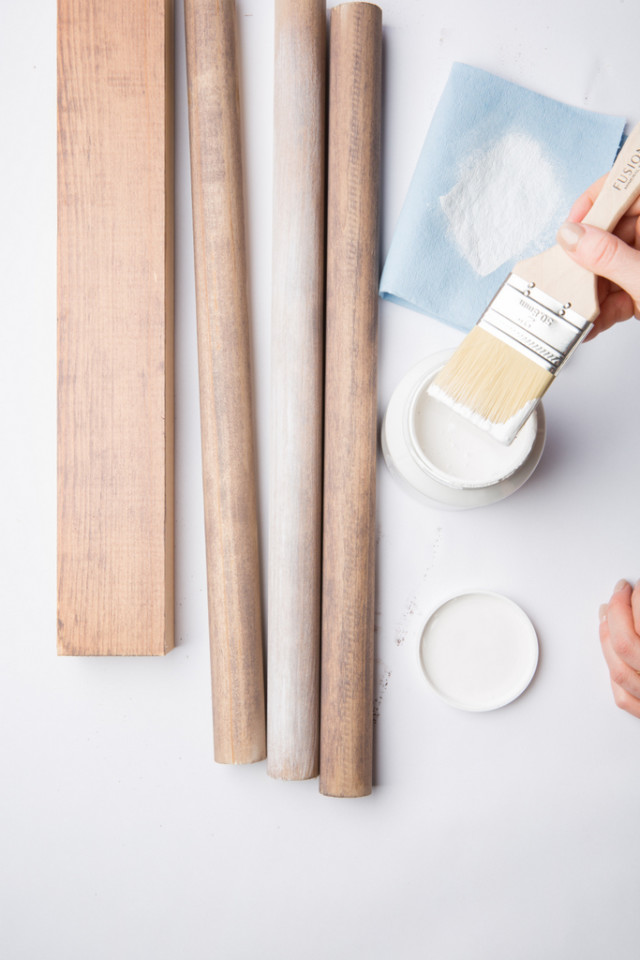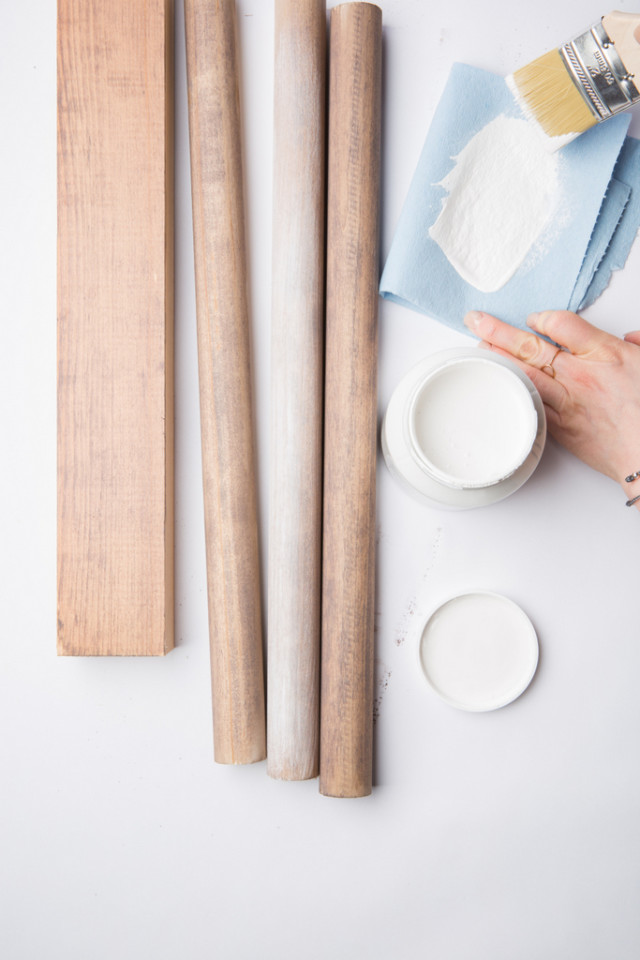 Glide the paint brush with Casement end to end (across the whole piece of wood and dowels). Don't go back and forth or start and stop in the middle and apply very little, if any pressure. The goal is just to leave brush strokes / lines to soften the dark "stain" versus covering the the pieces.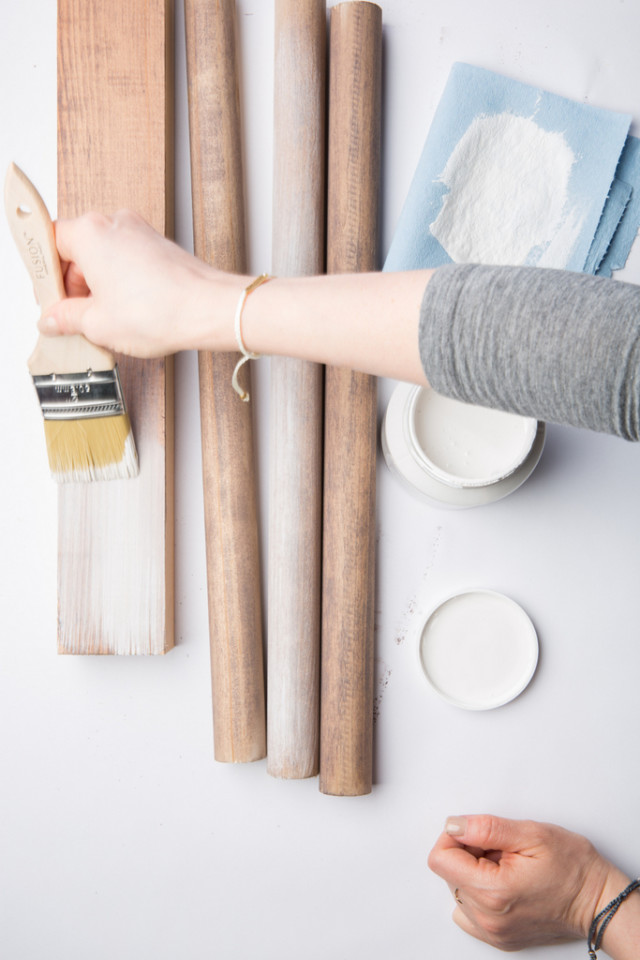 Let dry!
STEP 3
BUILDING YOUR BLANKET LADDER
We did the easiest method possible for making this because ours is mainly used as a decor piece.
First lay out your wood dowel and measure out 4 equals parts (ours was 6 feet so each rung was 18").
We attached the ladder rungs by drilling through the outside of the 2 x 3's. You want to measure and mark where they are going to be screwed into, to make sure they're evenly spaced. But leave a little extra space at the bottom so nothing drags on the floor.
Alternatively you may also drill holes approximately 2/3 inch into the 2 x 3's and glue the rungs into those using wood glue.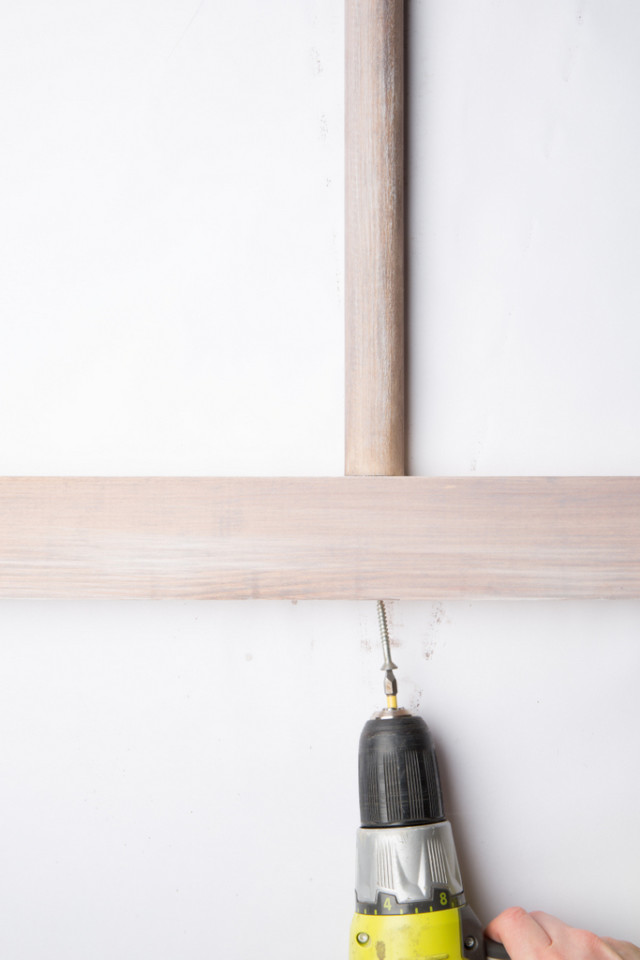 Then hang your blankets on your ladder and place where you wish!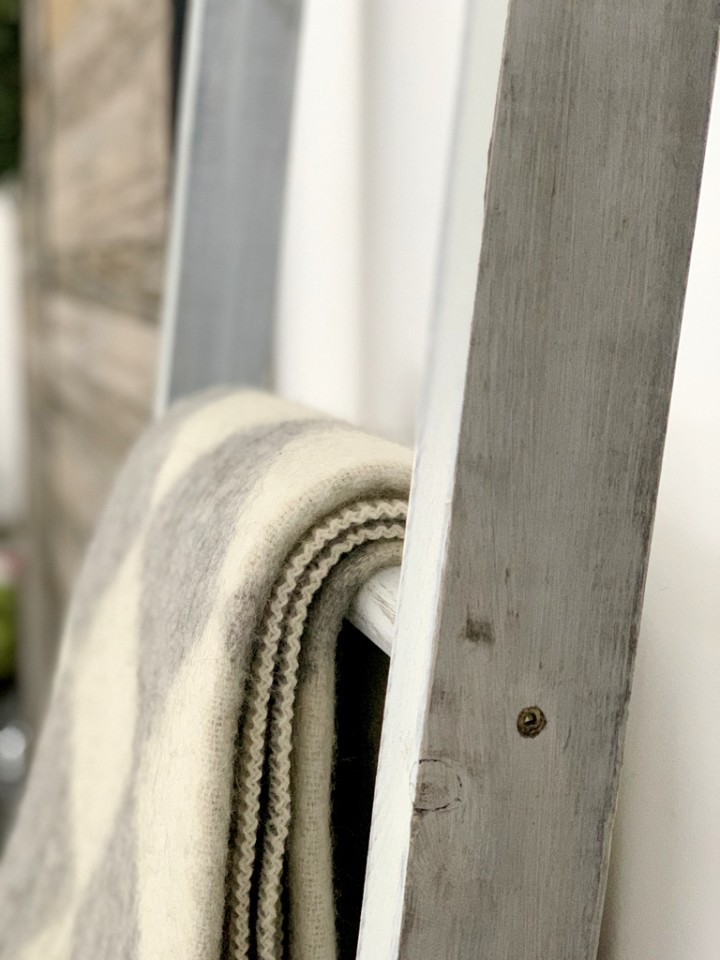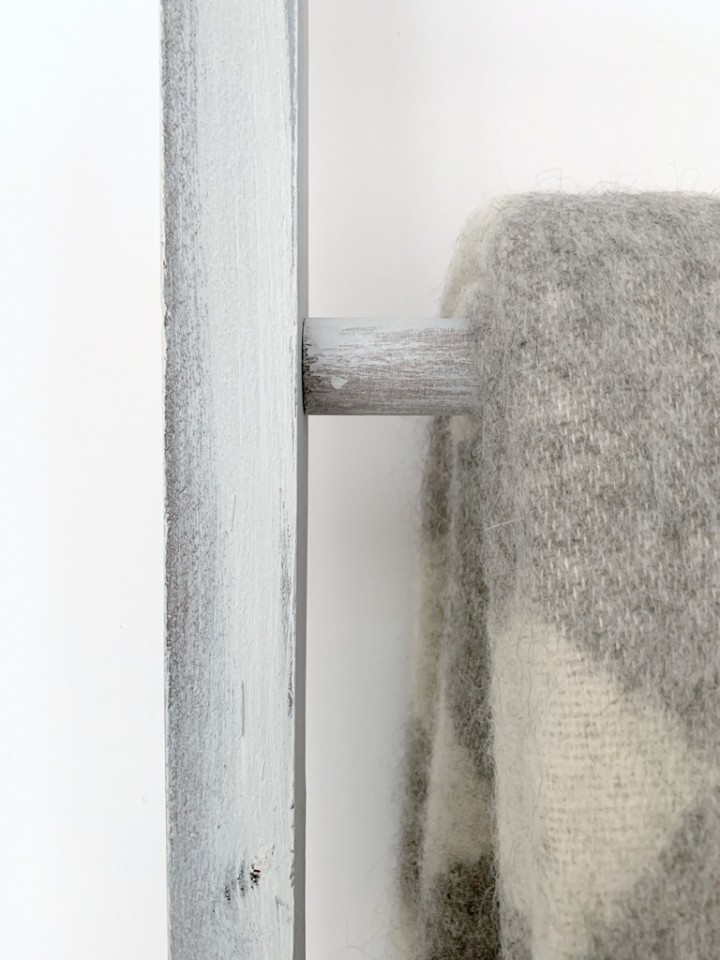 See how easy it is to create that driftwood affect with Fusion? You would never guess that's just plain old wood lumber from the home improvement store.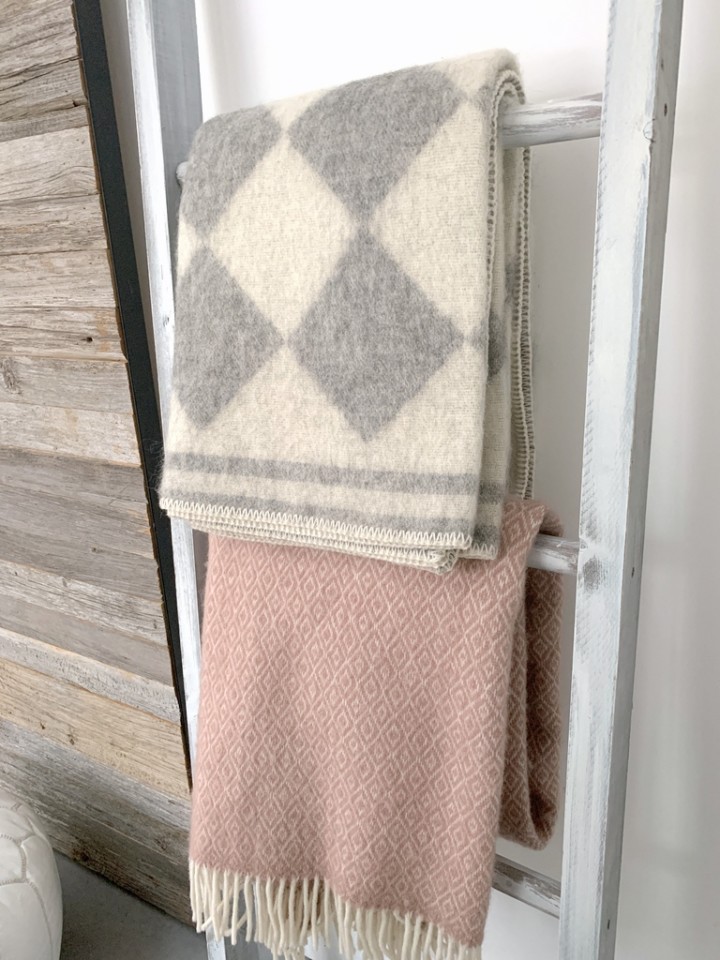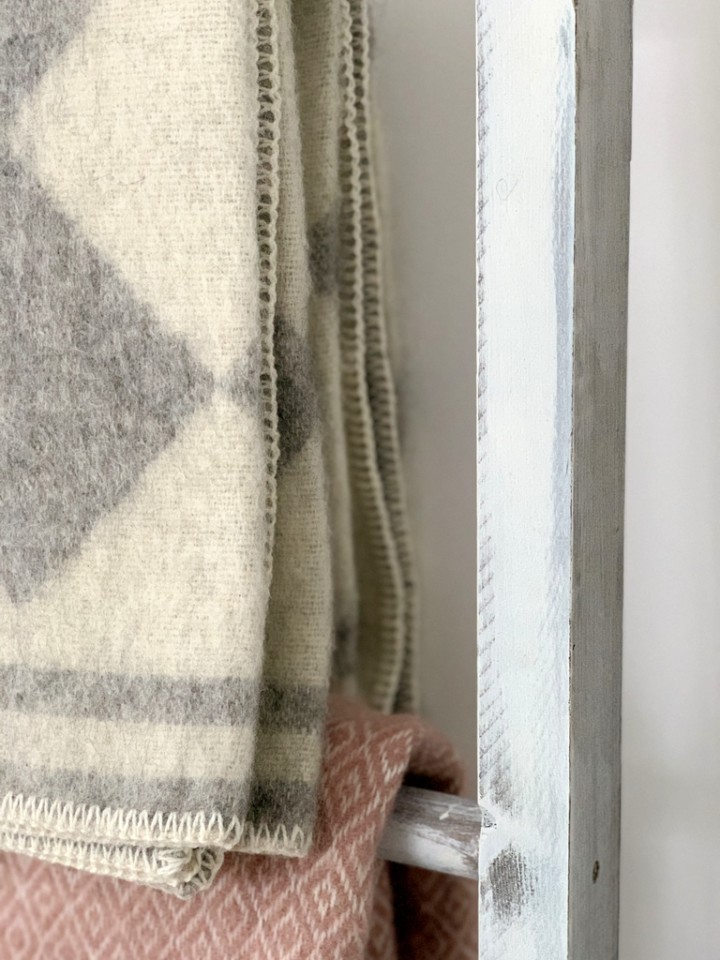 This one is going in our studio and it's definitely added a lot of warmth and coziness to our space.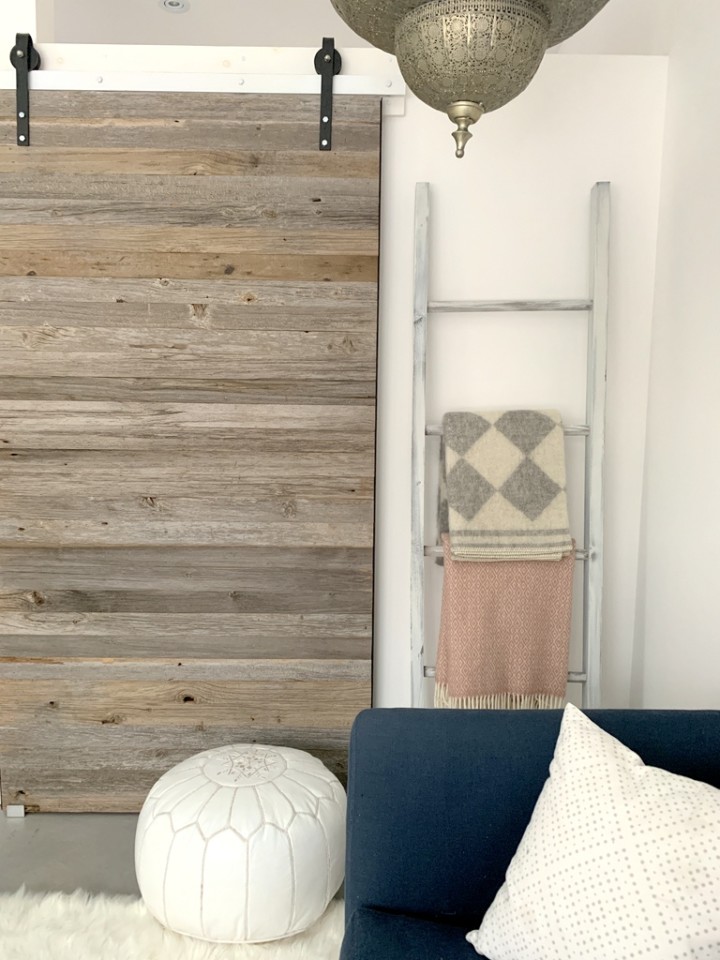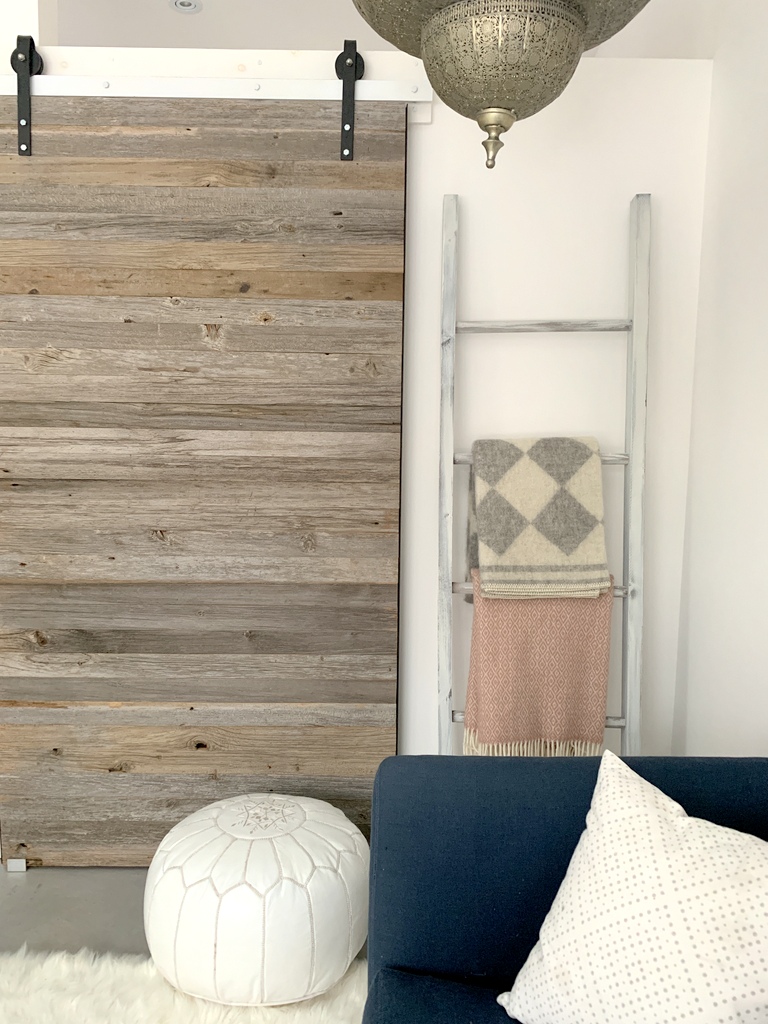 Enjoy and happy painting!
PIN IT FOR LATER!!!!