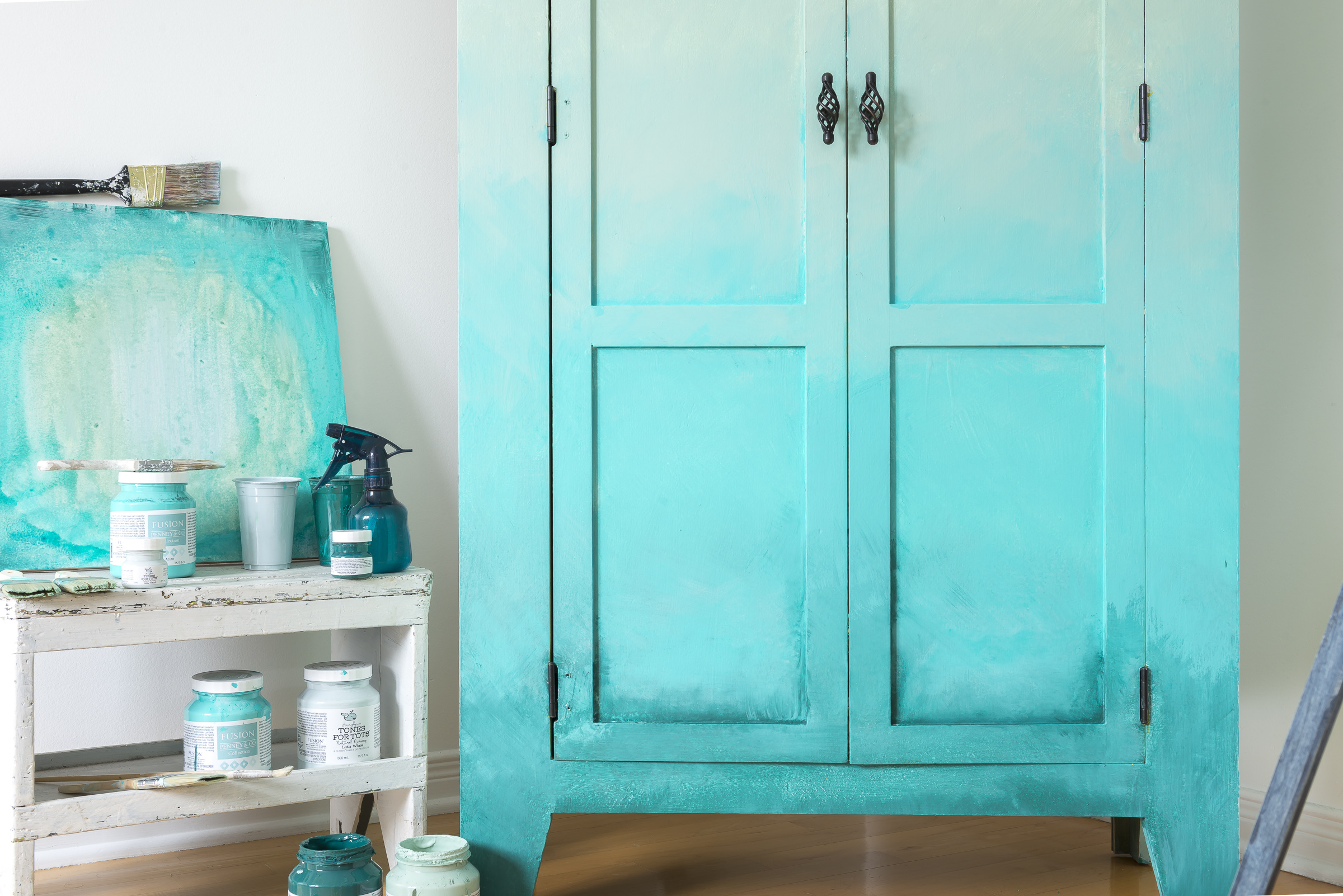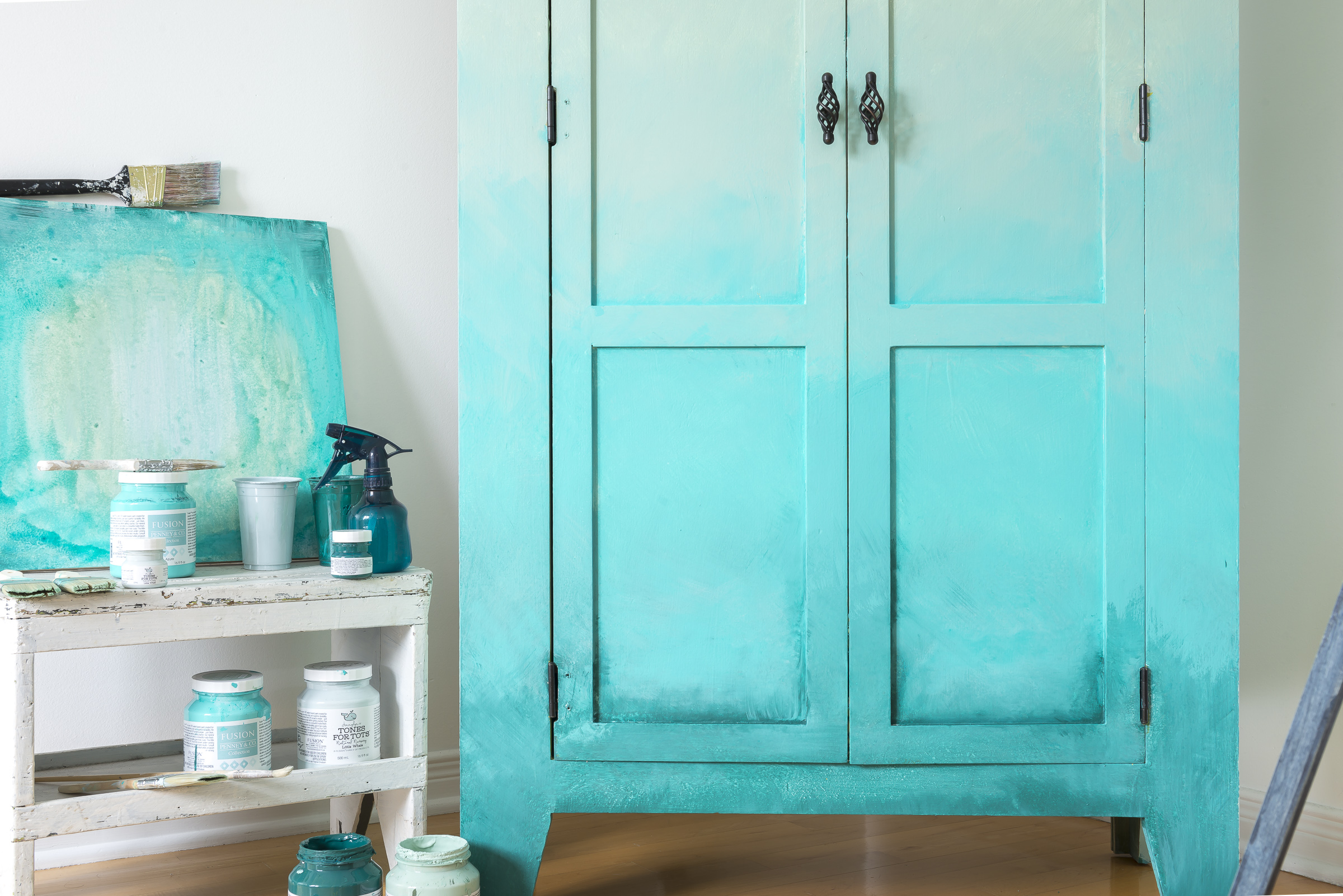 Share:
One of the painting techniques that we get asked about the most, is how to blend Fusion Mineral Paint to create that seamless flow from one color to the next. And one of the most popular looks is an ombré effect, which is the gradual blending of one color hue to another, usually from light to dark. Today's tutorial is going to teach you How To Blend Paint To Create An Ombré Effect.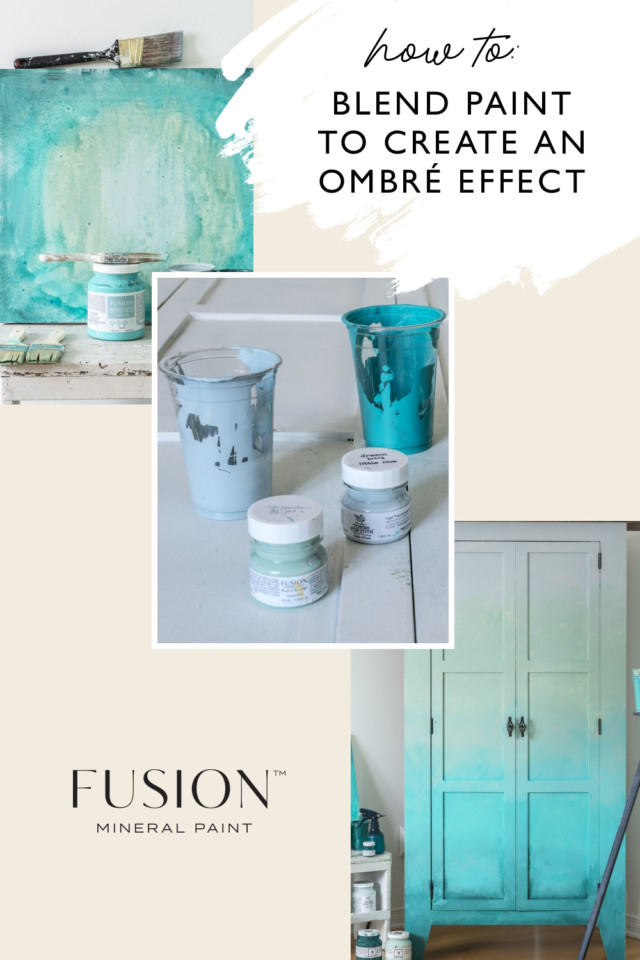 So today we are going to be showing you how to create an ombré look on an armoire. If you don't have an armoire but would like to recreate the look on a bookshelf or even a piece of art, you can use the same blending technique.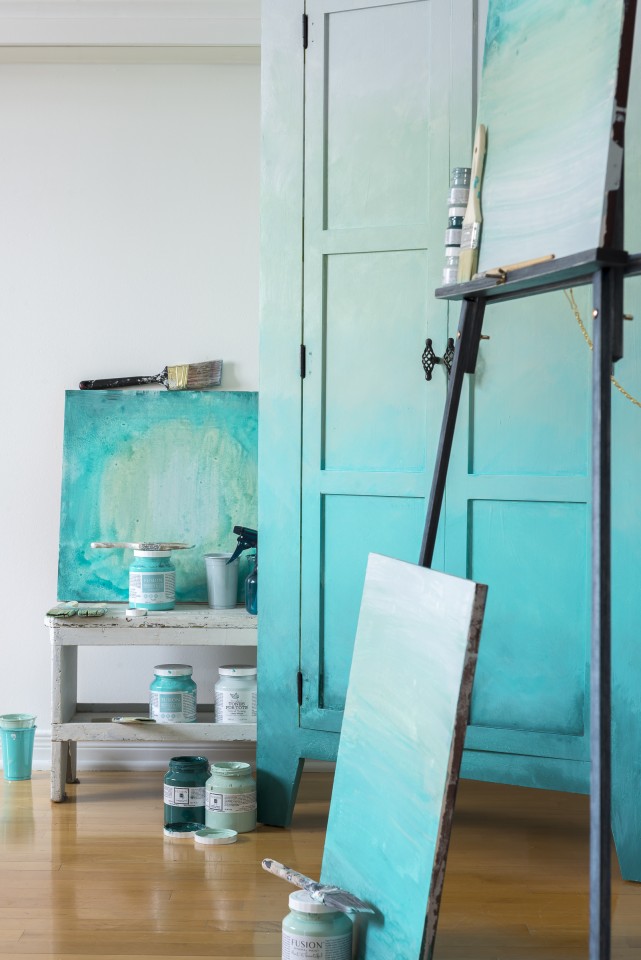 What you'll need to blend furniture paint – ombre effect on furniture 
Before we get started here are some friendly tips to follow about this specialized paint technique:
If this is your first time blending paint, choose colors in the same color family. Think all reds or all blues. Select colors that can easily transition to the next. As you get more comfortable with blending, you will be able to move to mixing completely different colors side by side (we've got that post coming soon!).
Practice first on a different surface (not your final piece), such as a piece of scrap wood or a canvas (like we did). This will help you to get the hang on the process before starting your actual furniture piece.
Blend, blend and blend some more! Keep blending.
If you do not want your paint to drip, if it all possible, lay the item down horizontally to avoid doing so. Otherwise please just take care with how much water you mist onto the paint. Remember to lightly mist and not over spray. Over spraying will cause the paint to become too diluted and drip.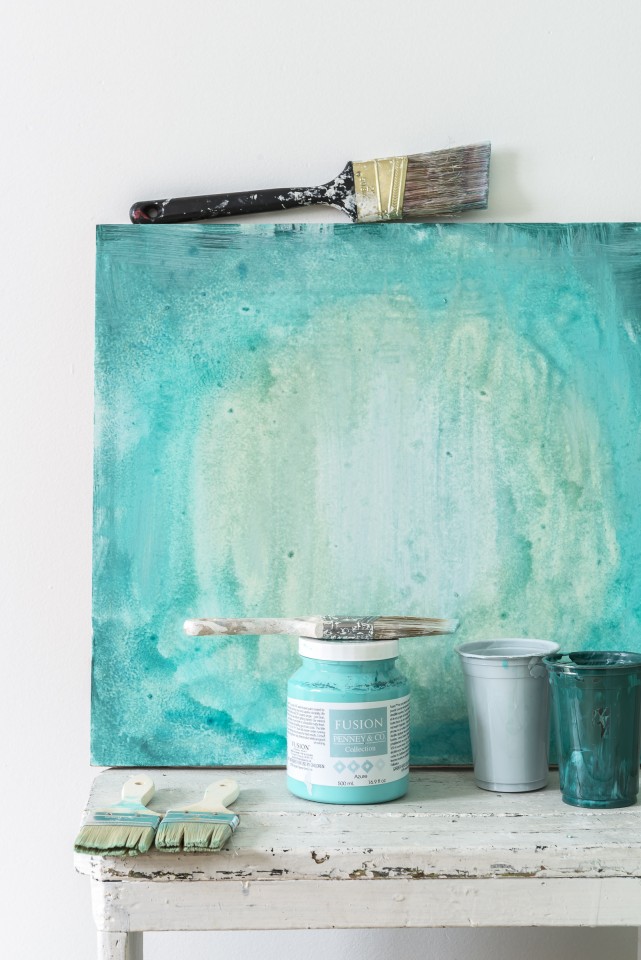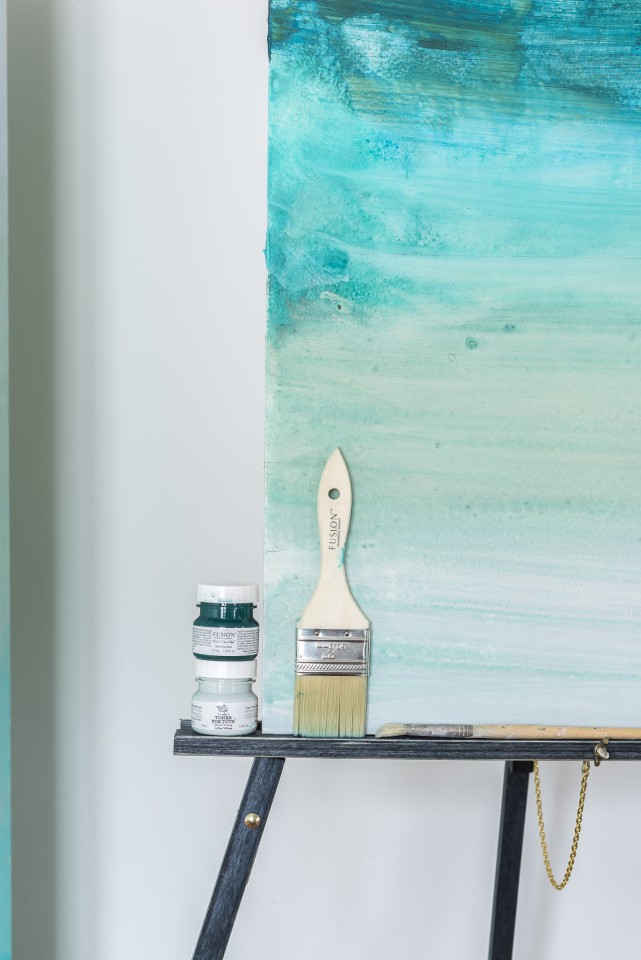 See? Practicing beforehand will help you get a feel of what works and what doesn't.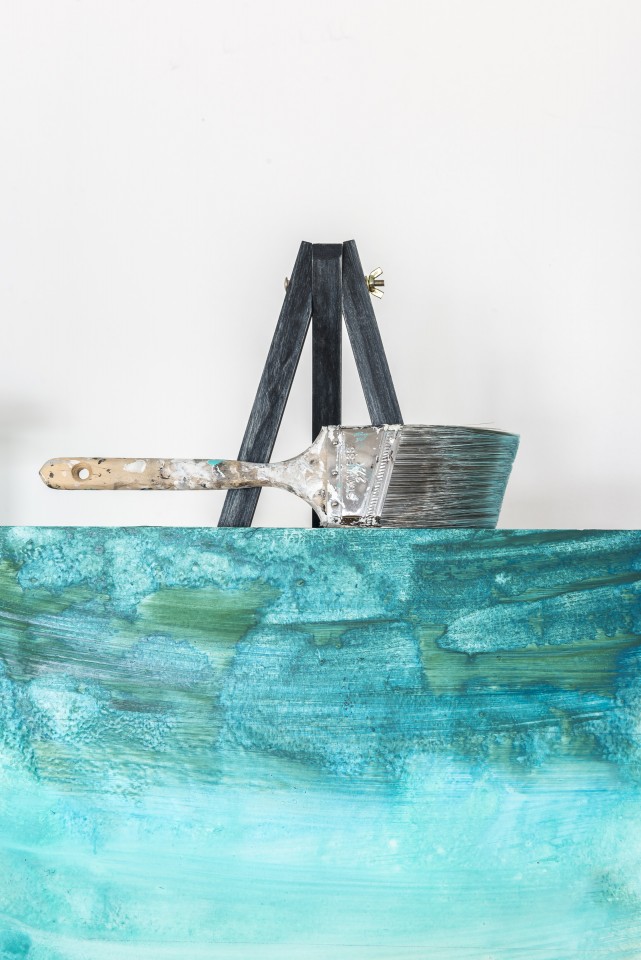 Ok let's get to it! Time to learn how to get am ombre effect by blending furniture paint.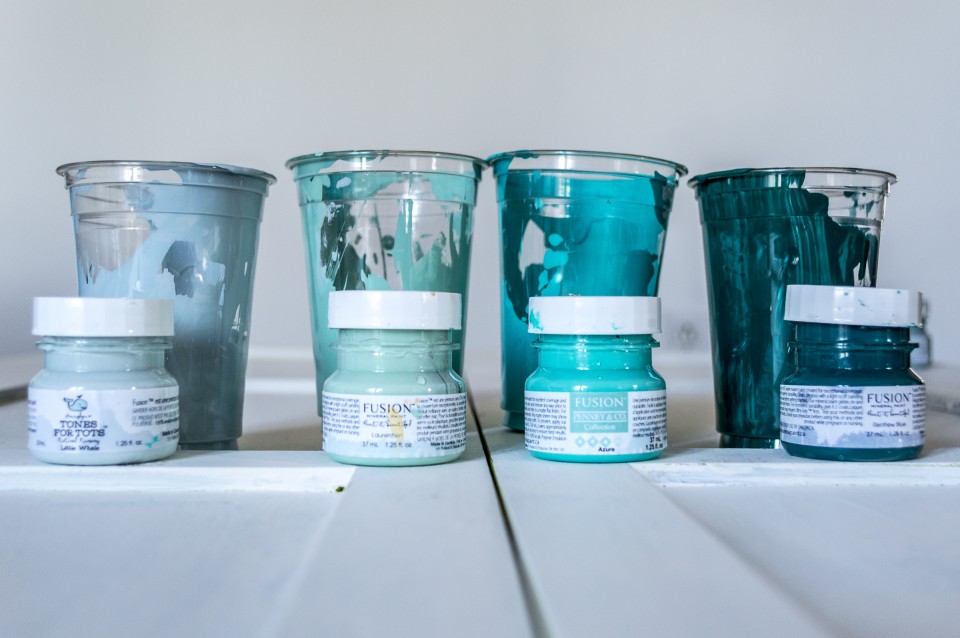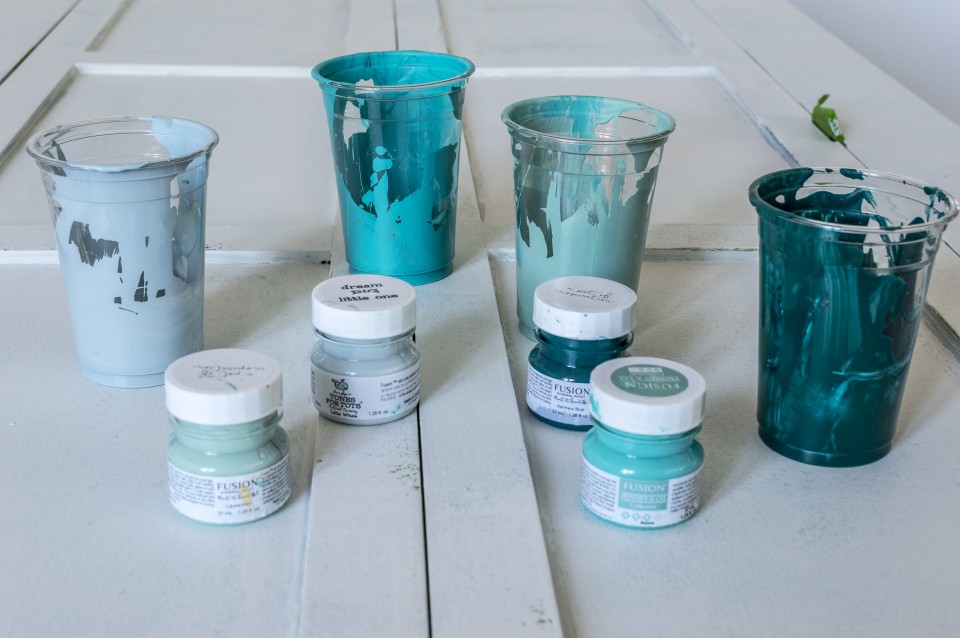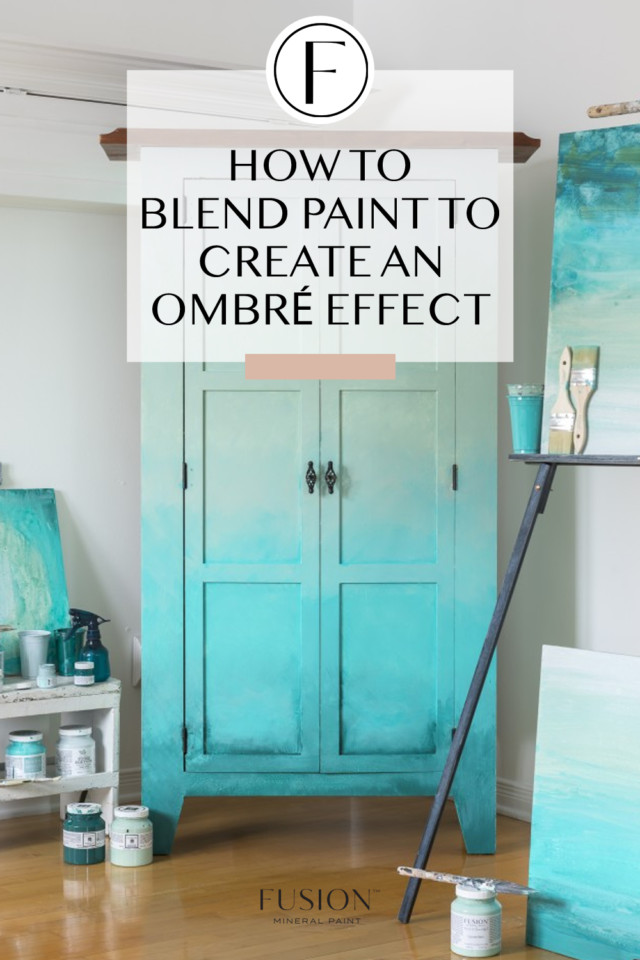 STEP 1 – START PAINTING WITH THE LIGHTEST COLOR, THEN THE NEXT COLOR
Starting at the top, visualize the armoire or the item you are painting into 4 equal parts. Then using the lightest color, Fusion Little Whale, start to paint the top part and then begin to the paint the color after that, Laurentien. In the section where the 2 colors meet, lightly blend the colors in a criss cross hatch pattern. Do not press too hard with your paint brush and avoid painting in a straight line. You don't want the blending to look harsh and by painting in a criss cross pattern, it helps the blended part to look more natural.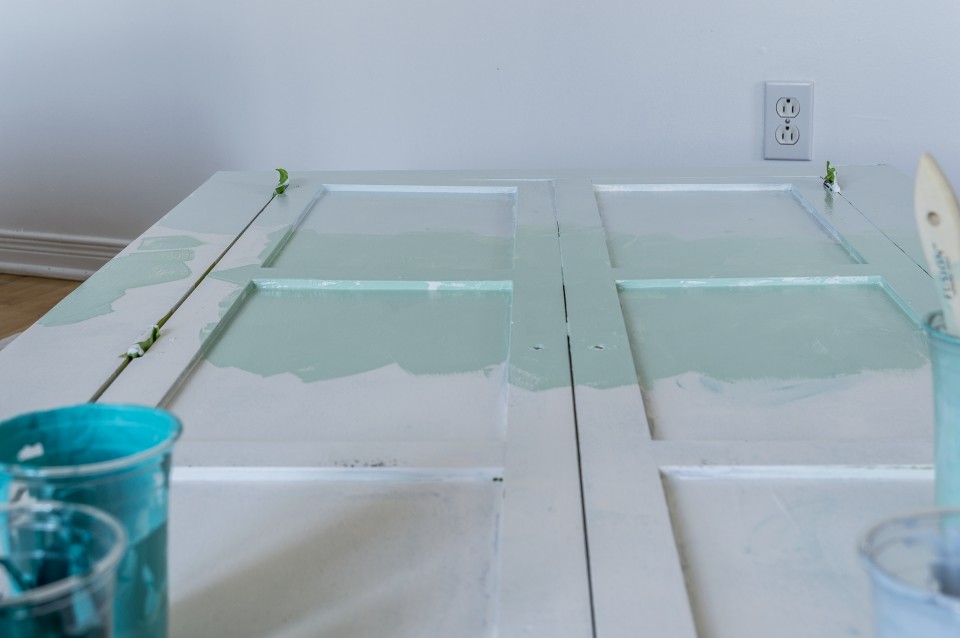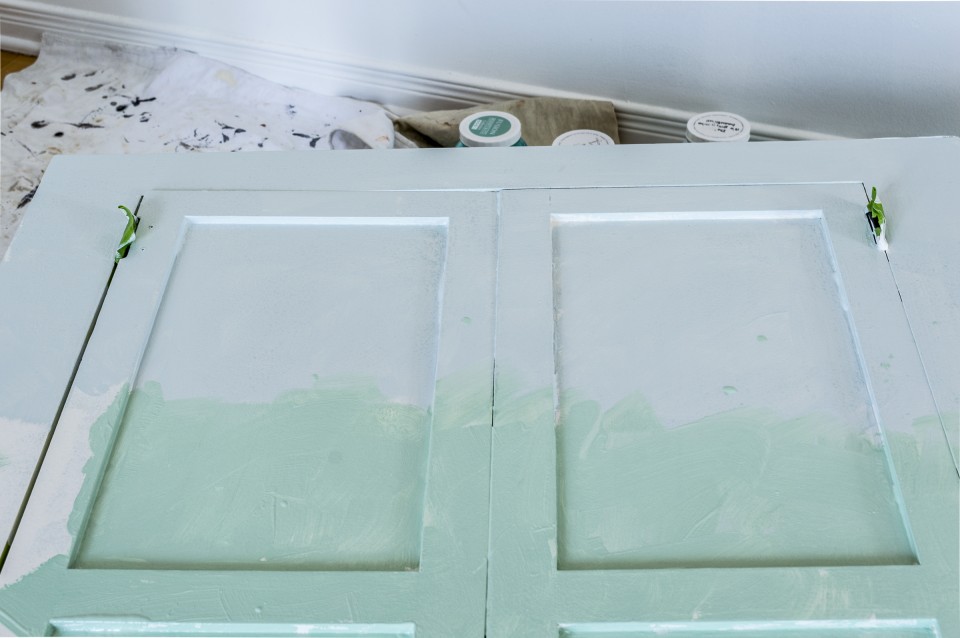 As you paint the blended sections, using your spray bottle, lightly mist the blended areas with water.  It will extend the blending time and create this amazing watercolor affect, which just happens to feel extra amazing with the shades of blue!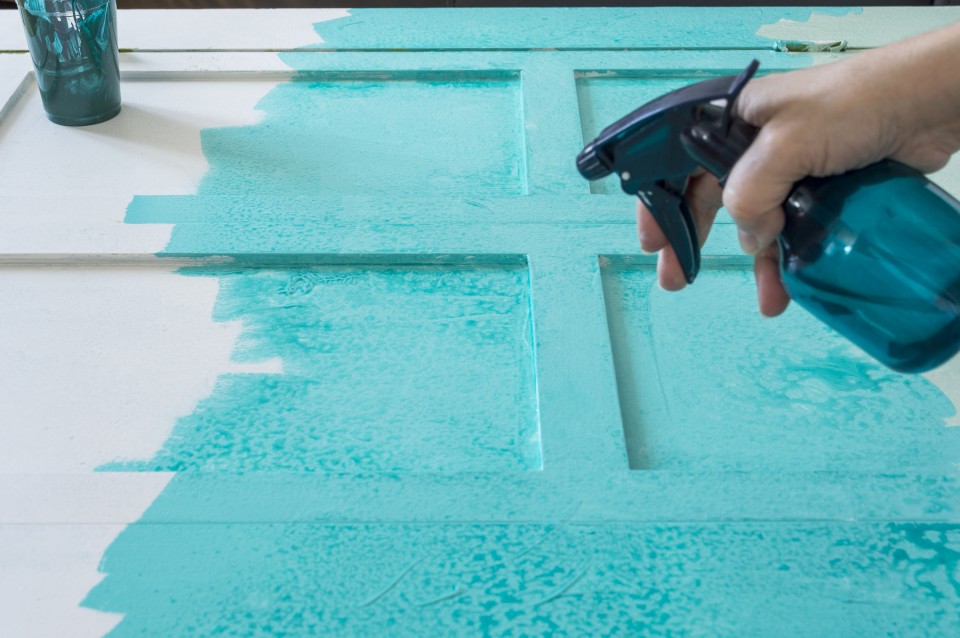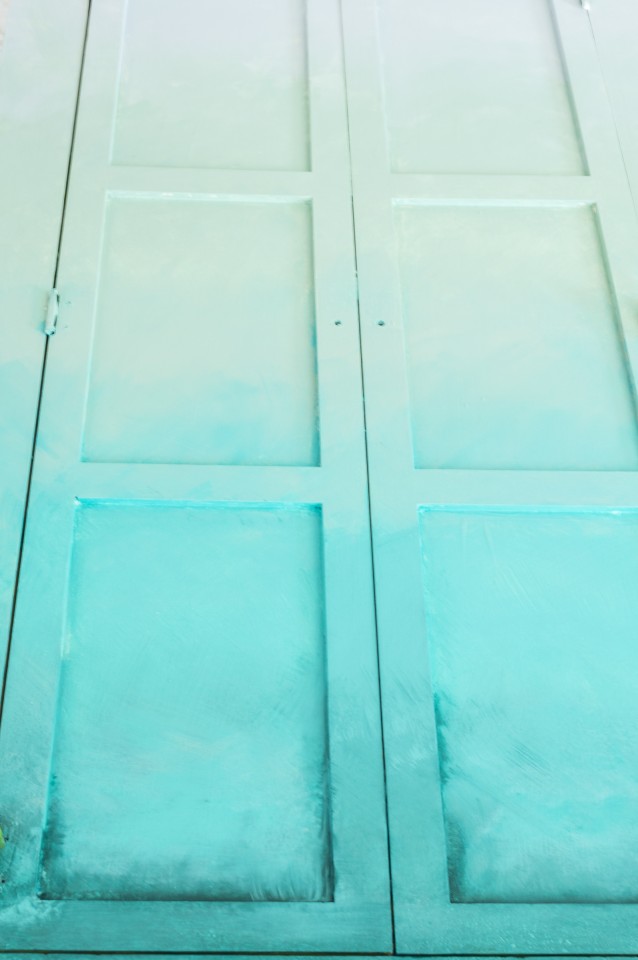 STEP 2 – PAINT THE OTHER TWO COLORS
Continue to repeat this technique for the rest of the armoire with the remaining colors. So in our case, it was the two darkest colors remaining.
STEP 3- DRYING & CORRECT 
After the application, let your armoire/piece of furniture dry. You may find that you like how the paint dried and leave it as such, but for us, there was a bit of color variances and splotchiness that we wanted to fix up. So we mixed the two colors for every section we painted and then applied this custom blend to cover the areas we wanted to feel more blended.
So for example, the first color at the top was Little Whale and the second color was Laurentien. We mixed them together and then applied this custom blend to the section where they met. This created an new in-between color that helped the colors flow together more smoothly. Then repeated that process all the way down the armoire.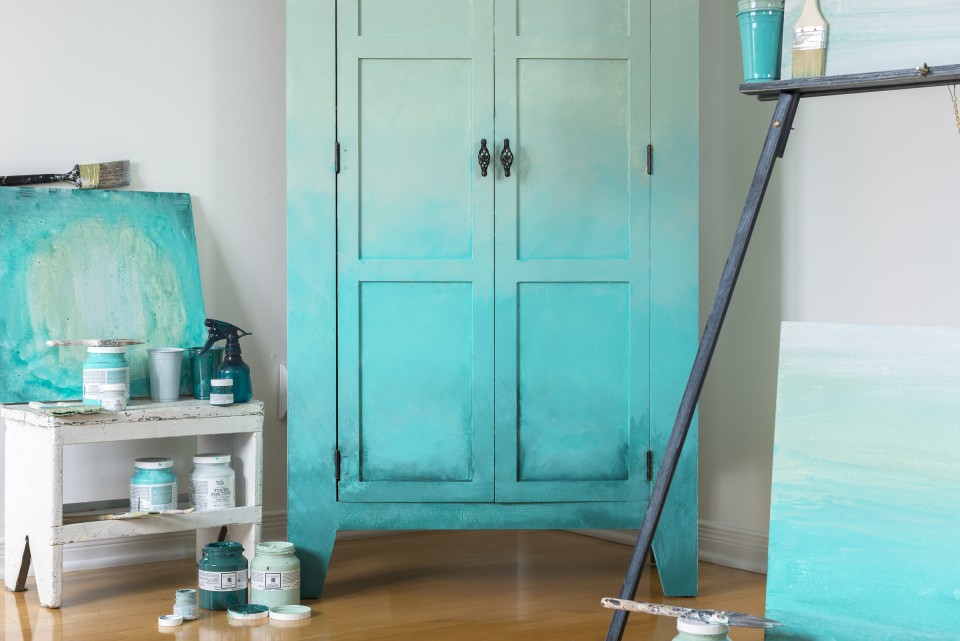 Just to make it even clearer here is the order of the Fusion Mineral Paint colors on the armoire from top to bottom:
Little Whale
Little Whale/Laurentien blend
Laurentien
Laurentien/Azure blend
Azure
Azure/Renfrew Blue blend
Renfrew Blue
Using these special blends really created an outstanding ombré effect.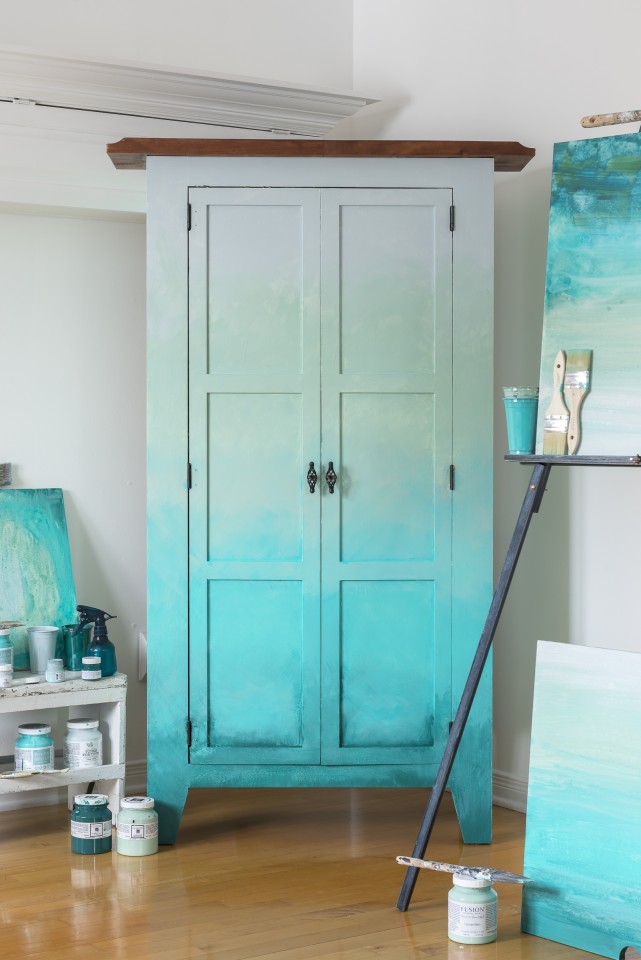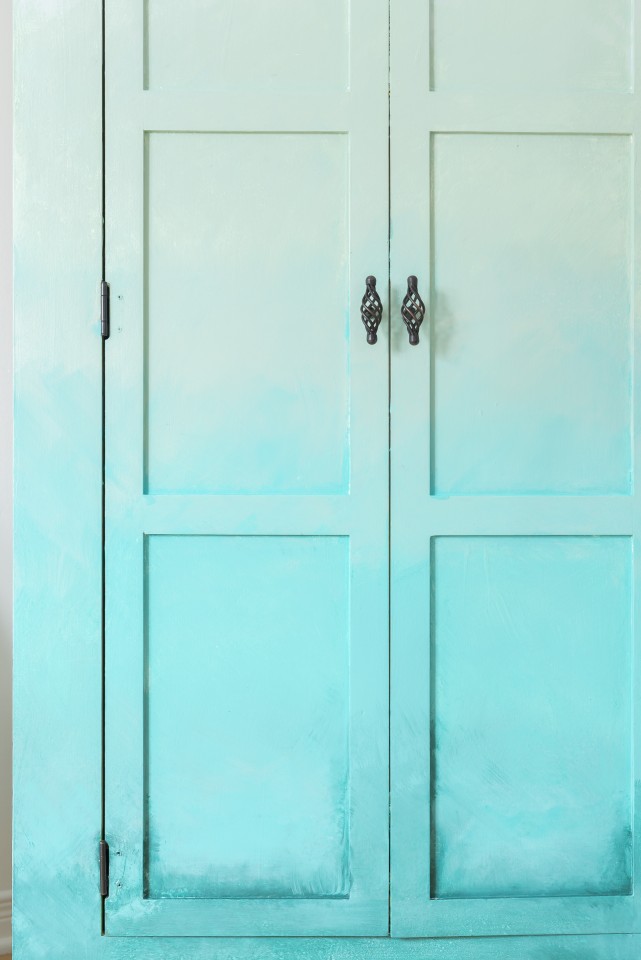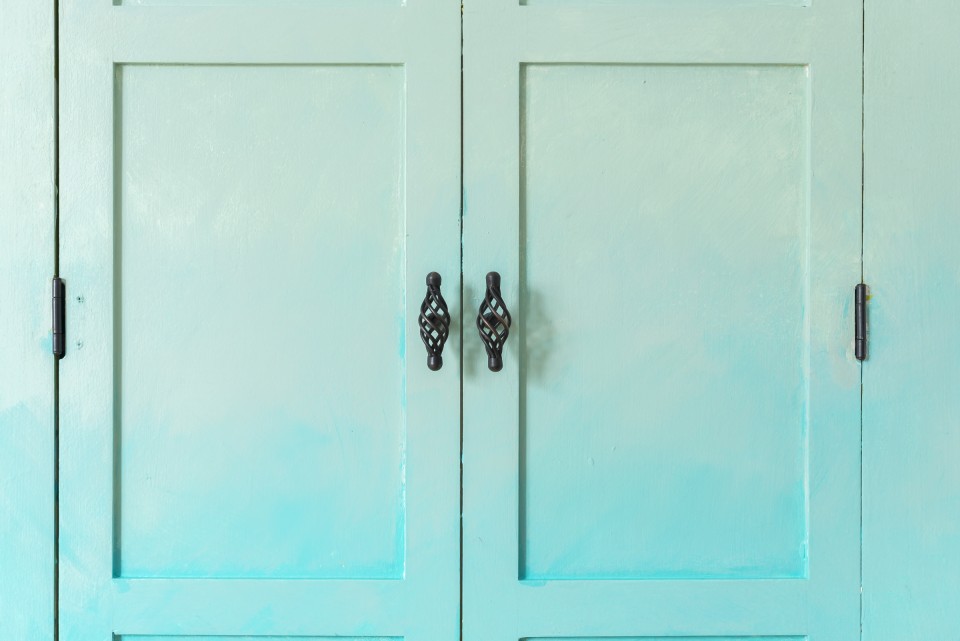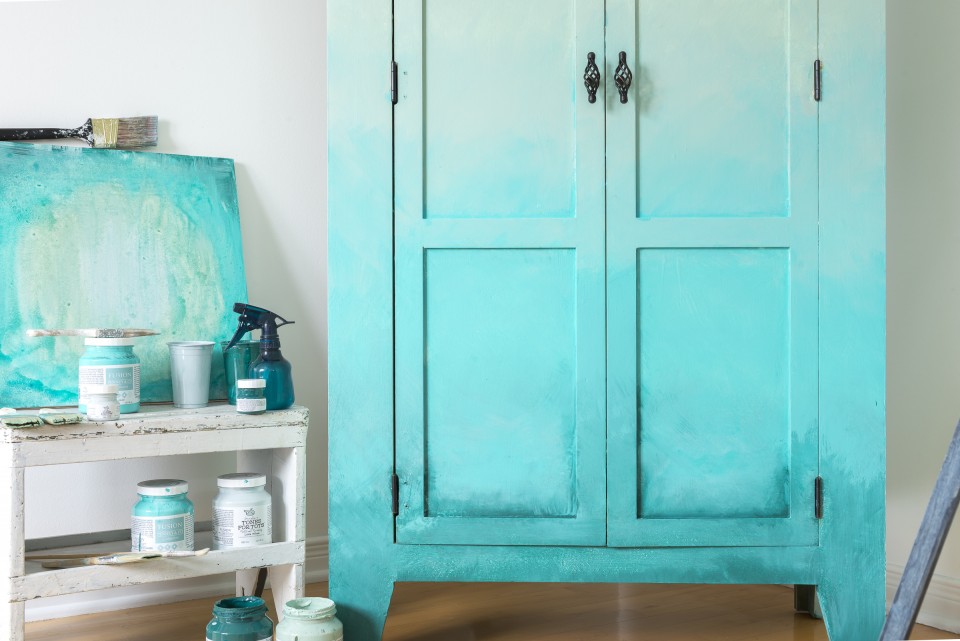 This one definitely takes our breath away!
If you have ever painted anything with an ombré affect, we would love to see it. You are always welcome to share projects in our Paint it Beautiful Facebook group.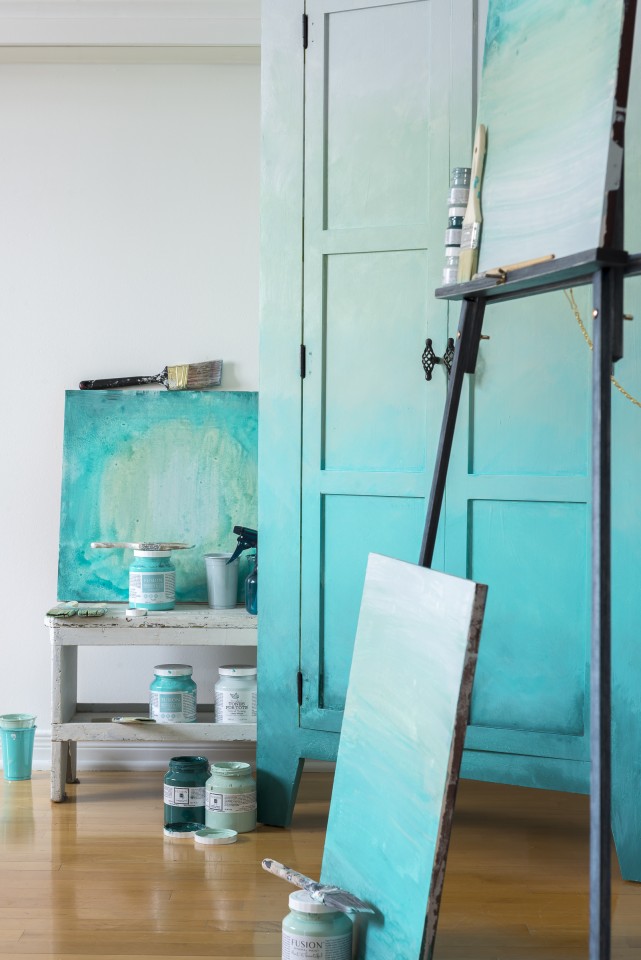 This project was commissioned by Fusion Mineral Paint and completed by Mary from Orphans Without Makeup on behalf of Fusion.
PIN IT FOR LATER!