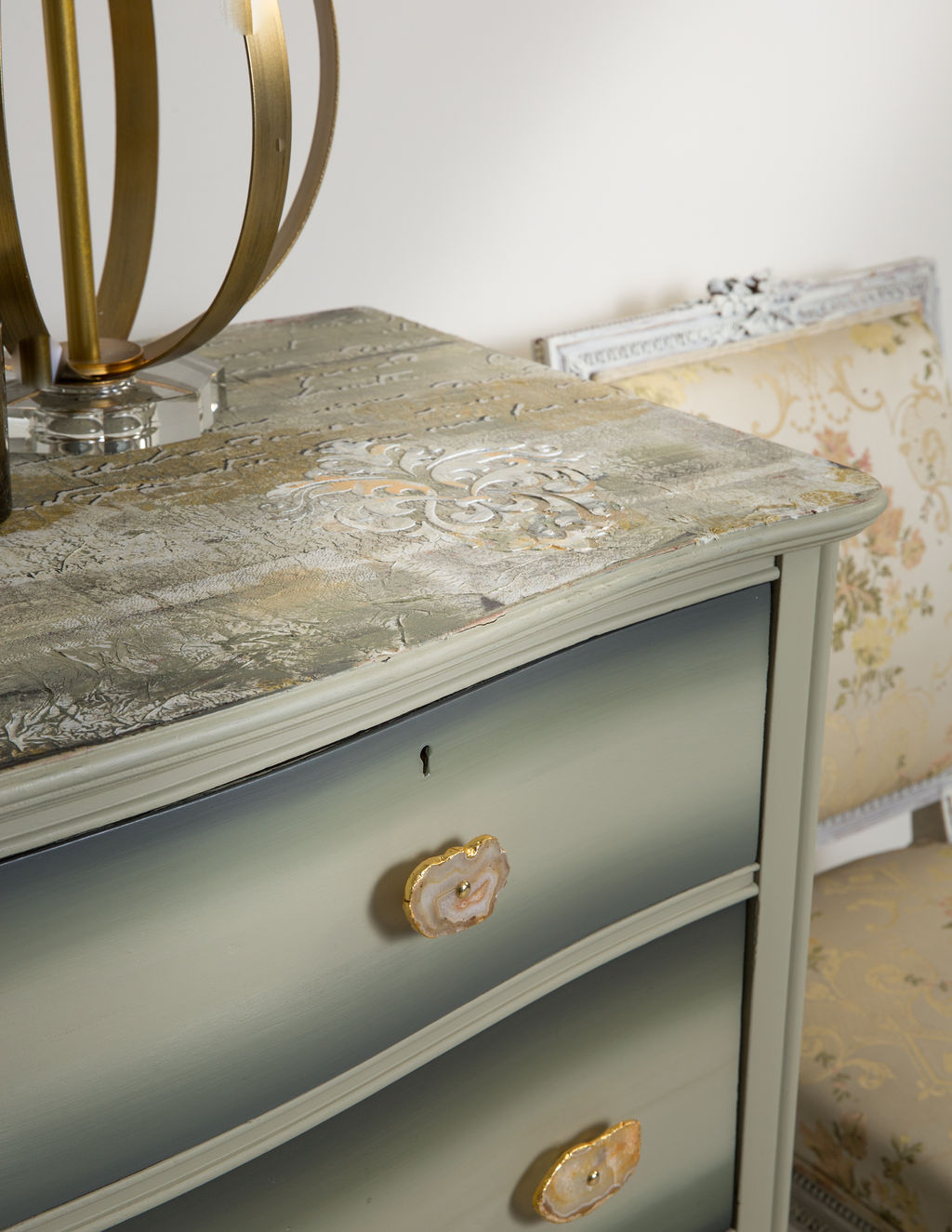 Share:
This is the second part of a blog following on from last week's Ombré blended dresser post. Follow along to see the supplies needed and the how-to using Fusion products for mixed media and crafting. Furniture art fun!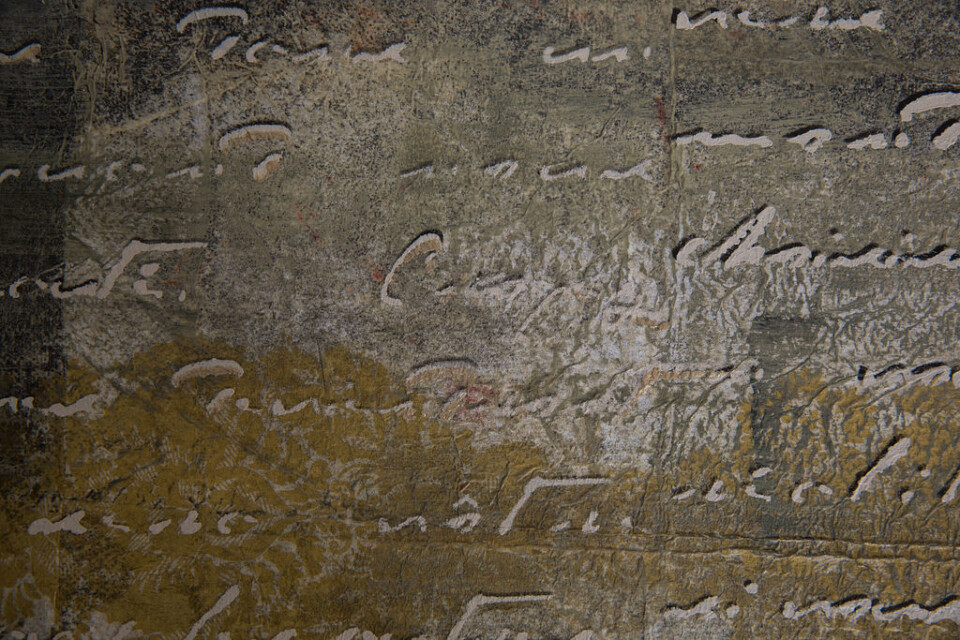 Supplies:
Paper napkins
Stencil 2 different designs.
Coal Black
Bayberry
Pale Gold Metallic
Putty knife
Art on Furniture
Pushing the boundaries when updating your furniture with art is a fun way to be creative! Using different art mediums and effects is super on-trend right now. This technique is simple and effective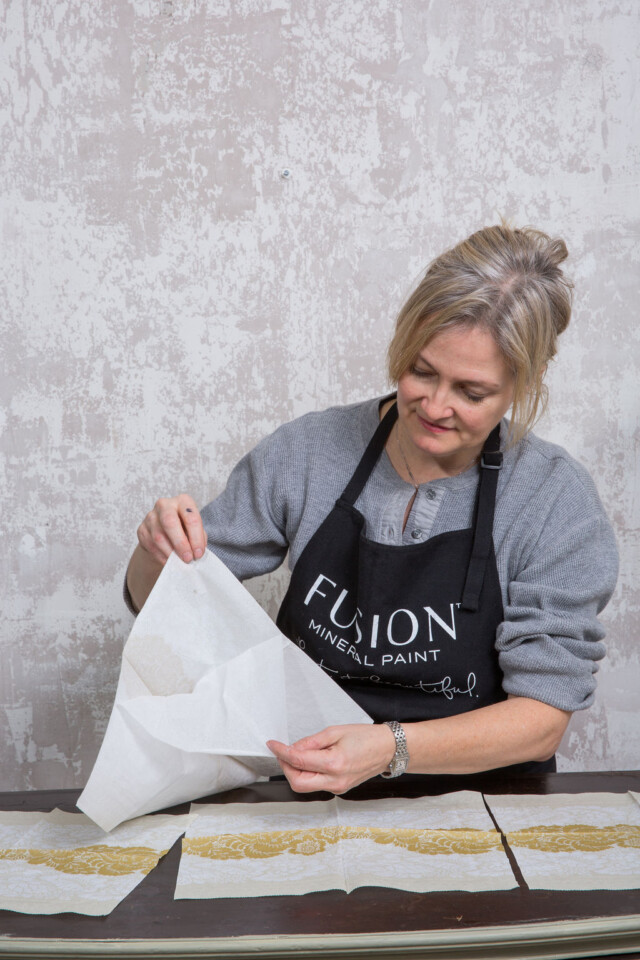 The top of this dresser got a wonderful mixed media treatment using our Decoupage and Transfer Gel and our Smooth Embossing paste. First, the top had a generous layer of Decoupage and Transfer gel, The tissue paper ( napkin ) had 3 ply's and we removed the 2 unprinted plain from the tissue so we were left with just the printed one ply and places that all over the top.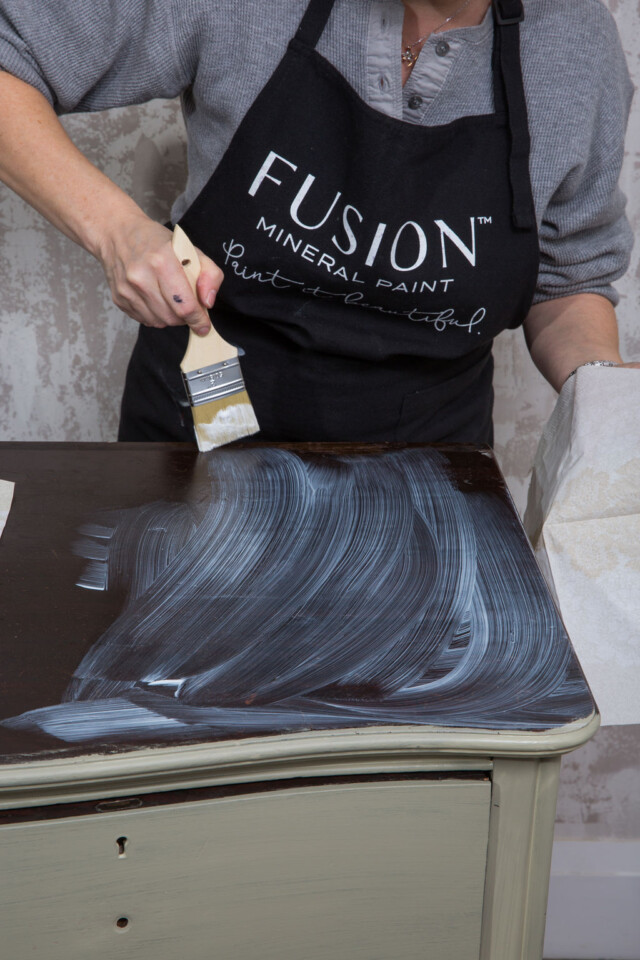 The tissue was applied in a random way across the top of the dresser. Pushing the tissue into the wet Decoupage and Transfer gel. If you want to go for a super smooth finish use cling wrap over top of the sealing layer to smooth out the wrinkles.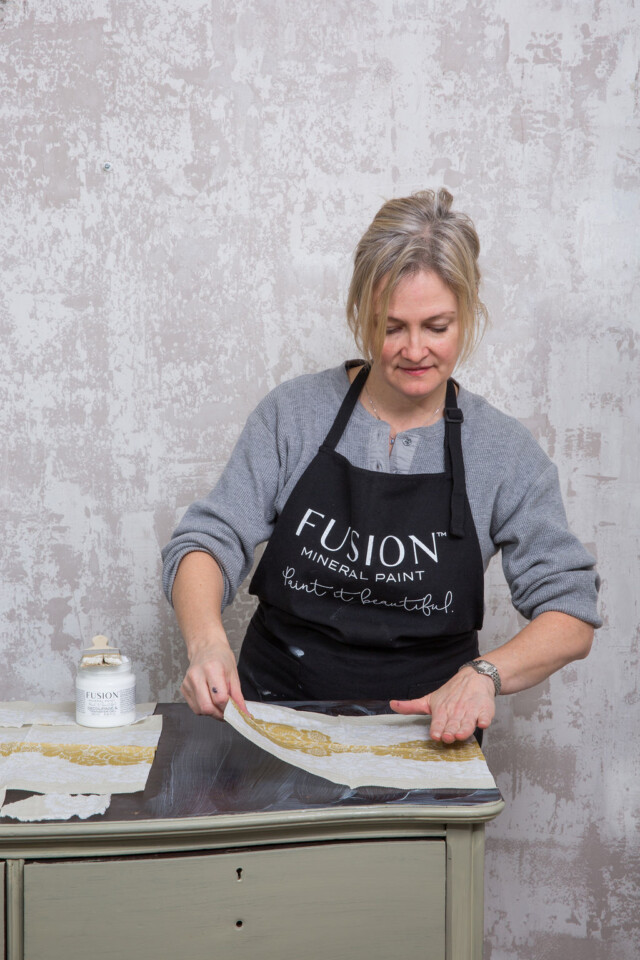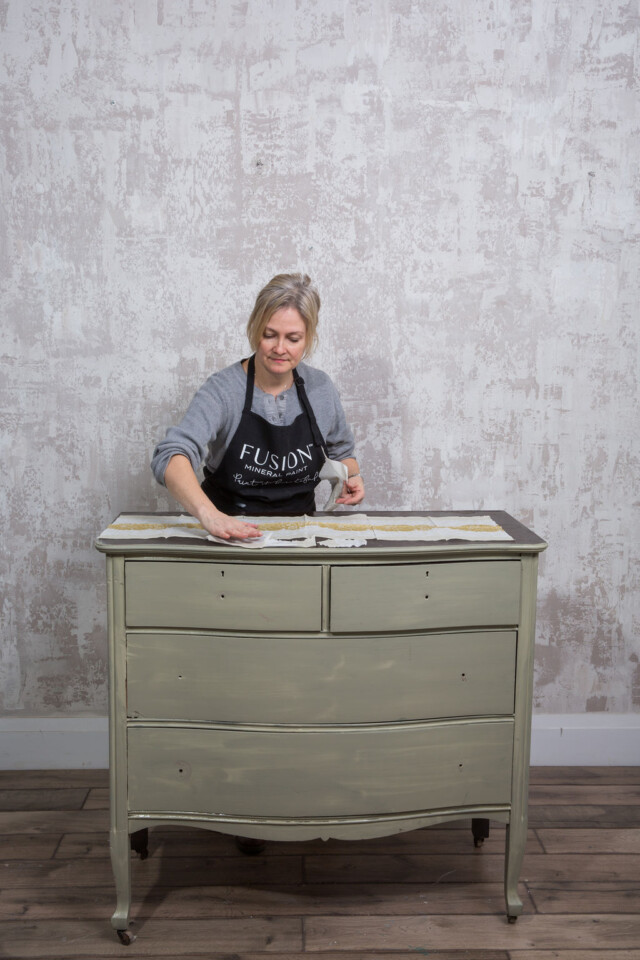 When the top was covered with the tissue another layer of our Decoupage and Transfer gel was applied right over the top to seal it all in. No other topcoat is needed over our gel as it has a topcoat built in!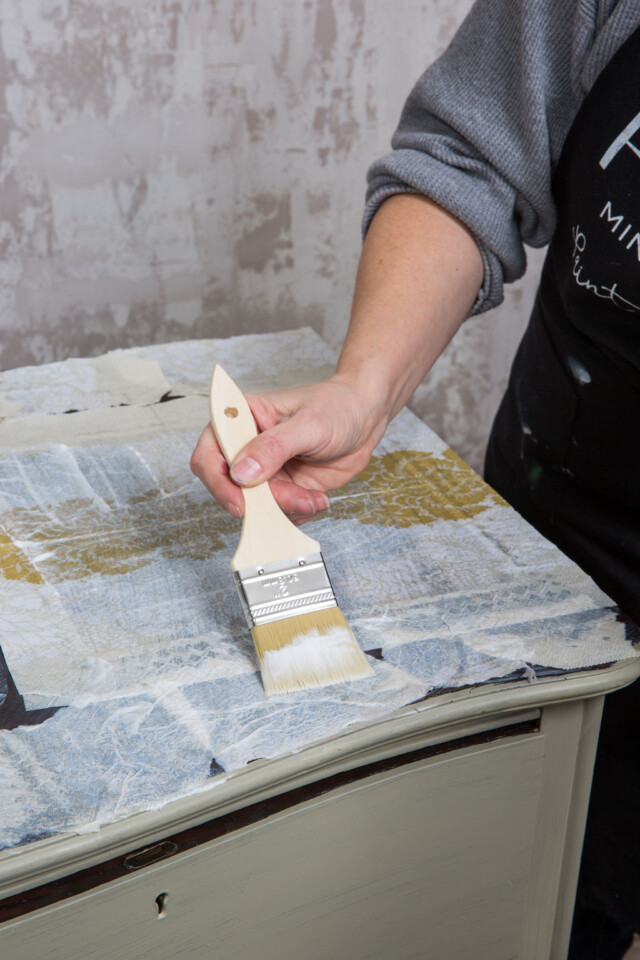 Layering
The best part of mixed media is the layering! you can just go to town with layering to create the most amazing finishes. Stencilling over the top of this layer is the next step. Be sure to make sure the first layer is dry before adding the next.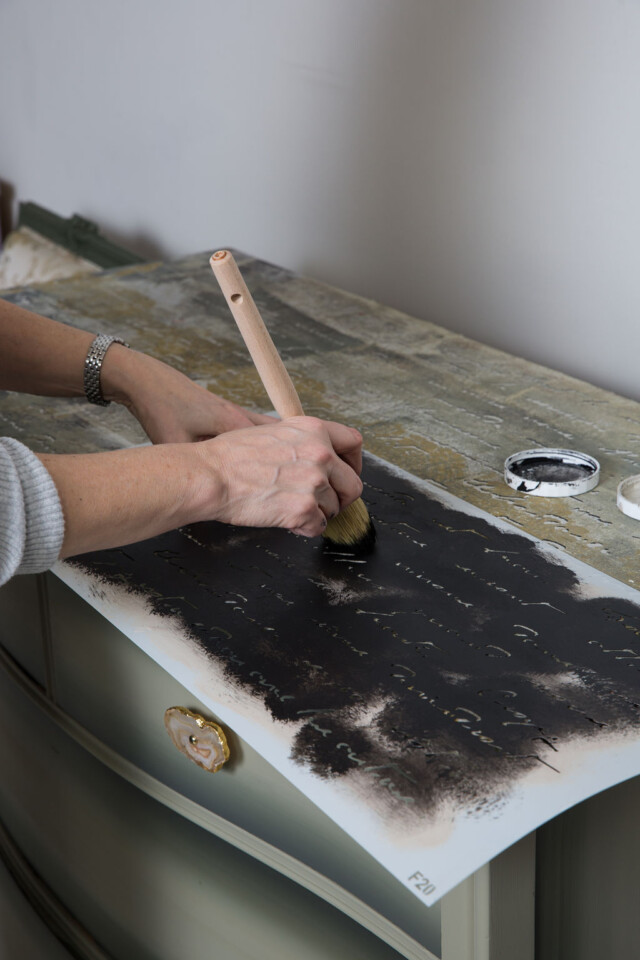 When the tissue layer was dry a pretty script stencil was used over the top. A drop shadow was achieved by first stencilling with Coal Black and then when that was dry stencilling right over top but slightly moving the stencil down and to the left. This simple technique causes the lettering to have a shadow giving the end result a 3D look.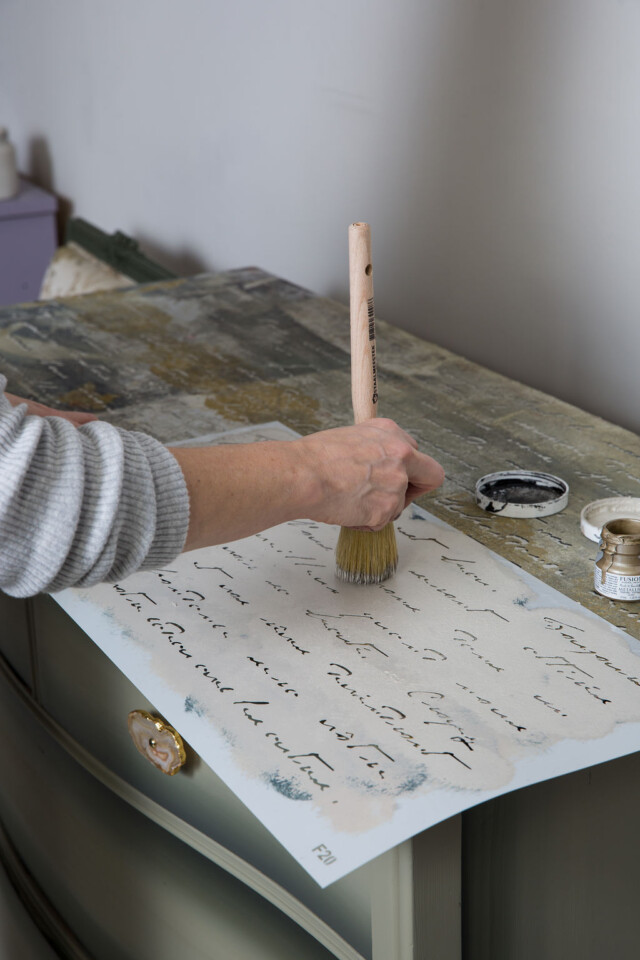 This was then highlighted in some areas with a touch of Vintage Gold metallic in random places. The overall effect is stunning! Stencilling is fun and there are so many different things you can stencil. Fusion is great on fabric and here you can see how we stencilled some pillowcases.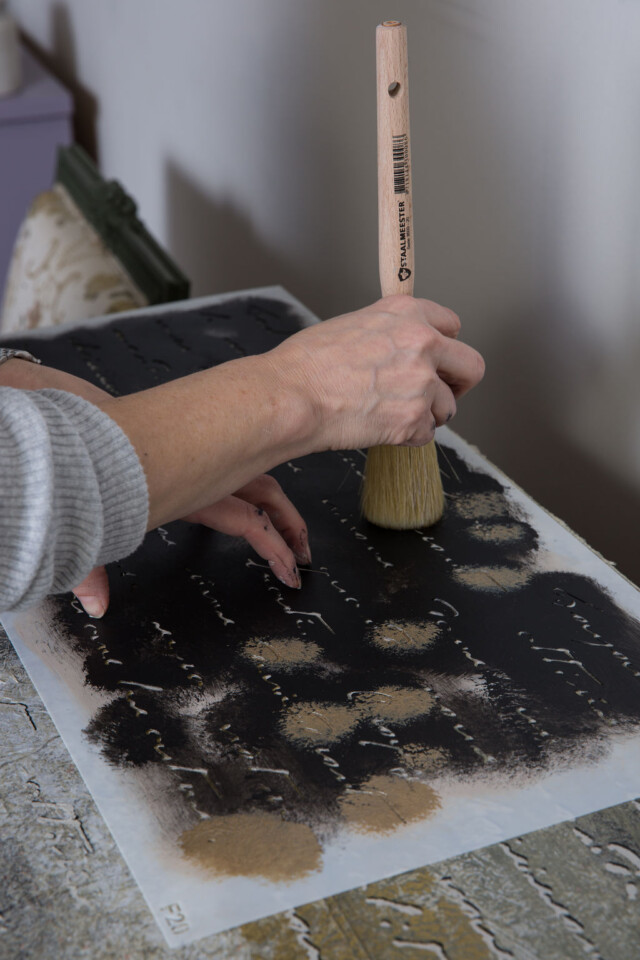 Raised stencilling with Smooth Embossing Paste
Using the second stencil we applied our smooth pearl embossing paste through it using a spatula or putty knife. A little goes a long way.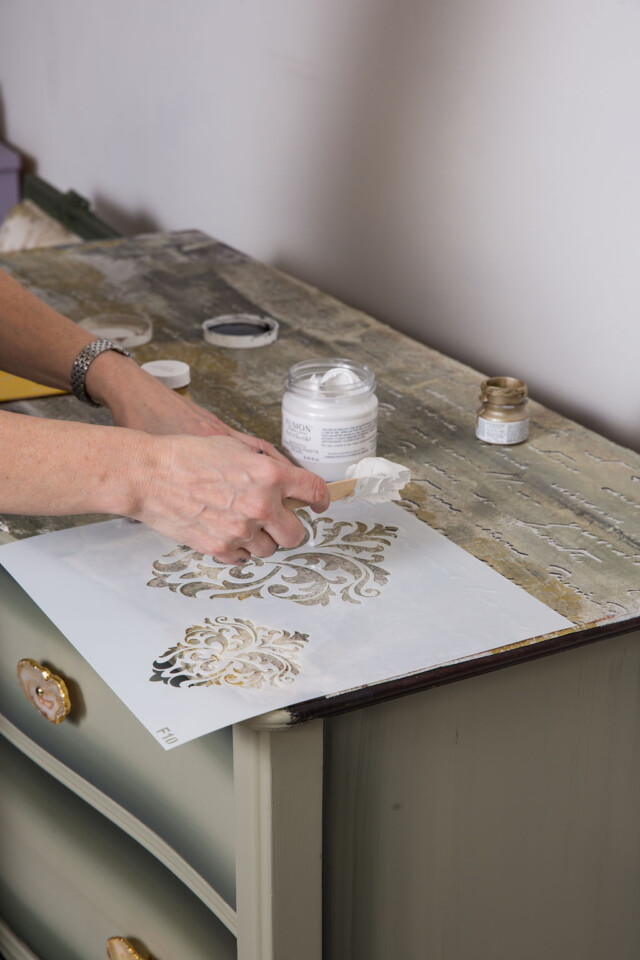 The Smooth pearl embossing paste is tintable, so a few drops of different colours were added for some extra dimension.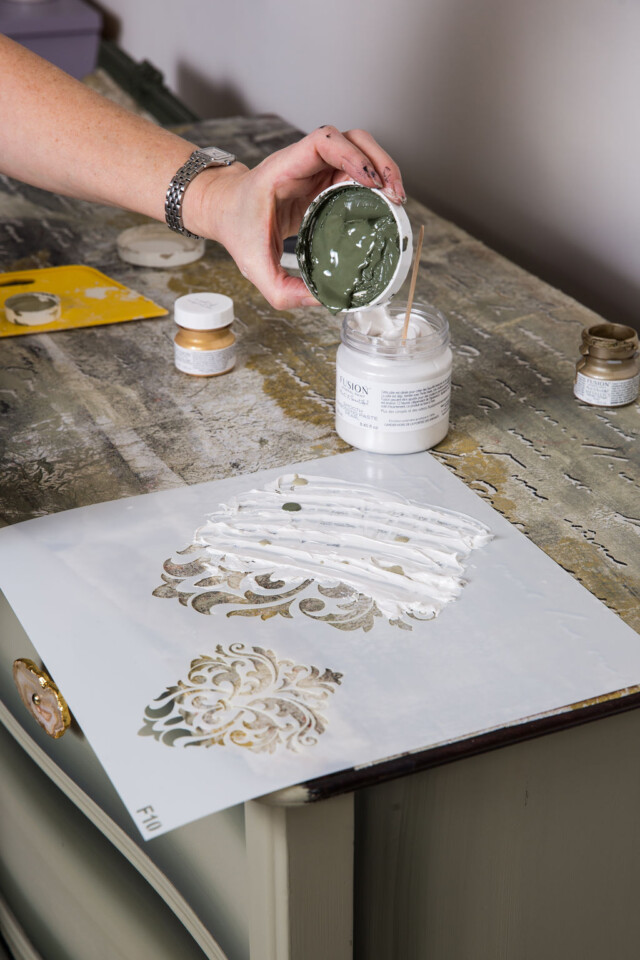 A few drops of Bayberry were dotted about. You could use any colour combination that works for you.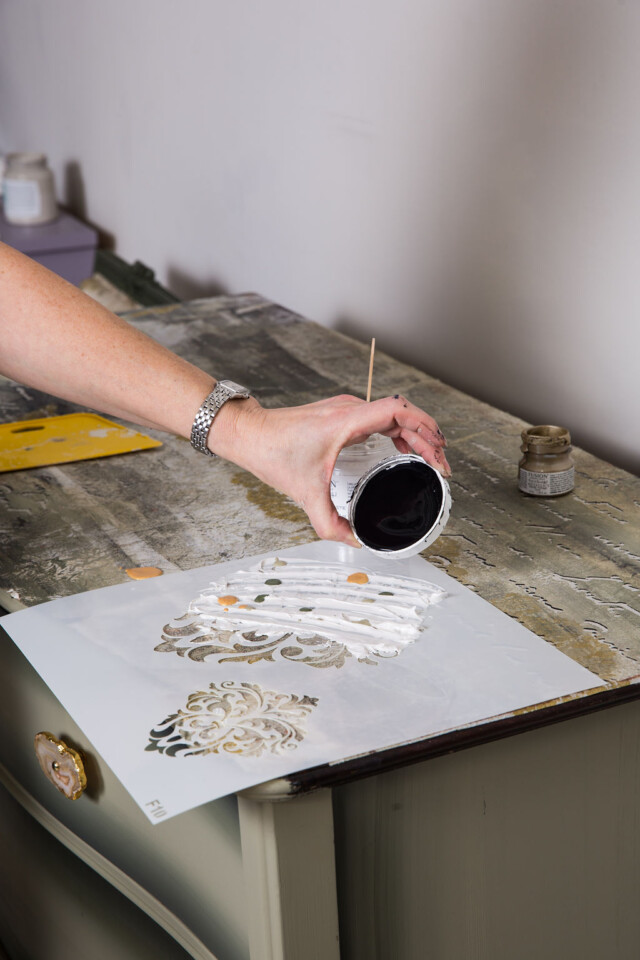 Some Coal Black and Pale Gold was added for our colour palette to tie all the colours together. Furniture art at it's best.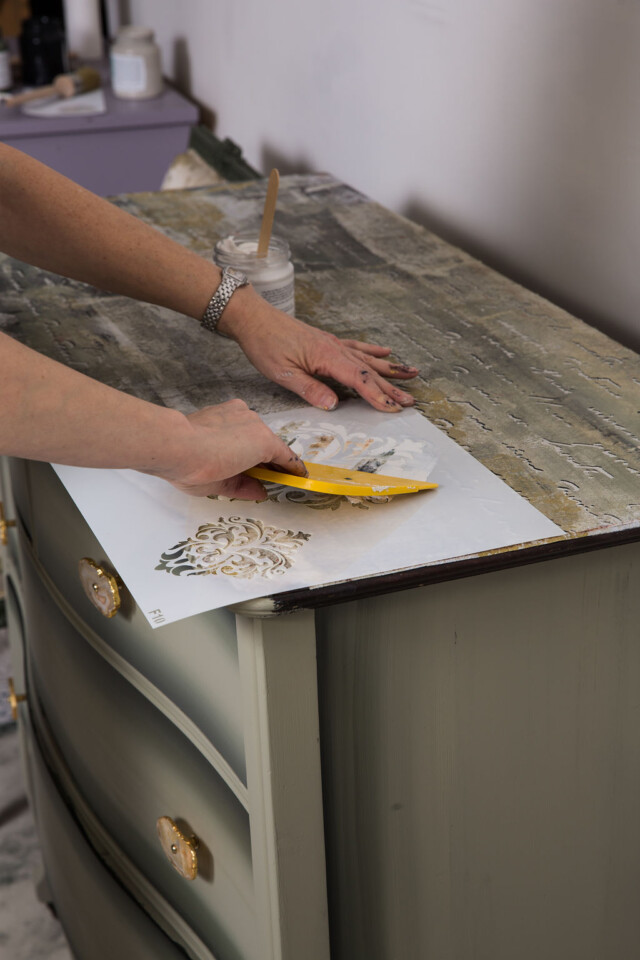 The trick to not getting the product under the stencil is to apply it at about a 45 degree angle! It stops it from being smushed under the stencil design.
When do you stop adding layers to your mixed media art?
This is the fun part! there is no right or wrong. You just keep layering and adding until it looks right to you. Changing mediums and colours will help give your piece its own individuality. Something that is uniquely yours.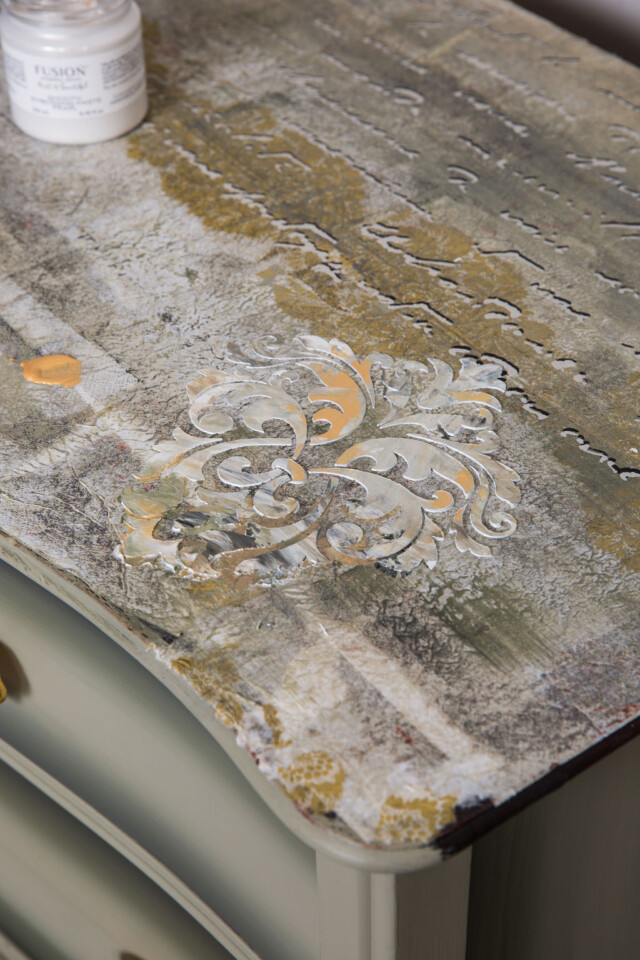 Our Embossing Paste is perfect for adding beautiful effects to your pieces that make them hit the light just right — you can even combine with your favourite tinted wax for an even more stunning look! See more in this video 
Furniture art.
Paint is good for the soul! We believe that it's even printed on the top of our paint pots. Expressing your self creatively is a wonderful stress reliever and bring joy.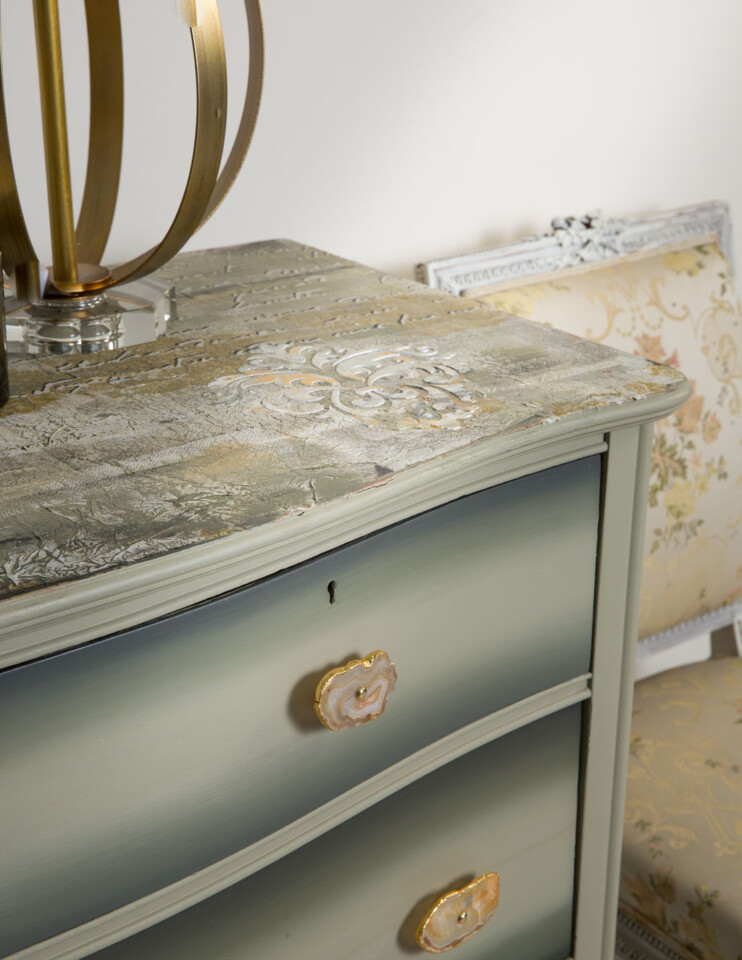 The dresser really got the treatment! it turned out great and the top is a focal point and adds depth and charm. This technique would be fantastic for covering up damage on furniture or really anywhere. Try this on a canvas for some original art for your home.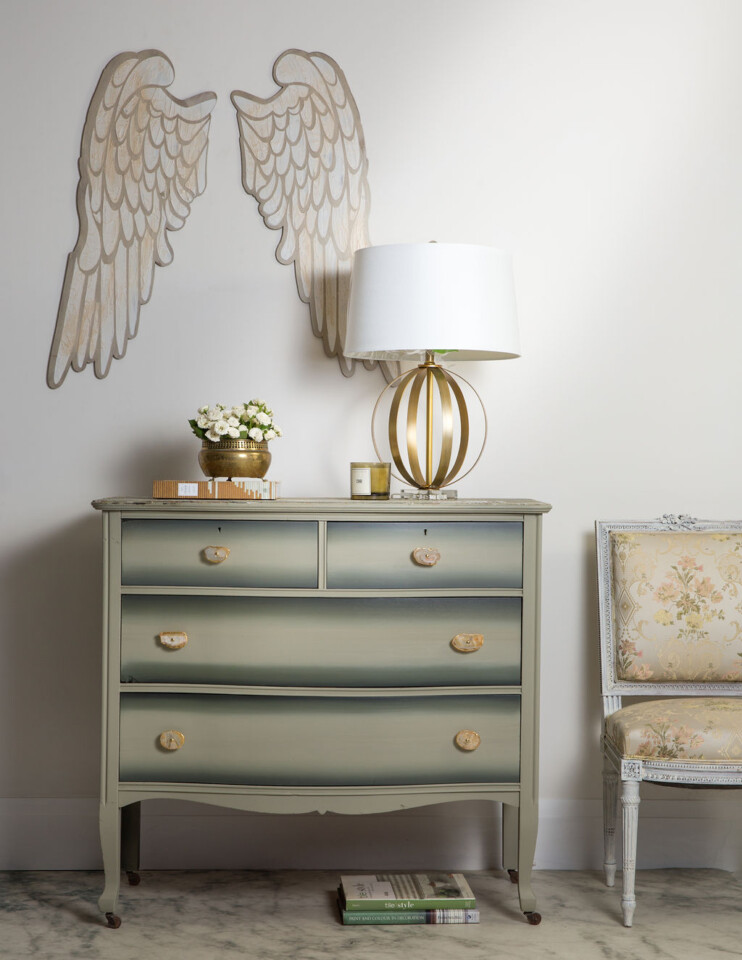 Have you tried this technique? would you add furniture art to your pieces? We would love to see your work over in our public Facebook group Paint it beautiful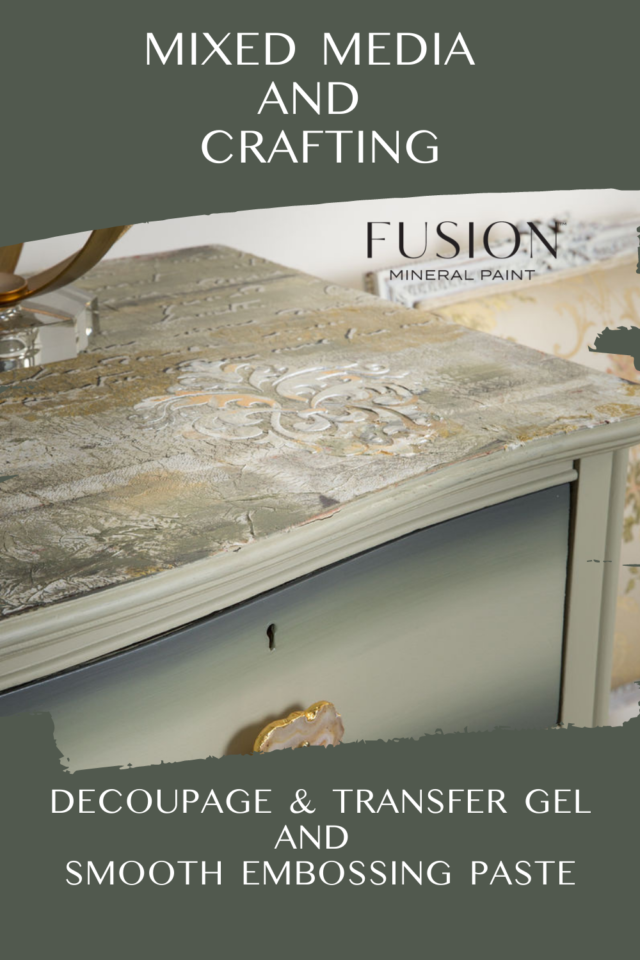 Save this resource for later and come over to our Pinterest account and see all the other paint related inspiration.