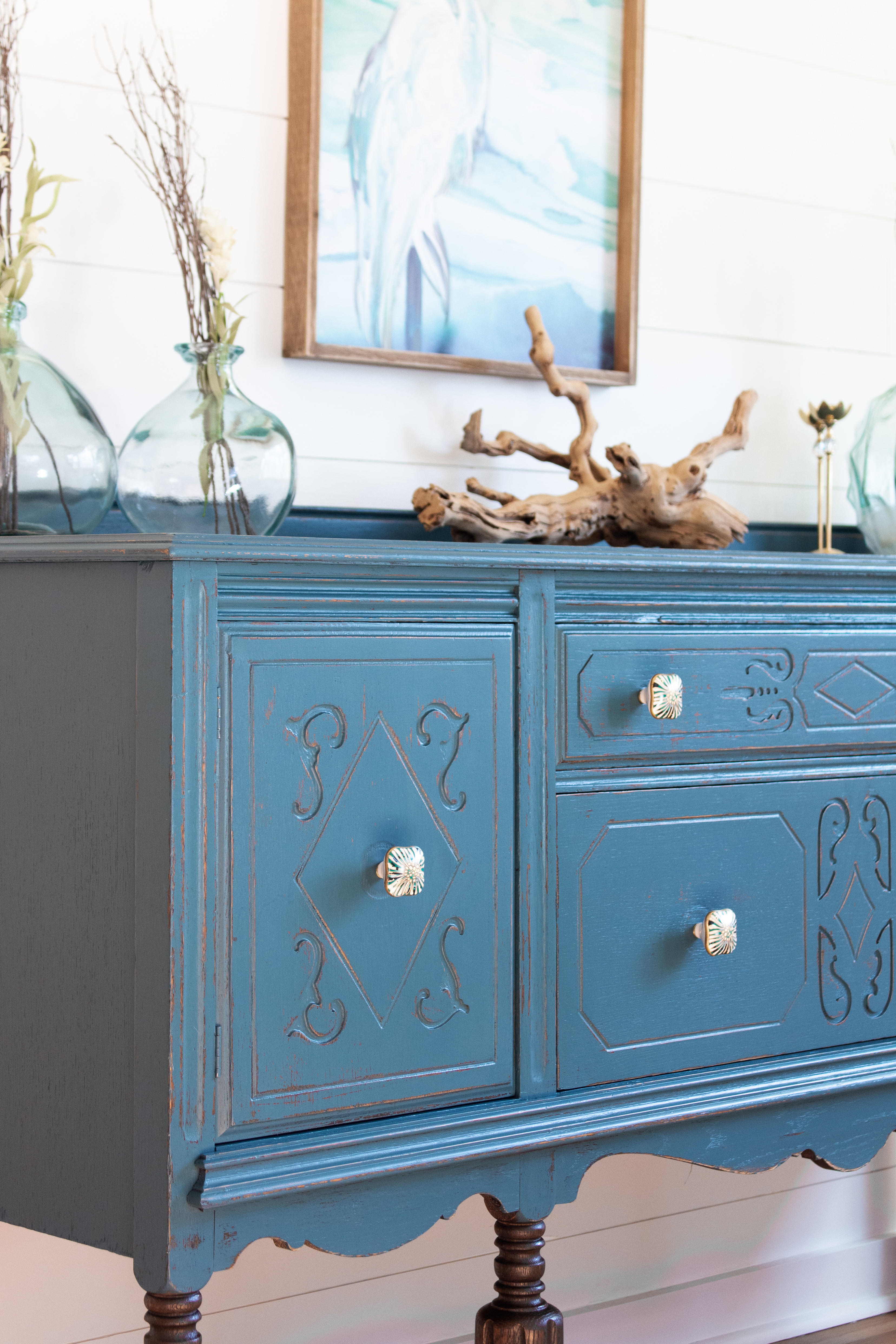 Share:
We all come across those show stopping pieces from yesteryear that we think would look amazing in our homes. But, as with many pieces of furniture, maybe it has a glossy old finish, parts of it may be not in as great of shape, or at it's very basic, maybe it's just not the right color. While we love the look of natural wood and have a great deal of wonderful products to help accentuate wood – such as our Stain and Finishing Oil and Hemp Oil, sometimes painting a piece transforms it in a way that nothing else can. So today we're going to teach you how to transform antique furniture with Fusion Mineral Paint, using our gorgeous teal blue color Seaside!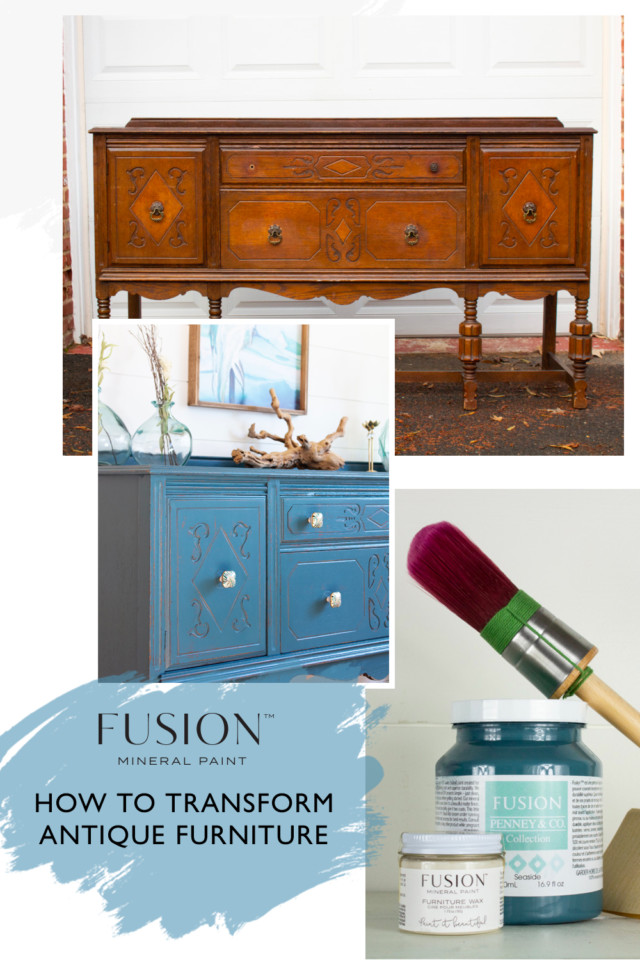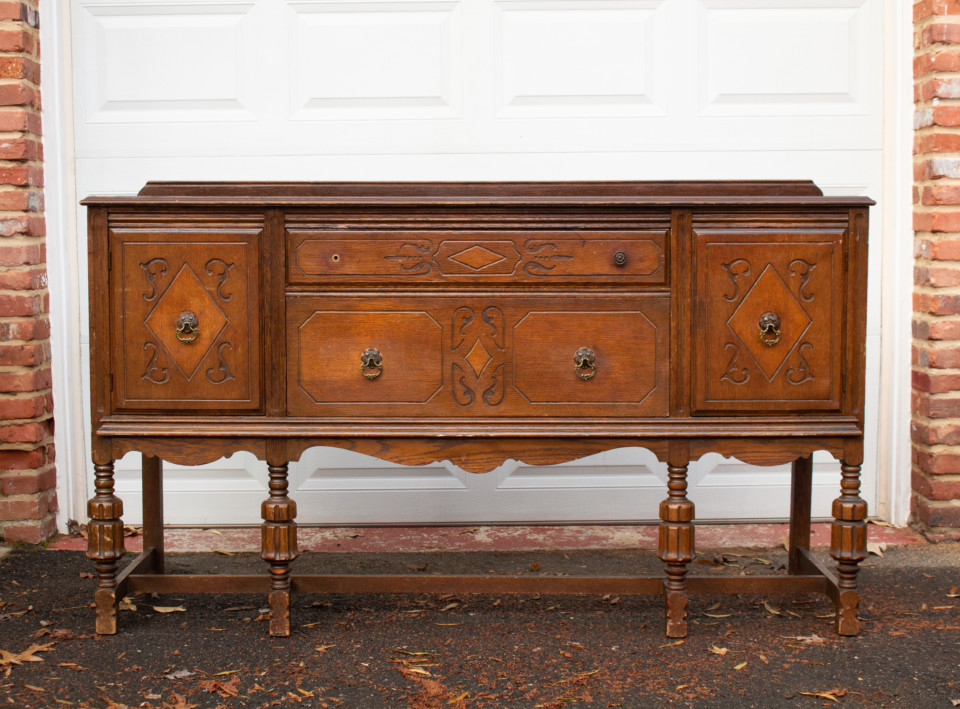 How to transform antique furniture with Fusion Mineral Paint
Supplies used: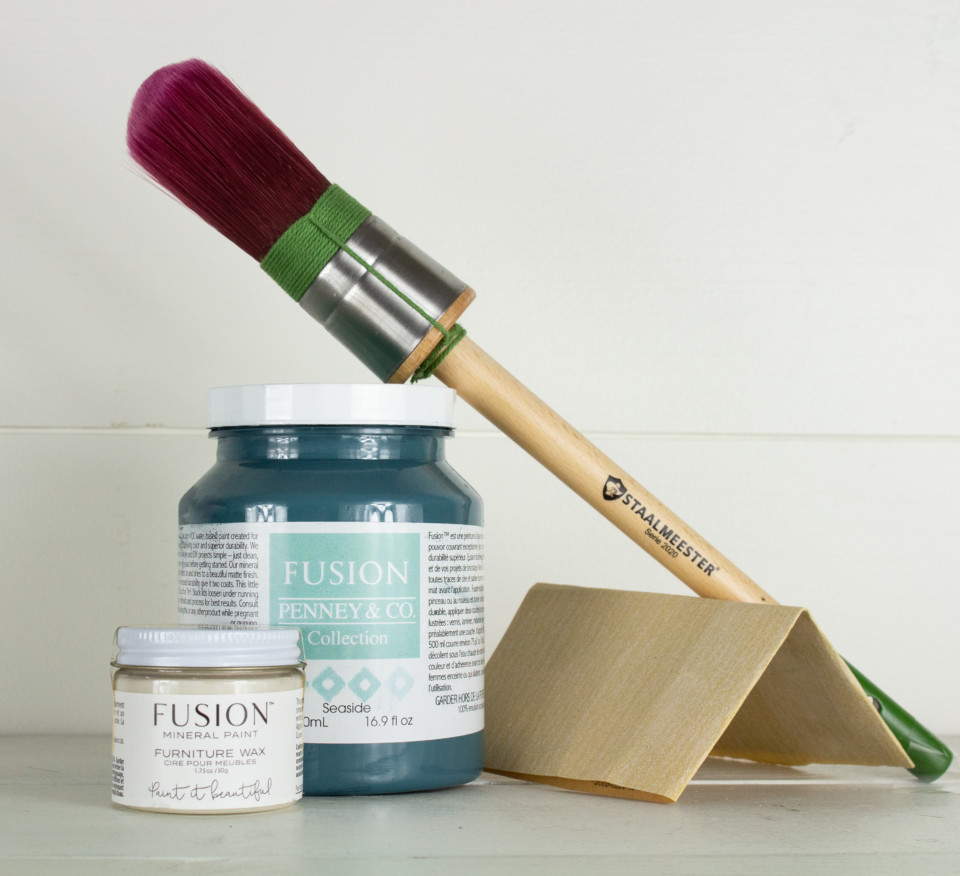 STEP 1
PREP
This project features an old sideboard that despite the before photo, had seen better days. The glossy finish was patchy and wearing down in some spots and not others, making for an uneven surface. We always try to emphasize, that for any painting project, a clean slate is the more important part of your prep as your paint job will only be as good as your prep.
Start by removing the hardware and any keyholes. Give the piece of furniture a good cleaning with our TSP to remove any gunk or residue that can clog up your sandpaper.
STEP 2
SANDING & STRIPPING
Use a heavy sanding block, wrap it with 220 grit paper and sand in even strokes going in the direction of the grain. If your piece of furniture has deeper gauges or marks, heavier scratches and dings may require the use of an orbital sander, just to smooth out the surface.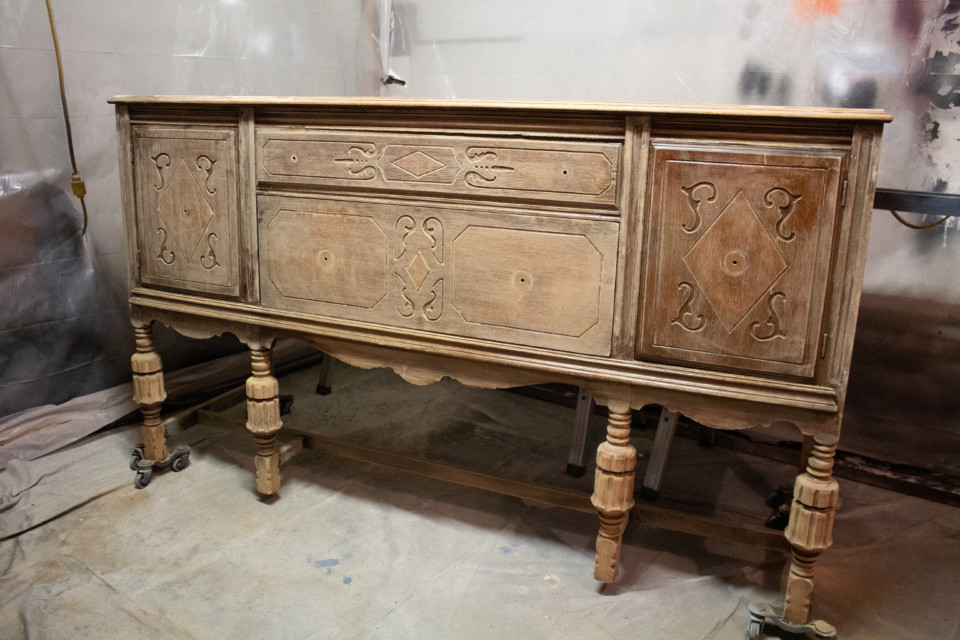 For this piece, the legs of the sideboard were in really good shape so we wanted to stain them to show off the beautiful wood. We stripped the legs to bare wood using a chemical stripper and steel wool (there are many chemical strippers available on the market – if you want to avoid harsh chemicals, you will need to invest in a good sander to get down to bare wood for sanding.)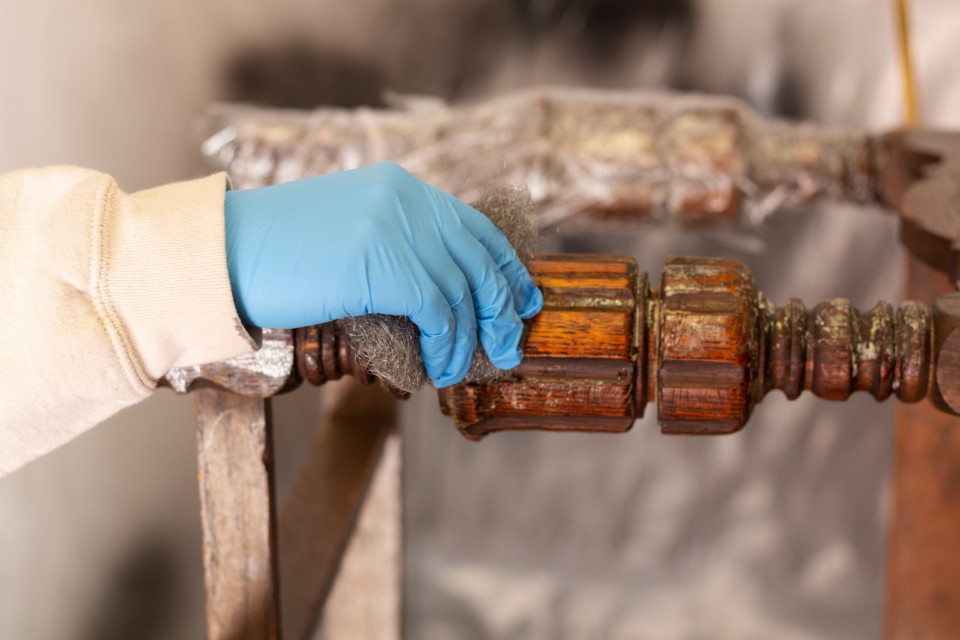 Afterwards they were rinsed with Mineral Spirits to remove any residue. Mineral Spirits are also important to use if your piece has been waxed, as you cannot paint over wax and the only way to remove wax is with mineral spirits. Once this is done, let it dry for approximately 4+ hours.
Finally, the legs were sanded with 220 grit paper to prepare for stain application.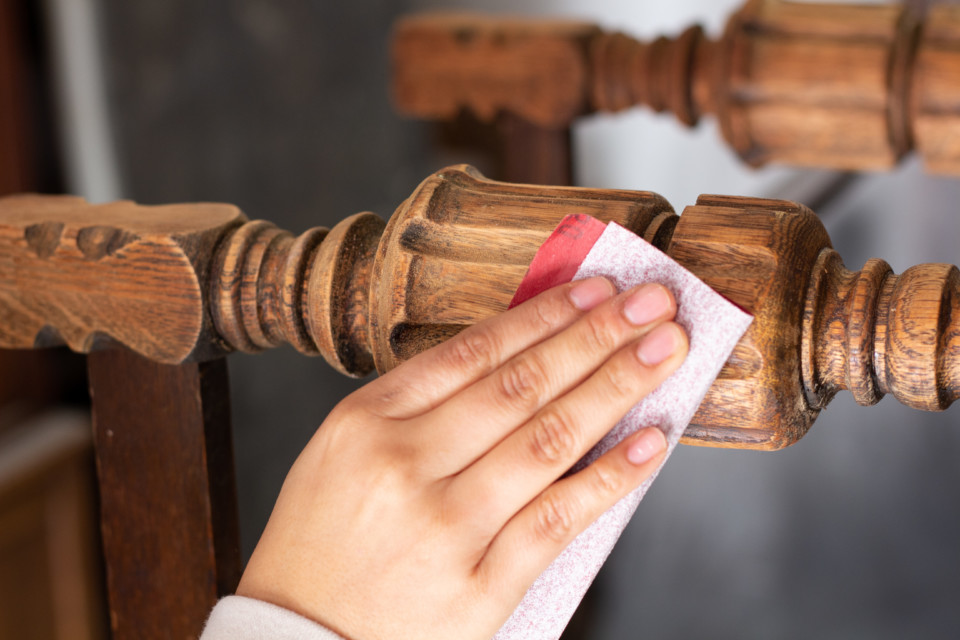 STEP 3
PAINTING
We used a Staalmeester synthetic brush series brush to apply thin, even coats of paint. Fusion Mineral Paint in Seaside only required 2 coats for full coverage (and sometimes it only needs one!). For an ultra smooth finish, you can sand in between coats with 320-400 grit paper.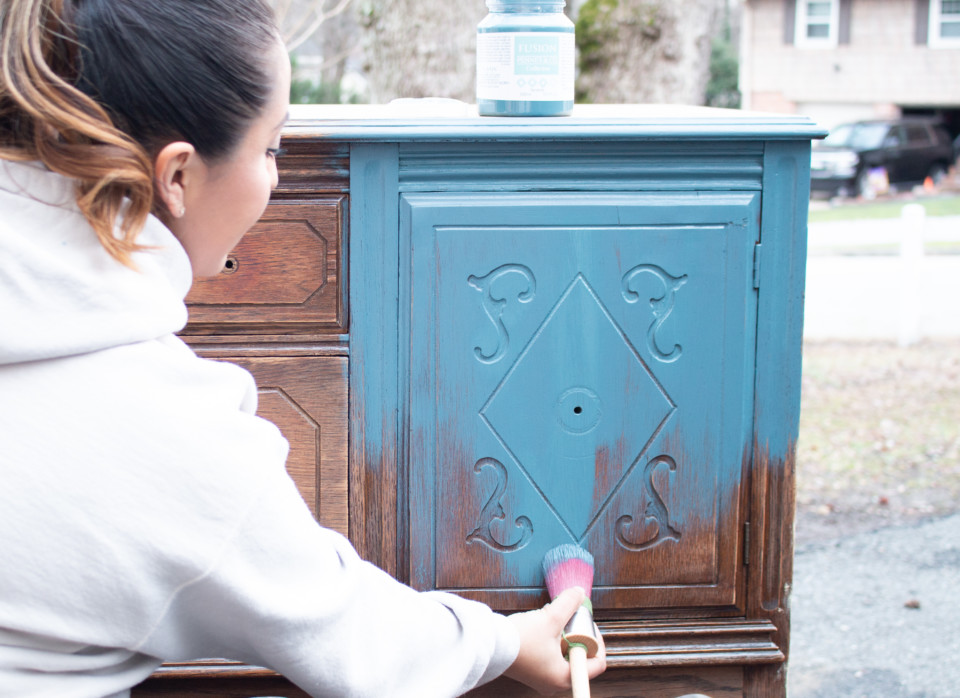 Don't forget to let the paint dry 2-4 hours between coats for best durability.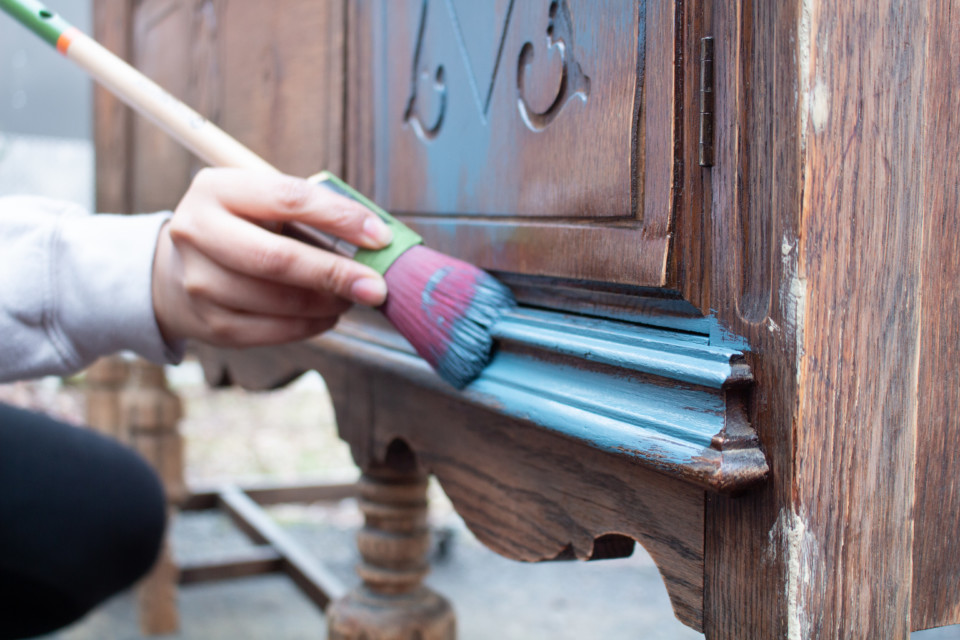 After the final coat of paint has dried, use 220 grit sandpaper to lightly distress around the raised edges where natural wear would occur. Since this sideboard has raised trim and side panels, only the edges were distressed. If you have trouble distressing or don't know where to distress, you should try out a wet sand!
Spray your piece down with water (just a light misting) to re-activate the paint. Take your 220 grit sandpaper and lightly sweep across the surface. This will very subtly and more naturally distress your piece, and you can really control how much distressing there is. If you decide afterward that you don't like the distressing or that you did too much, you can simply paint over it!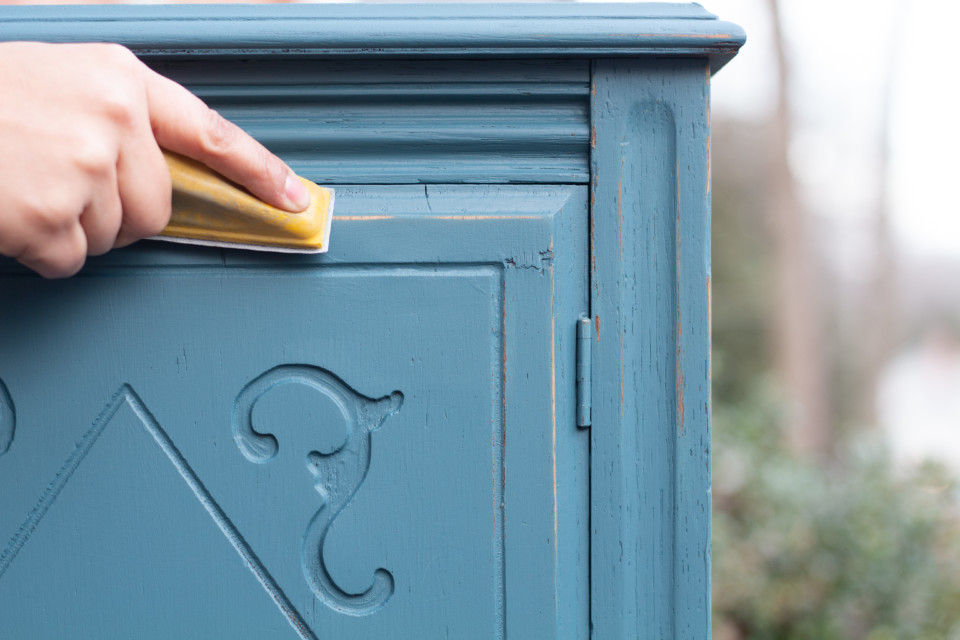 STEP 4
FINISHING
For the main sideboard, we applied two coats of Fusion's Clear Furniture Wax. We did this to add a super smooth, buttery finish and to give the color a bit more "pop." Buff between coats with a lint free rag to get the smoothest finish.
For the legs, we used Fusion's Stain and Finishing Oil in Cappuccino. For application, it's a simple as using a rag or a foam brush to saturate the wood. Allow the Stain and Finishing Oil to sit for 3-5 minutes and then wipe away the excess. After about 24-48 hours, we used the Fusion Clear Furniture Wax again to buff the legs for a subtle shine.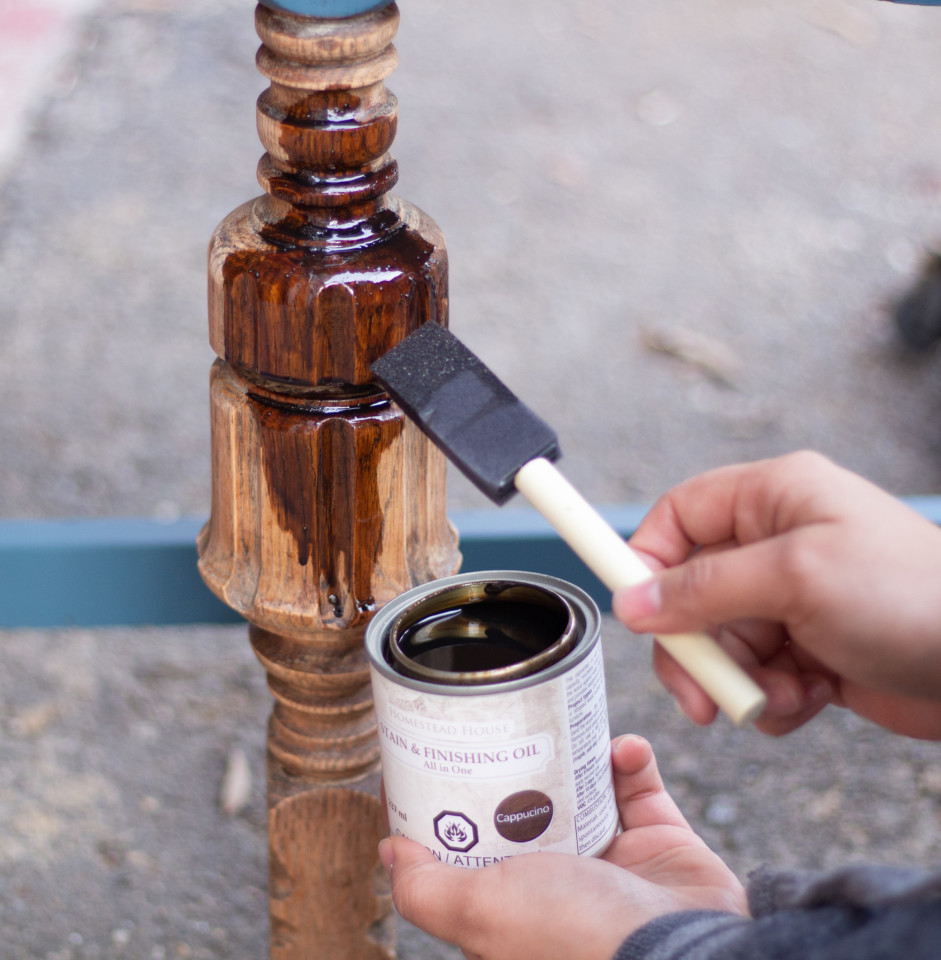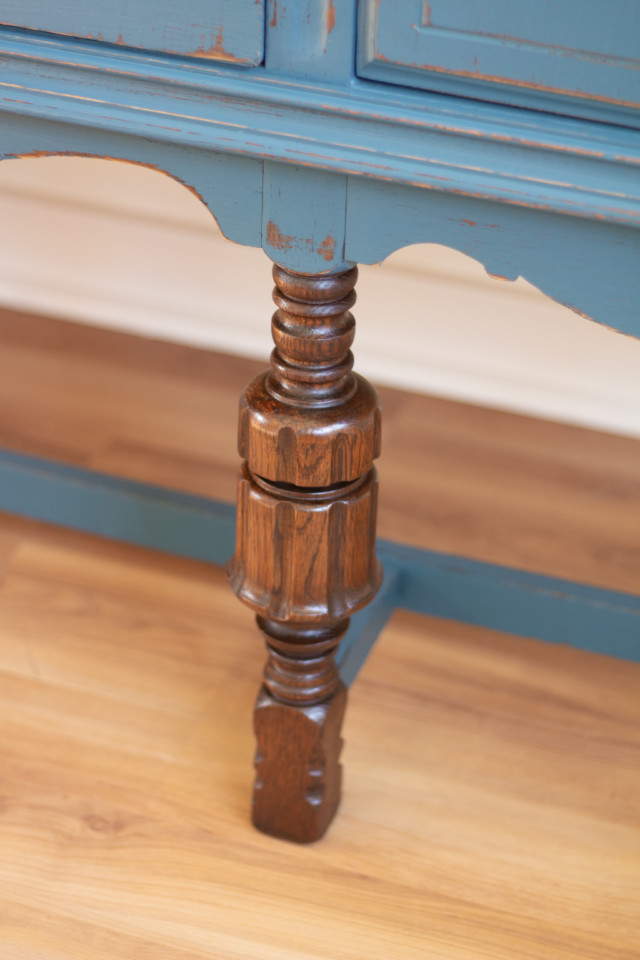 And now take a look at this beauty!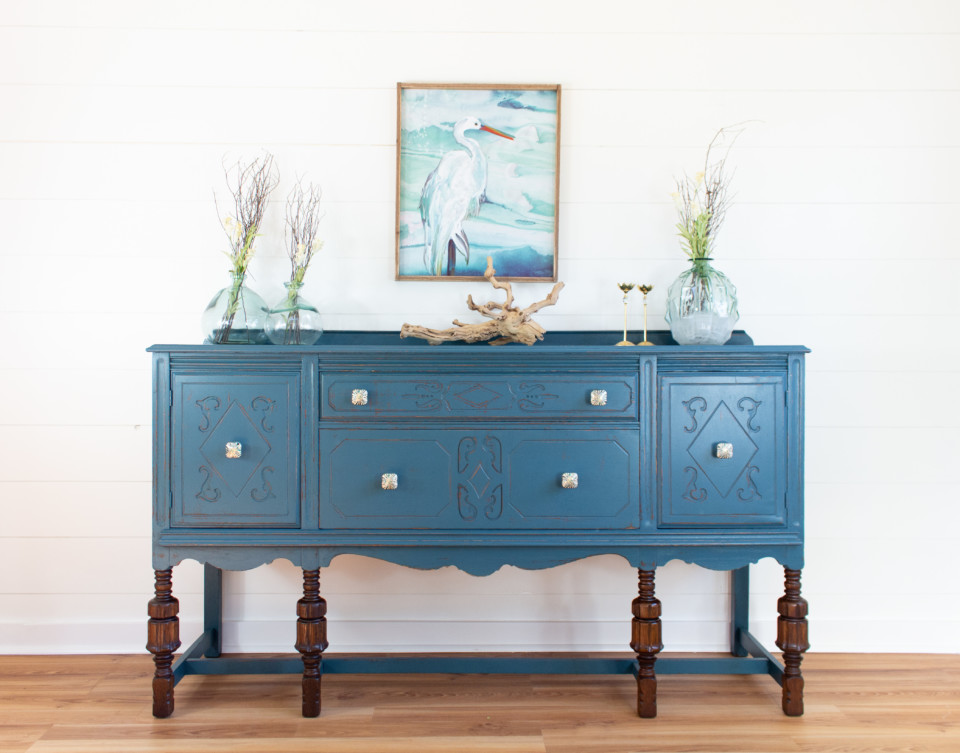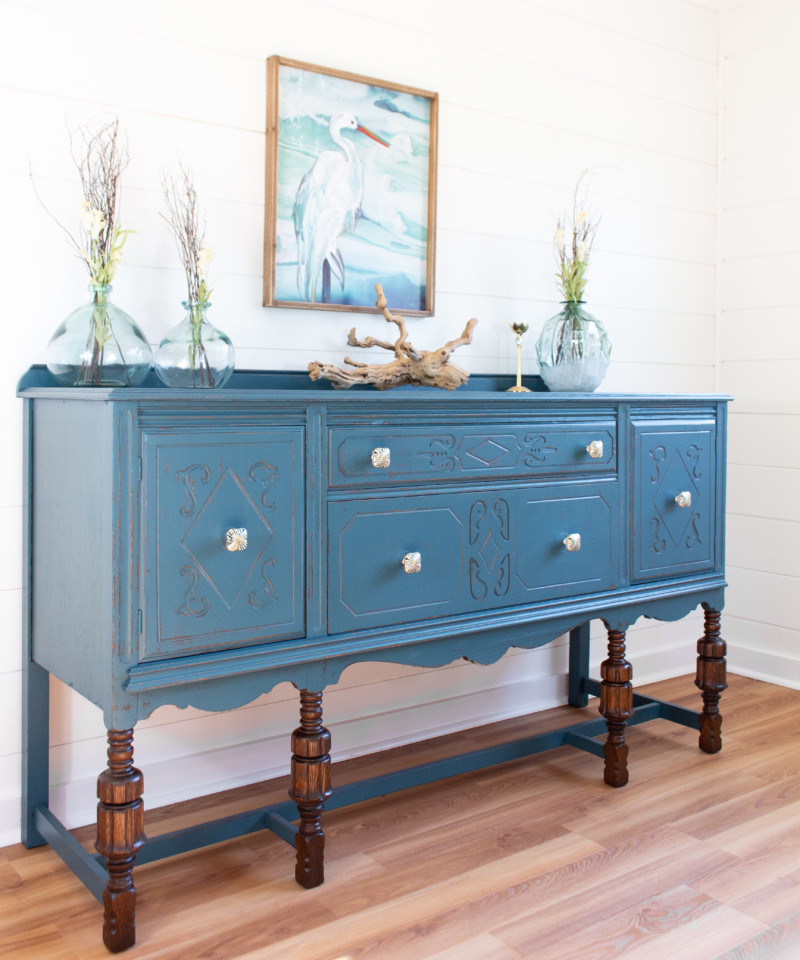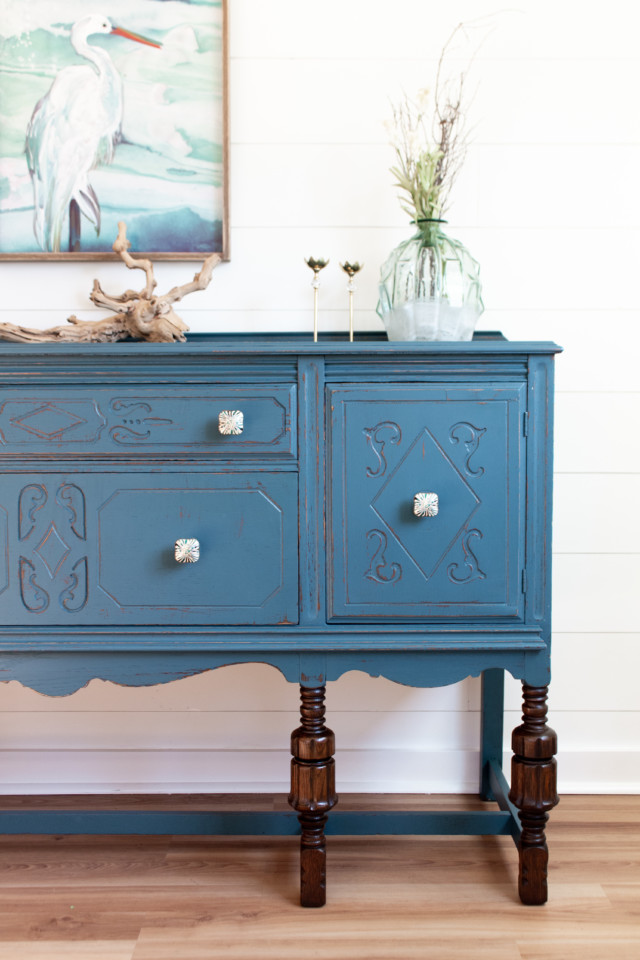 Have you ever transformed an antique piece of furniture? Or perhaps you've done a piece in Seaside, one of our featured colors from our April Color Story?
If so, share it with us on social media by tagging us #FusionMineralPaint and #PaintItBeautiful – and don't forget to share it with us in our Paint it Beautiful Facebook group!
PIN IT FOR LATER!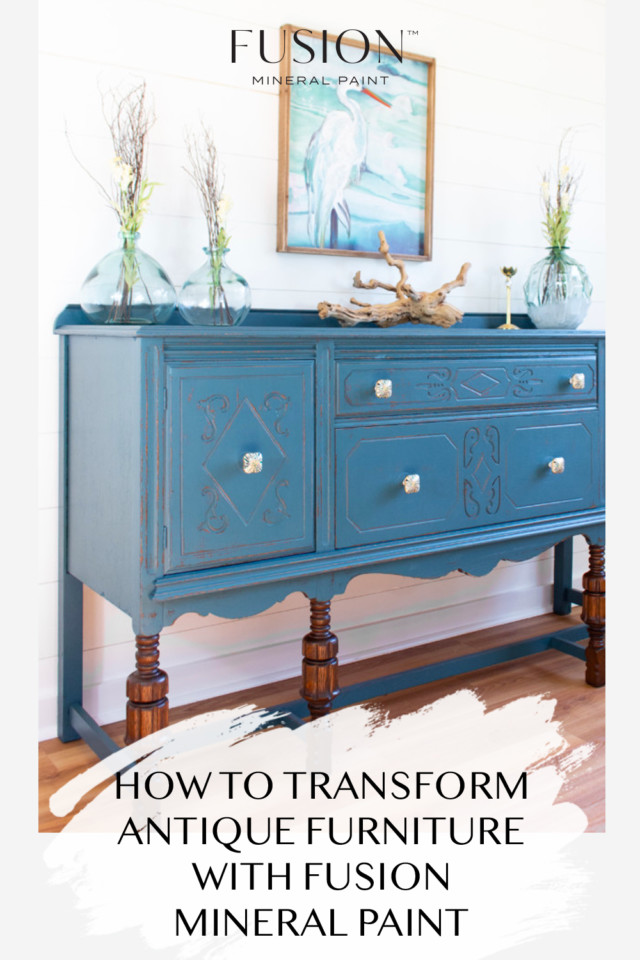 Project by Crystal Sutton at The Driftwood Home