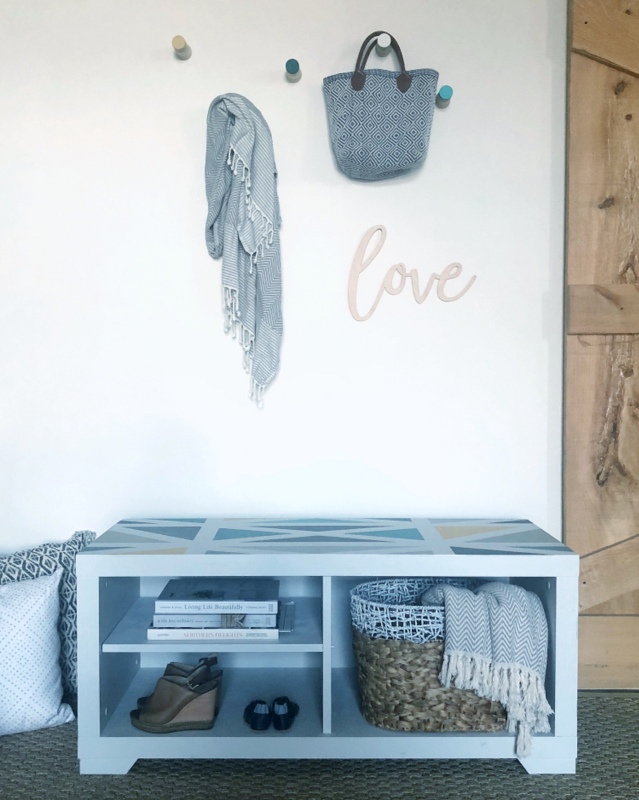 Share:
One of the things we love doing the most here at Fusion Mineral paint is upcycling furniture. Just giving something a new coat of paint can help you not only transform a piece of furniture into something that you love and is part of your home decor style, it's amazing for the environment to help keep items out of landfills. So it's very fitting that our very own Jennylyn Pringle, CEO of Fusion Mineral Paint and Homestead House, will be a part of this years Upcycle Challenge at the Toronto Fall Home Show. We love a good challenge and feel pretty confident that Jennylyn's makeover has some amazing wow factor. If you love it, help us out by heading to the VOTING PAGE to vote for Jennylyn's project. This year, our entry is a beautiful Scandinavian Bench Makeover.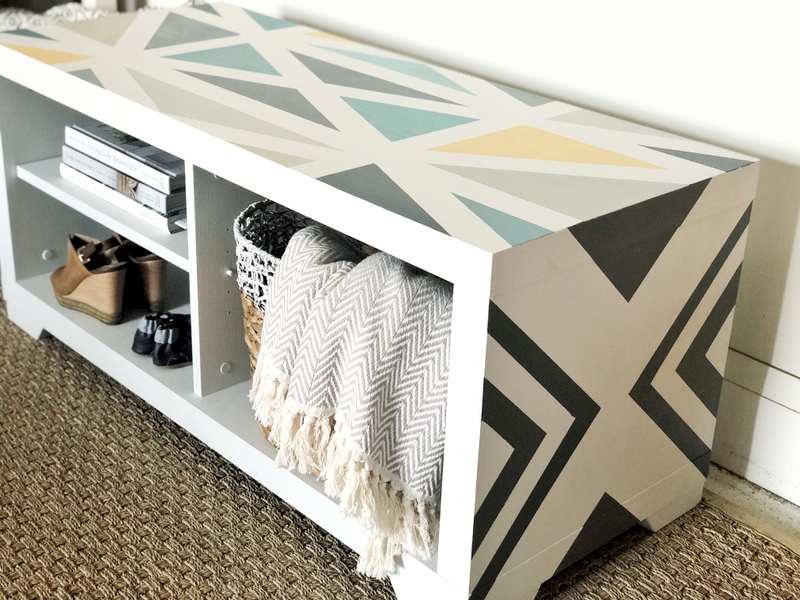 The Upcycle Challenge is done in collaboration with Habitat For Humanity GTA where emerging decor and DIY experts have been invited to participate in the challenge by upcycling a piece from their local ReStore. All entries will be on display at the 2018 Toronto Fall Home Show which is happening on Sept. 28-30th, at the Enercare Centre in Exhibition Place in Toronto, Ontario.
The winner will be selected by YOU via an online voting contest so make sure you get involved and cast your vote! Once you vote, you will be entered to win one of three $25 gift cards for your local ReStore. And the best part is, the completed projects will be on sale at the show where people can bid on them and all the proceeds from the sales will go to support Habitat for Humanity GTA. How amazing is that?
This years challenge is entryway solutions aka Entryway Envy, and we all know far too well how important a well organized entryway is to making your days easier. So when Jennylyn saw this old bench at the ReStore, she knew it was perfect for an entryway to help organize your space. We are going to walk you through how to get this modern Scandi look yourself with Fusion Mineral Paint.
The Scandinavian Inspired Bench Makeover
Storage benches are so great, especially during our winters where you need to be able to store mittens and hats in baskets under them and being able sit down on them to take off your boots. We wanted to take this bench from basic espresso brown wood to a fresh and modern look, so we finished this piece using 5 different Fusion Mineral Paint colors.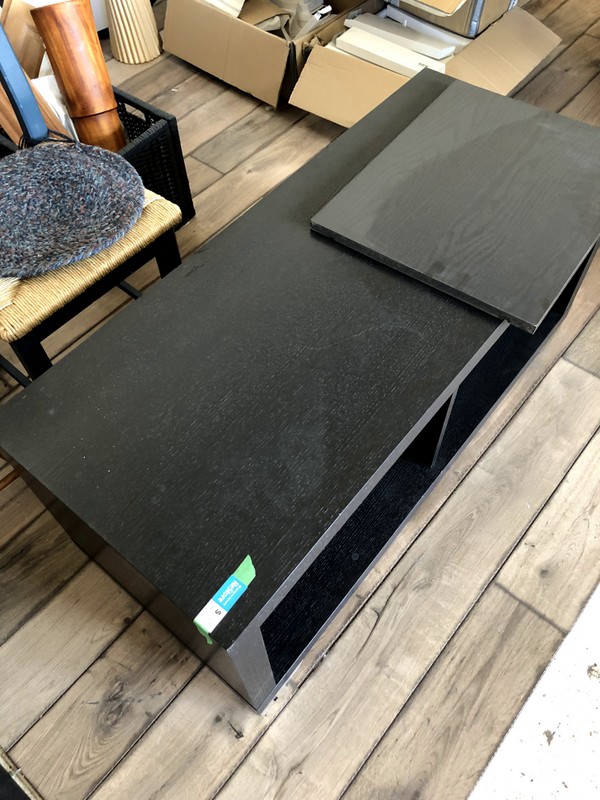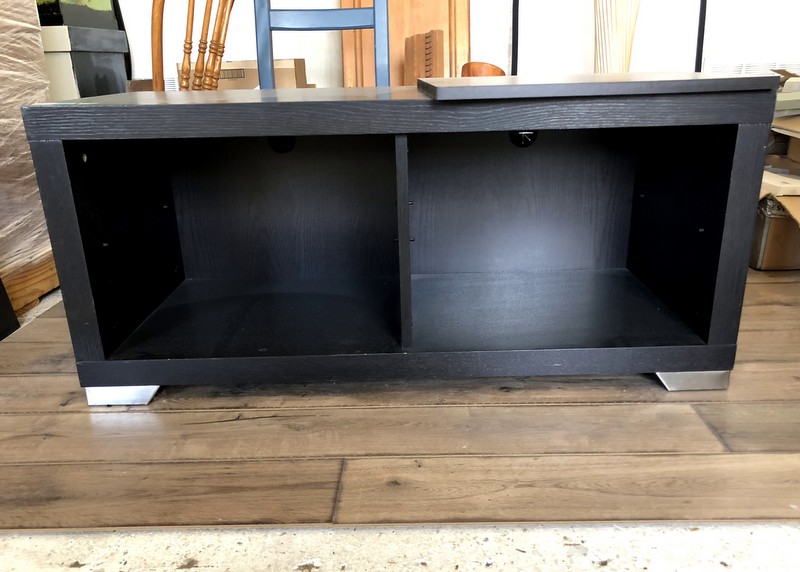 What Jennylyn used for her Scandinavian inspired upcycle:
– Fusion Mineral Paint in Prairie Sunset, Azure, Homestead Blue and Lamp White.
– Painter's Tape
– Fusion Mineral Paint brushes, lint free rollers and paint tray
– Fusion Mineral Paint's TSP
– Cleaning cloths
The first thing Jennylyn did was prep the piece to ensure the surface was smooth and clean, using Fusion Mineral Paint's TSP. Prep is the most important step in painting any piece of furniture. Our TSP is perfect for getting off anything that could interfere with the paint's ability to adhere to the project surface without using harsh chemicals.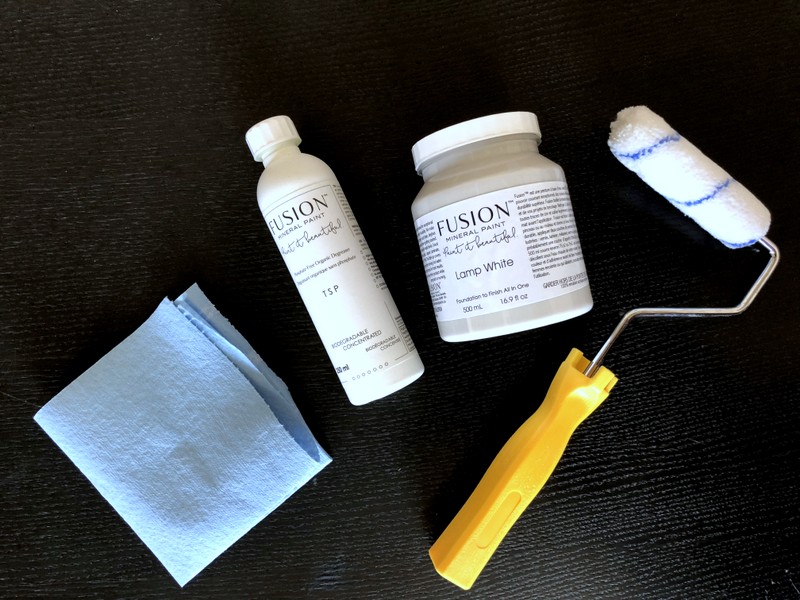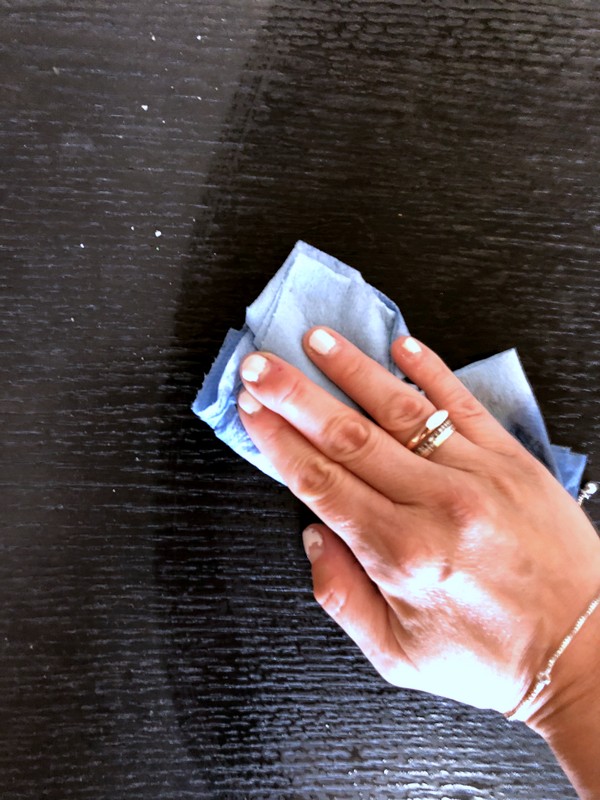 The next step was painting the entire bench in Fusion Mineral Paint's Lamp White. No primer was needed for this and it took only 2 coats to cover the dark wood undertones. Amazing huh? When applied properly, the coverage of our whites is amazing.Fusion Mineral Paint's Lamp White is not a stark white but against the additional colors on the bench, it looks like the perfect off white with just a hint of grey undertone.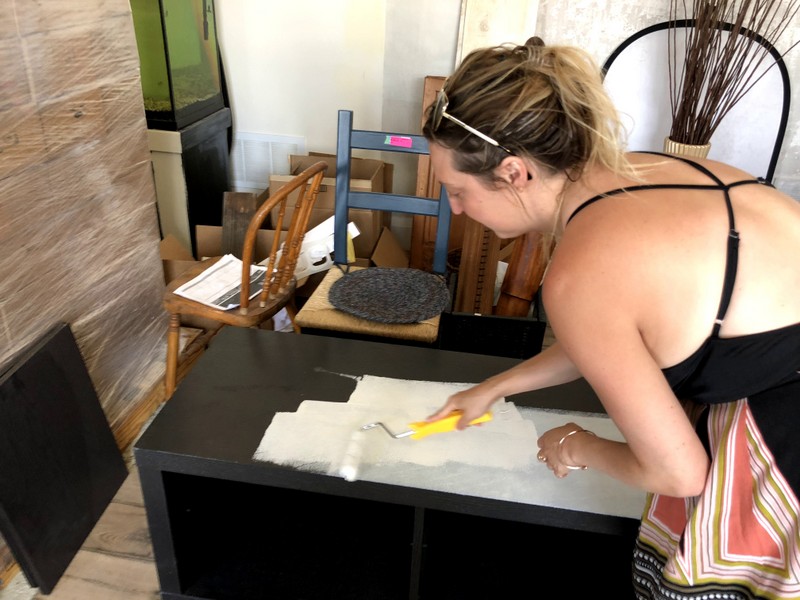 Using a lint free roller is the perfect solution for being able to paint a larger flat surface quickly. It ensures you can get the job done quickly and no brush strokes! Double yay!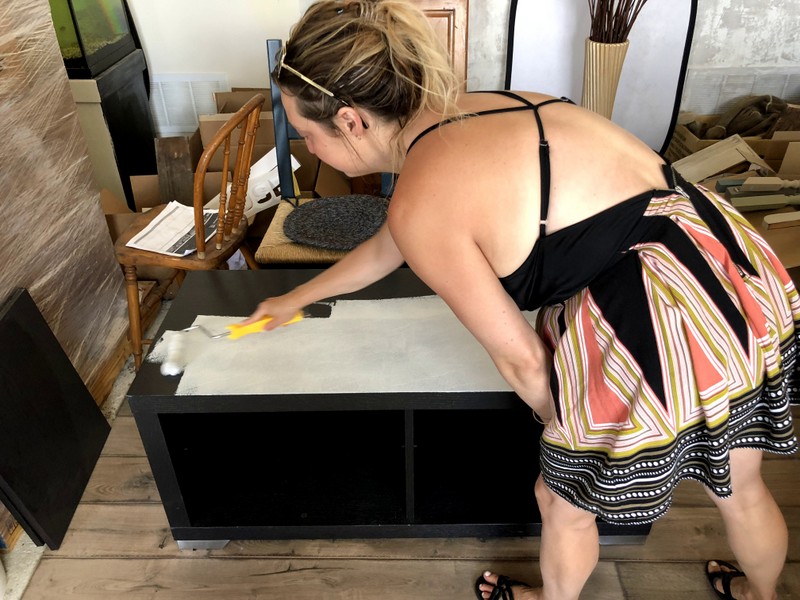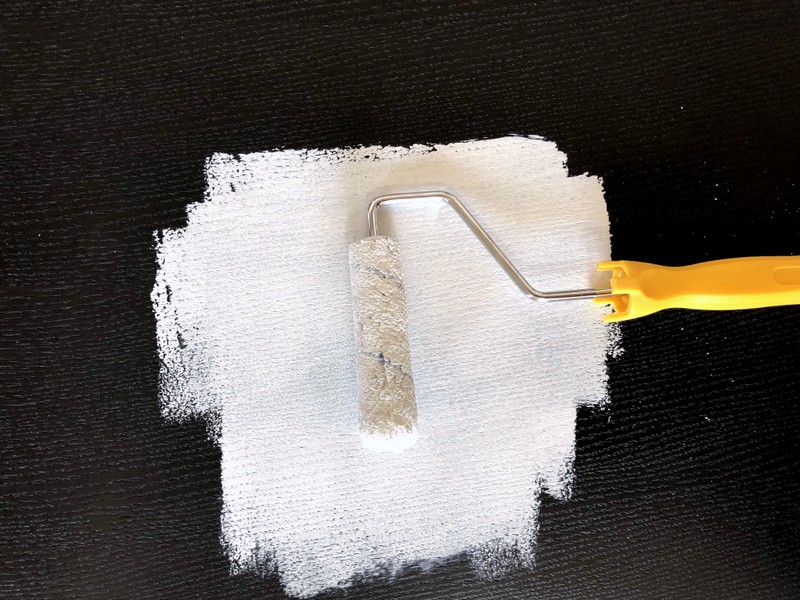 She then taped up the piece in different shapes. It was a bit challenging to figure out how to create the shapes that were symmetrical yet asymmetrical at the same time.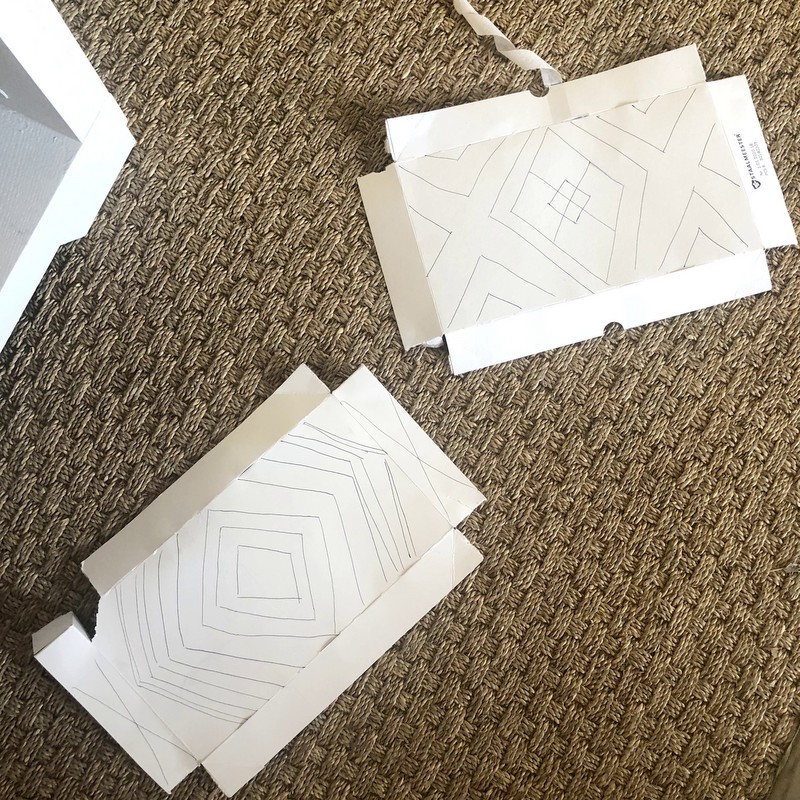 Jennylyn started off with taping diagonally across the top of the bench and then with full lines across the entire piece the length of the bench. The sides of the bench were in a complimentary pattern to the top.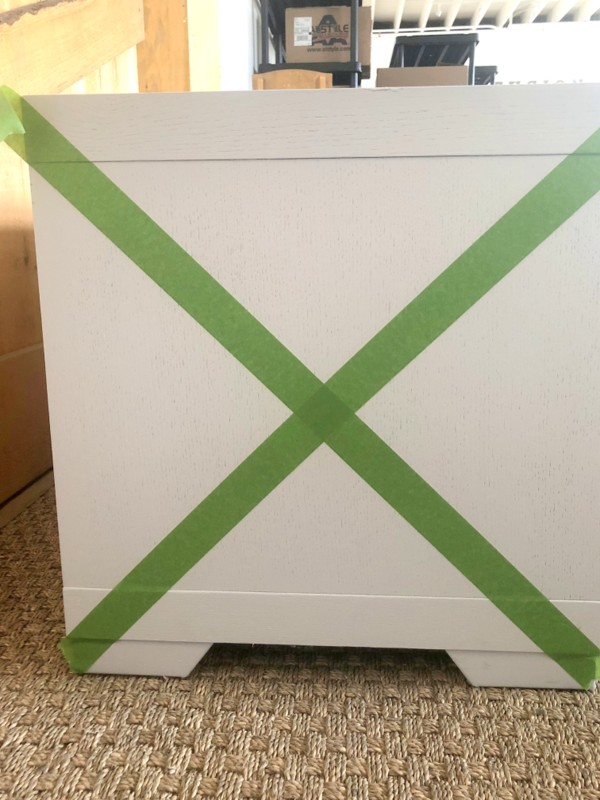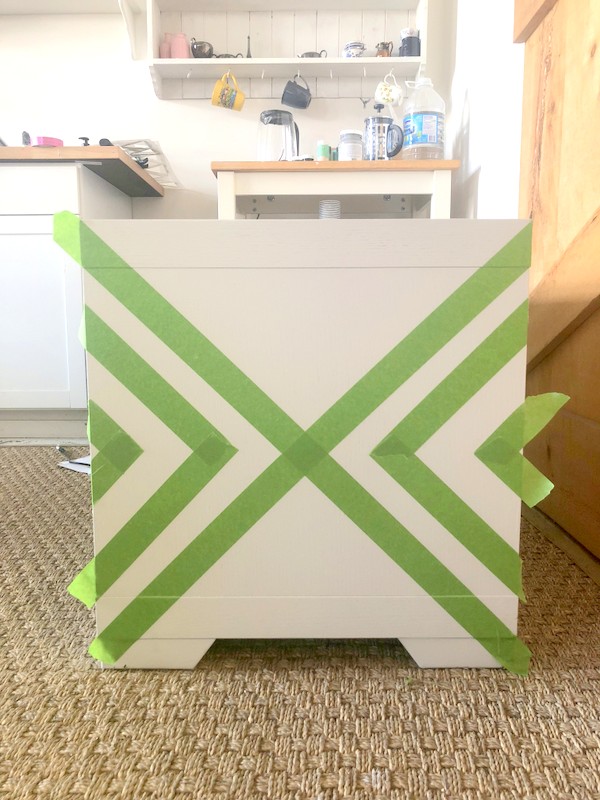 When you stare the top of the piece, you will easily see the pattern but it still has a cool, almost abstract feeling to it.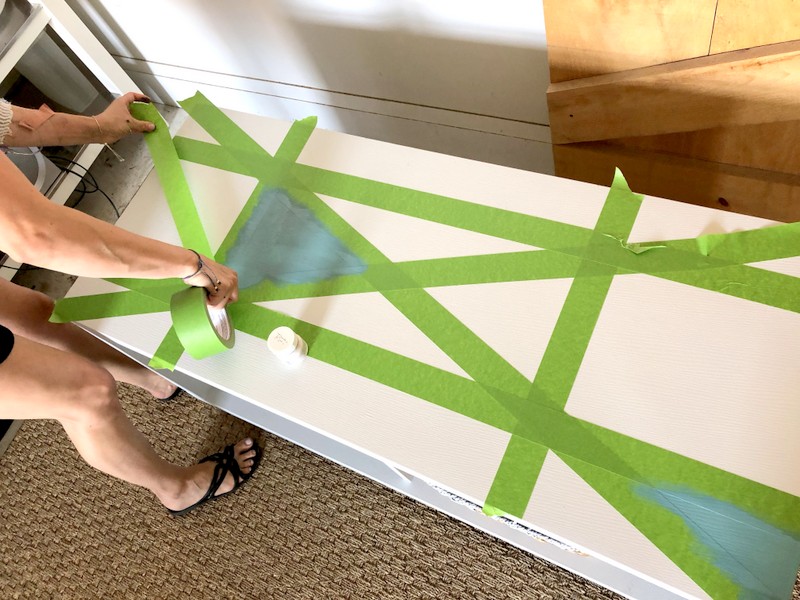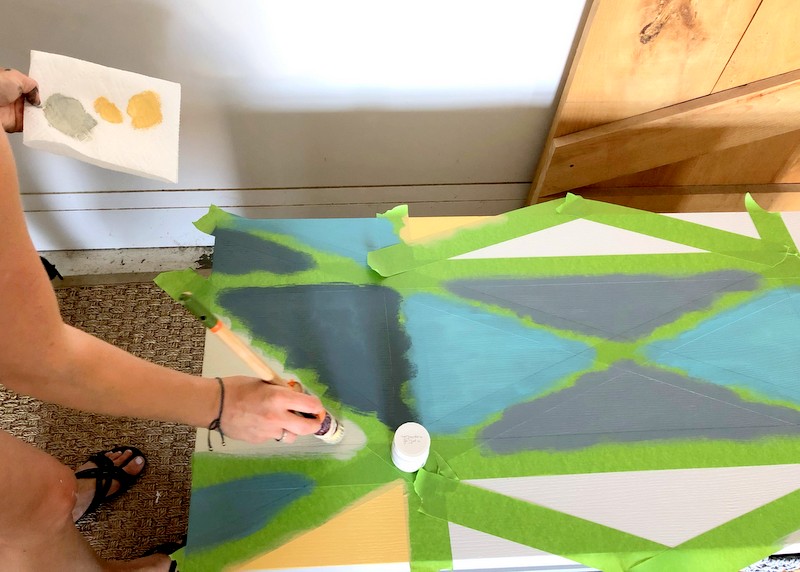 The colours used for the triangles were Fusion Mineral Paint in Prairie Sunset, Azure, Homestead Blue, as well as a custom color blend for any additional ones.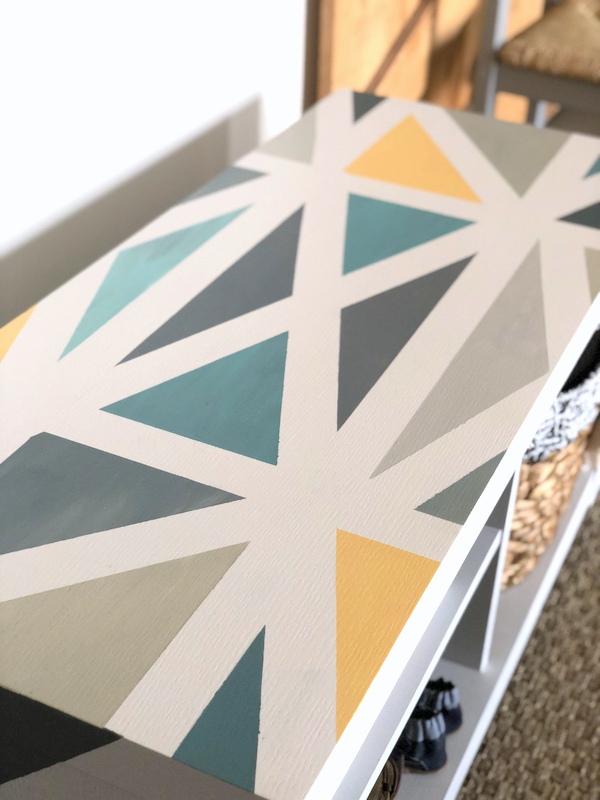 Look at that smooth finish. Would you believe those colors are only ONE coat of Fusion paint? A little Fusion goes a long way.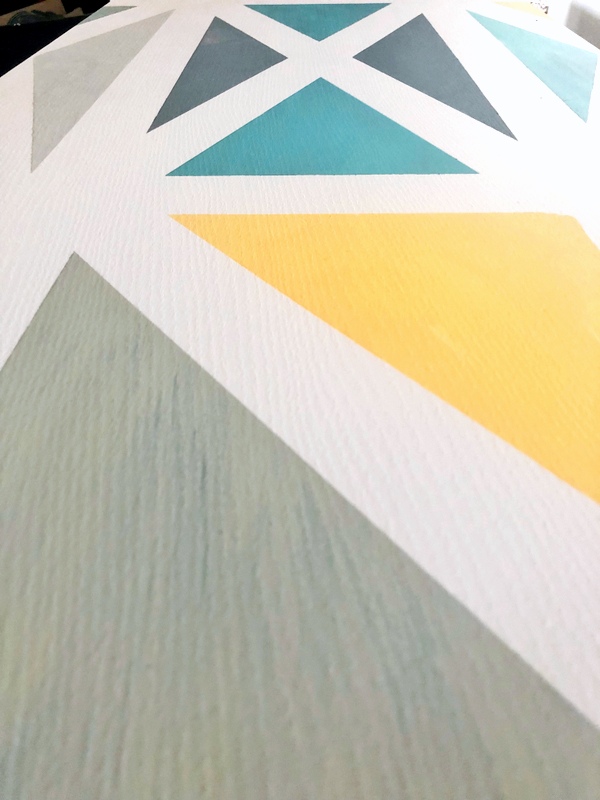 The side was taped in a way to compliment the top, yet still be unique in it's own way.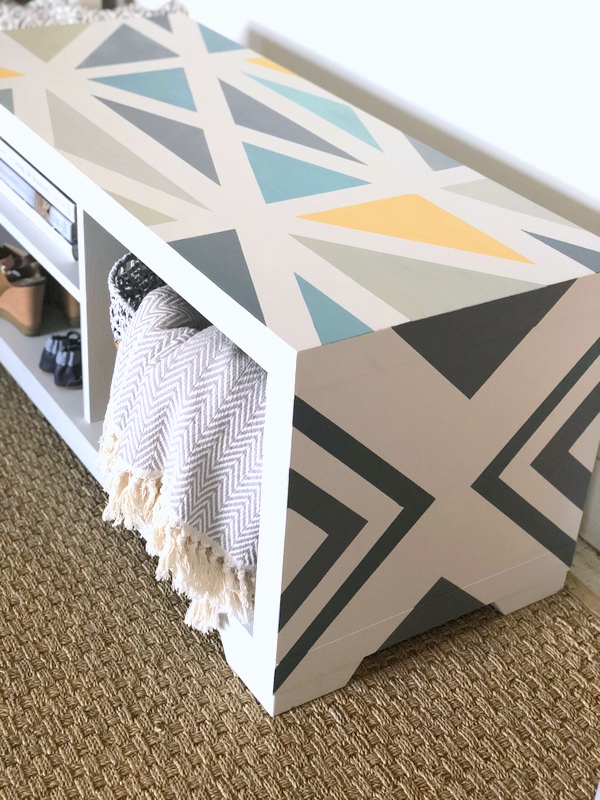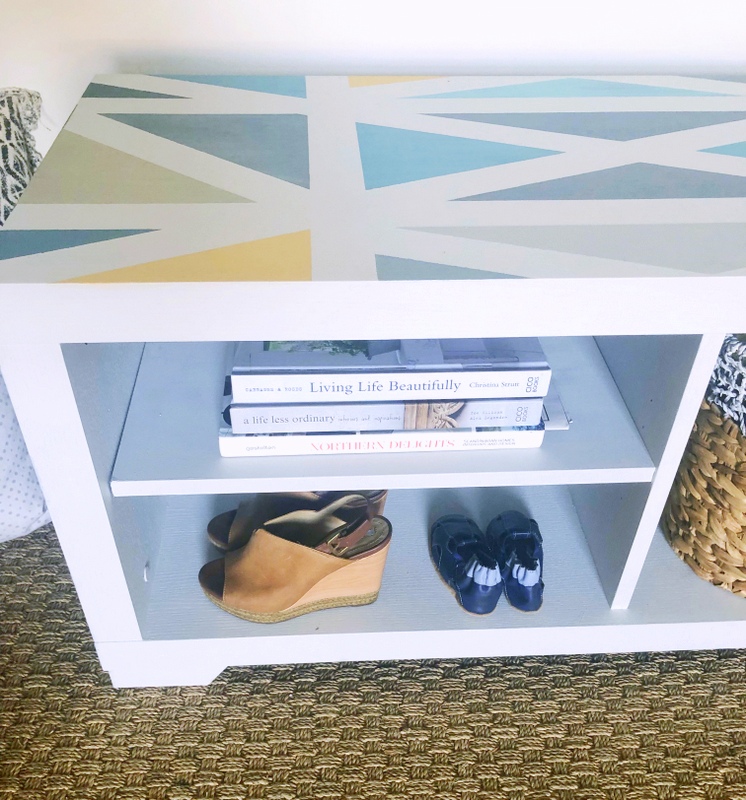 In order to make room for a basket, Jennylyn removed the middle shelf on the right side of the bench and painted the basket too. She used Fusion Mineral Paint in Ash and then dry brushed over it with Fusion in Lamp White.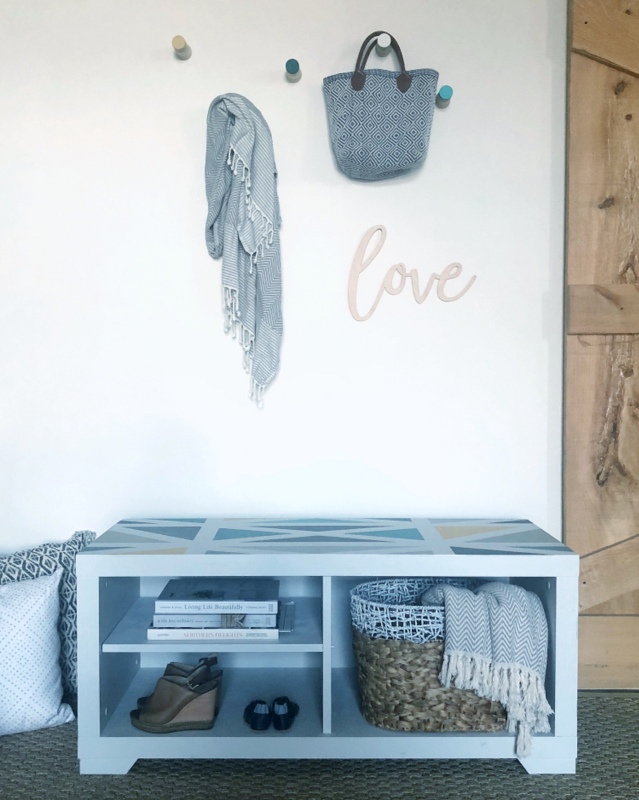 See these cute little wall pegs? She painted those too. A little pop of colour to compliment the bench underneath them and tie in the whole area. And one last thing, that perfectly white wall? Also painted in Fusion Mineral Paint!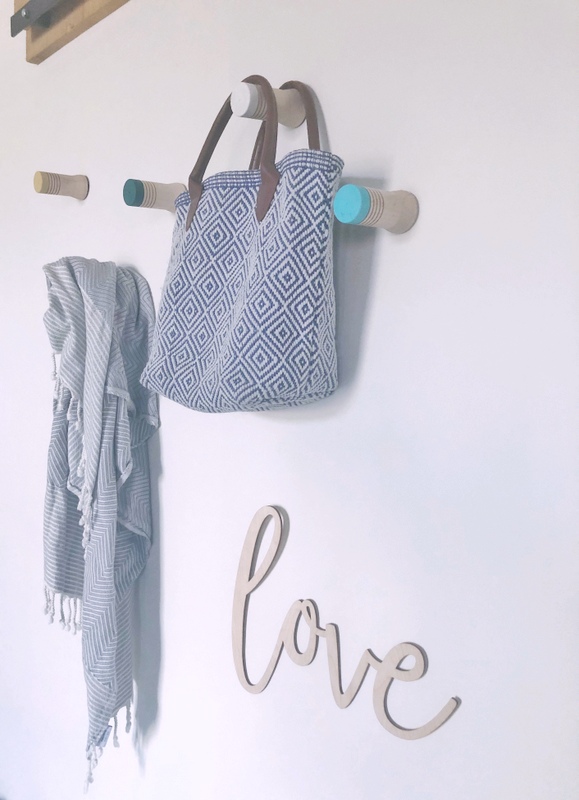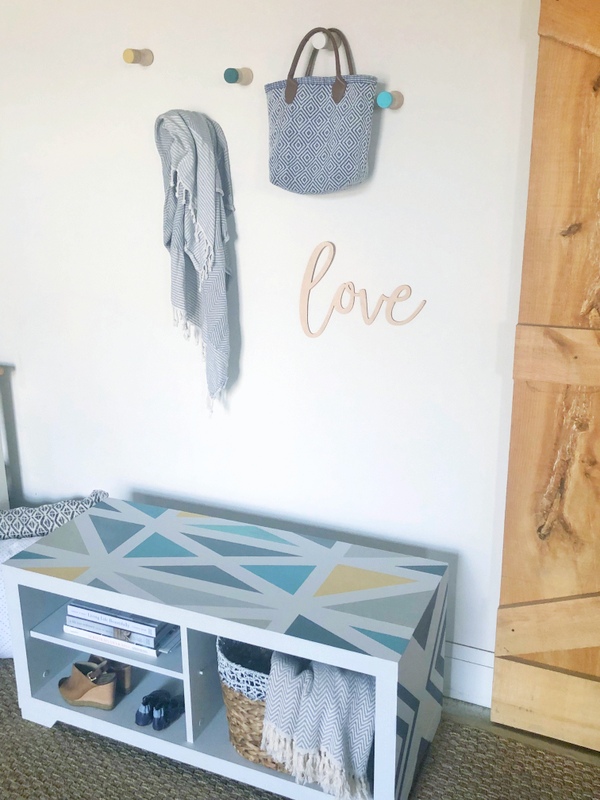 And there you have it. An old beat up TV stand upcycled into a gorgeous, entryway bench to help you get organized! Doesn't this make you think twice about ever leaving one of these at Habitat for Humanity again? It's the perfect size for small entryway and very sturdy for sitting on. If you love this project as much as we do, please take the time and go and vote for Jennylyn's beautiful bench in the challenge! 
As for a top coat? With Fusion Mineral Paint,  you don't need one because that's built in – our 100% acrylic resin. So there's no need to seal or protect it with anything else. The painted top will very durable and help hide any marks that may happen from bags being put down, scratches from toys and other day to day wear and tear.
Remember, you can bid on this piece at the Toronto Fall Home Show and take it home for yourself with all of the proceeds going to Habitat for Humanity. We hope to see you there!
PIN THIS FOR LATER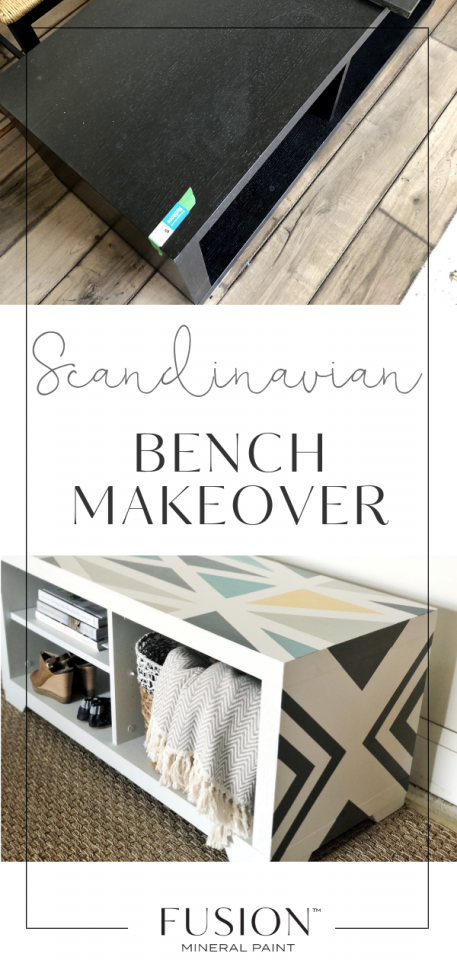 In the meantime, take a look at Jennylyn shopping at her local Habitat for Humanity ReStore for the "Entryway Envy" challenge.