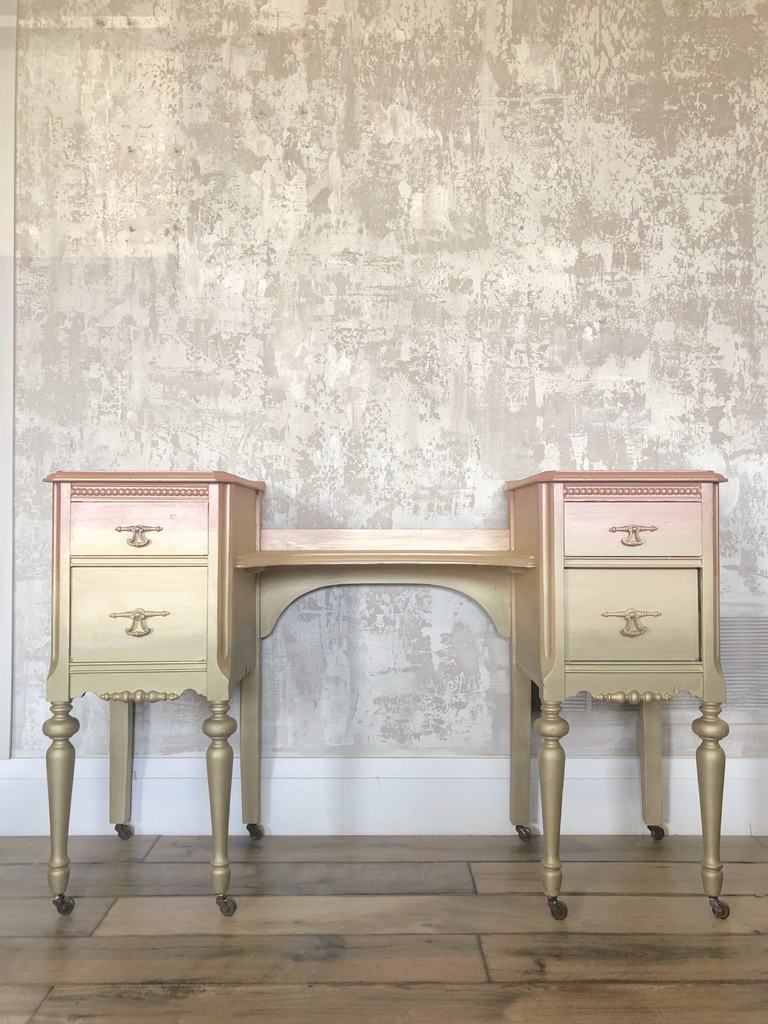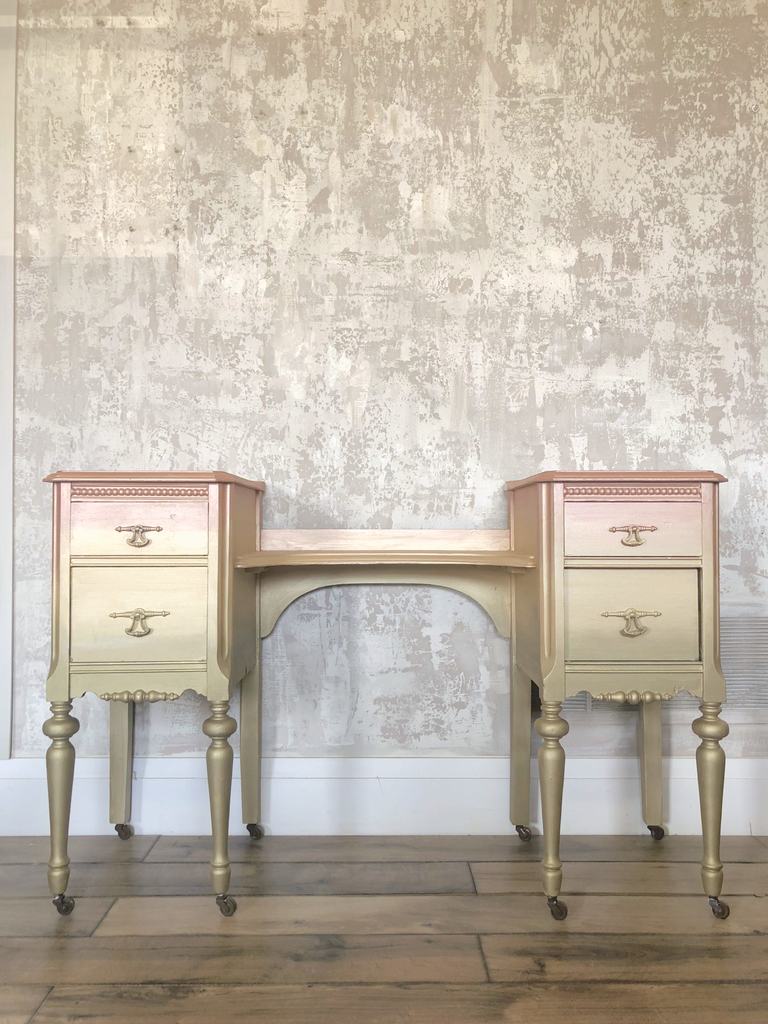 Share:
We recently launched three new Fusion Mineral Paint Metallic colors that give you a shimmer like no other metallic paint! These new limited edition colors include Rose Gold, Champagne Gold and Vintage Gold, a special collaboration with Jamie from So Much Better With Age. So when we found an old vanity that had seen better days we knew it was the perfect project to use the metallic paints on. We are going to show you how to paint an ombré metallic vanity with Fusion and how to blend paint on furniture using Fusion Mineral Paint, using our new favorite brushes from Staalmeester, the Ultimate ONE synthetic series. Once you use these brushes, you will wonder where they have been all of your life. They give the smoothest finish and they blend like a dream! Combine that with our metallic paints and you've got yourself a stunning ombre metallic vanity that looks hard to do, but is actually really easy to paint.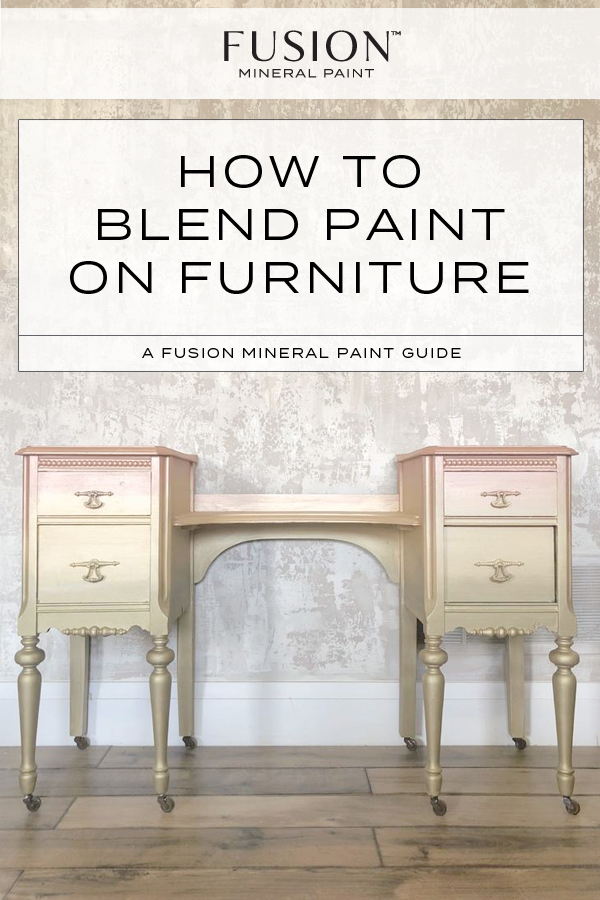 How to paint an Ombré Metallic Vanity with Fusion
ITEMS NEEDED: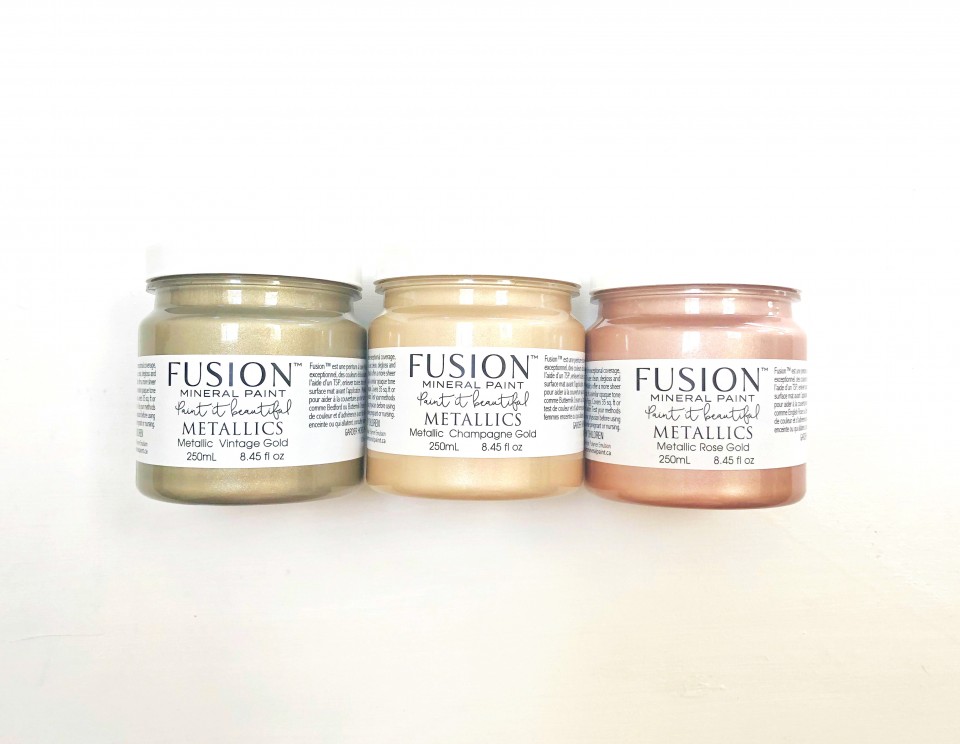 Fusion Mineral Paint Limited Edition Metallics
Step 1
CLEAN THE VANITY
This old vanity had been sitting in a closet and had seen far better days. We got out our TSP and gave it a through cleaning to make sure there no was no dirt, oil or residue on it. We didn't need to sand or scuff it as it had been previously painted with a different color of Fusion so we knew ahead of time the surface we we working with.
You do not need additional prep to paint Fusion over Fusion. So if you ever change your mind on a project color, know that it's perfectly safe to paint over that color as long as there is no wax on it. If there is wax on it, you must remove all of the wax with mineral spirits or the paint will not adhere.
Step 2
PAINT THE BASE COLOR
We wanted a light base color to really show off the Fusion Metallics paints and we needed a good coverage as the vanity had previously been a dark color. So we went with Fusion in Little Stork and painted 2 coats just to make sure we had a good solid surface to work with.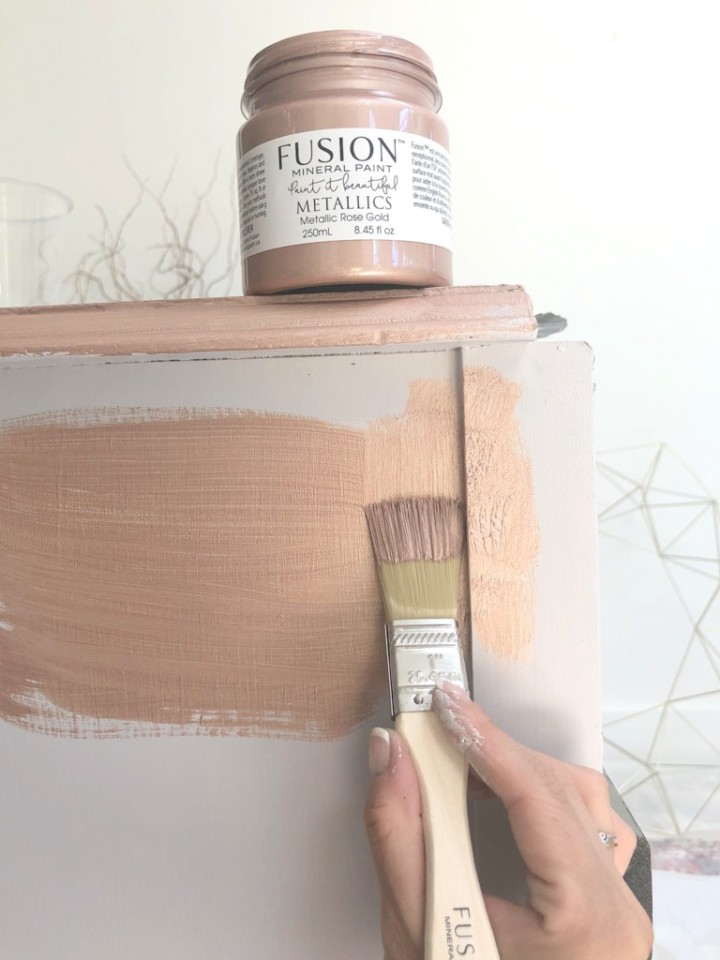 Step 3
PAINTING WITH METALLICS
Now for the shimmer! We started with Fusion Metallics in Rose Gold on top, followed by Champagne Gold in the middle and Vintage Gold on the bottom, as this way felt like the most complimentary transition between the Fusion Metallics.
We painted approximately 1/3 height of the vanity per color but we weren't too precise with it because we knew we would be blending the paints together afterwards.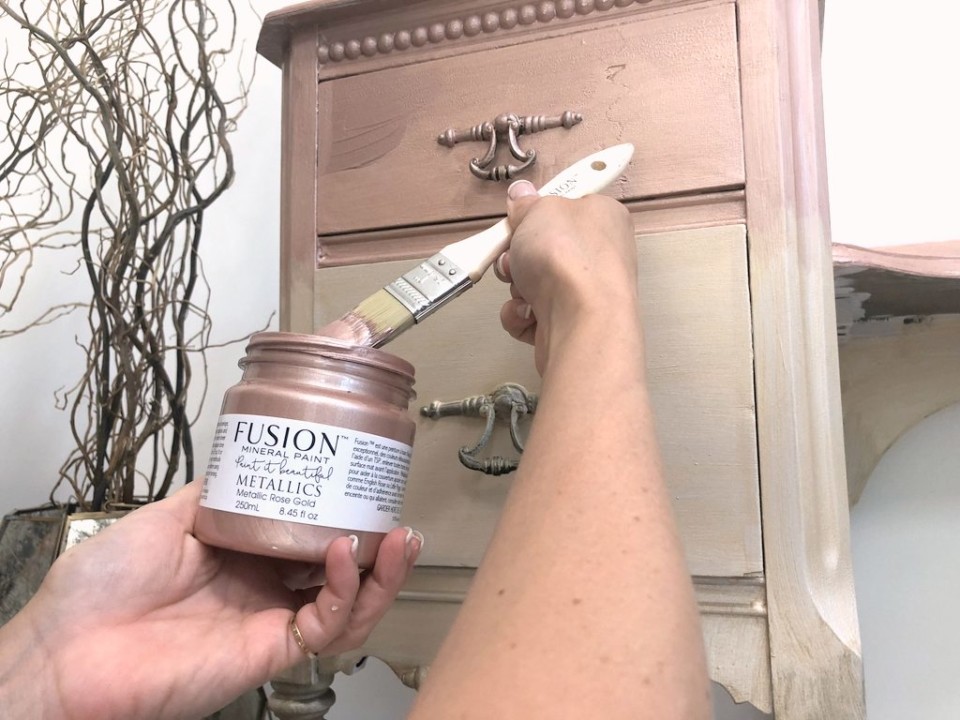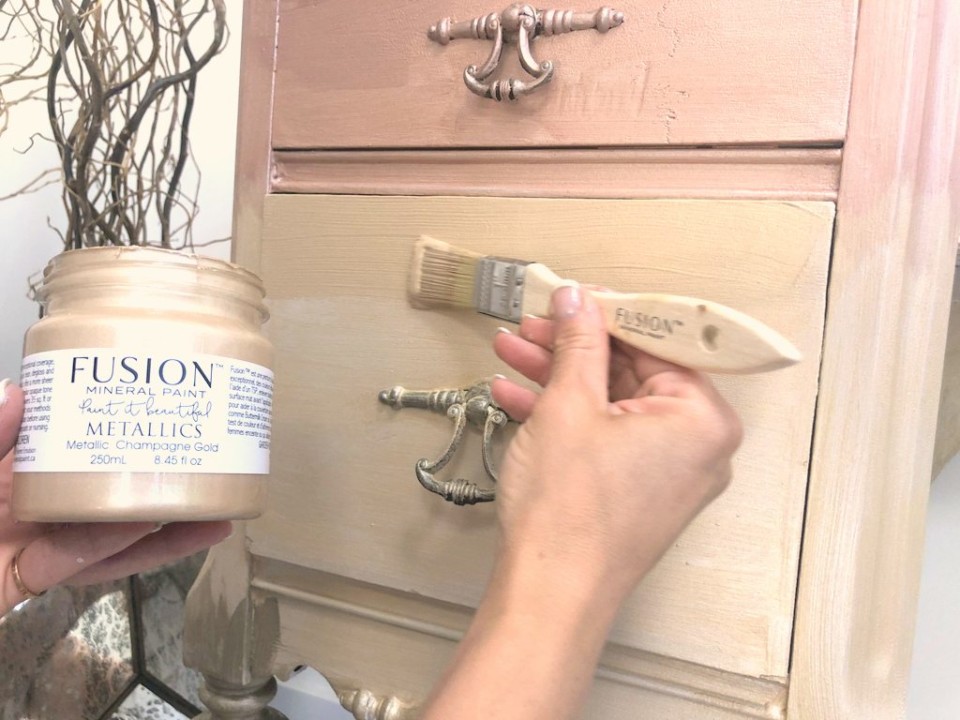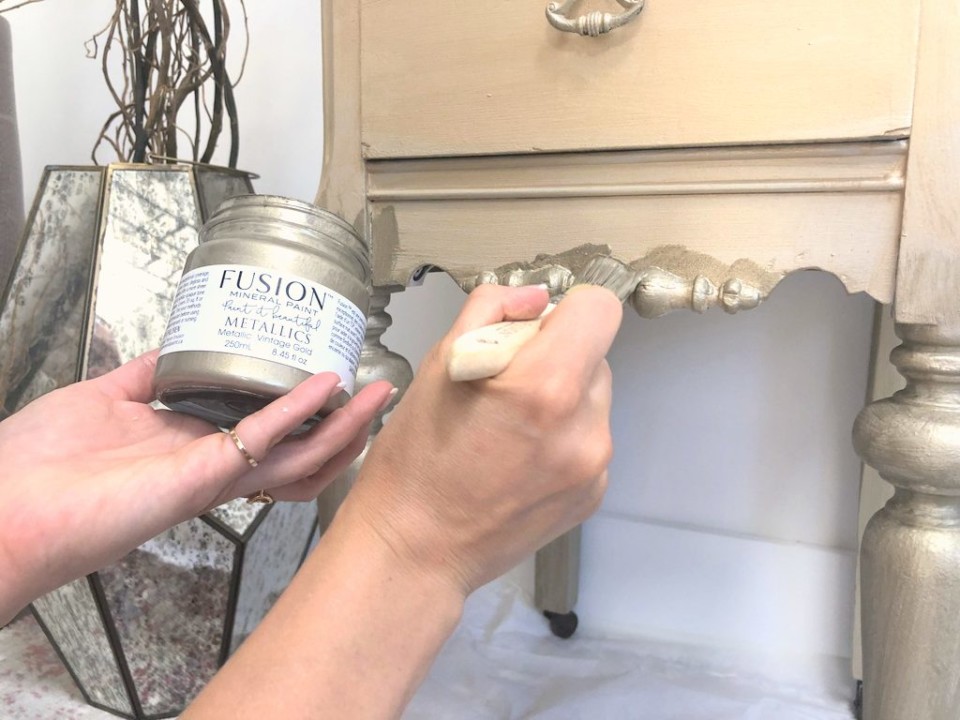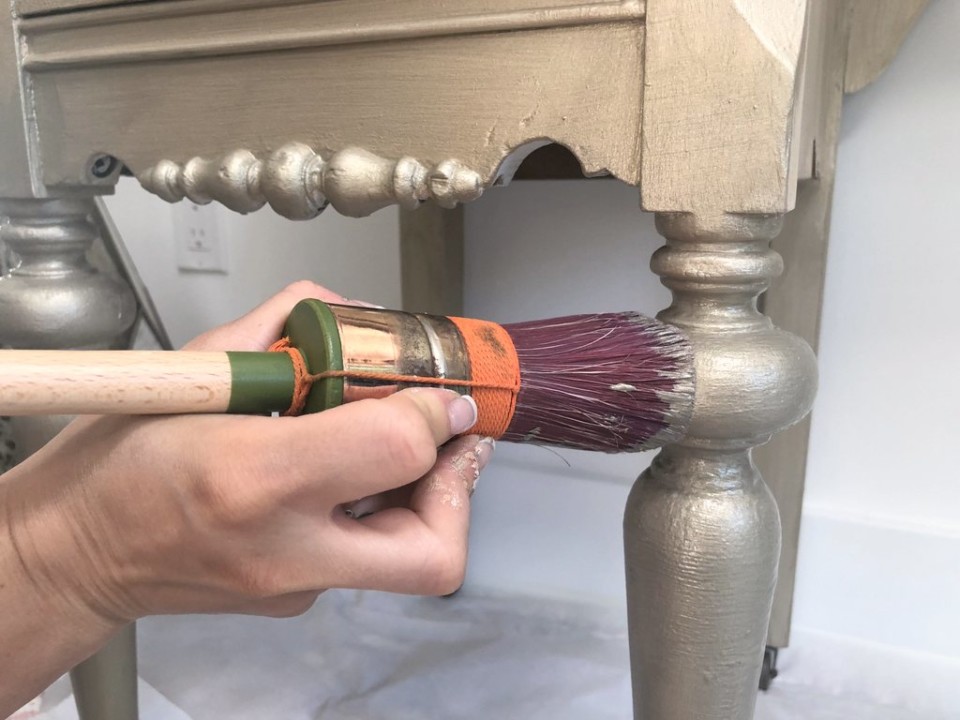 The entire vanity was painted in full before we began the blending process.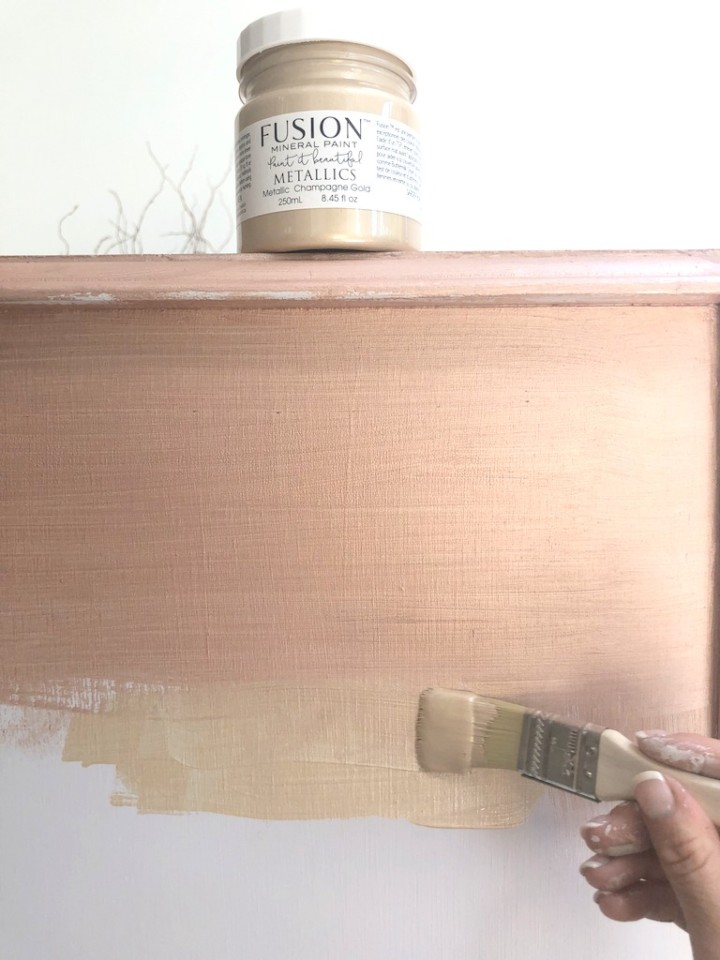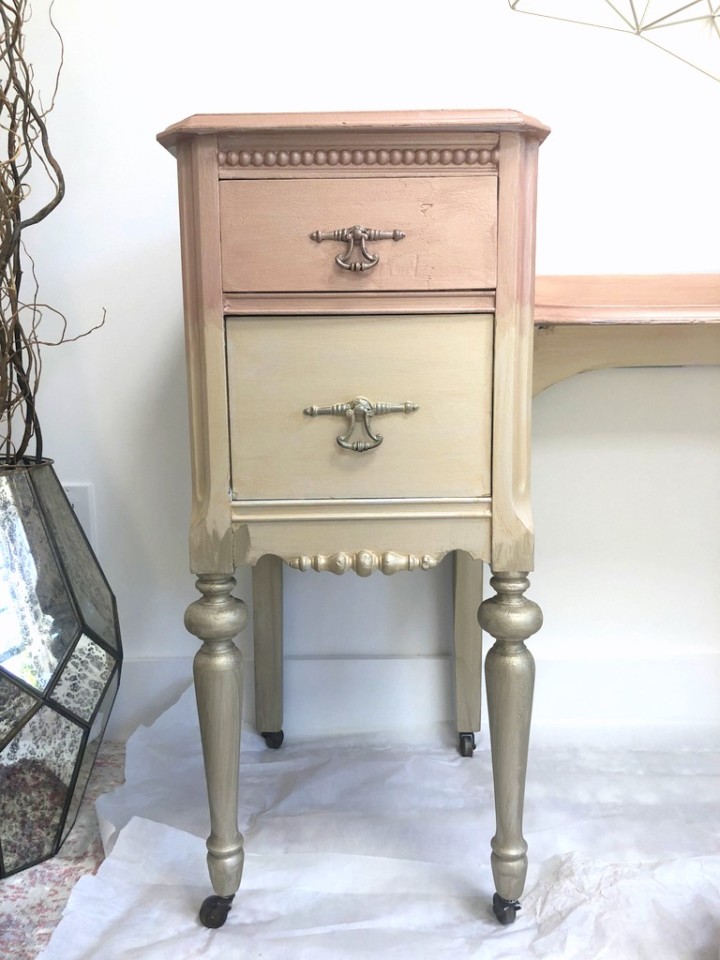 Step 4
BLEND!
While the paint colors are fresh and wet, using a spray water bottle, spray the areas where each of the colors meet. We blended one set of colors at a time. Meaning we started where Rose Gold and Champagne Gold met, followed by Champagne Gold and Vintage Gold met. The spray water is helpful as it ensures the colors mix well and stay pliable, plus it gave us a longer drying time so we could manipulate the colors as we wanted to.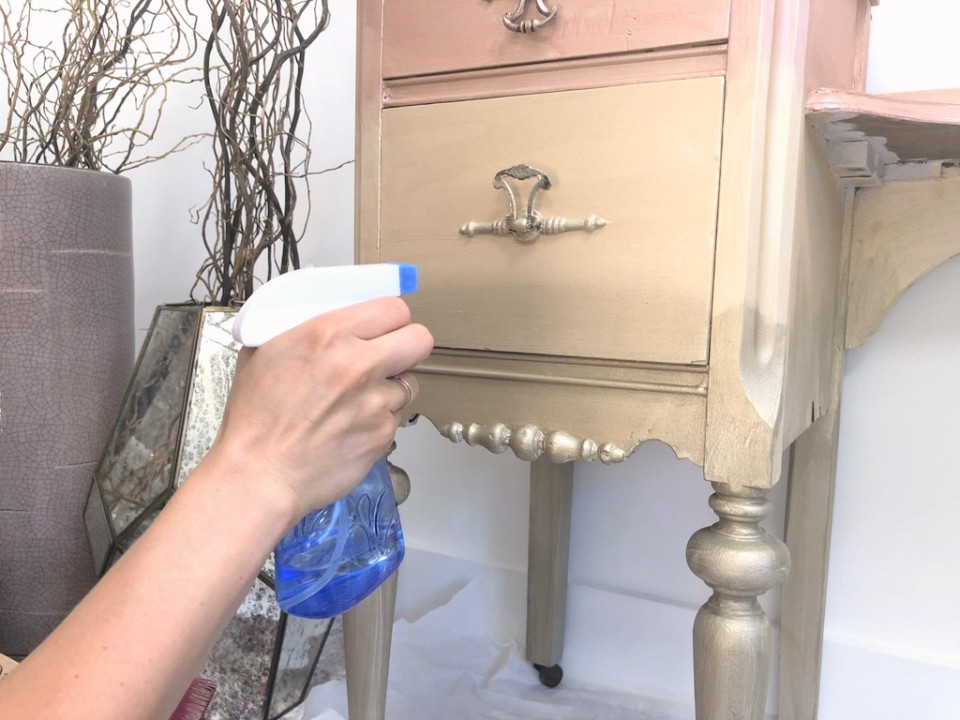 Using the Staalmeester Ultimate ONE synthetic flat #10 brush, we began to sweep across the where the two colors met in the same direction as the brush strokes – horizontally. Then we changed to a vertical position to help blend the two colors more thoroughly.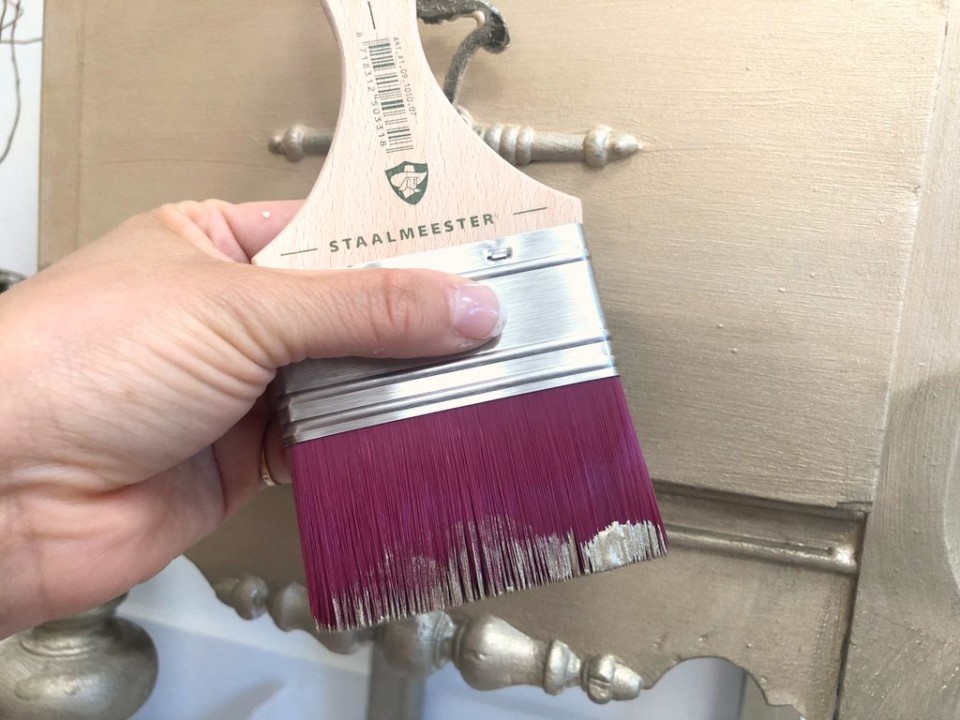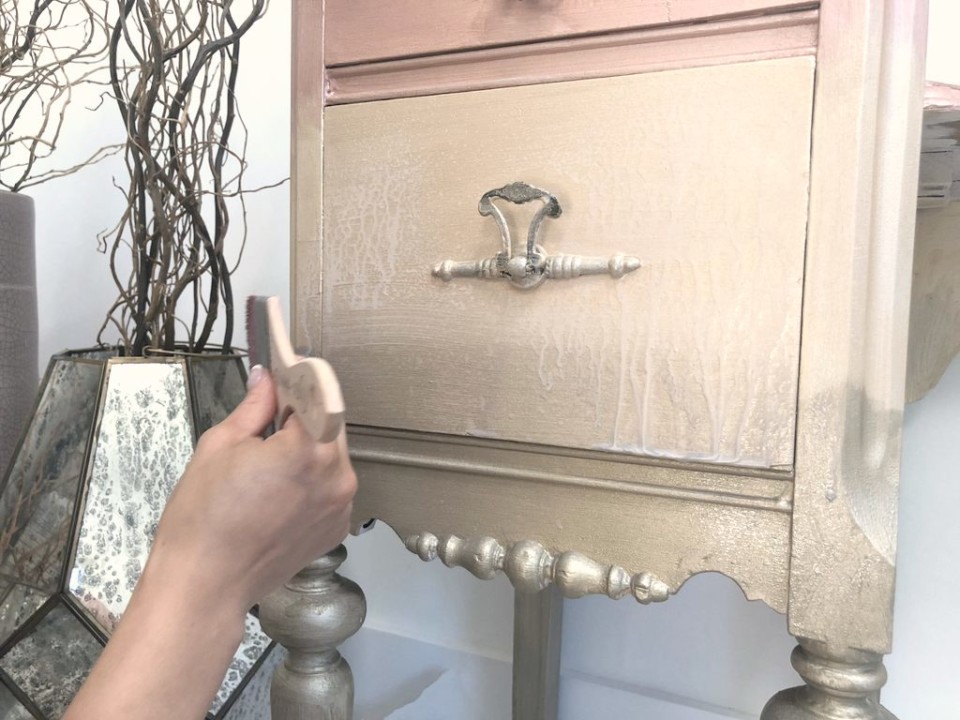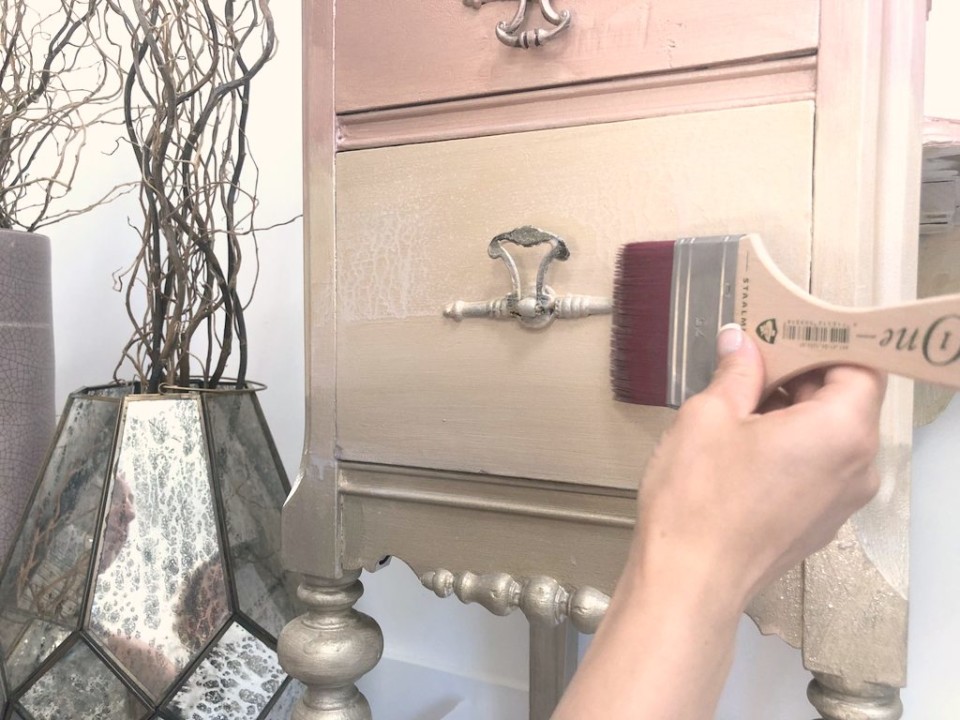 After that we went back to blending in the same direction as the original horizontal brush strokes (meaning your base coats of our Metallics paints). This helps keep everything consistent and smooth.
Just remember that you can blend whichever way works for you but your final sweep of the Ultimate ONE brush should be done in the same direction as your brush strokes, otherwise you will have noticeable brush strokes going in the opposite direction of your surface and that's definitely something you want to avoid.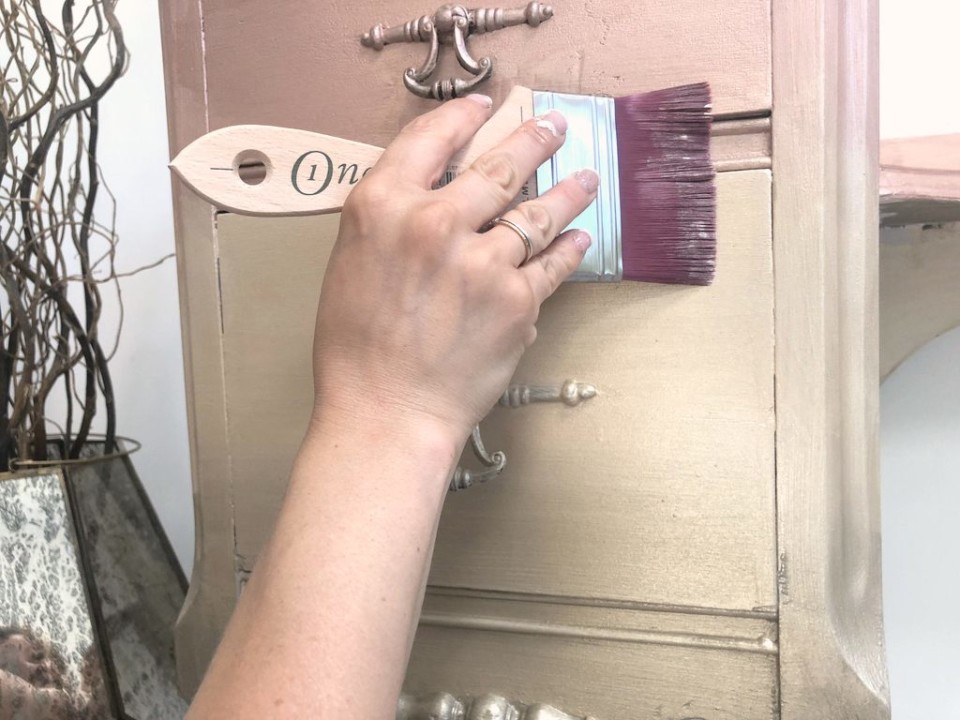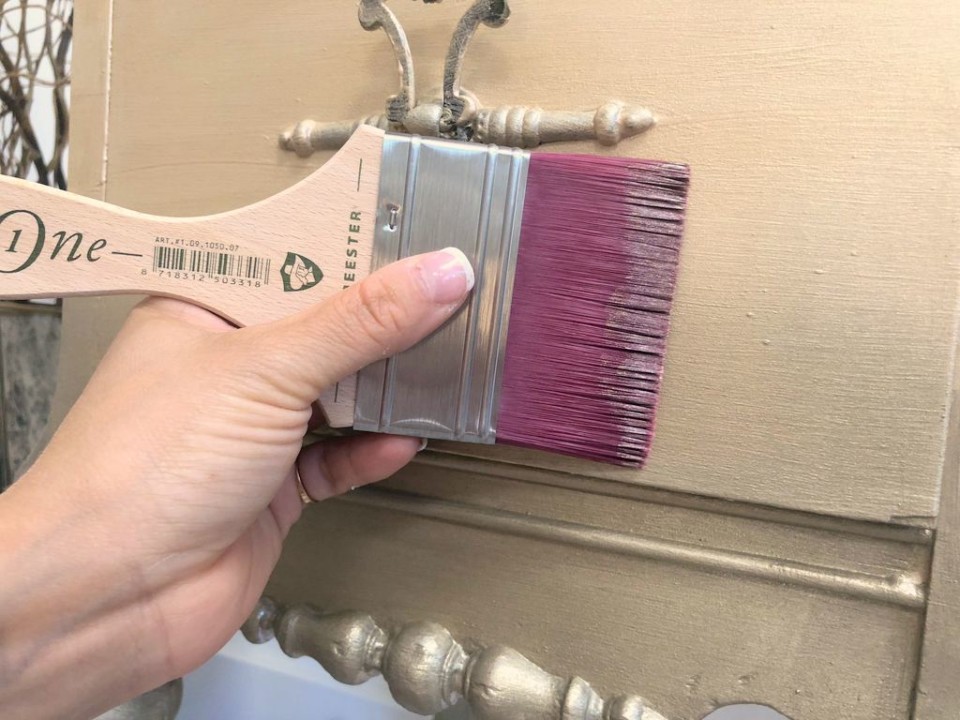 And you are done! Honestly, it's that easy.
The Staalmeester Ultimate ONE synthetic flat brushes make the impossible possible. Smooth as butter with that perfect blending of one metallic color into the next. This Ombré Metallic Vanity is sure to turn heads!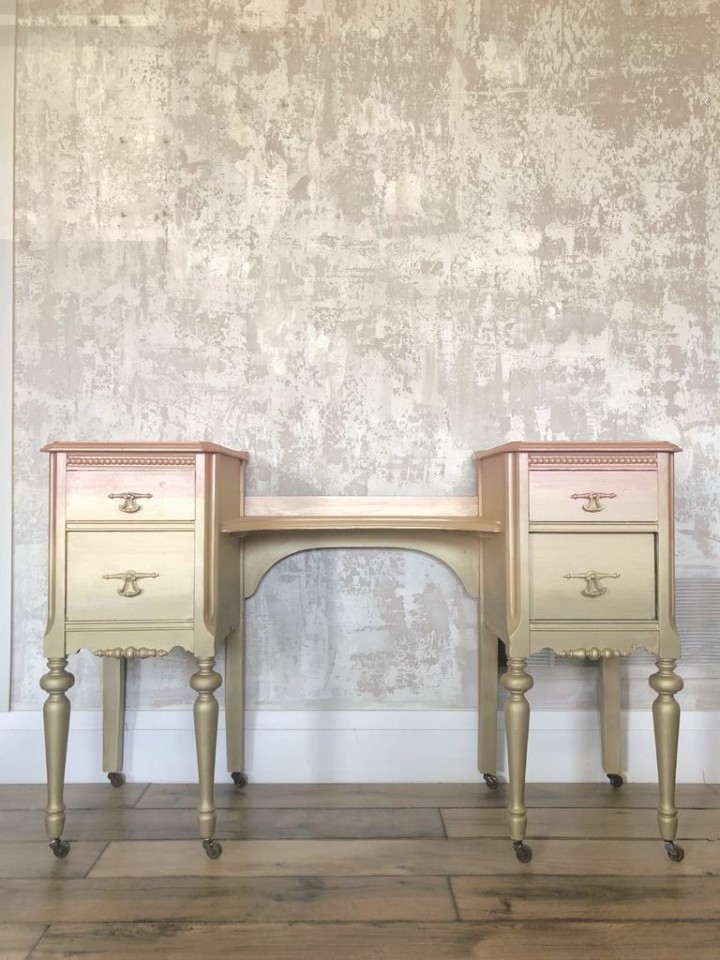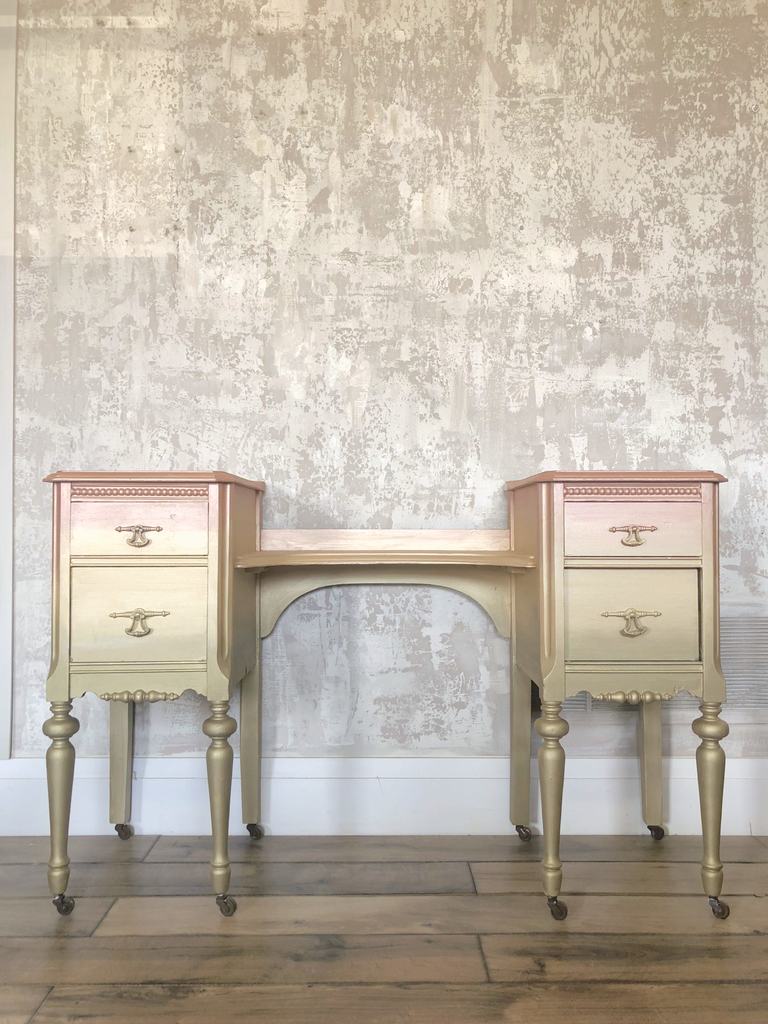 Have you ever painted anything using our Metallics or in an Ombré design? What about a blended paint piece of furniture? Share them with us in our Paint it Beautiful Facebook group or tag us on social media with #FusionMineralPaint and #PaintItBeautiful!
In our next post, we will be sharing our Top Tips for Blending using the Staalmeester Ultimate ONE Synthetic brushes!
PIN IT FOR LATER!