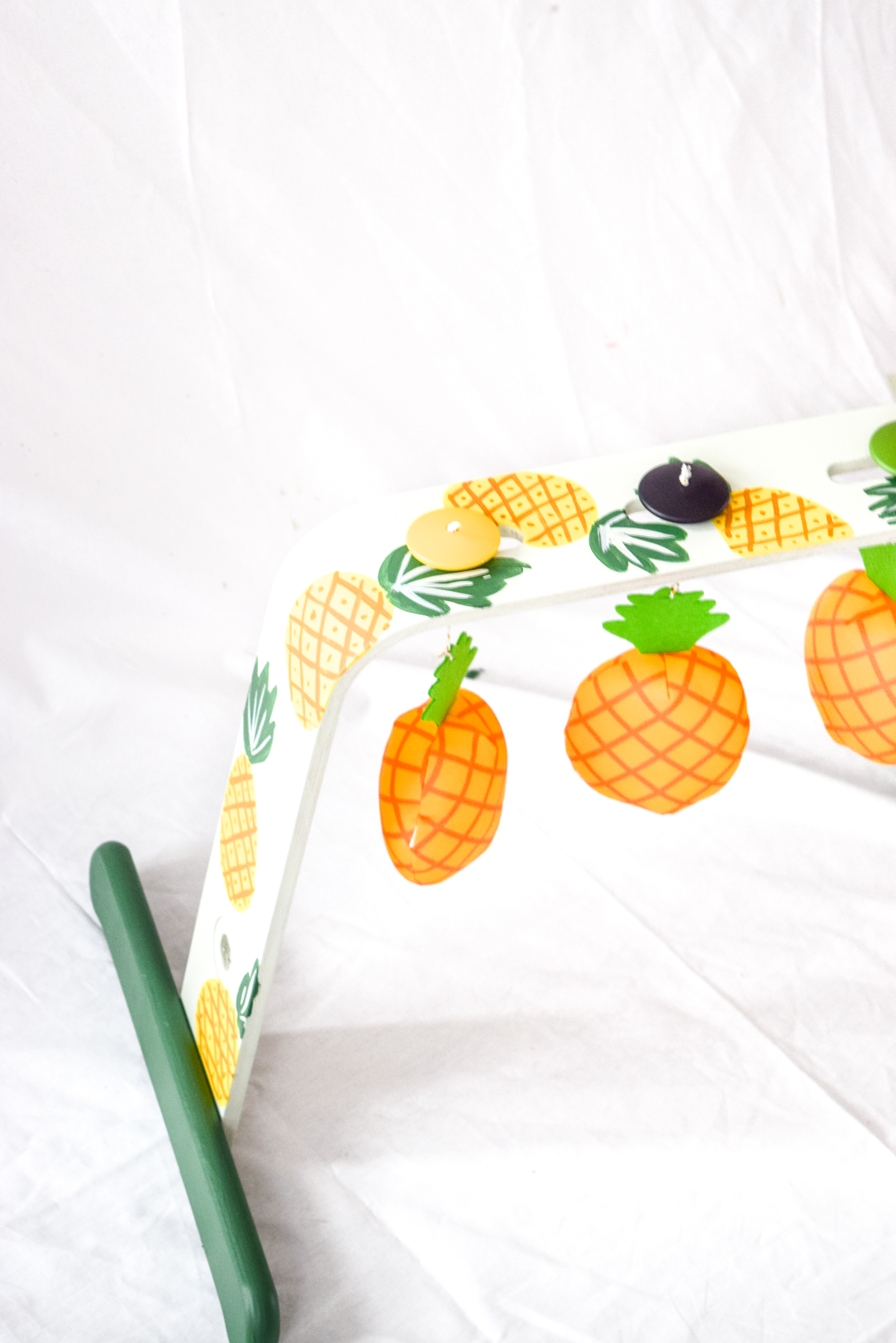 Share:
We have a great series of fun, colourful and super cheerful DIY projects coming up for you – ALL for kids! We've named them our Reading Rainbow series, to reflect all the different colours used in the projects and a nod to a favourite childhood show. Fusion Mineral Paint is such a versatile product that it has amazing results for big projects, like painting your kitchen but is also fantastic for smaller projects, like updating an Ikea piece. We all love Ikea and how affordable it is but sometimes you want to create a unique piece that reflects your style. Today we are sharing how to revamp an Ikea baby gym into a fun and colorful piece that will be stimulating for your little one. This DIY colorful baby gym tutorial is a quick one and can be adapted to reflect your personal style.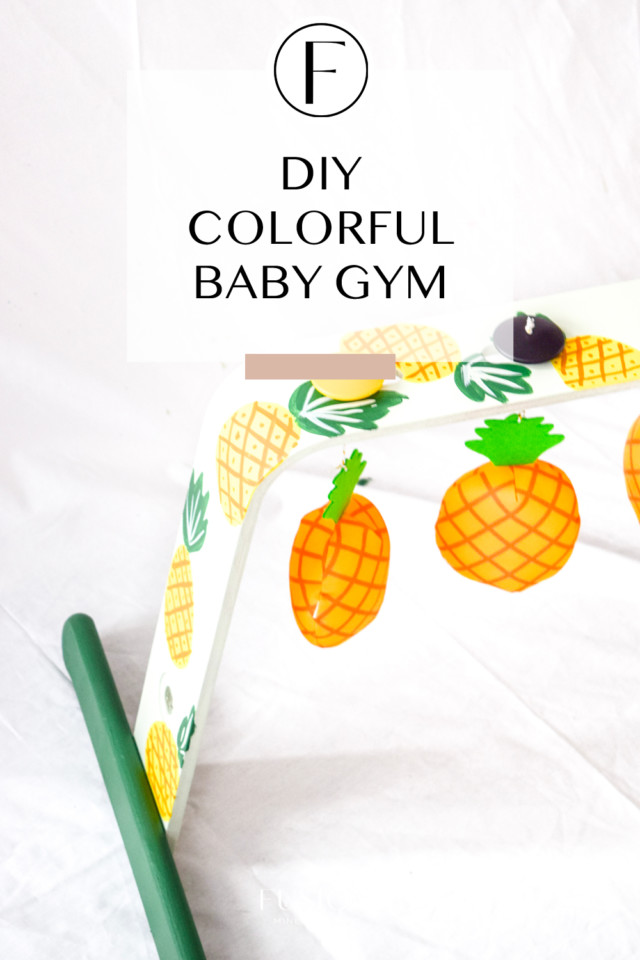 In our Fusion paint line, we have a lot of vibrant colours that practically ask to be used in kids room decor or projects for your children. So we thought it was time we share that love and hopefully give you some inspiration for your own kids decor projects. Fusion Mineral Paint is VOC free and certified non-toxic, so you can be at ease with using Fusion Mineral Paint for children's projects.
In IKEA's kids collection, they sell a popular wood baby gym, which is great for tummy time and other sensory development. We are no strangers to a good IKEA hack (in fact we just did an amazing Gold Leaf side table from an old dresser of theirs) so why not personalize this one?
For this particular project, we chose to utilize Fusion's greens and yellows. What comes to mind when you think of those two colours? If you said pineapples, then we're on the same wave length.
The wood on this set is untreated wood, so it doesn't need to be prepped if you buy one brand new. If you happen to score one second hand from your local buy and sell or Facebook Marketplace, just give it a quick clean with mild soap and water.
What you need to make your own DIY Colorful Baby Gym:
Fusion Mineral Paint in the following colors: Picket Fence, Park Bench, Little Speckled Frog, Mustard, & Little Star.
Paint roller and tray
Small paint brushes.
NOTE: If you plan on swapping-out the toys, you'll also need some plush pineapples (or other plush toys) and some twine. We picked up these adorable pineapples from Michaels Craft Store. This is a great way to really personalize your baby gym or have it match your nursery theme. Moons, numbers, letters, puppies! It would all look so cute! 
The before! This is what the Ikea baby gym looks like before it gets a total makeover.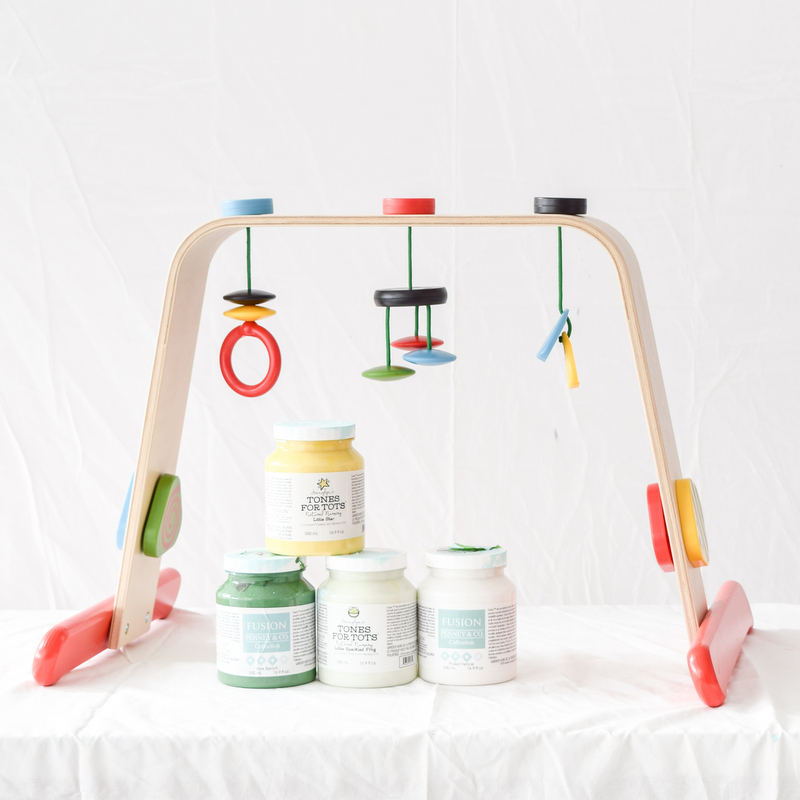 Directions for making your DIY colorful baby gym:
1. Start by removing the toys, and if you're brave, try removing the spinning discs on either side near the base. They're not easy to remove, and mostly involve pliers, a chisel and a hammer. It can be done but be forewarned! You can also just leave them on, and paint them to match.
2. While you're at it, remove the two red feet since you'll be painting them too.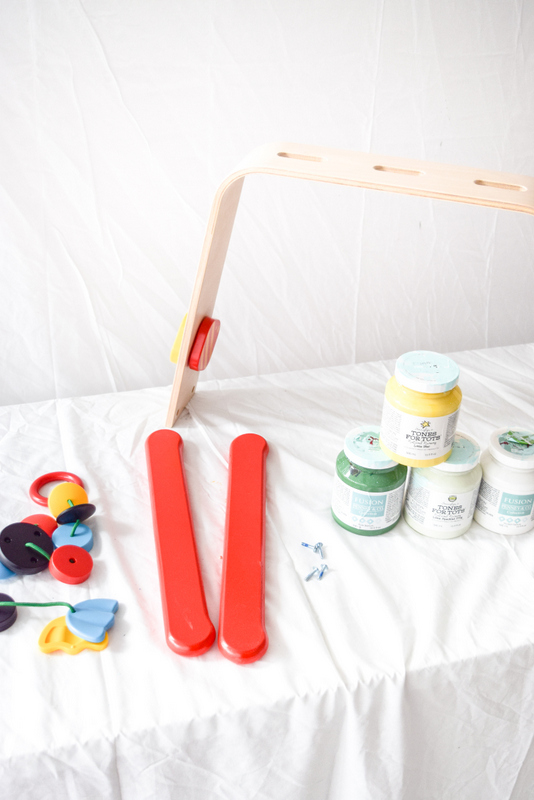 3. Paint the feet using Park Bench, and paint the gym part using Little Special Frog. Don't forget to get all the sides! We used the roller to do this part, and got the nooks and crannies using a smaller brush.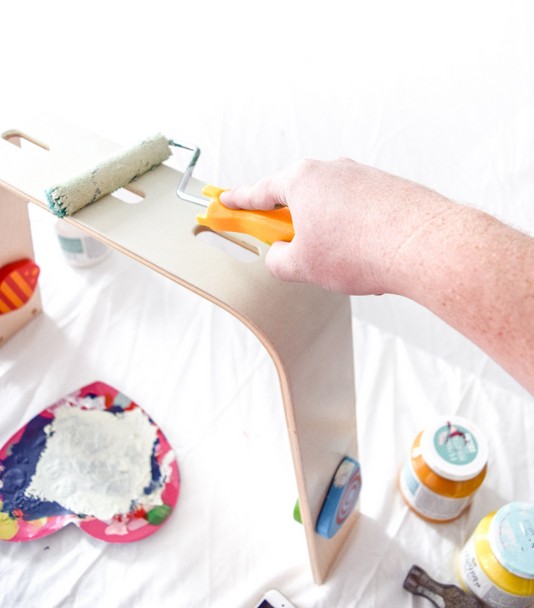 4. Once these are dry, put them back together.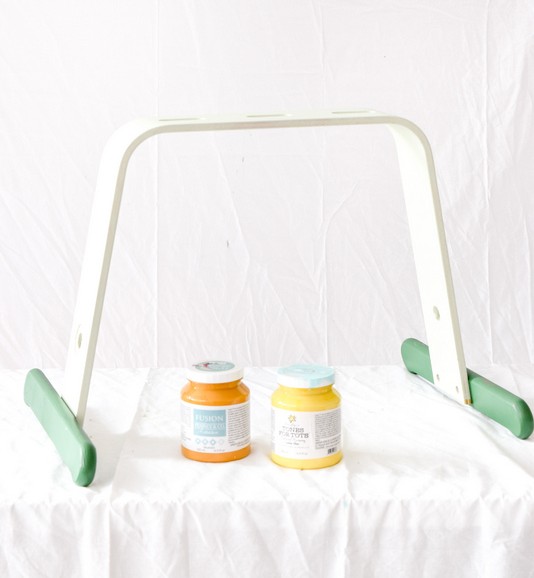 5. Using smaller craft paint brushes, start by painting the yellow pineapple bases using Little Star. Think of them like ovals with a flatter bottom. We painted them all over the gym in a haphazard alternating pattern.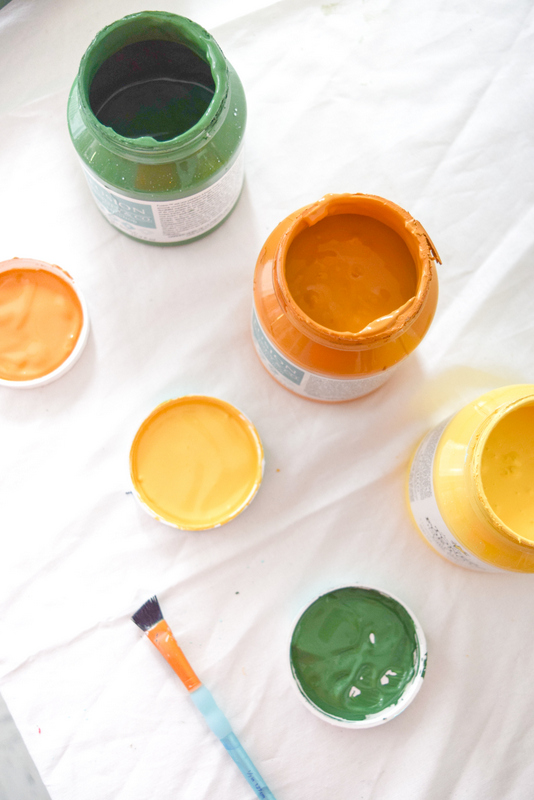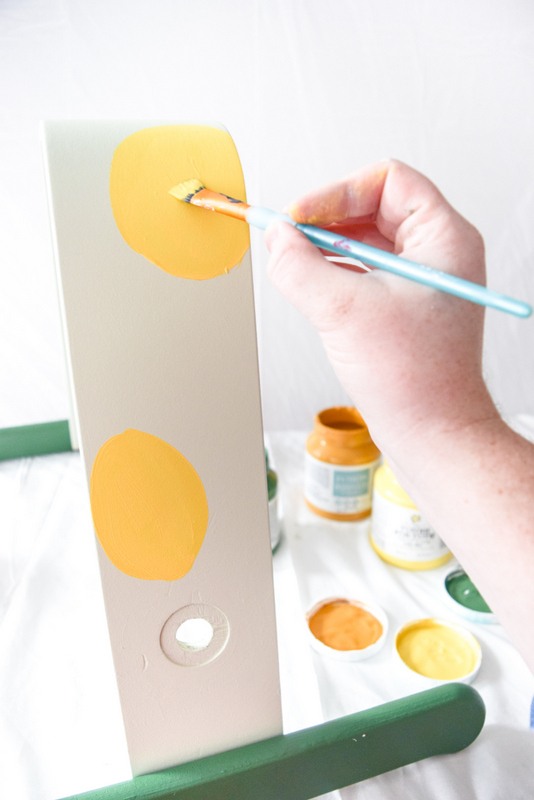 6. While the yellow dries, using Park Bench, paint the base of the leaves for each pineapple.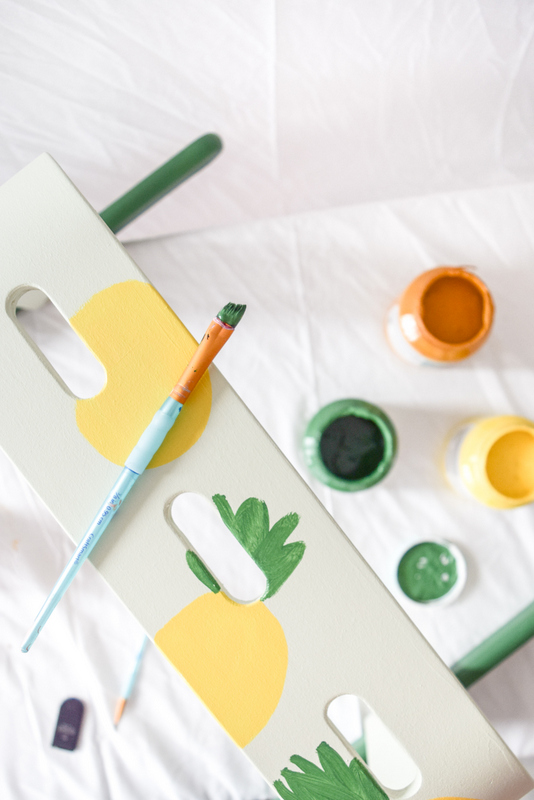 7. While the pineapples dry, you can re-build the dangling toys. I used the bases that came with the gym, but I cut off the existing toys, to replace them with plush pineapples. It's as simple as threading the pineapple onto your twine, and then back into the portion from the original toys.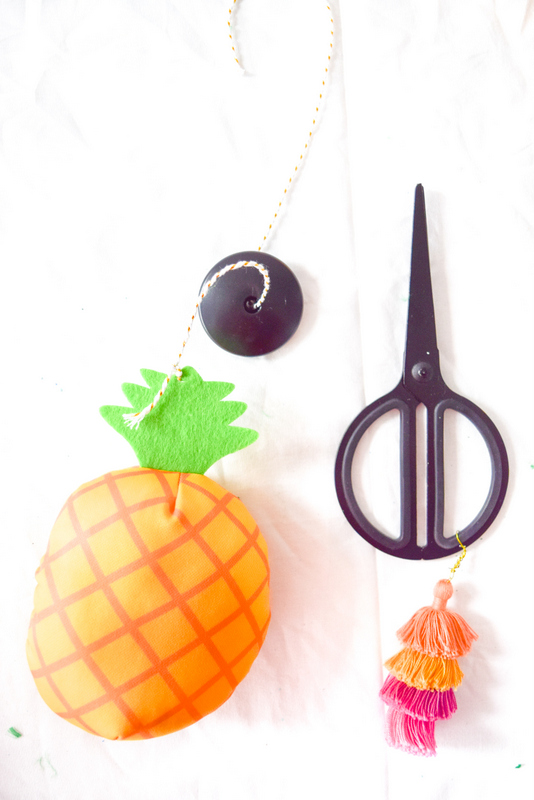 8. To finish the pineapples, using a fine tipped brush and the colour Mustard. Add a crisscross design on the pineapples and finish with a dot at the center of each hatching. Using some Little Special Frog, add some contrasting details to the leaves.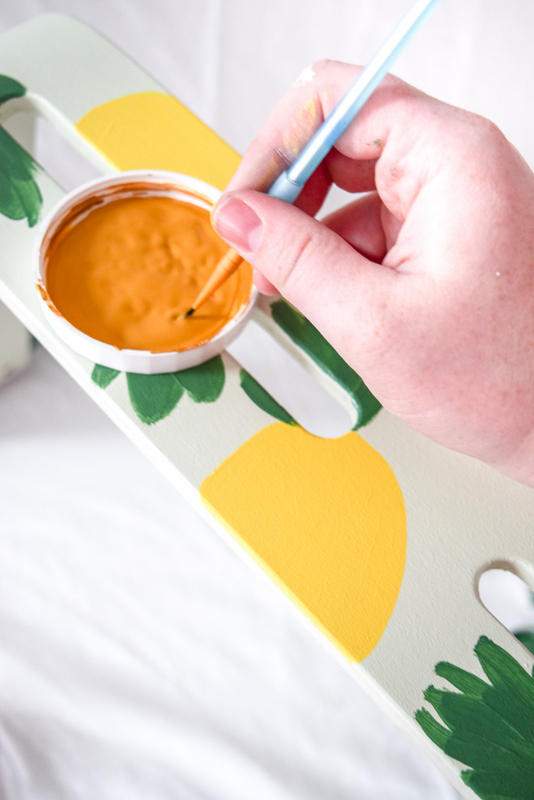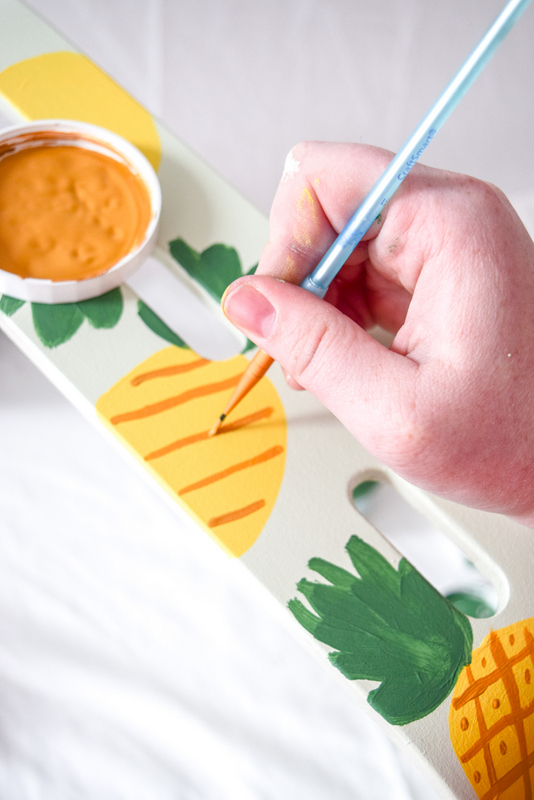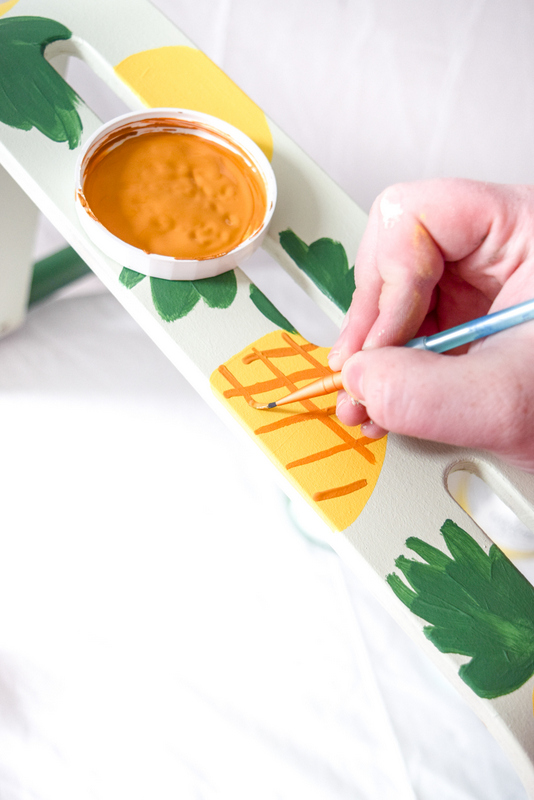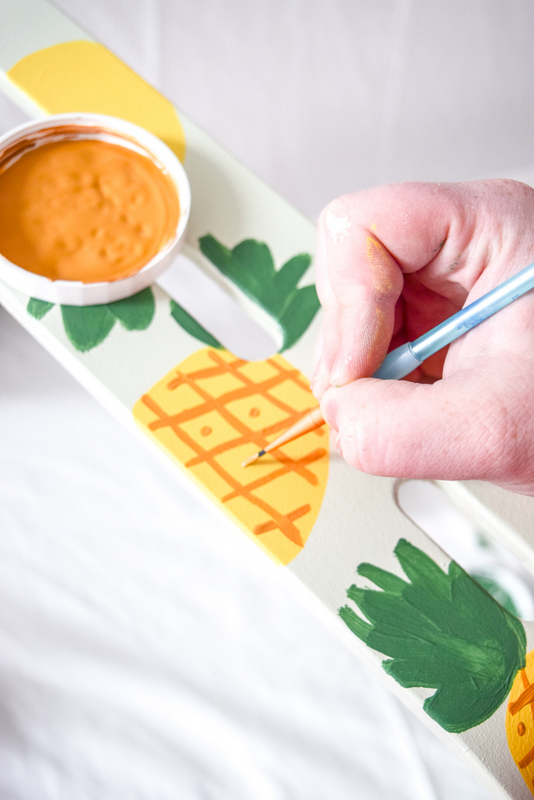 9. Once everything is dry, add the dangling pineapples and you're done!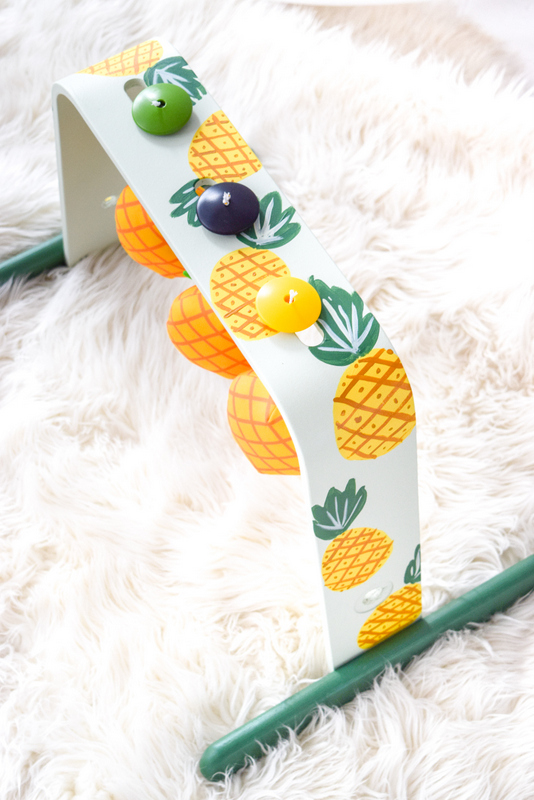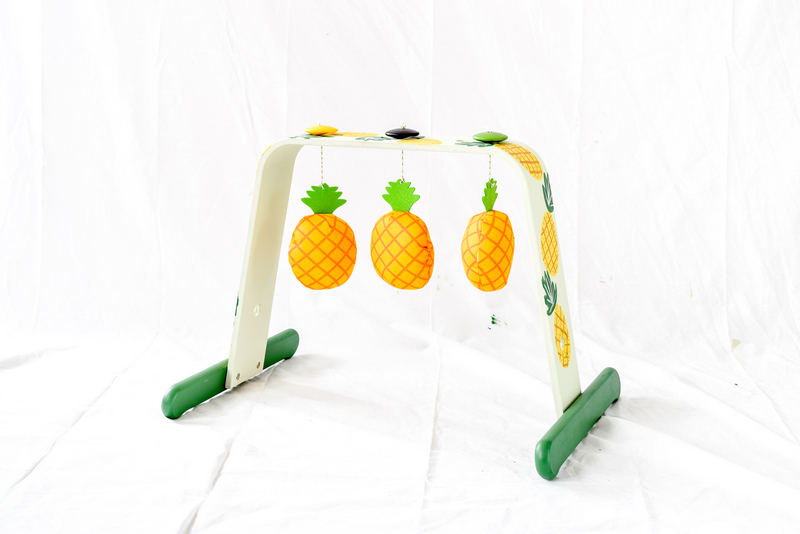 We hope this inspires you to get creative! If you are looking for more Paint It Beautiful inspiration, head to our very active community on Facebook – PAINT IT BEAUTIFUL! 
PIN IT!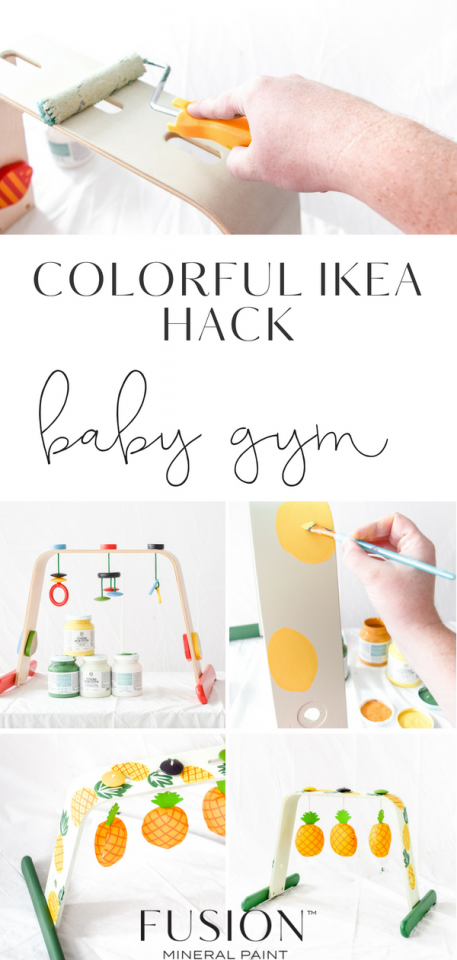 Project and photos styled courtesy of Ariel G.