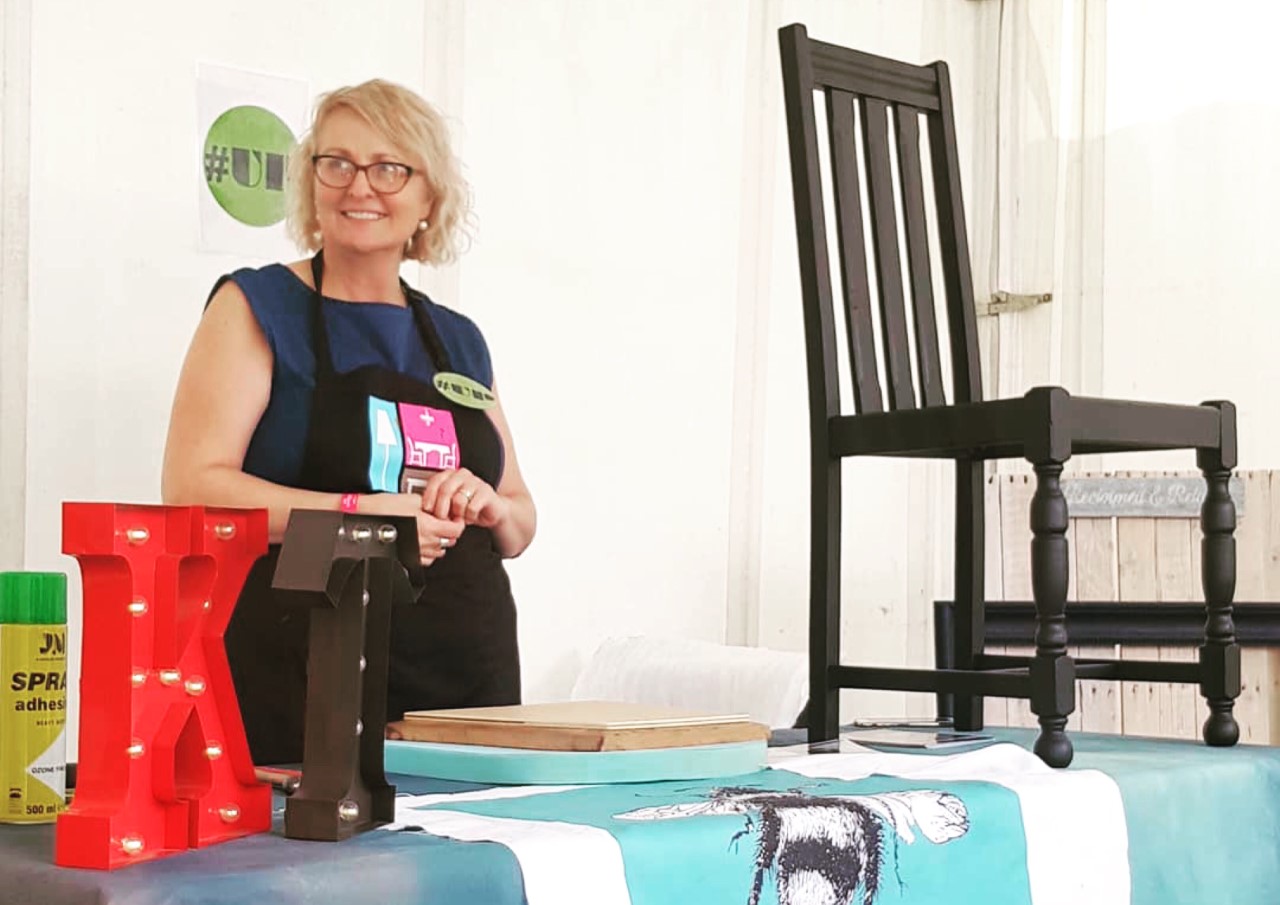 Share:
At Fusion Mineral Paint our Fusion merchants are a very important part of our success and one of the many reasons Fusion has grown so quickly since we started in 2014. We wanted to take this opportunity to introduce our new Fusion Merchant Profile series where we interview and profile our fabulous Fusion Mineral Paint merchants and retailers. While, we take a very personal approach with our Fusion merchants and know many of them very well (we consider them an extended part of our own Fusion family), we realized maybe our audience does not. Behind each Fusion Merchant is not only a skilled painter, but a unique personality and style. So it's high time for our Fusion Community to get to know them as well! We are proud to present our first Fusion Merchant Profile – Kate Holt from Colour Me KT.
In our Fusion Merchant profile series, we hope to let you get to know the Fusion merchants that not only offer Fusion Mineral Paint in their stores, but why they chose to carry Fusion, what it's like really running a business and what makes each one unique.  We thought it was important to start a Fusion Merchant Profile series because we know how hard our Fusion Merchants work, day in and day out, running workshops, dealing with inventory, promoting their stores and helping to promote Fusion. We wanted our audience to know what it really takes and meet the Fusion Merchants. With a Fusion Merchant profile, we interview each merchant so that you get to know the person behind the storefront. We find that while you may be in their stores to buy Fusion Mineral Paint, what keeps you coming back is your Fusion Merchant and their individual store.
FUSION MERCHANT PROFILE – KATE HOLT FROM COLOUR ME KT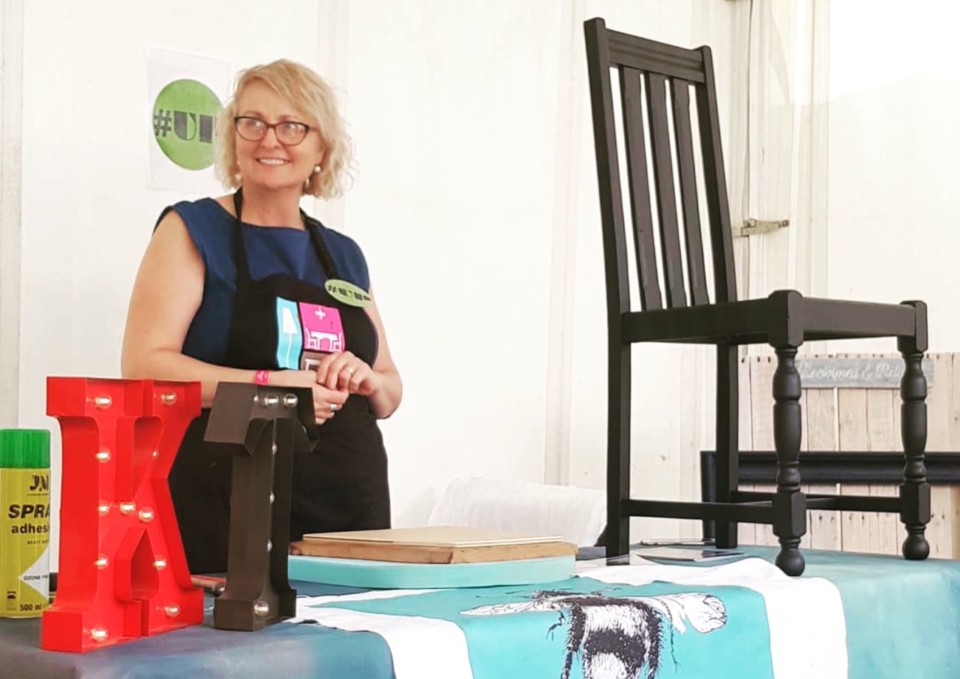 Color Me KT in Hoddesdon United Kingdom, Hertfordshire – Hoddesdon is a town in the Broxbourne borough of the English county of Hertfordshire. Isn't that a mouthful?
ALL ABOUT KATE HOLT
While Kate Holt from Color Me KT has been a small business owner for over 25 years, her first job was when she was 17 years old, working for a lighting designer in London. Afterwards she did a brief stint at the record company Polygram. Kate jokes that at the time she was furious when she discovered her boss had been to lunch with Bryan Adams and didn't think it was important enough to tell her. 
In her 20's Kate started working with her husband in his commercial flooring business, but studied Interior Design on the side and even completed two years of Architecture at University. Clearly searching for a more creative outlet, Kate says she started painting furniture after ironically, discovering chalk paint while on one of their many holidays in Canada. 
She opened her shop officially in August 2016 and the next day her son returned home after from travelling for more than 2 years so she says it was "a very happy weekend." The following Spring she became a Fusion stockist and says the rest as she says, is history.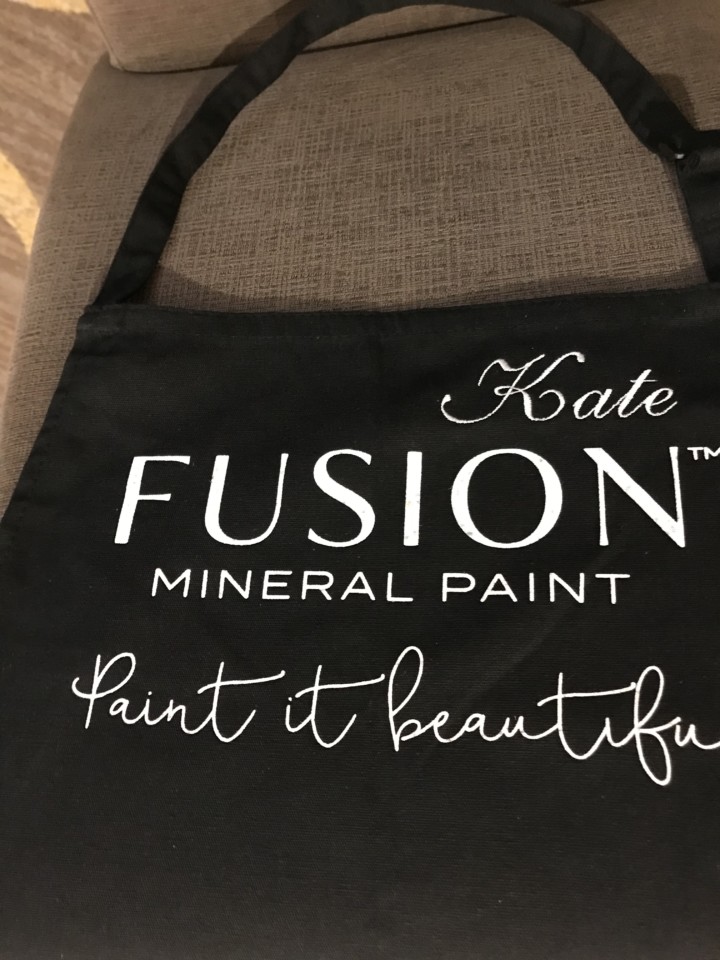 "I just couldn't stop painting furniture! Totally obsessed. I didn't want to do anything else." Kate continues, "I paint all types of furniture, Mid Century Modern and traditional furniture with a twist. I also like to upholster too. Love mixing fabrics and paints."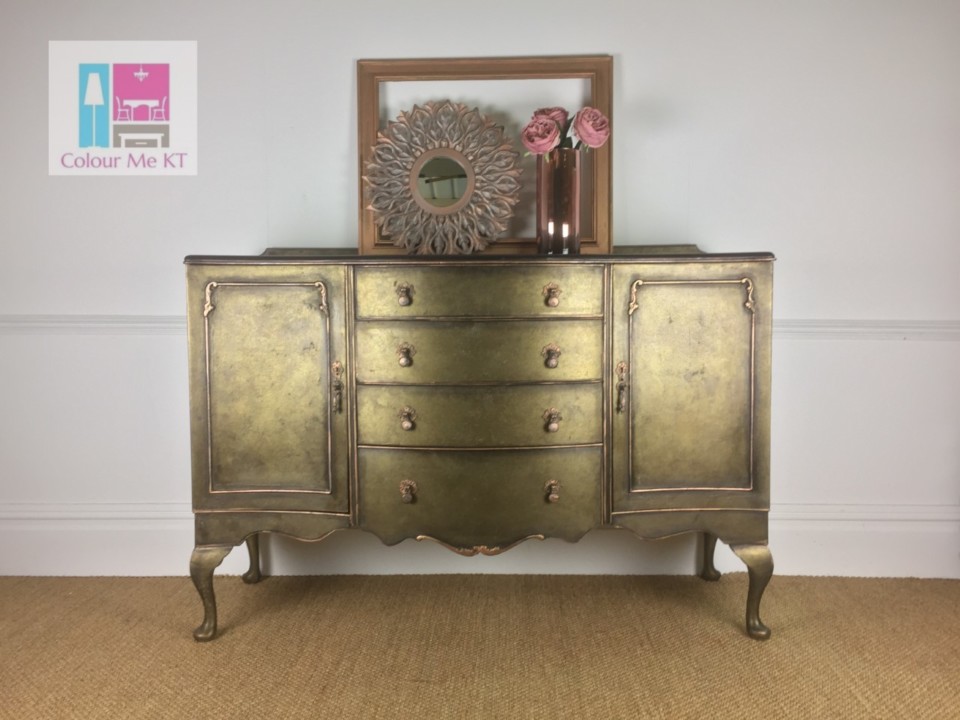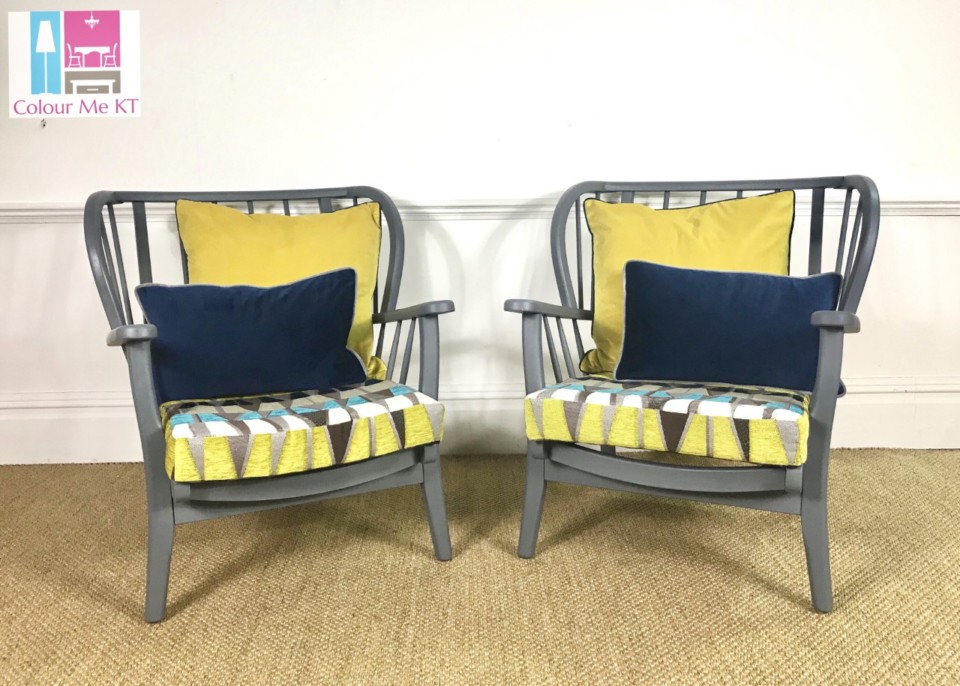 As of this coming April, Kate will have been a Fusion Merchant for 2 years and she says it was the "best decision ever!" Fusion was recommended to her by a friend Julie McDowell and when asked about what makes Fusion Mineral Paint special to her she replies, "It truly is the best furniture paint on the market. I don't have to bullsh*t anyone about that which is great as I can't lie or sell something I don't 100% believe in. Plus Fusion is such a nice company. Everyone is lovely and has the reputation for such."
She goes on,"Until I started to retail Fusion Mineral Paint I felt like I was just playing at the business. Becoming a stockist legitimized my business." Kate loves being a part of the Fusion business because it feels like being a part of "the coolest paint club!"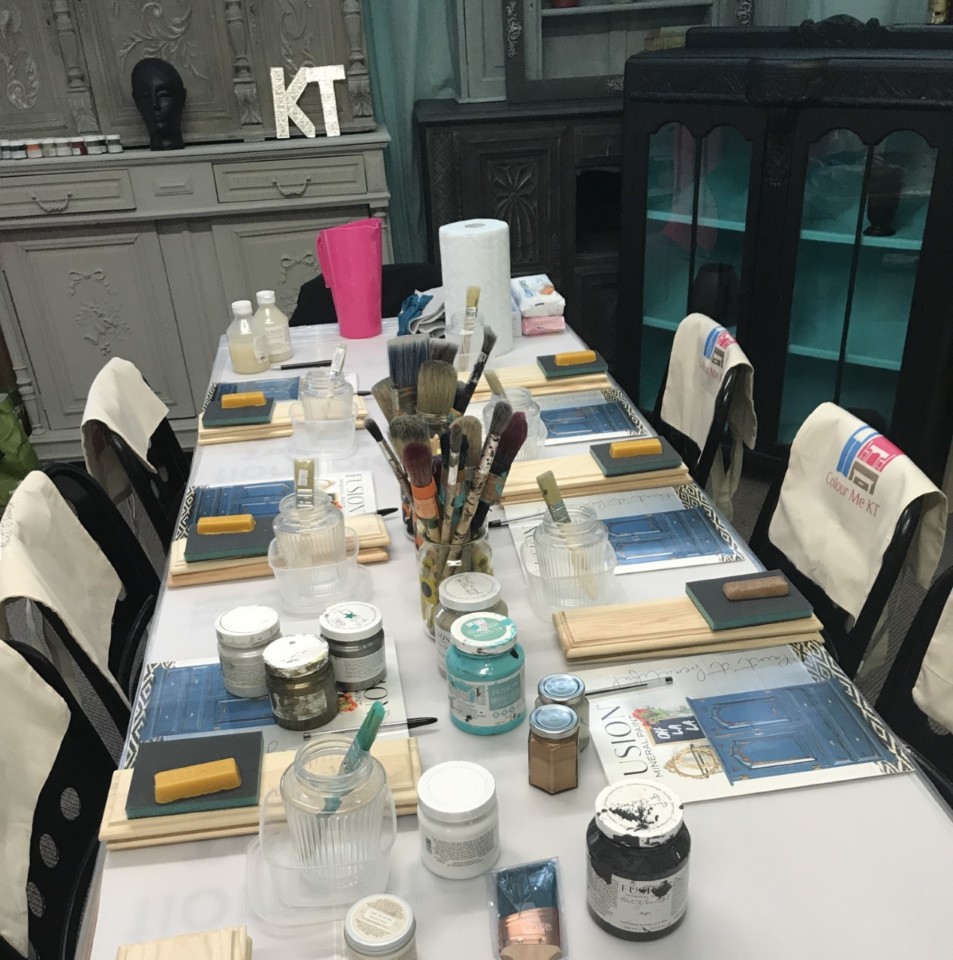 Kate's business name Color Me KT is made up from a combination of her initials and her husband Tony's, although "Now everyone thinks I'm called Katie – which is fine!" She's been married to Tony for 25 years and have they have 2 kids in their 20's who she says come in useful for packing paint orders and building websites, "when I can drag them away from their own busy lives."  Kate says her family has helped, supported and celebrated with her, her successes of this relatively new business venture. 
"We also have 4 dogs. Yes that's FOUR dogs. My husband rescued a big black lab." Kate continues, "When I said it was me or the dog,  the dog won. So together with our grown kids we have a busy, full household!"
When asked what her biggest source of inspiration is, Kate says, "Inspiration is everywhere! Other furniture painters obviously, but also fabrics and the color combinations you see in nature too."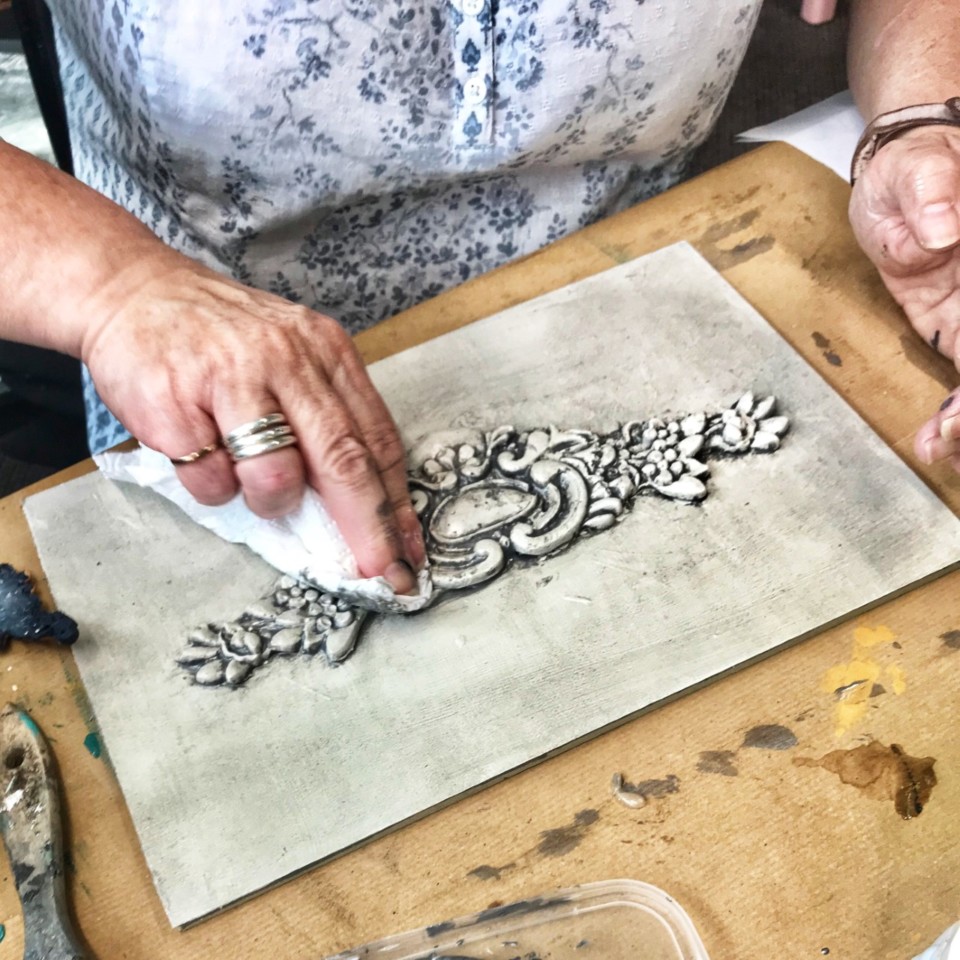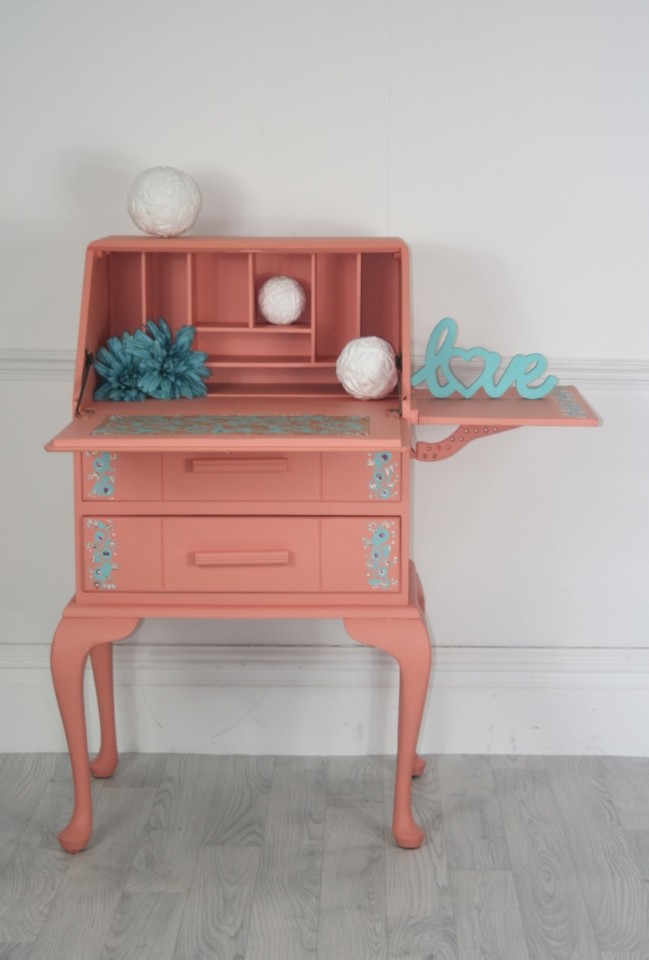 Running a business always has its challenges and that varies from market to market so what impacts one merchant may not be the same as another. Our Fusion Merchants are all over the world. Kate is based in England and told us "The traditional high street in the UK is dying, so I sell more online than in-store but premises are essential, both physically and from a trust point of view from our customers. They have to know that we are real people with a real business that they can trust."
On a somewhat different note, the challenge of time management, "finding time to paint and not spending it all on social media!" is another.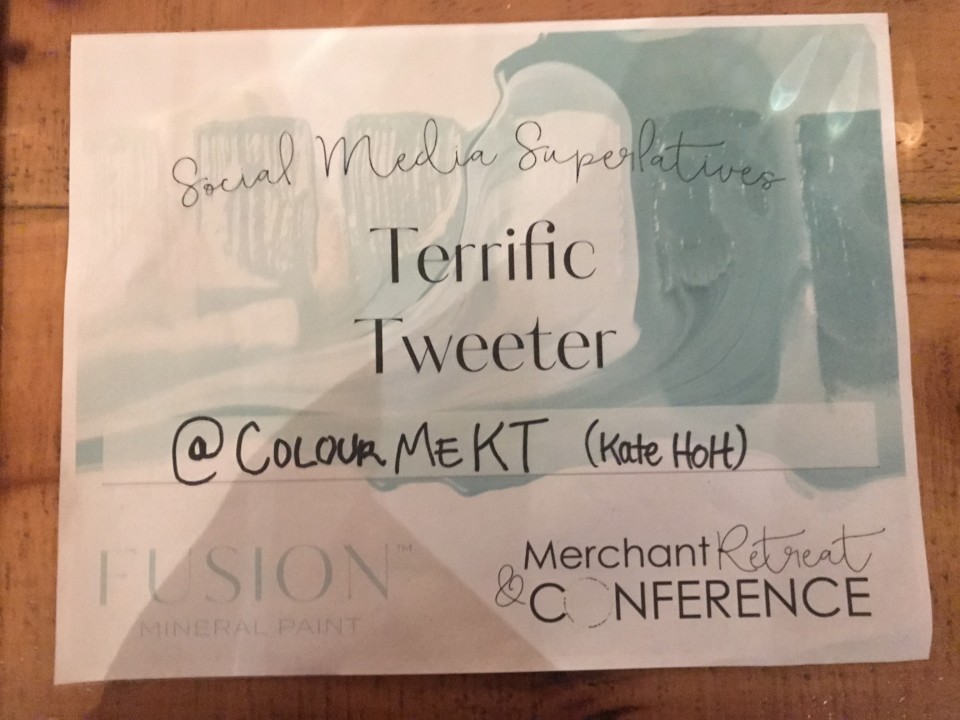 Speaking of being social, when asked about memorable client interactions, Kate tells of the time she painted her old kitchen their cottage and two real estate agents offered her work painting kitchens, because the recognized the huge financial value in what she had done.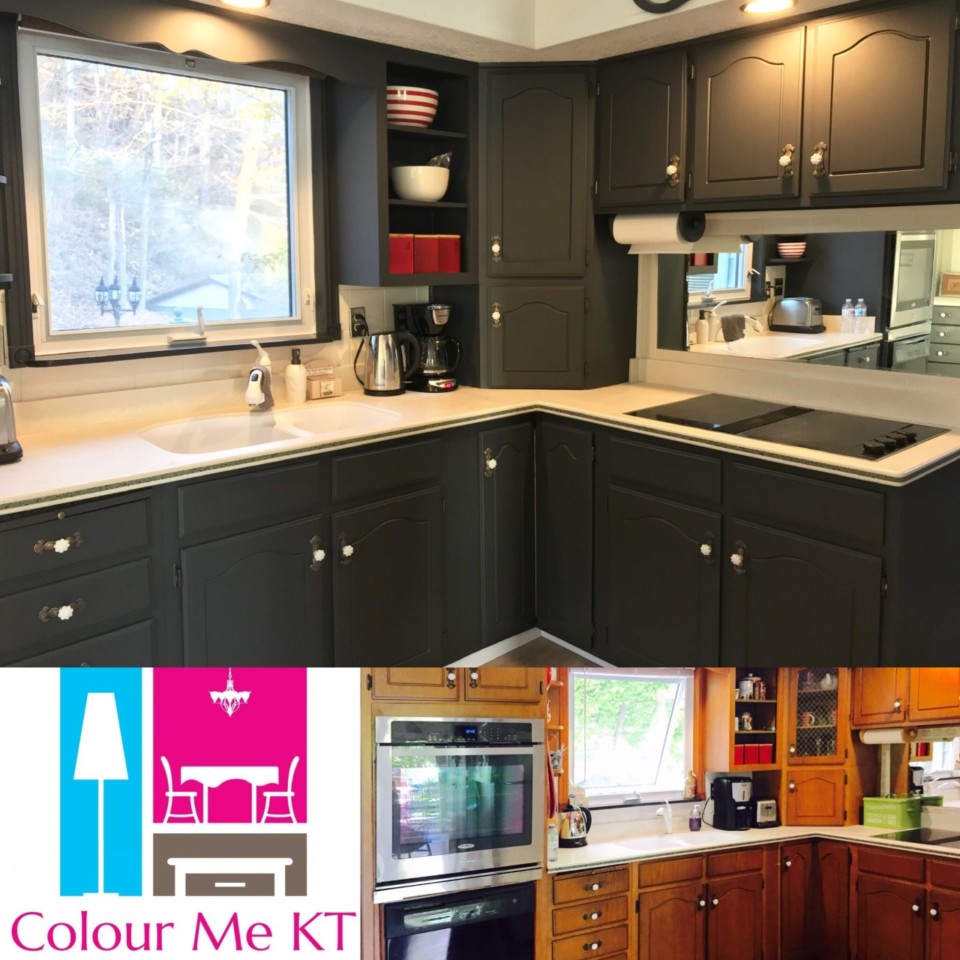 Because our Fusion Merchants know our colors like the back of their hand, when asked we asked Kate if she could create any color for Fusion, what would it be and what would she name it, she replied cheekily, "I love all the warm colors but I'm hankering after a dark teal blue. I tried mixing Renfrew and Coal Black didn't quite get there. Can't call it Midnight so it might have to be "1 am!"
Customers are always asking her for paint advice and tips and Kate says the best advice she's received, is that, "It's only paint. If you don't like it, start (your project) again." On the flip side of this, what's the worst painting advice she's ever received, "To buy another brand of paint.", which Kate names during our interview, but we think it's better if you ask her yourself next time you're in her store.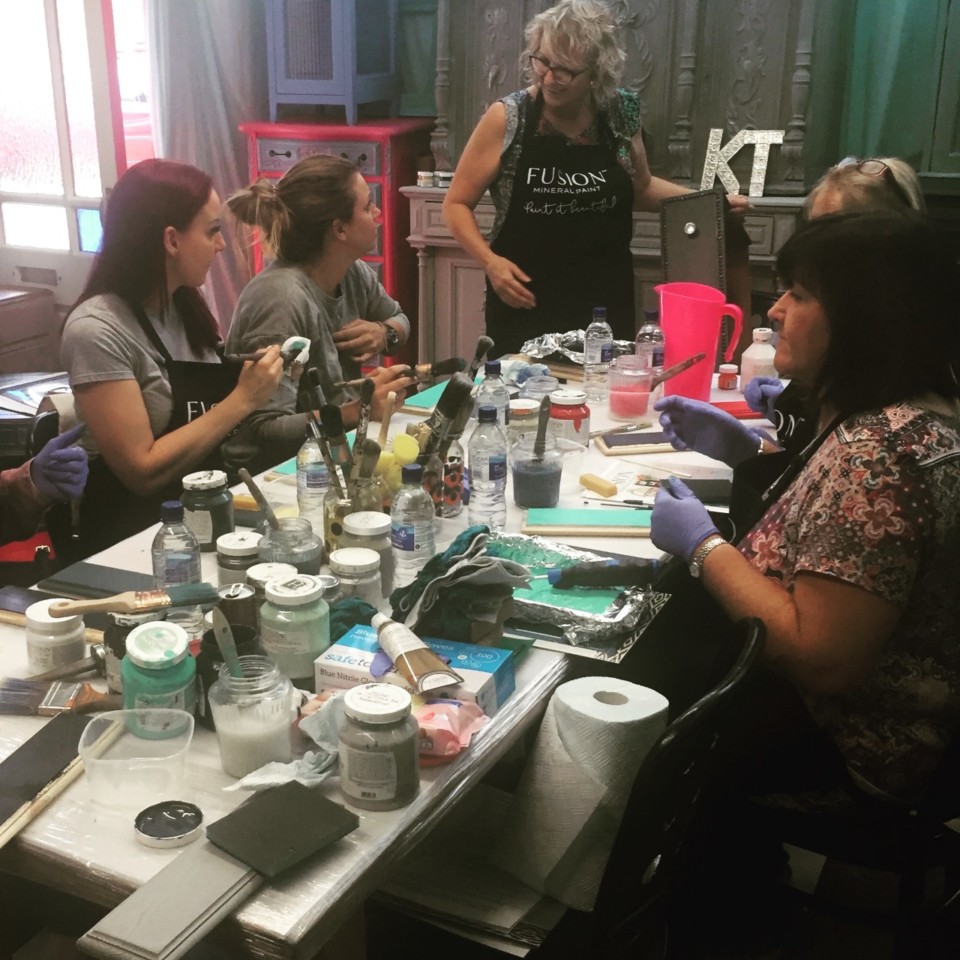 When it comes to business, "Finding your tribe and being yourself is important.", Kate says. She hopes that the most unique part of her business is herself and for anyone who wants to start their own business, Kate says just getting started on painting, making mistakes and having with painting is an important element of getting your business up and running.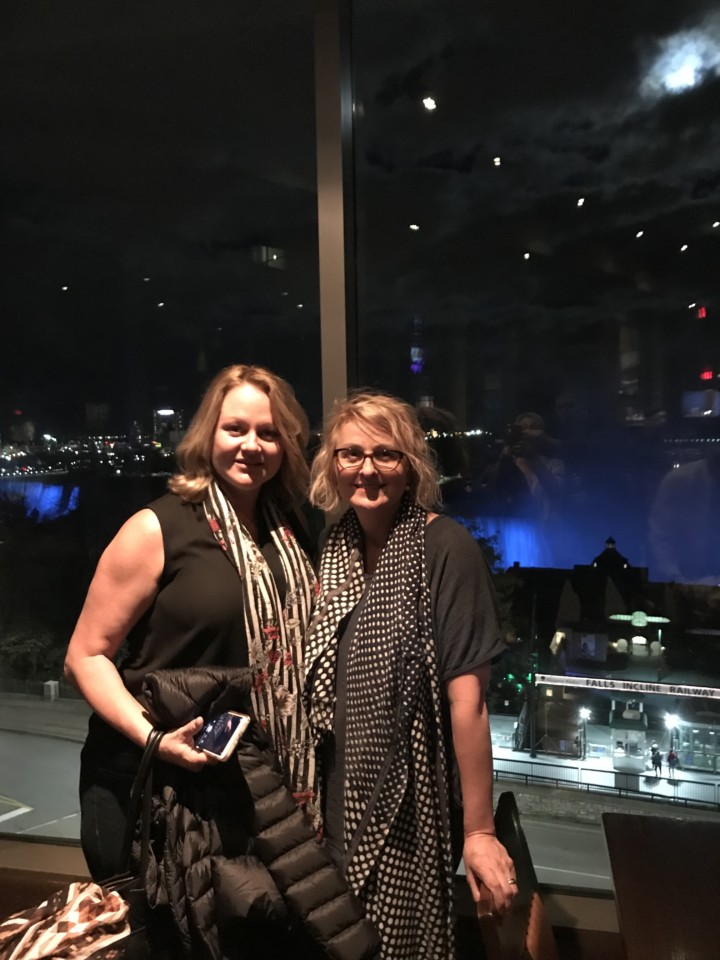 Kate with Fusion Employee Robyn Wharry-McCracken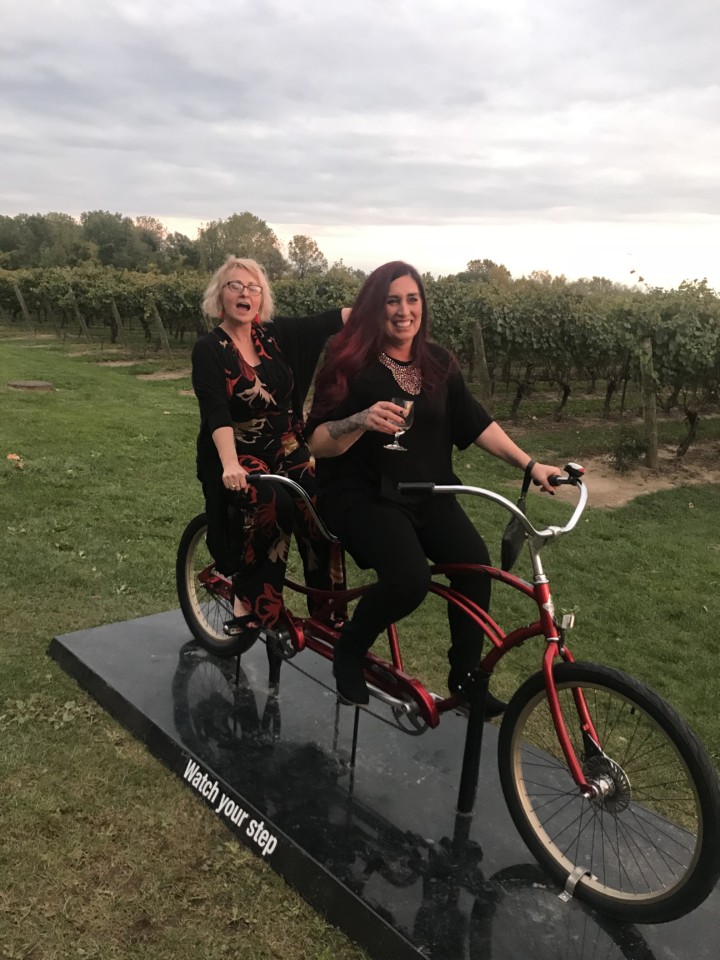 At the Fusion Merchant Retreat with Sarah Pelley from Home Revival Interiors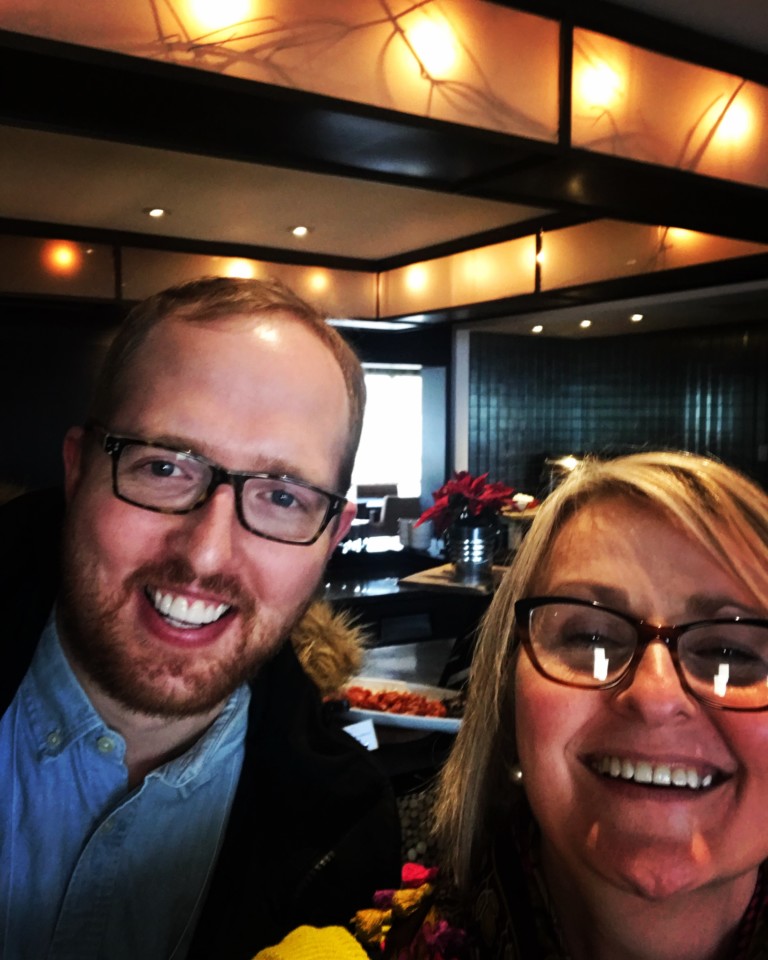 Kate with Michael Penney at the Fusion Merchant Retreat
If she could go back to the beginning and give herself advice before she opened up her store, Kate says simply not to be frightened. And to "Go for it! Give yourself and your business some credibility by selling the best furniture paint on the market."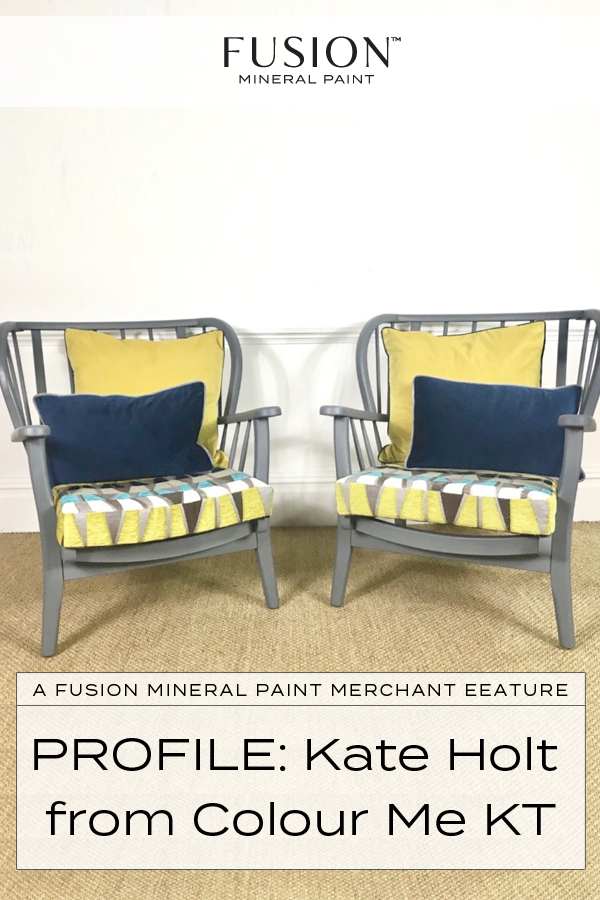 FUN FACTS
FAVORITE FUSION COLOR AND WHY
Ash! It covers so well and always reveals the silhouette of the piece. Transforming its shape into something iconic.
FAVORITE PAINTING TOOL
Staalmeester pointed sash.  You don't have to keep changing brushes. You can paint details and flat surfaces with one brush.
FAVORITE NON-PAINT FUSION PRODUCT
Glaze, love messing around with it to build up layers and depth.
Thank you Kate for being part of the Fusion Family and being a part of our Fusion Mineral Paint Merchant Profile series.
You can visit Color Me KT at Units 2/3 Knight Properties, Brewery Road, Hoddesdon EN11 8HF or for more information visit her website!
CONNECT WITH KATE ON SOCIAL MEDIA
To find your nearest Fusion Merchant visit:  Where to Buy
To become a Fusion Retailer visit: Become a Retailer
PIN IT FOR LATER!